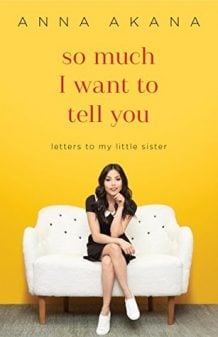 In this post, you will find a collection of quotes from Anna Akana's book "So Much I Wanna Tell You – Letters To My Little Sister."
Best Of
I can't be intimate with someone unless I have romantic feelings (or delusions) for them.
— "So Much I Wanna Tell You" by Anna Akana – Page 154
---
You should only spend your money in two ways: One, if it's going to help you grow your business. And two, if it's going to make your life easier.
— "So Much I Wanna Tell You" by Anna Akana – Page 93
---
Failure is so many wonderful things; it's motivation to do better next time, a learning opportunity to see what you did wrong, and ultimately the proof that you at least tried.
— "So Much I Wanna Tell You" by Anna Akana – Page 37
---
Don't underestimate the power of decision. Once you decide to do something, that it's something you must do, you'll make time for it. You'll find a way to start, even if you don't have professional filming equipment or screenwriting software. All the time you spend wondering how to do something could be spent actually doing it and getting better at it.
So the next time you ask yourself "How do I start?" maybe rephrase the question to "When am I going to start?"
— "So Much I Wanna Tell You" by Anna Akana – Page 28
---
I've spent a lot of time reading about the creative process and the different ways people work. It's a way of procrastinating that I can rationalize as 'research.'
— "So Much I Wanna Tell You" by Anna Akana – Page 3
The Rest
Don't look for success; it's fleeting. Don't go for looks; those will fade. We all get old and wrinkly. Don't look for money; that power dynamic is full of problems. Don't fall for mystery; you don't know what he could possibly be hiding.
Find someone who will inspire you to be a better person, who will make you laugh even when you don't feel like it, and who is good to you no matter how tough things are. And strive to be that person for them.
—  "So Much I Wanna Tell You" by Anna Akana" 172
---
[…] without long-term therapy and a willingness to change, abusive relationships don't get better. Partners who yell and cuss at you won't suddenly stop. The jealousy, resentment, blaming, and entitlement don't magically go away. If you find yourself making excuses for hurtful behavior—he's working on a deadline, he's worried about family stuff, he just feels like everything is out of control—hit pause for a minute. If the situation were reverse, is that how you would deal with stress? How you would regain control? If you wouldn't do it, stop making those excuses.
—  "So Much I Wanna Tell You" by Anna Akana" 168 – 169
---
Most successful people will tell you to follow your dreams. I'd say fall into them.
— "So Much I Wanna Tell You" by Anna Akana – Page 5
---
[…] you'll only run out of ideas if you close yourself off to things—to new ideas, new experiences, new people. Don't be afraid to change, to grow, and to learn—that's the only way to keep yourself creatively vital.
— "So Much I Wanna Tell You" by Anna Akana – Page 19
---
Enhance your strengths. Tweak the weaknesses.
— "So Much I Wanna Tell You" by Anna Akana – Page 69-70
---
Knowing yourself is the first step toward loving yourself. Embracing the flawed parts of who you are can only make you stronger. I know it sounds New Age-y and cliched, but honestly, all I want is to be a better person. And I can only achieve that by realizing where I am now.
— "So Much I Wanna Tell You" by Anna Akana – Page 77
---
One of the hardest things about being an artist is finding the balance between staying true to your voice and allowing yourself room to evolve. How do you push yourself out of your comfort zone while still trying to create art that feels commercially relevant? How do you balance learning new skills and trying new things with still keeping your core fan base happy?
— "So Much I Wanna Tell You" by Anna Akana – Page 17