The Marvelous Mrs. Maisel: Season 5/ Episode 4 "Susan" – Recap/ Review (with Spoilers)
Alongside Joel digging his nose into Susie's business, we're treated to meeting one of Susie's ex-friends who may have us revisit the questions regarding her sexuality.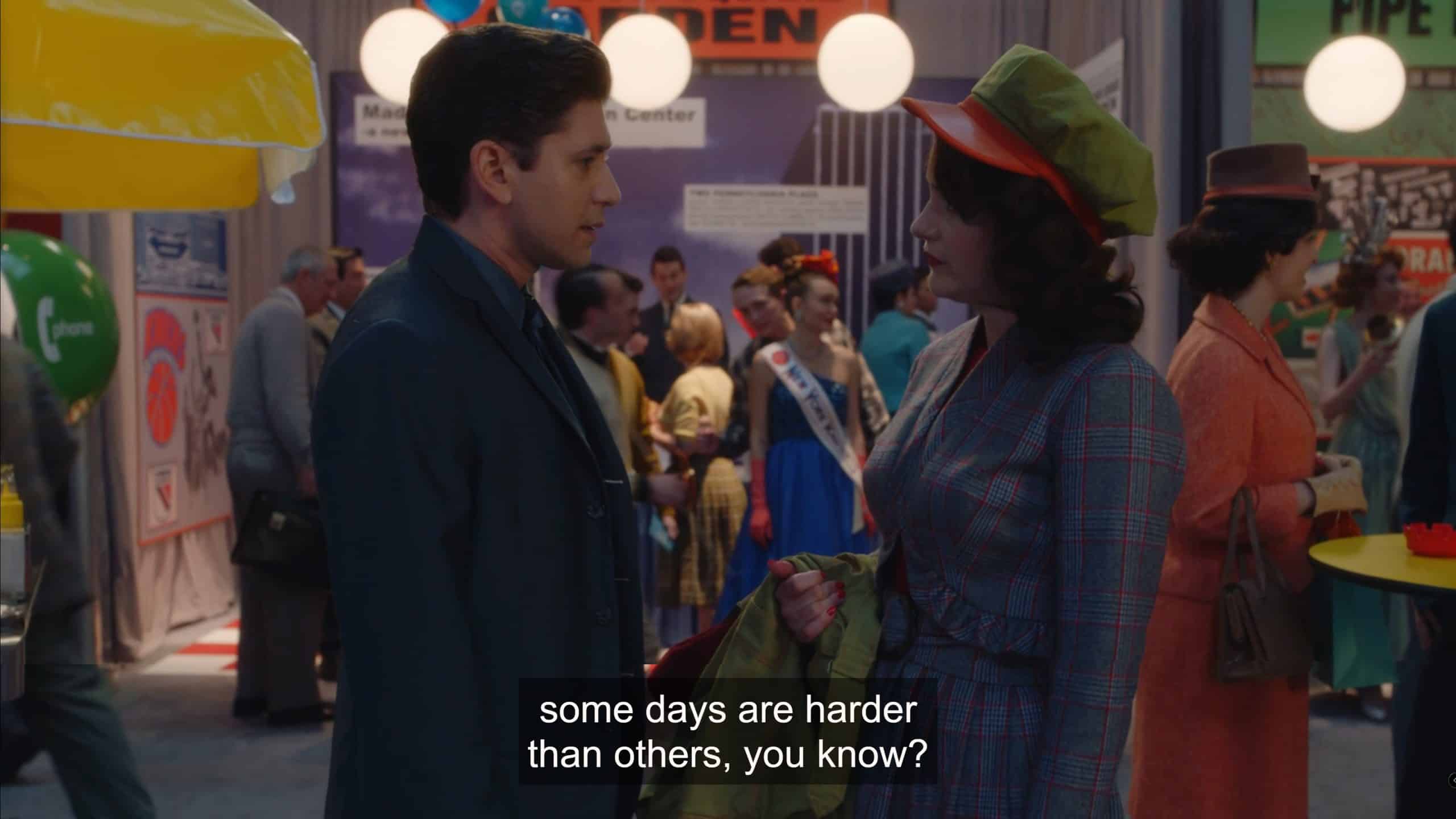 Alongside Joel digging his nose into Susie's business, we're treated to meeting one of Susie's ex-friends who may have us revisit the questions regarding her sexuality.
Aired (Prime Video)
April 20, 2023
Director(s)
Amy Sherman-Palladino
Writer(s)
Amy Sherman-Palladino
Newly Noted Characters
Hedy
Nina Arianda
Previously Noted Characters
Miriam 'Midge'
Rachel Brosnahan
Frank
Erik Palladino
Nicky
John Scurti
Tess
Emily Bergl
Gordon
Reid Scott
Sophie
Jane Lynch
Mike
Jason Ralph
Joel
Michael Zegan
Recap
This content contains pertinent spoilers. Also, images and text in this post may contain affiliate links which, if a purchase is made from those sites, we may earn money or products from the company.
A Favor You Can't Refuse – Frank, Nicky, Susie, Midge
Frank and Nicky have propped up Susie's operation for a while. The amount of favors don't just add up in time, but also money, so when they are trying to get their private waste management business going and ask for Miriam to be a sort of narrator, it's only phrased as a request to be polite. The truth is, they own Susie and Midge by at least 30%. So, Susie makes it clear to Miriam what this is, minus the whole mob angle, and for the first performance, she does what is asked, but she doesn't commit to being consistent or off-book.
You Can't Have It All – Frank, Nicky, Susie, Midge, Tess, Gordon, Sophie, Joel
One rule of the Gordon Ford show is that you can't work for him and be on the show. It's a terrible rule and puts Midge in an odd place. Does she like a steady paycheck? Yes. However, working for other people has never been her thing, and working for other people and with a multitude of others as well? She is a stand-up comic for a reason. The less people she has to answer to or deal with the demands of, the better.
But what can she do? When Gordon has an open slot, he won't give it to her. This is his rule, and while it seems he can sleep with the person he works with on his dressing room couch, he can't have them on his on-stage couch. Instead, Sophie gets that slot, and while Miriam wasn't there to see it, maybe she was channeling what was going on and sensed it? Hence her having a bit of a temper tantrum on stage, to the point of Frank and Nicky no longer being nice, with a touch of dark humor, but reminding Susie they aren't one to mess with. Especially if their money is involved.
On a lighter note, Tess is in Frank and Nicky's production, and she does well, and Joel, since he loves his ex-wife and probably cares about Susie to a point, is worried about what is going on. However, Susie doesn't care or desire his attention, so she blows him off.
Funny Seeing You Here – Susie, Hedy, Mike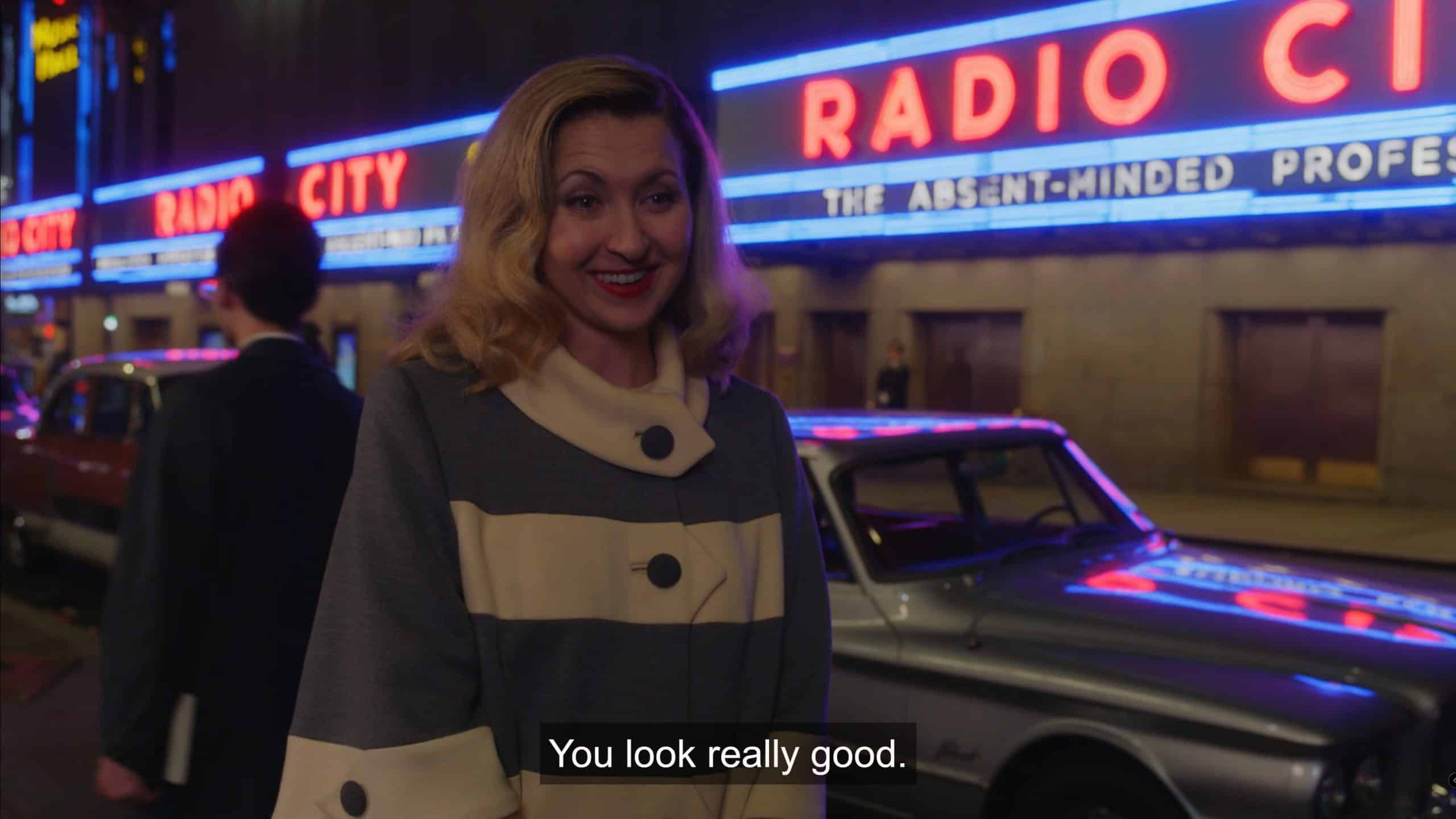 Because Susie has no vice beyond work, with seeing Miriam intentionally bomb on stage and having an off day, she goes to 30 Rock to figure out about this rule and to vent a bit. Naturally, no one cares, especially Mike, so she storms out, frustrated, as she usually does.
Unfortunately, Gordon's wife, Hedy, who was a friend of Susie's 15 years ago, is at the elevator, and she neverminds whatever she was doing to try and coerce Susie into a conversation, preferably in a private place with alcohol. Susie isn't having it. She seemingly was abandoned, another dalliance in Hedy's long string of passing interests, and when they were friends, Susie got invested. But now, she is done, doesn't want to revisit the past, and with Hedy not being apologetic? She gives Susie 0 reason to even feign interest.
Things To Note
Abe and Rose have a public fight after a play, in which they embarrass each other at a restaurant with Abe's co-workers.
Zelda and Janusz are engaged
Question(s) Left Unanswered
Did Susie know about Tess being in the private waste management show?
Could Frank and Nicky be a factor in why Miriam and Susie aren't friends in the future?
What Could Happen Next
A flashback to when Hedy met Susie, and that relationship (platonic or otherwise)
Review
---
Community Rating:
---
Highlights
Someone From Susie's Past Appears
While we've met Tess, and she has provided us some insight into Susie's childhood and trauma, as for the late teen or adult years? The information has been sparse. So with the introduction of Hedy, who again fans the flames of thinking Susie could be a member of the LGBTQIA+ community? This should be interesting. Particularly due to her being married to Gordon and him potentially being a key to Miriam finally breaking out in a way where her career can't be put on pause, as we've seen many times before.
Frank and Nicky Reminding Susie They Are Full-On Mobsters
Frank and Nicky have long operated as comedic characters. An inside joke about them being part of the mob but trying to be subtle about it. That went away in this episode. They made it very clear to Susie and the audience that they are very serious about their work, their desire to expand their empire, while keeping the boss happy.
Which if anyone, man, woman, Susie, Miriam, whoever, get in the way of, bad things can happen. So when you consider Joel getting involved and likely starting an investigation, it pushes you to wonder will Joel, Fran, and Nicky play a role in dividing Susie and Miriam?
[ninja_tables id="64104″]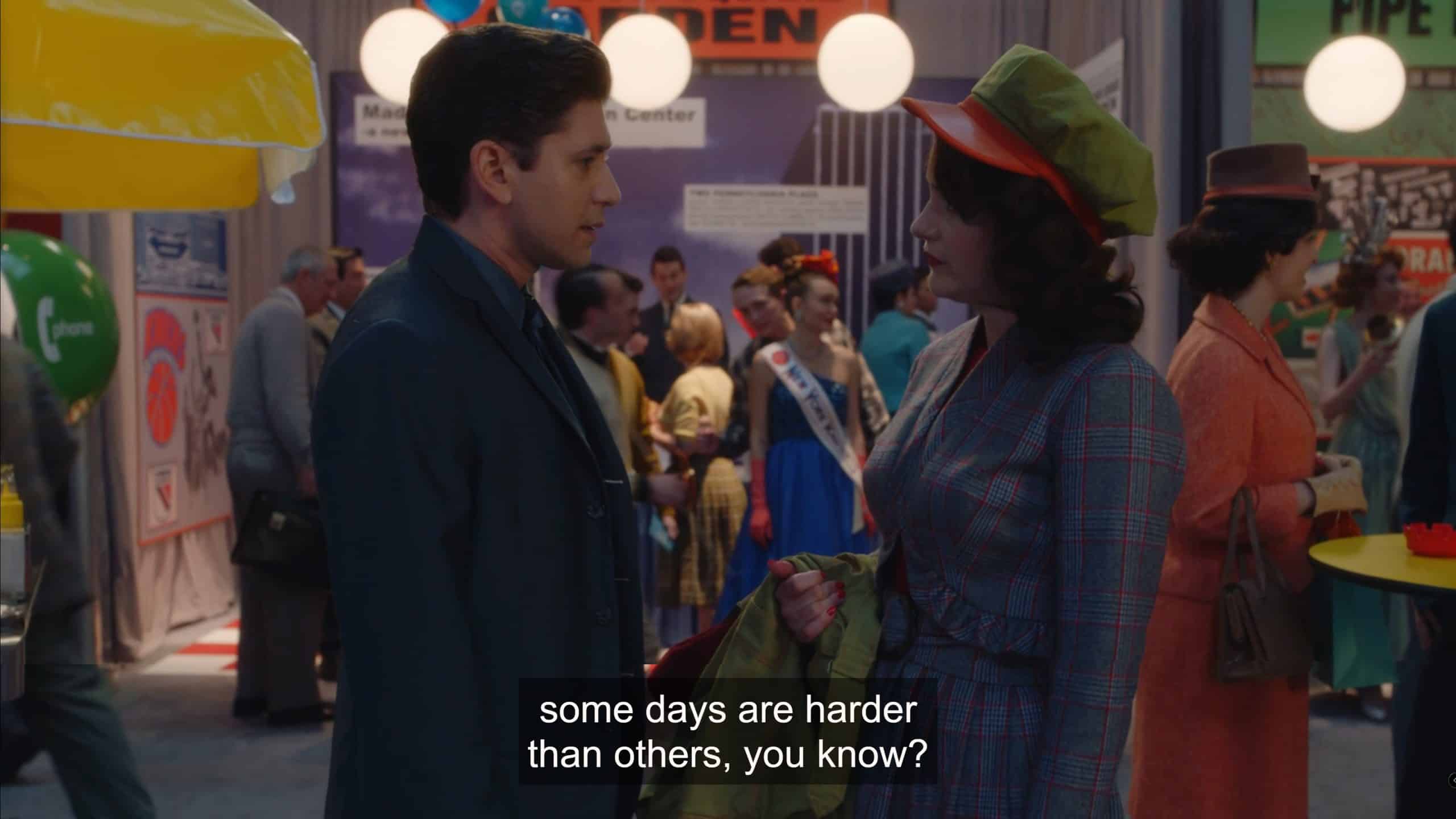 The Marvelous Mrs. Maisel: Season 5/ Episode 4 "Susan" – Recap/ Review (with Spoilers)
Overall
In a way, Susie pushes the idea that any attention Miriam gets is borrowed. For just at the hint that she may have something going on not involving Miriam, she can quickly snatch away everyone's focus. Thus leaving you solely thinking about her.
Highlights
Someone From Susie's Past Appears
Frank and Nicky Reminding Susie They Are Full-On Mobsters
---
Follow, Like, and Subscribe
Community Rating: 0.00% (0) - No Community Ratings Submitted (Add Yours Below)