The Marvelous Mrs. Maisel: Season 1/ Episode 7 "Put That On Your Plate!" – Recap/ Review (with Spoilers)
If you were perhaps wondering what would slow down Midge's career so that she had something to work for in the second season, we get our answer. Previous Recap: Episode 6 "Mrs. X at the Gaslight" Community Rating: 0.00% (0) – No Community Ratings Submitted (Add Yours Below) Network Amazon Prime Director(s) Daniel Palladino Writer(s)…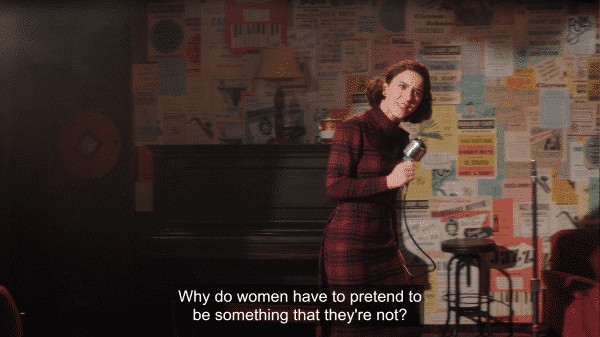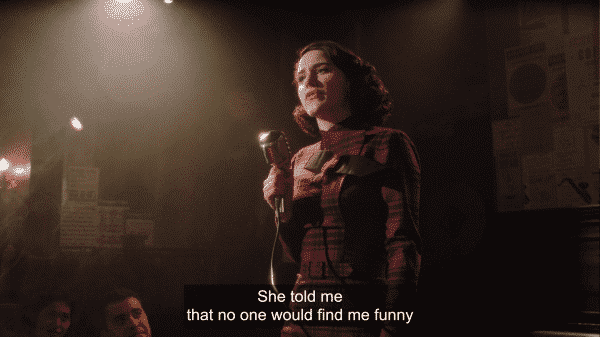 If you were perhaps wondering what would slow down Midge's career so that she had something to work for in the second season, we get our answer.
---
---
Community Rating:
---
Network
Amazon Prime
Director(s)
Daniel Palladino
Writer(s)
Daniel Palladino
Characters Introduced
Sophie Lennon
Jane Lynch
David Bumenthal
Zach Appelman
---
Coming To Terms with How Things Are: Abe, Joel, Miriam, Rose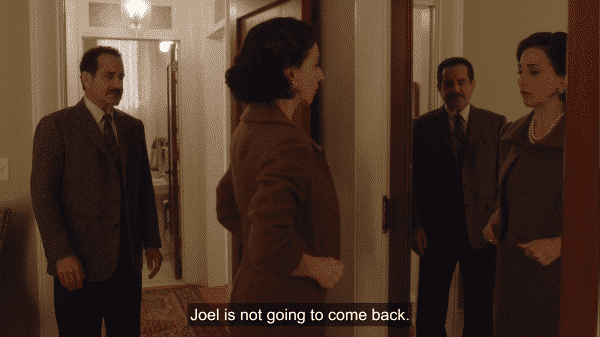 Abe lets the cat out of the bag that Miriam denied Joel, about a month ago, to Rose. Which naturally leads to her losing her mind – especially since Abe brings a divorce lawyer, David, home. But the bad news doesn't end there, nor the secrets Abe is privvy to. Joel tells him, after he has a brilliant pitch at work, he is likely to move to California and while he'll make sure Midge is set, he is going to live a basic life. Something that doesn't make a huge amount of sense to Abe, he is a numbers man, but Joel seems serious about it so why not believe him? One less thing for Abe to budget in his life.
However, while Abe is handling his child's first divorce well, Rose is besides herself. She goes see Drina, but she is gone. She goes to temple and Miriam shows up in a fur coat! Where did this fur coat come from? Chicago? When did Midge go to Chicago? Why are there no answers? She causes a huge scene! Making you wonder how will she react when she learns about Midge's comedy career? That is, if Midge didn't effectively kill it in one act.
The Rise and Fall of Miriam Maisel: Harry, Susie, Midge, Sophie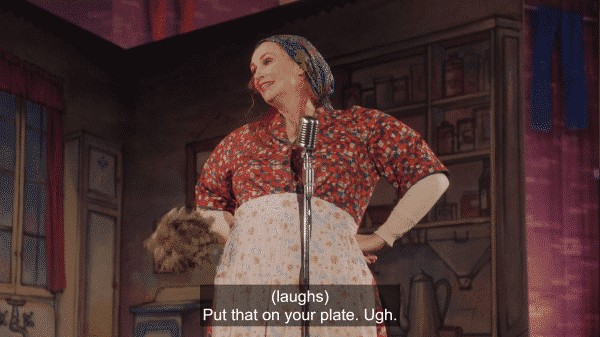 Midge was on the cusp of something big. Susie was using her connection to Harry, that we still haven't been told how she has it really, unless they simply go way back, and got Midge a potential gig. One in which this woman, Sophie Lennon, would be the headliner and Midge the opening act – at least for her shows in Jersey. Problem is, Midge takes offense to the real Sophie Lennon.
You see, Sophie Lennon's onstage persona is this Queen native type who might be who she was before having money, maybe based on a family member, but surely isn't who she is now. Now she is this woman more bougie than Midge and Joel's family combined. I'm talking full wait staff, barely eats a thing, and a complete opposite of her on-stage persona. Something which, the secret of who she really is, she protects well – pays off a whole lot of people to mind their business.
Yet, Midge, during her stand up which was supposed to seal the deal with Harry, she exposes her. With her doing that, in front of a live audience, Harry swears revenge. I'm talking blacklisting Midge and Susie. Meaning Midge may have gotten ten, if not eleven minutes worth of jokes, but good luck performing them outside of the downtown area, much less outside the Gaslight.
Highlights
The Secrets Begin To Leak
You wanna know how to bring Abe and Rose back into the fold? How to make them people who you don't sigh over when they pop up? Remind us that they don't know the whole truth about Miriam. Abe may skip over learning Miriam got arrested, and doesn't confront her on that, but watching Rose unravel? That was entertaining. Sad in a way, since you don't see her have any friends, but definitely entertaining.
But there remains the question of whether they will learn about her comedy career, or what is left of it?
The Fall of Miriam Maisel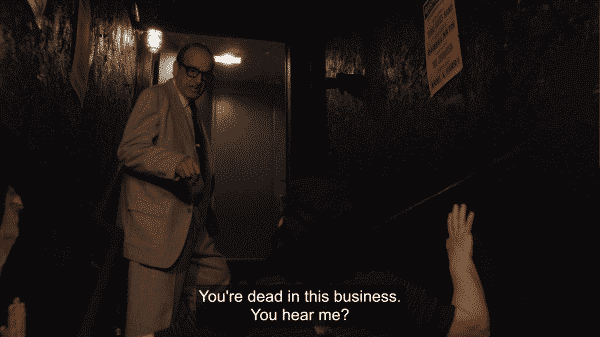 While I love Midge as much as any fan of the show, I think Harry likely blackballing her is a good thing. As Susie noted, she is getting good quickly and that means we need to hit those brakes. After all, this isn't a mini-series. More than likely Amazon wants to squeeze at least two or more seasons out of this. Especially since their shows are winning major awards and with all the sex scandals rocking their business, be it former head of original programming, Roy Price, resigning, much less their first notable hit TransParent losing its lead, they need a show like this.
After all, it is about a 50s woman owning who she is and finding comedy in it.
The Dual Life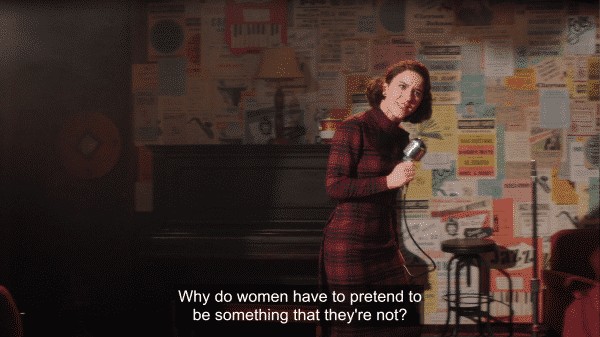 Making for a good Segway into one of the biggest highlights of the season, I think – Sophie Lennon. An underlying topic of the whole show is the transition from women like Rose's character to those who are a bit more modern like Midge. Yet, as pointed out in this Bustle article [External], one of the great things pointed out is how women in the public eye have to be a thing rather than a person. If not, as noted in the movie Dreamgirls, a product.
Which brings up a major issue for women, that arguably was even brought up in the last episode, how can you be talented and yet not be an object? Or, as noted in the Michelle Wolf: Nice Lady special, be good at standup, maybe expose some insecurities, but not be outright self-deprecating and humbling? Is there, can there be a balance?
And considering what is going on with Midge's life, it should be interesting to see where this story goes. She uses her personal life in her act but doesn't go by her own name. There is an established separation already in place. But even with Harry talking about blackballing her and Susie, you have to wonder if she may pursue trying to keep up some form of a dual life?
I mean, at the end of the day this is a comedy so we aren't going to see stuff like what you'll find in I'm Dying Up Here – in terms of social issues with being a woman in comedy. Especially since Susie likely has been, and will, protect Midge from that. But comedy is wholly based on finding the funny in the sad, deplorable, and plain weird aspects of life. So, as Midge and the show solidify its audience, it should be interesting to see how and if Midge's drama and complexity goes past the issues of being a single woman within an old-fashioned Jewish family.
Catch Up or Follow Along: Here [External]
Follow Wherever I Look on Twitter or Like us on Facebook.
---
Follow, Like, and Subscribe
Community Rating: 0.00% (0) - No Community Ratings Submitted (Add Yours Below)