The Good Doctor: Season 1/ Episode 5 "Point Three Percent" – Recap/ Review (with Spoilers)
There is a child who looks like Steve in the hospital. As you can imagine, that means you need to prepare your tissues. Previous Recap: Episode 4 "Pipes" Community Rating: 0.00% (0) – No Community Ratings Submitted (Add Yours Below)   Guest Stars Evan (Steve) Dylan Kingwell Kevin Jesse Moss Mr. Wilks Brett Rice I…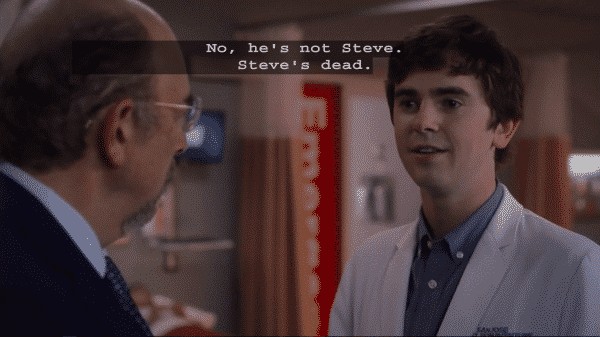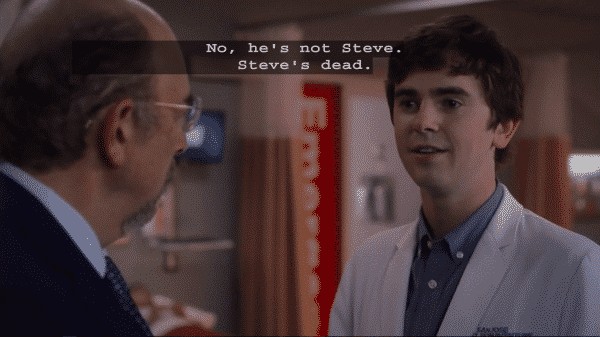 There is a child who looks like Steve in the hospital. As you can imagine, that means you need to prepare your tissues.
---
---
Community Rating:
---
 
Guest Stars
Evan (Steve)
Dylan Kingwell
Kevin
Jesse Moss
Mr. Wilks
Brett Rice
---
I Could Never Fill Their Shoes: Jared, Claire
This week Jared and Shaun get their own cases with Claire doing minor assists with both. For Jared, his case deals with a father and son who became distant after the son ran off to Thailand. Not to escape his dad or the inheritance of a multi-generational family store, but because he believed he couldn't fill his father's shoes. An idea which leads way to Jared opening up about his own father, a real estate developer in the UK, who thought Jared could open a US counterpart. However, Jared had other plans for his life.
Now, as for how Claire fits into all of this? Well, she is the one who pushes Jared to do as she does, go past trying to heal the body but also ease the mind. Something she says because Kevin, whose father Mr. Wilks, the patient, has a lot of guilt when it comes to leaving his dad, and not returning in time for his mother's funeral. Something Jared avoids helping Kevin deal with, at first. Heck, he wants anything but to be involved. However, with a slight push from Claire, who is kind of hypocritical for pushing Jared to get close and be human while she closes herself off to him, Jared gets involved.
Thus leading to, not necessarily some overly weepy moment, but definitely a touching one in which father and son reconcile.
Doppelganger: Dr. Glassman, Shaun, Claire
Meet Evan – someone who looks exactly like Steve. Something that leads to a double take from Dr. Glassman and really messes up Shaun. Especially when he learns Evan has cancer. For on top of looking like Steve, Evan has similar personality traits to him as well. This royally messes up Shaun for, as seen, while he can seem very emotionally numb at times, he is very sentimental. Between the plastic scalpel, having a book he gave Steve long ago, and surely other things, he carried something of Steve's around with him everywhere. So imagine how much of a mind **** (no better way to put it), it was to see this kid who looks and acts like his brother.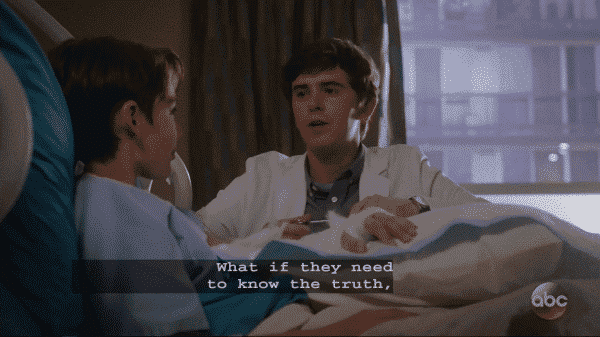 Something Shaun strangely falls right into his old routine with. As Evan asks about a possible girlfriend, calls Shaun out on his lying and more, Shaun treats Evan like he was his brother. This includes noting he likes Lea, may have something for Claire, and him learning about lying. A skill which remains hard to muster but Evan, like Steve, tries to lay down the when and Dr. Glassman helps with the how.
However, when it comes to the execution, Claire is asked to do that as Shaun desperately tries to save Evan or at least find out if he was misdiagnosed with cancer. Leading you to wonder, if he was misdiagnosed, would Shaun seek the kid out for nostalgia sakes? But, alas, Evan does have cancer, is within the 7th month of the year he was given and is already dealing with the cancer metalizing in his rib cage. Yet, Evan enjoyed his time with Shaun. Yeah, he gave him false hope, and his parents too, which they are still upset about, but at least he told him the truth. A thing Evan's parents was sparing him.
Other Noteworthy Moments
Once again, religion is brought into play. In the last episode, it was the idea of someone in porn still having some kind of religious affiliation. For this episode, it is Evan not believing in heaven, despite his age, for that would mean believing in God and that God made him sick.
Question(s) Left Unanswered
Do you think Shaun may pursue Evan's company until he dies? After all, we can only have but so many Steve flashbacks before relevant things for Shaun to remember runs out.
Forgive me if I simply forgot, but why is Claire so against Jared getting to know her past some form of empty sex?
Highlights
I'm Really Getting Tired of This Show Making Me Cry
Outside of Anne, I really can't think of a show which consistently got to me like that. Granted, one could argue they are pulling the strings hard with one sappy storyline after another, combined with really utilizing Kingwell and all he brings with Steve/Evan. However, I will admit that as intentionally sappy as these storylines are, they really do get you into the character.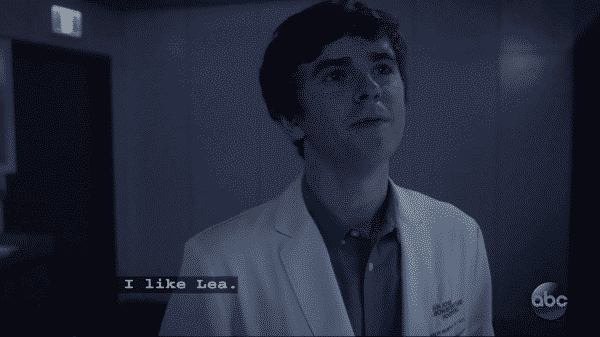 Take Shaun for instance. While I can't connect with him in terms of him being autistic, the longing he has for his brother, the one person who understood him, I can understand. That part of what makes him human I can connect with to the point where just seeing Evan had me tearing up and hoping he could be part of Shaun's adult life. Making the fact that Evan only has around 5 months left, estimated, devastating. I'm talking to the point of crying a ridiculous amount and being glad I've upped my water intake.
Though, I could say the same for Jared as well. For despite never getting into the character, mostly seeing him as Claire's sex buddy, and the one who stole Shaun's idea, the story he dealt with boosted him a bit. For one, it revealed something about him. Yes, a minor tidbit that he comes from money and his dad wanted him to help in expanding his business. However, what got me was the idea that he wanted to be his own person. Something which helped lessen the issue of him being this rich kid who didn't have the worries Shaun, and maybe Claire, had. Nevermind Dr. Melendez and Dr. Andrews who, I won't say were from working-class families, but definitely had it harder than Jared seemingly has.
Shaun Is Learning Sarcasm
A part of me will never understand, with shows featuring high functioning autistic people, how they reached adulthood and yet are suddenly learning how to decipher certain ways of speaking. Like Shaun just now learning sarcasm. To my understanding, Shaun has gone through med school and was likely raised, or at least heavily mentored, by Dr. Glassman. Between these two things, you'd think Shaun would be a bit more well-adjusted.
I mean, I get, if he was, what would there be for us to watch? What could we see him develop personal skills in? But, like with Atypical, there is just this vibe that with the support system he seemingly had for years, this sudden improvement seems off.
On The Fence
I'm Surprised Shaun Didn't Cry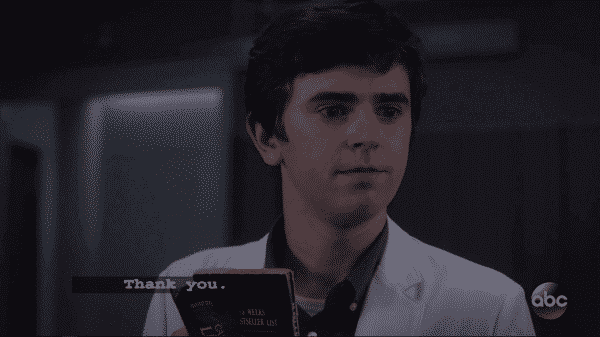 Shaun did get teary-eyed, but he didn't cry. Something I got surprised by since, outside of Dr. Glassman, Steve is the only person who was ever close to Shaun. So for him to not only have to admit a failure, but to feel like he failed to save his brother again, I was expecting a real dramatic emotional response. Which, I don't know if we didn't get it because the type of autistic Highmore is playing doesn't get like that or he was holding it back because of some past trauma about crying. It is all hard to say.
---
Follow, Like, and Subscribe
Community Rating: 0.00% (0) - No Community Ratings Submitted (Add Yours Below)