The Chi: Season 5/ Episode 1 "Overnight Celebrity" [Premiere] – Recap/ Review (with Spoilers)
As people start new chapters in their lives, there is a struggle to let go of the familiar as old faces keep coming around, and for some, the unknown feels too scary to venture alone.
As people start new chapters in their lives, there is a struggle to let go of the familiar as old faces keep coming around, and for some, the unknown feels too scary to venture alone.
---
Aired (Showtime)
6/24/2022
Director(s)
Nancy C. Mejia
Writer(s)
Lean Waithe, Justin Hillian
Introduced This Episode
Rob
Iman Shumpert
Dolly
Shariba Rivers
Bakari
Ahmad Nicholas Ferguson
This content contains pertinent spoilers.
Recap
Some Things Fall Apart – Jake, Jemma, Papa, Emmett, Tiff, Darnell, Dolly, Kevin, Marcus
She tried, ya'll. Tiff really did, but she's at the point where she would rather be in her momma's house, hearing Dolly yell for her to get the remote, than stay with Emmett. As you can imagine, this has him in his feelings, talking to Darnell, who thinks Emmett should just call it and move on. But for Emmett, it isn't that easy.
Jemma is in a similar boat. With Jake floundering right now and taking it out on her, she is wondering if she should stay, and with feeling regretful over leaving Kevin for Jake, it seems she has one foot out of the door. However, Marcus isn't like Darnell. He tries to instill some faith and hope things can get better, but expectations need to be set so that Jake can either step up or step off.
But while Jemma is being consoled about the state of her relationship, Jake is just dealing with being played. Papa decides to use Jake's failure to get on the basketball team as fodder in front of many people, and that level of violation could tear the friend group apart. If not just add another fracture which, similar to Jake dating Jemma, could lead to one person acting as the knot that keeps them together. In this scenario, Kevin.
Step Up – Suede, Jada, Darnell, Trig, Shaad, Kiesha, Christian, Tiff
Trig has determined it is time to make Imani an honest woman, and he gets her a ring. Shaad is there to see it all and is quite proud of his mans growing up and going legit in more ways than one. He isn't the only one trying to make things official, however. Suede wants to move in with Jada, but that seems to be a bit much for her. She likes Suede, but she has also learned to love living alone. Add in Darnell coming over to fix the shower head and those two kissing, and Jada teasing the idea of sex? Clearly, she wants to live her best life than one with Suede.
Which brings us to Kiesha. With her getting back into college, she wants to start a new chapter. She plans to stay at the dorms, and Tiff is coming with her to check things out. But, with hanging out with Tiff comes some conversations that Kiesha has been thinking about but hasn't been rushing to have.
Specifically, how to handle Christian? Tiff thinks he is weird because he is a nice guy in Chicago, and that sets off red flags for her and messes with her demons. Kiesha, on the other hand, has gotten to know Christian enough to know he is legit, and with that in mind, she makes it clear what her capacity is as a person, which doesn't include a relationship. Christian respects this, and to protect his own heart, it sounds like he will step back, respectfully.
This New Chapter Won't Be Easy – Trig, Bakari, Rob, Tiff, Emmett, Otis, Quentin
What began as a pause to think things over becomes a declaration of divorce from Tiff, and with that, Emmett is in his feelings, and Tiff moves from her mother's house to a man named Rob, with EJ following her there. As this happens, Trig finds himself roughing up Bakari, the kid who killed Ronnie, who set him up to be captured on camera to discredit this new leaf he has been trying to turn over.
Trig tries to persevere through this, mainly by talking to Bakari and leaning on his people. But with Imani seeing that video and deciding to stay with her mom in St. Louis? It seems Trig has one less shoulder to lean on as he navigates the fallout of the video
Though maybe that makes for the return of not only Otis but Quentin for the best. Trig can't play both sides like Otis or Quentin can, and between them playing the boogiemen or teaching Trig to be both Trig and Victor, they can step in and show Trig how it is done.
Things To Note
Don't expect to see Imani return since the actress playing her quit the show – seemingly over vaccine mandates.
Question(s) Left Unanswered
Why would Papa embarrass Jake in front of the whole school? Is he so desperate to become a notable voice in the community that he'd take a Wendy Williams route?
What Could Happen Next
Quentin and Otis reasserting themselves into the local gang life and causing friction
Emmett pursuing this thing he has for Kiesha, and that causing a side-eye from Tiff
Jemma, despite her talk with Marcus, checking to see if Kevin would take her back, and us seeing Lynae side-eye her, like she does all of Kevin's friends
Darnell and Jada getting back together
Rob not lasting with Tiff
Review
---
Community Rating:
---
Highlights
How Vulnerable Everyone Is Being With Each Other
One of the most beautiful things "The Chi" has done since the beginning is show the emotions and vulnerabilities of its characters from day 1. There doesn't need to be a build and blow-up for every last character. Some, like Nina, do sometimes operate like that. However, most? Nope.
Emmett will get emotional and cry every other episode. Kevin will be dealing with his PTSD from shooting someone and all he has experienced one episode, deal with lacking reciprocal love from a girl, and then be laughing and intensely playing video games the next. Then you got Tiff, who is a humanized around the way girl who, yes, may deal some drugs, have sex with some dudes who got money but at their core, they ain't s***, but we're able to see her as a whole person and not just what archetypes those who we see look like her are known for.
And as shown, it isn't just the kids and young adults either. Besides the aforementioned Nina, there is Jada going through it regarding whether to revisit an old thing, Darnell, or pursue something serious with this young thing in Suede. Almost every character is dealing with something, a insecurity, a realistic complication in their relationship, and it all adds layers to not only the Black experience, but the Black experience, specific to those who live, work, and even thrive in an urban city like Chicago.
On The Fence
Some Going Back To What's Familiar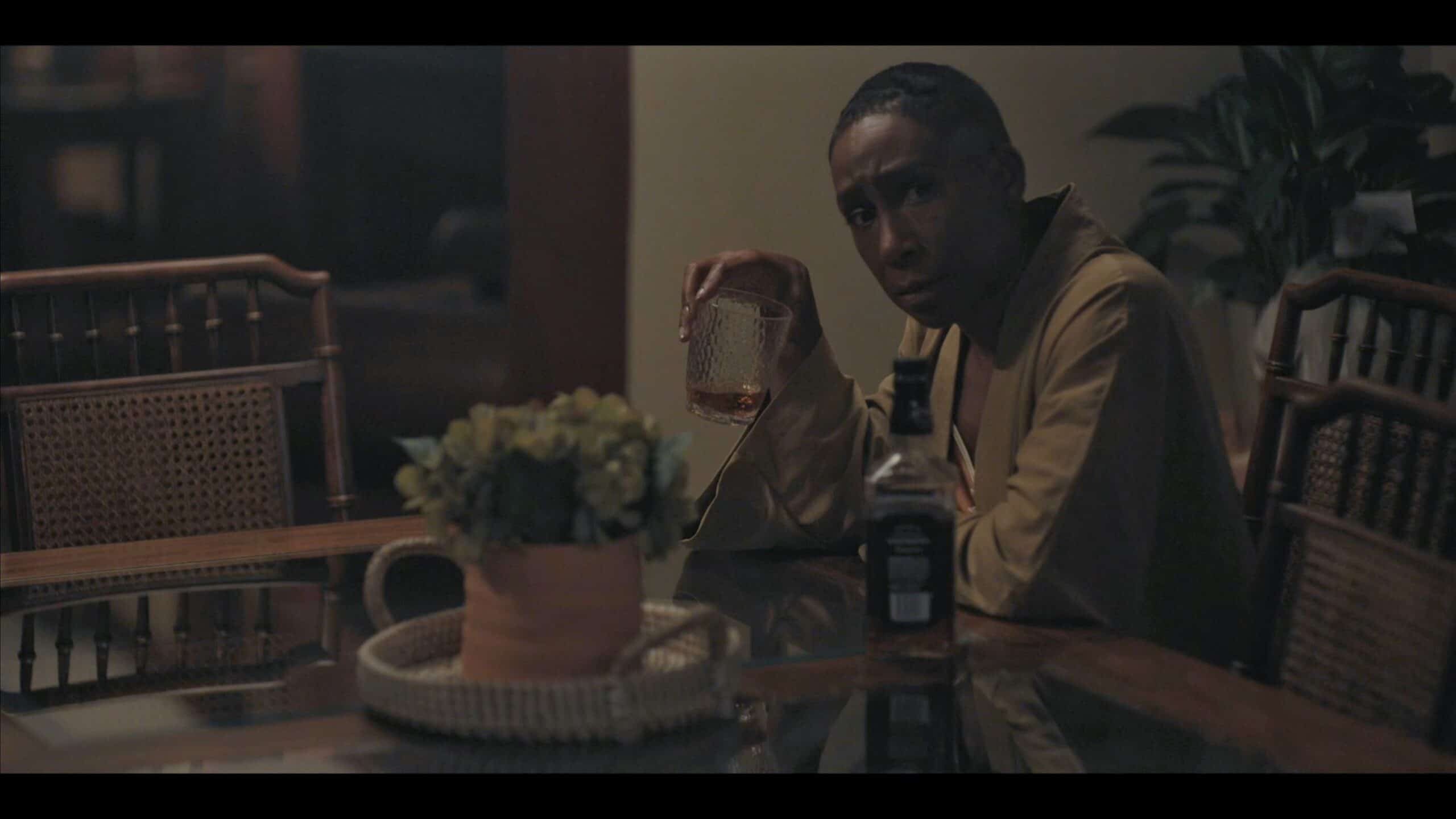 In some ways, characters returning to what's familiar is fine. Meeting Tiff's mom, Dolly, was a highlight of the episode, and hopefully, we'll see more of her. However, Darnell and Jada? Emmett pining over Kiesha again? Jemma was tempted to maybe see if Kevin would give her another chance? We know the possibility is high of these characters revisiting their old flames, more mature than they once were, is possible. The question is, with Ronnie long gone and Tiff breaking her pattern with Emmett, how will these next three sets of people handle wanting to visit that old thing?
[ninja_tables id="57300″]
The Chi: Season 5/ Episode 1 "Overnight Celebrity" [Premiere] – Recap/ Review (with Spoilers)
Overall
It's a strong opening for a 5th season, as the desire to revisit who a character once was, or could have been, are brought up, what can be in the next chapter, and whether familiar faces should make a return and reclaim their space.
Highlights
How Vulnerable Everyone Is Being With Each Other
Disputable
Some Going Back To What's Familiar
---
Follow, Like, and Subscribe
Community Rating: 0.00% (0) - No Community Ratings Submitted (Add Yours Below)