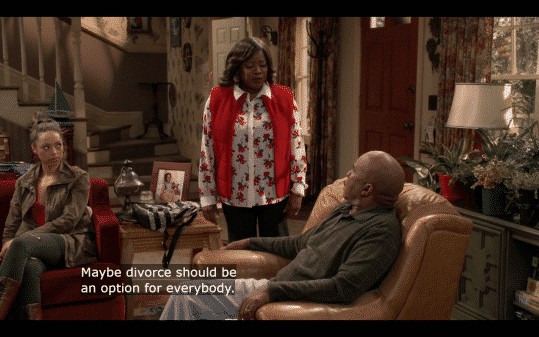 The Carmichael Show follows up on follows up on what happened in the "Morris" episode and reminds you that Cynthia has not forgotten that big reveal.
Is Divorce An Option?: Cynthia, Evelyn (Starletta DuPois), Vernon (Bill Cobbs), Joe, Maxine
Just when you thought Joe was something else with his opinions, we get to meet Cynthia's father Vernon. A man who thinks being sensitive is a homosexual trait, that wants the Muslim ban, and talks to his wife like she is a servant. This is on full display to the family and after going on a woman's march with Cynthia and Maxine, Cynthia's mom Evelyn notes she has had enough.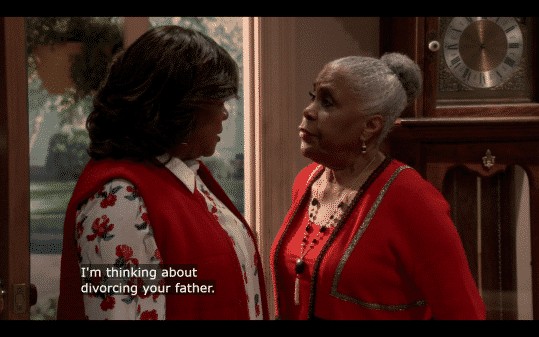 This is a bit of a shock to Cynthia because she was raised to stay by her husband yet her mom is talking divorce. Leading to you usual discussion about the topic. Which ranges from Maxine getting blamed for starting the issue to Joe's son Morris being brought up by Bobby. A topic which, a month after the reveal, is still a very sore topic for Cynthia. So sore that when Joe makes it sound like they are good now, she decides to spend a day at her mother's house.
Commentary
You know that I'm happy that they mentioned that Morris storyline. Much less that, after three seasons, we are finally getting to meet people on Cynthia's side of the family who matter. For in "Lesbian Wedding," we got to see a glimpse of her family, but the majority of the focus was on Maxine. Making it so you couldn't get a real sense of who Cynthia's people were and how they may have influenced her.
Something you can see here because, essentially, Cynthia married a kinder version of her daddy. On top of that, when she is alone with her mom, you can see so much of Bobby in Loretta Divine's performance that you have to appreciate her skills. Though, with that said, as usual, the comedy was kind of soft and they didn't really go hard on the topic.
The Reconciliation: Cynthia, Joe, Vernon, Evelyn, Bobby, Nekeisha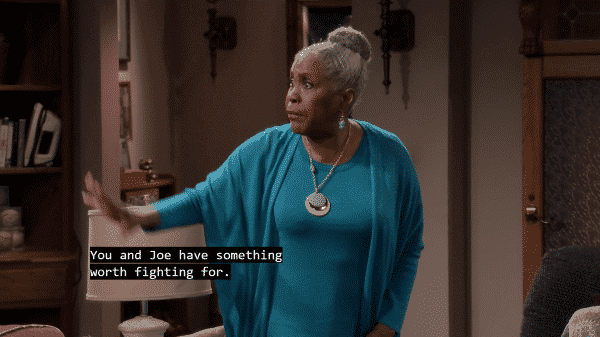 After about a day of realizing he doesn't know how to take care of himself, Joe goes to Vernon and Evelyn's home to try to work things out. However, for Vernon and Evelyn, it is too late. For while there may have been a time she questioned the decision, she realized the night before, while she and Cynthia contemplated their futures, she has reached that point. Which, as Vernon makes fun of Joe for trying, tips her over and leads her to announce things are over.
Problem is, neither have the money to move out. So, enter Nekeisha and Bobby to give some pointers. Of which, are of the caliber you expect from those two.
Commentary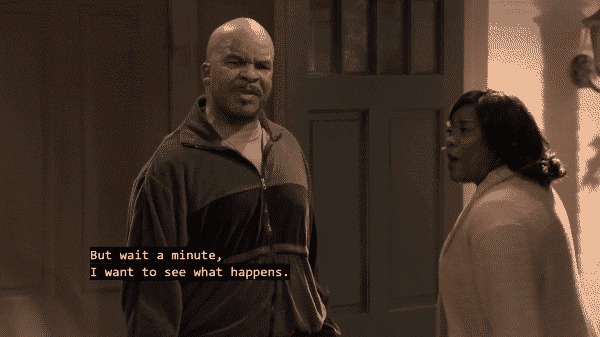 One thing I wish The Carmichael Show did more was show their characters as people more and not just one liner machines. And not in the form of noting how Maxine has anxiety or through one episode guest stars. I'm talking Joe's issues with his dad, Maxine's parents' divorce causing issues, and things which can be built off on. Though with an estimated 4 episodes left, maybe this thing can end with a bang? I mean, we are still due a Maxine and Jerrod wedding after all.
Collected Quote(s)
Does it make you weak if you give up on a marriage or is it weak to stay in one that you're not happy in?