Billy expands the team by one, and as he does, he stumbles upon Compound V and a new asset.
---
Community Rating: 83.27% (6)
---
---
Network
Amazon Prime
Director(s)
Phil Sgriccia
Writer(s)
George Mastras
Air Date
7/26/2019
Introduced This Episode
Popclaw
Brittany Allen
Queen Maeve
Dominique McElligott
Mother's Milk
Laz Alonso
Images and text in this post may contain affiliate links which, if a purchase is made, we'll earn money or products from the company. Affiliate links and external links have an upward facing, superscript, arrow.
Recap
Mother's Milk: Mother's Milk, Frenchie, Billy, Hughie
With finally having some kind of lead, and dragging Frenchie back into the fold, Billy thinks it is time to get the gang back together. Hence him pushing Mother's Milk (M.M), now a youth corrections officer, to leave his job, anger his woman, and link back up. Which, it should be noted, isn't an easy thing. Mother's Milk has beef with Billy that isn't resolved and with M.M. accusing Frenchie of the whole Mallory situation, it makes them have an "on sight" type of relationship. But all is cooled out as plans are revealed and goals align.
The Life I Could Have Had: Hughie, Popclaw, Annie, Madelyn, Billy, Frenchie, A-Train
One of the leads Billy got before Translucent was killed, stuffed into a zinc suitcase, and thrown into a body of water, was Popclaw dating A-Train. Now, who is Popclaw? Well, she is a B-Team hero who has done movies but seemingly isn't working enough under the Vought umbrella to keep up with rent payments. On top of that issue, A-Train keeps her a secret, and we learn Madelyn has some realm of control over who dates who. Showing you how daunting it must be to be a hero.
But Popclaw isn't the only one suffering. Annie is forced into a more revealing outfit, and A-Train learns that if he loses a race for the fastest man in the world – he is off The Seven. Thus he uses Compound V, a steroid for heroes, to win his match and throughout the latter half of the episode, Billy and his team try to get it. However, all that happens is Hughie and Annie reconnecting and the crew watching Popclaw smash her landlord's head as he is eating her groceries. Which gives Billy an in so that he can learn more and expand operations.
This Means War: Homelander, The Deep, Madelyn, Queen Maeve
It's not until the end of the episode The Deep discovers Translucents remains, and until then, Homelander seems to be the only one worried. Maeve doesn't care about anything, beyond keeping her numbers up and Homelander acting possessive. Then with Madelyn, until she gets Billy's message of more of her team being threatened, she too hunches off Translucent not showing up. After all, we saw him naked in the bathroom, the man is a perv. But with his remains comes a realization a red alert needs to be sound. However, only internally since the military bill just came out of committee and the last thing Madelyn would want is for that to be messed up.
Review
Highlights
Annie and Hughie
They're just cute. Not on the level of #Goals, not forced together just so we have at least one couple, they are just simple and cute. Which, with this show, probably means they won't last.
Understanding The Relationship Between Heroes & Vought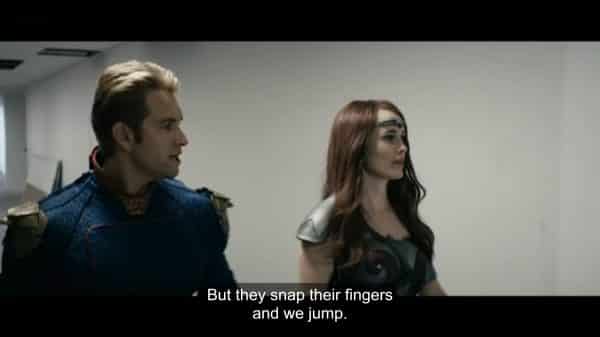 It's a very interesting thing to see Supers from Popclaw all the way up to Homelander at the beck and call of those like Madelyn and unable to do anything. Popclaw, for whatever reason, can barely pay her rent. Homelander, despite making billions, seemingly can't transition and take on a more business role. Leading to you really having to ask, when the guy who Annie replaced "retired," how did he do that? Is there a 401K plan? Did they save their money? For with the way A-Train was going to be tossed aside, it makes it seem that Vought is as cold-hearted as most conglomerates seem.
Leaving, again, this need to question whether they have any competitors and also, where are the supervillains? For I'm sure between Madelyn or someone else, there has to be at least one who got pissed off and decided they wanted revenge. Just what we've seen Annie go through plants the seed for a supervillain. Never mind I doubt heroes are just born in the US, what about heroes born under dictatorships and in parts of the world the government is underfunded, or too corrupt, to keep a super from taking over or being someone's right hand? But that's a whole different thing.
On The Fence
Already Desensitized To The Violence
With two episodes featuring characters exploding, and now Popclaw destroying someone's head like her thighs were a nutcracker, the violence has officially gone past a tipping point. So here is hoping no one thought some grotesque imagery of mutilated bodies would be a selling point for the whole season.
Follow Wherever I Look on Twitter, Like us on Facebook and Subscribe to the YouTube Channel.
The Boys
Season/ Episode
Synopsis
Episode Information
Topics & Focused Characters
Season 1, Episode 8 "You Found Me" [Season Finale]

How does a show like 

The Boys

 do a finale? Well, by killing characters you'd never expect and ending on a reveal which may actually shock you.

Director(s)
Eric Kripke
Writer(s)
Anne Cofell Saunders, Rebecca Sonnenshine
Air Date
7/26/2019
Introduced This Episode
Nathan
Christian Keyes
Mr. Edgar
Giancarlo Esposito

The Planned Worked For Many, But Not All:

 

The Deep, Homelander, Billy, Madelyn, Susan, A-Train, Mr. Edgar
Desperate Times Call For Desperate Measures:Annie, Hughie, Billy, M.M., Frenchie, Kimiko, Grace, Donna
You Can't Always Get What You Want, But That Doesn't Mean You're Settling:

 

Becca, Madelyn, Homelander, Annie, Maeve, A-Train, Hughie, M.M., Frenchie, Nathan

Season 1, Episode 4 "The Female of the Species"

Frenchie thinks he may have found someone new for the team. Problem is, she's likely a Super, doesn't seem to speak English, and is possibly psycho.

Director(s)
Fred Toye
Writer(s)
Craig Rosenberg
Air Date
7/26/2019
Introduced This Episode
The Female
Karen Fukuhara
CIA Deputy Director Susan Raynor
Jennifer Esposito
Becca
Shantel VanSanten

Moving On Is Hard:

 

Hughie, Annie, Billy, Becca, Susan
Spice Girl Quiz:

 

Billy, Frenchie, The Female, A-Train, Popclaw, Mother's Milk, Hughie
Are We Even Heroes?:

 

Queen Maeve, Homelander, The Deep, Madelyn

Season 1, Episode 5 "Good For The Soul"

With the concept of faith and loss brought up, we're reminded of how lonely many characters are and how they struggle to find connections.

Director(s)
Stefan Schwartz
Writer(s)
Anne Cofell Saunders
Air Date
7/29/2019
Introduced This Episode
Ezekiel
Shaun Benson
Donna
Ann Cusack
Black Noir
Nathan Mitchell
Elena
Nicola Correia-Damude

Believe Expo:

 

Ezekiel, Hughie, Billy, Annie, Donna, Mother's Milk
Those Left Behind:

 

Billy, Maeve, Elena
A Song For The Lonely:

 

Annie, Hughie, Frenchie, Black Noir, The Female, A-Train, Homelander, Madelyn

Season 1, Episode 6 "The Innocents"

On top of learning "The Female's" real name and background, Billy's beef with Homelander is fleshed out, Homelander's childhood, and more.

Director(s)
Jennifer Phang
Writer(s)
Rebecca Sonnenshine
Air Date
7/26/2019
Introduced This Episode
Mesmer
Haley Joel Osment

The #MeToo Movement Hits Vought:

 

Annie, The Deep, Madelyn, Maeve, Elena, Ashley
Taking It Back:

 

Homelander, Billy, Hughie, Kimiko, Mesmer, Frenchie
The Beginning Of The End:

 

Susan, Billy, Annie, Hughie

Season 1, Episode 7 "The Self-Preservation Society"

In the penultimate episode of the season, Becca's fate is revealed, and you may end up getting a bit teary-eyed.

Director(s)
Dan Attias
Writer(s)
Craig Rosenberg, Ellie Monahan
Air Date
7/26/2019
Introduced This Episode
Monique
Alvina August
 Dr. Vogelbaum
John Doman
Grace Mallory
Laila Robins
Naqib
Krishan Dutt
Hugh Sr.
Simon Pegg

Initiate The Contingency Plan:

 

Annie, A-Train, Homelander, Meave, Hughie, Billy, M.M, Kimiko, Hugh Sr., Frenchie
My Greatest Failure:

 

Grace, Dr. Vogelbaum, Homelander, Madelyn, Becca, Billy
Too Big To Fail:

 

Naqib, Madelyn, Monique, Annie, Hughie, Billy, M.M, Susan,

Season 1, Episode 3 "Get Some"

Billy expands the team by one, and as he does, he stumbles upon Compound V and a new asset.

Director(s)
Phil Sgriccia
Writer(s)
George Mastras
Air Date
7/26/2019
Introduced This Episode
Popclaw
Brittany Allen
Queen Maeve
Dominique McElligott
Mother's Milk
Laz Alonso

Mother's Milk:

 

Mother's Milk, Frenchie, Billy, Hughie
The Life I Could Have Had:

 

Hughie, Popclaw, Annie, Madelyn, Billy, Frenchie, A-Train
This Means War:

 

Homelander, The Deep, Madelyn, Queen Maeve

Season 1, Episode 2 "Cherry"

As Vought International, Madelyn specifically, reveals its hand to us, so comes the realization this may actually be a show with no heroes. Well, besides Starlight.

Director(s)
Matt Shakman
Writer(s)
Eric Kripke
Air Date
7/26/2019
Introduced This Episode
Frenchie
Tomer Capon
Homelander
Anthony Starr
Senator Calhoun
David Andrews
Ashley
Colby Mionifie
Doppelganger
Dan Darin-Zanco
Anika
Ana Sani
Translucent
Alex Hassell

Starlight, This Is Your New Life:

 

Annie, Ashley, The Deep
Wanting To Do More And Yet Doing Too Much:

 

Homelander, Senator Calhoun, Doppelganger, Madelyn
We Need To Talk About The Guy In My Trunk:

 

Anika, Homelander, Frenchie, Hughie, Billy, Translucent

Season 1, Episode 1 "The Name Of The Game" [Series Premiere]

The Boys gives us Greco-Roman style god-like heroes, and reminds us of the dark side the MCU and DCU don't show.

Director(s)
Dan Tractenberg
Writer(s)
Eric Kripke
Air Date
7/26/2019
Genre(s)
Action, Drama, Comedy
Good If You Like

The Dark Side Of Superheroes
Super Heroes Behaving Badly
Blood and Violence
David vs. Goliath Storylines

Isn't For You If You

Don't Want To Watch Anything Dealing With Superheroes, Even If It Calls Out The Heroes, Their Creators, And The Lack of Collateral Damage Never Mentioned

Introduced This Episode
Hughie
Jack Quaid
Robin
Jess Salgueiro
A-Train
Jessie T. Usher
Billy Butcher
Karl Urban
Madelyn Stillwell
Elisabeth Shue
Annie (Starlight)
Erin Moriarty
Deep
Chace Crawford
Annie and Hughie - 80%
Understanding The Relationship Between Heroes & Vought - 85%
Already Desensitized To The Violence - 70%
---