While the marriages continue to decay, there is at least one person who will help you believe in love.
---
| | |
| --- | --- |
| Directed By | Patricia Cuffie-Jones |
| Written By | Patricia Cuffie-Jones |
| Aired (UMC) | 2/27/2020 |
Episode Recap
On A Happy Note, For Now: Carter, Mora
Mora may end up the only happy one when all is said and done. For with Candace's friend Carter asking her out, she has a date – one that ends with a kiss. Though, with Mora having this vision board and long term plan, Carter taking the initiative one minute and then disappearing, hopefully for work, the next, has Mora frazzled.
Here is hoping this didn't end almost as quickly as it began.
People Change, And Not Always For The Better: Quasir, Katrina
Marriage changed people. Before being married, Quasir and Katrina were good. She was the supportive girlfriend who dedicated all her time and energy to him, and he was the star. However, then his knee blew out, he got depressed, and things had to change. All of which she stood by him through, even when he seemed suicidal.
But now, after being married, and her getting pregnant, he is acting brand new. He is under the impression, with this child, she is going to be a stay at home mom. You know, put her life on hold and dedicate it to raising his kid and taking care of him. That's not what Katrina wants. She has plans for her own business and in terms of the baby? She wants his support, needs his support rather, for they can't find a heartbeat yet.
And ultimately, they don't find one, and the devastation is swift. Leading to Quasir messing up at work, and as for Katrina, well, you can only imagine.
Tired Of Being Alone: Tisha, Luvell, Candace
While Luvell cheated, and now Candace has as well, there remains something there. They still have chemistry, even when not being interviewed, and just home alone together. However, with Candace not knowing where they are at, and Luvell unable, or unwilling, to outright say he wants to be with Candace in the capacity they both were, he strays.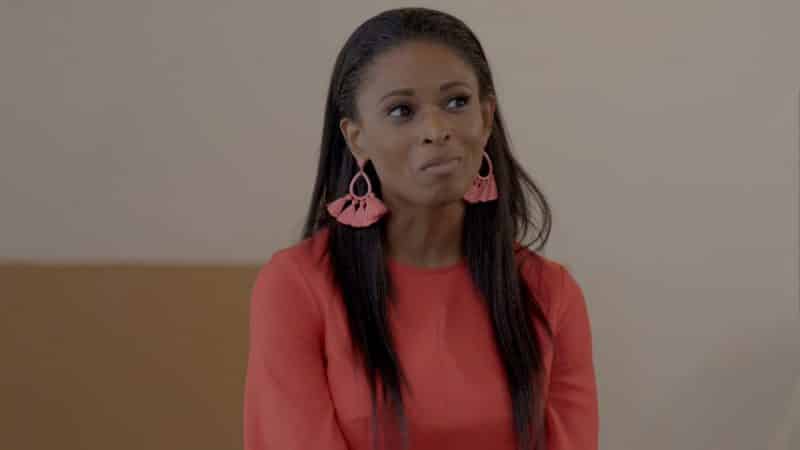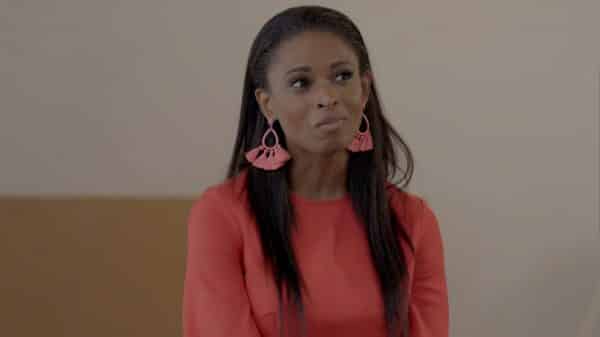 Well, he tries to stray with his co-worker Tisha. Someone flattered by the attention, but with Luvell being married, having that book, and so much more, she can't do it. In fact, she outright says his advances aren't fair, for she can't bring herself to reciprocate them.
So he asks her how would she feel if he left his wife.
Review/ Commentary
Highlights
Being Torn About Who Luvell Should Be With And The Line They Walk With Him
In the last episode, there was a need to question whether Candace should stay with Luvell considering she has options and now it is Luvell. For I think, when it comes to both, as likely said before, you recognize this isn't your usual situation where you are geared to hate one and see the other as some long suffering spouse. Rather, both are unhappy and may make lukewarm attempts to reconnect, but based on how they act with people outside the relation to each other, it is clear they are going through the motions. They likely fear what is out there not being worth ending what is established.
Yet, as shown, those options might be better than what they have for nothing positive seems to be consistent between Luvell and Candace outside of showing up to appearances on time. Plus, there is something about Tisha that makes you wonder how she and Luvell would be as a couple. Especially since, unlike Candace's ex, there isn't this sense of competition or drama there.
The Ups and Downs of Quasir and Katrina's Relationship
I don't think there is enough focus on how things change as your relationship evolves. We see it on programs like "Black Love," but in terms of scripted relationships, there is just this progression from friends to lovers, and while there might be one issue that requires a grand gesture to fix, after the gesture, things are good. However, with Quasir and Katrina, I feel like we get what happens after the movie end. You know, after Quasir lost his ability to play football and she loved him through the pain.
Which, for us, is what makes their marriage of value. Seeing Katrina be more than his cheerleader but someone who wants to be a wife, a mom, a businesswoman, and not continue to revolve around Quasir's sun, it brings a whole new light to the character and her relationship. Also, it pushes you to wonder what is Quasir's take on how he thinks relationships should be and what inspired that? Thus furthering your investment in the character.
Mora Keeping Hope Alive
If it wasn't for Mora, "Stuck With You" could make you wary of love and companionship. Granted, Carter is rather new and could still screw up, but I want to have Mora's optimism, don't you? I want to believe someone can come along, say the right thing, and it just works out. Is it likely *side eye* but it is possible.
On The Fence
Is Stephanie Going To Be More Than Some Kind Of Wheeling And Dealing Character?
While it is always nice to see adults have friends outside of family and who they are in a relationship with, there is a need to question who is Stephanie outside of Candace? Does she date, does she like her job? Heck, does she like Candace or just values the money she makes off of her? What is going on here?
[td_block_12 custom_title="Stuck With You Directory" tag_slug="Stuck With You" td_ajax_filter_type="td_category_ids_filter" ajax_pagination="next_prev" limit="1″ td_ajax_filter_ids="11, 4088,36471, 25″]
Being Torn About Who Luvell Should Be With And The Line They Walk With Him - 85%
The Ups and Downs of Quasir and Katrina's Relationship - 84%
Mora Keeping Hope Alive - 86%
Is Stephanie Going To Be More Than Some Kind Of Wheeling And Dealing Character? - 70%