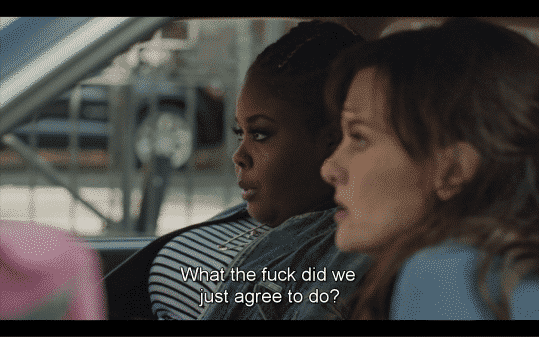 After being assaulted, Bridgette is trying to reclaim her inner bad ass, but people refuse to let her be great and validated.
---
Network
Showtime
Director(s)
Leslye Headland
Writer(s)
Karey Dornetto
Characters Introduced
Ken
Matt Shively
Eddie
Mark Webber
---
Can I Get Some Validation Here? A Win?!: Eliza, Tutu, Bridgette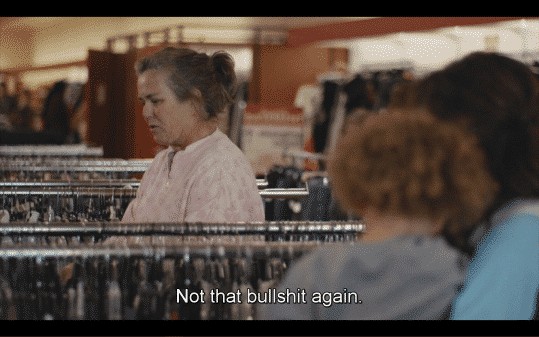 Assaulted in the last episode, robbed in this one, and Tutu not supporting Bridgette's dreams of becoming a WNBA player. It is one blow after another and Bridgette is tired of it. Making having a friend like Eliza one of the few blessings in Bridgette's life right now. She is someone to eat with, be open to without worries of significant judgement, and she is just as much down as beating up the kids who robbed Bridgette as she is buying her some new sneakers herself.
But don't take Eliza as the big and Black best friend who doesn't have her own problems. Money for her is a major issue since, the way she talks, she is or is thinking about being a graduate student. Something her father supports only if Eliza goes to church with him. That string attached to the money, which Eliza gets weekly, is getting on her nerves. But, money is money.
Reclaiming My Time & My Power: Bridgette
After being violated, Bridgette decides the first step to regaining autonomy is doing this Muscle Man Mud Run thing. Something that, yeah, she may not have trained for like she probably should of, but is just what she needs to prove she is strong. And damn Rafi, or any other man, who questions her! But it doesn't end there. She also decides to take back ownership of her vagina by seducing and having sex with a stock clerk named Ken. You know why? Because Bridgette has the balls of a man.
Yeah, you heard right! When she wants it she takes it and she wanted that kid, who may legally be considered a kid, and she got that penis! She rocked that penis, and got ejaculated in by that penis. Welp.
You Don't Respect Me At All Do You?: Rafi, Tutu, Nelson, Bridgette, Eliza
One the day of the Muscle Man Mud Run, Eliza and Nelson show up and are ready. Eliza is there out of obligation, and trying to avoid being a stereotype, but Nelson seems to be just trying to maintain a balance. After all, Nelson wants everything to be cool and copasetic between her and Bridgette so there is no drama. However, she still is Rafi's girlfriend. Someone who he credits with making a better man and with that nugget, she drops that Larry got vaccinated when he was with her. Which she pushes off on Bridgette as if she wasn't in agreement.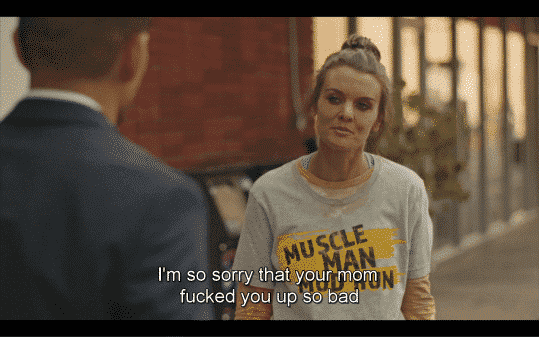 That information pushes Rafi to get Larry baptized and this leads to him, Tutu, and Rafi not showing up to see Bridgette and Nelson finish the mud run. Something that pisses Bridgette all the way off since, again, she wants some kind of validation. Leading to Bridgette being a bit out of character and not making herself seem small but instead making herself large and even hitting Rafi with a few low blows. Such as bringing up his mom and how he basically goes from one woman telling him what to do after another because his mom screwed him up so much.
Words you see she kind of regrets saying, but what is done is done. She is tired of people disrespecting her body and decisions. Making perhaps the one good thing to come out of this is Rafi got to bond with Tutu over the baptism. Not to the point of them being like mother and son-in-law, but at least open to being a bit more friendly toward one another.
Other Noteworthy Facts & Moments
We learn Rafi had a relapse around a month ago.
Highlights
Eliza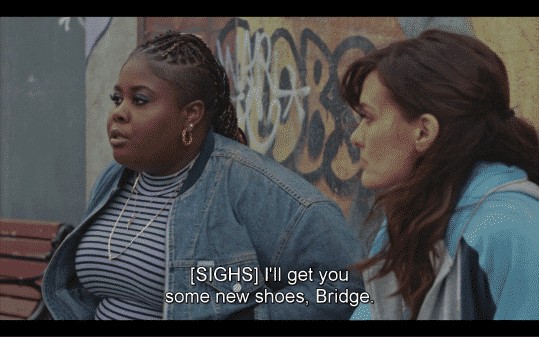 It has been a long journey for Raven Goodwin since her time on Good Luck Charlie, and similar to Dylan Sprouse, recently seen in Dismissed, you can see a certain level of growth from her. Which I won't pretend didn't come primarily from her role on Being Mary Jane but with Being Mary Jane ending soon, it is great to see her move onto a new series so quickly. Especially since Eliza has become necessary for Bridgette's survival.
But what makes Eliza worth highlighting is that she doesn't fit that sassy fat black girlfriend trope all the way. Eliza gets to have her own problems, dreams, and morally questionable moments. What I'm saying is, she doesn't seem like a character who starts and stops at Bridgette's beck and call. Plus, she acknowledges a lot of things about herself, including the stereotypes she is trying to avoid. Thus letting you know Goodwin isn't trying to play up a joke or trope. She took this part because there was something more to it than meets the eye. Which, little by little, we are getting to see.
Religion
Though also touched on in the last episode, I like that religion is a growing presence on the show. Whether it is Bridgette bad mouthing the idea, and offending some people in the process, to Rafi looking at it as something which could strengthen his sobriety. Much less, us seeing a pastor who had an issue with drug use reach out to Rafi. Thus giving us multiple angles in which none of them present a bias point of view. Just different ways of dealing with the topic thanks to each individual's experience.
Rafi and Nelson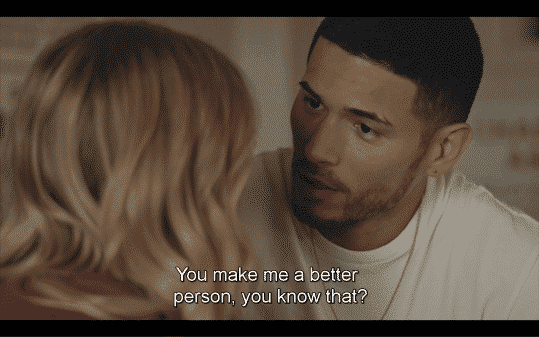 Though Nelson remains a bit of a weirdo, I think it is because she is so completely herself, and isn't that shy about it, that it comes off almost weird. Especially on a show in which damn near everyone is very self-conscious about how they are as a parent, their past, alongside what their future may hold. Yet, it is because Nelson is seemingly so in tune with herself that she is an appealing match for Rafi. Especially after the way Bridgette makes it seem he is dependent on his partner for direction and validation.
For as has been made clear, despite Bridgette and Rafi not being together anymore, he still cares for her deeply. Maybe beyond the fact she is the mother of his child. Yet, with Nelson, be it patience, understanding, or being more of a partner than someone looking for a co-signer, he strives to be better more consistently. He seeks for ways himself to be a better man, without her prompting, and just asks for her to support him. Like the idea of going to Eddie's church and making it a family thing. Also, when he asked her to make sure Larry saw the doctor as he went to his meeting.
Making it seem that Nelson is different from Bridgette and Rafi's other exes. She is someone which is giving him the ability, a safe environment, to have growth.
Bridgette Lashed Out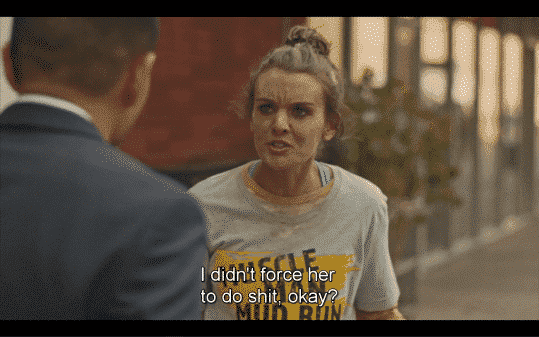 I'm starting to understand why I enjoy Bridgette so much – she reminds me of Darla on Queen Sugar. Someone who often makes herself small in the face of adversity but, unlike Darla, actually fights back. There is a line with Bridgette and at a certain point, if you back her into a corner, or betray her trust, BAM! Right in the kisser.
But her lashing out at Rafi was really something. For while it didn't necessarily make her seem like the bad guy in the situation, seeing her that angry and showing it towards Tutu and Rafi put it out there that it is possible. All that has to happen is you putting Larry in the middle of it. Leading me to wonder if we should see this as a rare thing or consistent possibility? For as Bridgette gets more and more impulsive, could it mean she may eventually become just erratic?
Catch Up or Follow Along: Here [External]
Follow Wherever I Look on Twitter or Like us on Facebook.