As Uncle George dances around what he and Leanne are capable of, we're reminded of Sean's part in Jericho's death.
---
Community Rating: 56.01% (1)
---
---
| | |
| --- | --- |
| Director(s) | Isabella Eklof |
| Writer(s) | Tony Basgallop, Nina Braddock |
| Aired (Apple TV+) | 2/19/2021 |
This content contains pertinent spoilers. Also, images and text may contain affiliate links, which, if a purchase is made, we'll earn money or products from the company.
Recap
The Absent Father – Sean, Dorothy, Jericho
While Dorothy is often seen as the reason Jericho is dead, let's not discount Sean's role in this. As a father, Sean was less active and placed a lot of the burden of child-rearing on Dorothy. Hence why we're reminded of him wanting to join "Gourmet Gauntlet," despite signs Dorothy couldn't handle raising a child alone.
Yet, what can we say? Sean was selfish, and it wasn't until his wife experienced a psychotic break he realized it. Thus causing some form of an awakening, but it might be too late.
There Is More Than You Acknowledge – Uncle George, Leanne, Dorothy, Sean, Julian
Uncle George, being a man of faith, born again, perhaps beyond the way those words are traditionally used, pushes the idea Leanne, as he, are guided to be with certain people. However, Leanne has exhibited free will, and with her going rogue, bad things happen. Dorothy doesn't give a damn about anything Uncle George says but Sean? He listens. He takes not of his hands, the sewer issue, and while he doesn't outright believe, it does tempt him to listen.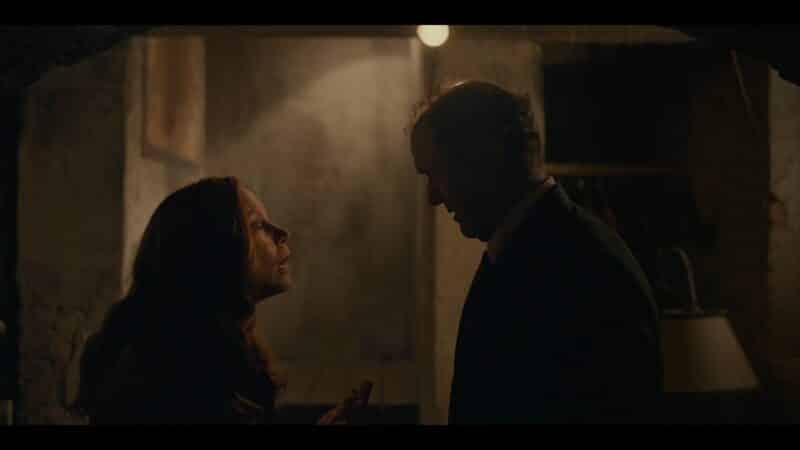 Thus he begins to make a plan to get Leanne out of the house, Dorothy be damned. For even if it isn't Uncle George's words, at the very least, Sean's conscious is kicking into the next gear, and he realizes he can't keep her hostage in good faith. Mind you, his perspective on Leanne differs from everyone else but considering how Dorothy and Julian treated Leanne, do you think they don't deserve hell?
Tragedy Strikes – Uncle George, Leanne, Dorothy, Sean
As Sean is escorting Leanne out, we learn a tragedy struck Leanne's former home, and Uncle George is ready to blame the Turner family. However, whether or not we should see the shooting as their fault is hard to say. After all, what could Leanne really have done to stop it?
Review
Highlights
Uncle George Bringing Back Servant's Supernatural Element
It isn't clear if Leanne called Uncle George, if Uncle George and Leanne have powers or not, and whether they are truly good or only good in the eyes of the cult they share. Either way, the supernatural element has been played down, despite the lights and odd moments we have seen. So to finally get some kind of explanation is quite the treat. Even if it is bits and pieces rather than outright answers so we can finally learn if guilt is what causes Sean to lose his taste, a curse from Leanne, or the power of her presence?
Servant Directory
| Title | Excerpt |
| --- | --- |
| Servant: Season 2 – Review/ Summary (with Spoilers) | While, like most M. Night Shymalan productions, you have to wait till the end for things to get good, Servant season 2 will make you interested in a 3rd season. |
| Servant: Season 2/ Episode 10 "Josephine" [Finale] – Recap/ Review (with Spoilers) | In the 2nd season finale, Servant gives you fight scenes, blood, death, and a promise that season 3 could and should be way better than season 2. |
| Servant: Season 2/ Episode 9 "Goose" – Recap/ Review (with Spoilers) | The woman Uncle George warned Leanne about arrives, but will she speak to Dorothy before she does something drastic? |
| Servant: Season 2/ Episode 8 "Loveshack" – Recap/ Review (with Spoilers) | As Julian digs into Leanne's past, it seems Uncle George is trying to determine whether Leanne will still have a future. |
| Servant: Season 2/ Episode 7 "Marino" – Recap/ Review (with Spoilers) | As the Marino family tragedy unravels, there is more poking and prodding into Dorothy's role into it as the police ask questions. |
| Servant: Season 2/ Episode 6 "Espresso" – Recap/ Review (with Spoilers) | As Uncle George dances around what he and Leanne are capable of, we're reminded of Sean's part in Jericho's death. |
| Servant: Season 2/ Episode 5 "Cake" – Recap/ Review (with Spoilers) | To appease Leanne, Dorothy allows her some freedom and a visitor. But, unbeknownst to Dorothy, Leanne is going to get more than one person coming to visit. |
| Servant: Season 2/ Episode 4 "2:00" – Recap/ Review (with Spoilers) | With Dorothy unhinged and Leanne within her grasp, how far will she go to get answers, and will Sean allow it? |
| Servant: Season 2/ Episode 3 "Pizza" – Recap/ Review (with Spoilers) | With the return of Leanne and Dorothy's madness heading towards new levels, Servant starts to finally get interesting. |
| Servant: Season 2/ Episode 2 "Spaceman" – Recap/ Review (with Spoilers) | Signs that Leanne may return finally appear as Dorothy leaves the house to jumpstart her investigation into Leanne and Jericho's whereabouts. |
| Servant: Season 2/ Episode 1 "Doll" – Recap/ Review (with Spoilers) | Dorothy, more awake than ever, is on the case to get back Jericho. But with so few ways to find May, never mind Leanne, what can she do? |
| Servant: Season 1 Episode 10 "Balloon" [Season Finale] Recap/ Review | After learning the truth about Jericho in the last episode, we learn the truth about Leanne, Uncle George, and the infamous Aunt May. |
| Servant: Season 1 Episode 9 "Jericho" Recap/ Review | We finally learn what happened to Jericho, who is responsible, and why Julian has long been shaken about Jericho's death. |
| Servant: Season 1 Episode 8 "Boba" Recap/ Review | What is more interesting? Meeting Julian and Dorothy's father or a follow up to what Julian saw the night Jericho died? |
| Servant: Season 1 Episode 7 "Haggis" | Recap/ Review | The person who introduced Dorothy to the transition doll is properly met, and she may just blow everything up. |
| Servant: Season 1, Episode 6 "Rain" – Recap, Review (with Spoilers) | With the introduction of Leanne's creepy uncle, so comes the question of not only what is she trying to hide, but what is she trying to escape? |
| Servant: Season 1, Episode 5 "Cricket" – Recap, Review (with Spoilers) | As weird things begin happening to and around Leanne, so comes the question if she is really in control as we're sometimes led to believe. |
| Servant: Season 1, Episode 4 "Bear" – Recap, Review (with Spoilers) | A glimpse into why Leanne chose Dorthy and Sean's family is revealed, alongside Sean's own theory. |
| Servant: Season 1, Episode 3 "Eel" – Recap, Review (with Spoilers) | Leanne's past is dug into, and Julian dares to face off against her. |
| Servant: Season 1, Episode 2 "Wood" – Recap, Review (with Spoilers) | Julian's birthday sets up him meeting Leanne, and the baby, as Sean seems to suffer not going along with the reborn child. |
| Servant: Season 1, Episode 1 "Reborn" [Series Premiere] – Recap, Review (with Spoilers) | Based on the premiere, there might be a part of you that wonders if this is inspired, in any way, by Child's Play. |
---