Ready To Love: Season 7/ Episode 7 "A Little Help From My Friends" – Recap/ Review (with Spoilers)
---
Community Rating: 0.00% (0) - No Community Ratings Submitted (Add Yours Below)
---
This post may contain affiliate links and spoilers. Please read our disclosure policy.
---
It's time for the men to meet the best friends and for one guy, things get heated in such a way that he comes out of his usual character.
| | |
| --- | --- |
| Aired (OWN) | 9/9/2022 |
| Director(s) | TBD |
| Writer(s) | N/A |
This content contains pertinent spoilers.
Recap
Starting On The Good Foot – Shareese, Sampson, Jamala, Randall, Tranika, LJ, Randall, Brandi, Mike, Sampson
At this point, Shareese and Sampson could be one of the first couples on here who don't present red flags, make it past the reunion, and actually end up married. Their date goes immaculately and while Sampson remains the kind of charmer who could seem too good to be true, don't the ladies deserve someone who is how they are perceived?
That is what Jamala hopes for, while Randall makes it clear she isn't the only one. But at this point, they kiss, and he gets along with her friends, so what competition is there for her? Such is the case for Mike when it comes to Brandi. Yes, she invites Sampson to meet her friend, but even Sampson knows he is barking up the wrong tree and is just an alternate.
Which brings us to Tranika. Randall is lovely, but LJ is someone she can joke with and be more than the nice, quiet, almost maternal figure. She can be a little raunchy and jokey and show a funner side to herself around him. So while Randall may be in her consideration, it might be time to look elsewhere.
Oh How Bad Things Got – Lunie, LJ, Justice, Tranika, Kadian, Swasey, Kayla, Mike, Randall
Justice is well, Justice. Tranika's friends didn't like him at all, especially when he used scripture to justify how he is. Lunie's friend liked him, but that is only because LJ didn't seem like he could handle her, which led to Justice getting the nod, but he wasn't the only one having a rough time.
While Mike is good with Brandi, when it comes to Kayla? Things are complicated. Randall is interested in her, but she likes Mike, and Mike is a bit insecure about her kissing Randall and not him thus far. Mind you, what he may or may not have done with Brandi isn't on the table, but Randall is someone he shows signs of being jealous about. Now, as for how Kayla feels? She is torn. Mike is her usual type, and Randall is better for her, but making the smart choice isn't easy when it isn't your first choice.
Which leads to Swasey and Kadian. The two who have no other connections at this time have the worst date of them all, and that is with noting Justice is still on the show. Swasey and Kadian's friend go at it because he comments about not dating any Black women for the last three years, which is taken as him not wanting to date Black women.
Now, in his defense, it's Miami, and it seems he wanted to diversify who he could potentially match with since he may have only dated Black women in the past. However, he says all the wrong things to trigger Kadian's friend, and it gets nasty enough for Swasey to leave.
I Don't Know What Progressive Show You Thought This Was – Kayla, Justice, Lunie, LJ
But despite how bad things got for Swasey, Justice, and LJ are in the bottom two. The issue for Justice is that these women have no intention of chasing any of these men, especially since he doesn't give them reciprocity. Also, what is there to chase, considering he doesn't open up or present anything enticing?
As for LJ? He has entered the friend zone for many but between him at least trying and Justice's attitude, LJ survives to eliminate someone next week.
Things To Note
Episode Content
Dialog: A few jokes with innuendo from Tranika and LJ's date and some curse words from Swasey
Violence: N/A
Sexual Content: N/A
Miscellaneous: Drinking, as usual
Question(s) Left Unanswered
What led Justice to think women were going to chase him when some have multiple men pursuing their attention? Has he not watched this show?
What Could Happen Next
Next Eliminated (Women): Kadian and Lunie likely will be in the bottom two. Kadian because Swasey is the only one checking for her, and Lunie because, on screen, it seems she doesn't have any connections that make her competitive
Next Eliminated (Men): Swasey and LJ will be in the bottom two. Swasey has long been written off, and LJ already is in many of the women's friend zone and doesn't have a solo connection in terms of the ladies not having others in their tops. This will likely hurt him in the long run.
End Game Couples: Sampson and Shareese, Mike and Brandi, and Randal and Jamala
Review
Highlights
Seeing How Invested People Are In, Beyond Avoiding Rejection On National Television
Because of the drama and the expectation someone is here for the wrong reasons or even for fame, it's easy to forget many are legitimately looking for love. Shareese happy about Sampson getting along with her friend is one example. But it's Kayla crying on camera because she is pulled between what could make her happy and what's familiar that reminds you "Ready To Love" has gone on this long because finding a quality relationship is a struggle. So you can only hope between a camera, friends, Tommy, and holding each other accountable, you'll finally find the person for you and hopefully not make an ass of yourself on television.
[ninja_tables id="53603″]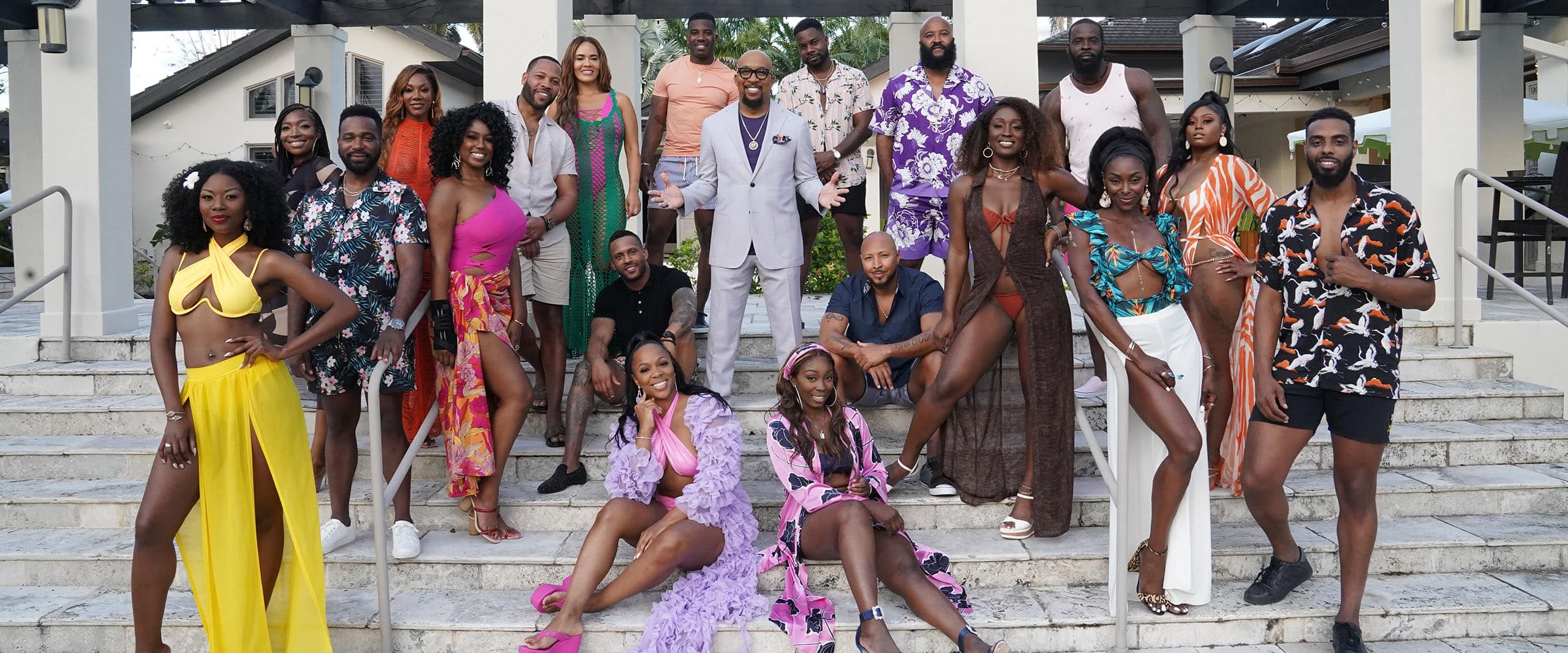 Ready To Love: Season 7/ Episode 7 "A Little Help From My Friends" – Recap/ Review (with Spoilers)
Overall
We're at that point where people are seriously getting in their feelings, as people from outside the process get involved, and you can tell some are not ready for the possibility of rejection.
Highlights
Seeing How Invested People Are In, Beyond Avoiding Rejection On National Television