Ready To Love: Season 7/ Episode 1 "Miami Mixer" – Recap/ Review (with Spoilers)
"Ready To Love" is back with its seventh season, and while it has changed locations, a lot has remained the same.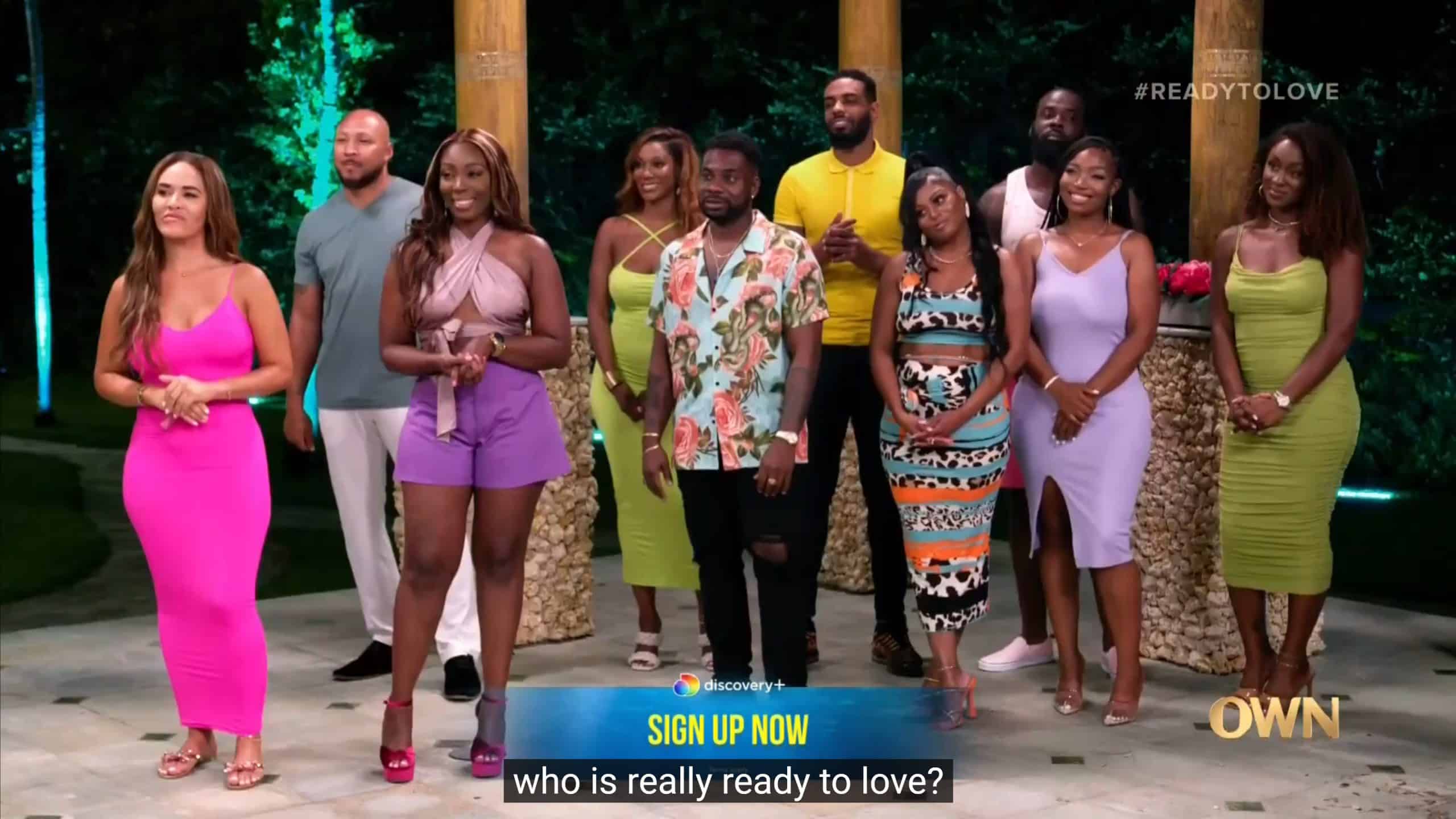 "Ready To Love" is back with its seventh season, and while it has changed locations, a lot has remained the same.
| | |
| --- | --- |
| Aired (OWN) | 7/29/2022 |
| Director(s) | TBD |
| Writer(s) | N/A |
This content contains pertinent spoilers.
Recap
Introductions
From what it appears, adding people in throughout the season is not going to remain a part of "Ready To Love." We're going back to everyone meeting at the mixer, and the numbers get shaved down weekly. But, in episode 1 alone, we lose a cast member due to a family emergency. But, while one is down, the party goes on
Male Elimination – Sean, Swasey, Sampson, Mike, Justice, Shakyra
When it comes to the men, unlike in past seasons, there wasn't an issue of someone not getting the memo and being too shy. Yes, some men, like Sampson and Mike, don't necessarily like the idea of being the initial pursuer, but they adapt. And for men like Justice, the women come to them, so there is no pursuing, just charming and moving up everyone's rankings.
But, things aren't smooth for all the men. Sean, a 38-year-old real estate developer, who likes to travel, chats up a few women, and while flirty and seemingly confident, unfortunately for him, he reads as a player to many of the ladies. He isn't the only one in the struggle, though. A man named Devin, age 32, and a former football player, now a director of sales, rubs many people the wrong way when they learn he has a ten-year-old son, a product of a one-night stand, he doesn't see often. He tries to explain but not hearing how he actively tries to correct the relationship leaves some women with a bad taste in their mouths.
Then there is Swasey. At 33, he is the second youngest of this season's cast, but while Devin is younger, there is a greater sense of maturity there. With Swasey? There is a moment with Shakyra, age 37, in which he gets defense, loud, and with most of the women not only wanting someone with a body but also maturity? That moment sends Swasey down to the bottom two with Sean.
However, despite Swasey's back and forth with Shakyra, Sean coming off too much like a player gets him kicked.
A Curveball – Dominika, Shareese, Calvin, Kayla
For the women, the first meeting having them in swimsuits and guys exposing their abs makes for a fun time. None of the guys are out of shape, which checks off many of the women's boxes, and there is a healthy variety of men who are lighter, darker, but of course, all carrying the confidence, height, and the usual stuff.
However, "Ready To Love" isn't about lust and hooking up, despite what has happened in past seasons – it's about love. Which for some guys, they just don't see with some of the ladies. Dominika, for example, a 42-year-old grandma, is a woman who speaks passionately, and because of that, she doesn't really have private conversations. Which is something Shareese, 43, notes and presents as a problem. The kind which can lead to drama, especially since 30-year-old Kayla, the youngest on the show, has the desire to let Dominika know what Shareese said.
This leads to who the men think isn't ready to love. It includes Dominika and Shareese, but they also mention 46-year-old April, who seemingly just hasn't made much of an impression. But if you've watched "Ready To Love" in the past, you know the ones who haven't made an impression can last a long time as the ones who just are a total "NO!" get eliminated first.
But luckily for Dominika and Shareese, who end up in the bottom two, because Calvin had a family emergency, that eliminated the need for two eliminations on day one. Thus giving the ladies another chance to show they are ready to love.
Things To Note
What Could Happen Next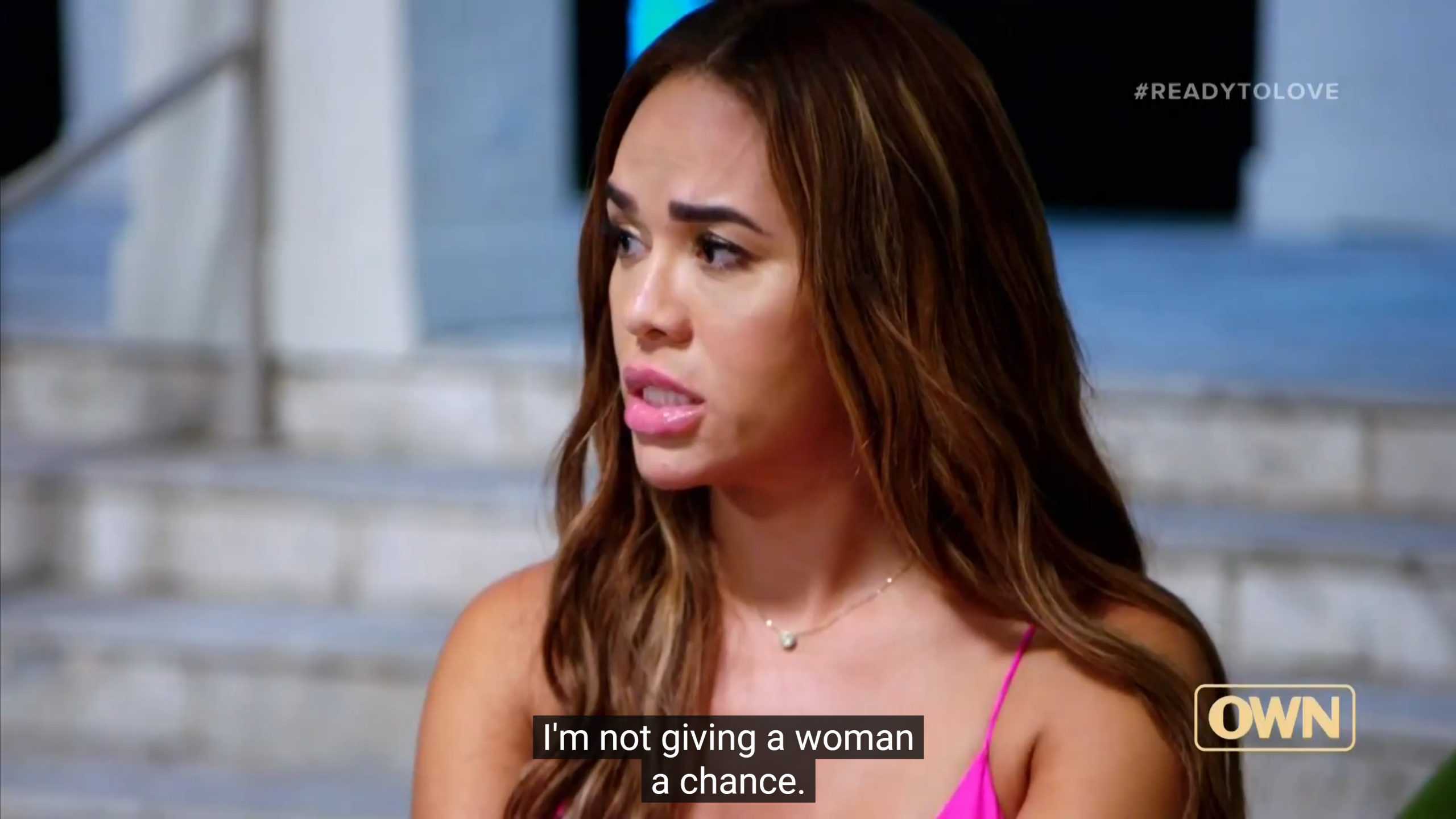 Shareese being at the heart of so much drama
Justice, who is rather popular with the ladies, either becoming a heartbreaker or being accused of being a player
Review
---
Community Rating:
---
Highlights
Most People Seem To Understand What They Signed Up For
Outside of April, it seemed most of this season's cast understood being timid, socially awkward, not putting yourself out there, or latching to just one person. That is how you get kicked early on. So seeing everyone bounce person to person, truly mix and mingle, and the casting people just accepting you can have diverse ages and skin tones, but this is not a show in which certain body types can be successful, was a blessing. Because it sucks to see those one or two people who don't fit anyone's type come on here and just flounder.
Low Points
No Cast Member Hooks You And Makes You Want to Root For Them
While Shareese definitely pushes the idea she'll bring the drama, as for the rest? It's hard to get into their story or want to root for them. Most don't have a television or reality tv personality, which could mean they are serious about finding love, but could make them boring to watch while in pursuit. And with that in mind, I worry that to compensate, they'll be put in additional awkward or dramatic scenarios.
On The Fence
Love Still Seems Like A High Bar For "Ready To Love"
The struggle of "Ready To Love" is that it doesn't necessarily find people who seem like they are ready to love as much date. It is a criticism for nearly every season, especially once you see what couples form and the state of their relationships at the reunion show. But, with each season, it gets harder and harder to imagine anyone is looking for love when it seems lust is put to the forefront, and then both viewers and cast members are expected to fall in love with someone within a handful of weeks.
And what makes this season a potential struggle is that no one seems like an instant connection. We have charmers, like Justice, and many social butterflies, but no one latches in and can be someone you imagine making it to the end together. Which, maybe that is a good thing? People falling hard too quick has led to issues in past seasons. But, it isn't like "Ready To Love" isn't televised. This isn't a private affair without cameras. So to not have cast members who just click from the get-go, it could make the 7 season show seem like it isn't just changing locations to keep things fresh, but because it's desperate to find people who can keep this interesting before word spreads on how the experience is.
[ninja_tables id="53603″]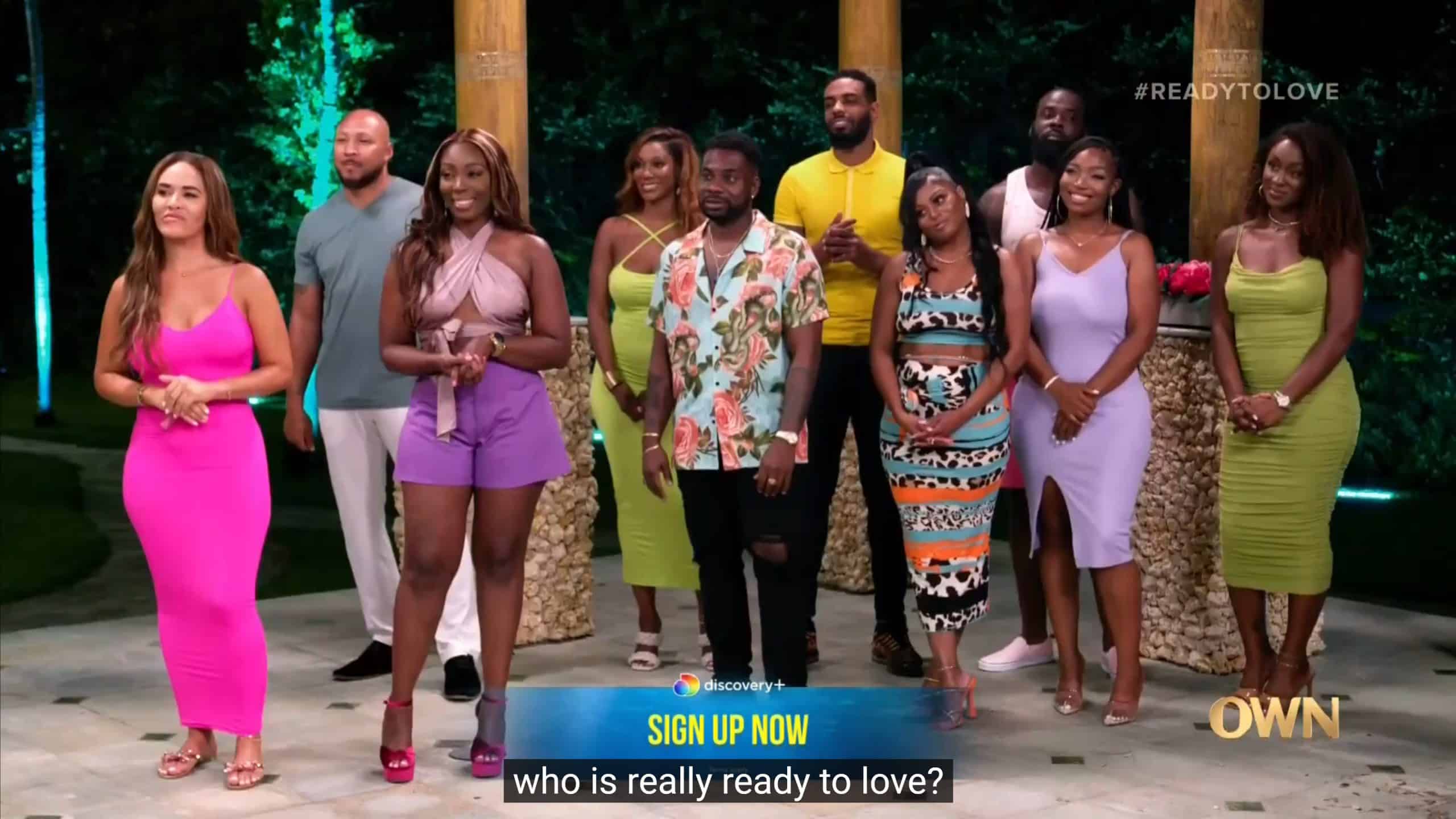 Ready To Love: Season 7/ Episode 1 "Miami Mixer" – Recap/ Review (with Spoilers)
Overall
"Ready To Love" premieres with the promise of drama down the line, thus fulfilling its promise as a reality-tv show, but it doesn't present anything for you to love or the idea people may find the butterfly-inducing kind of love which you can root for or inspire you.
Highlights
Most People Seem To Understand What They Signed Up For
Disputable
Love Still Seems Like A High Bar For "Ready To Love"
No Cast Member Hooks You And Makes You Want to Root For Them
---
Follow, Like, and Subscribe
Community Rating: 0.00% (0) - No Community Ratings Submitted (Add Yours Below)