Ready To Love: Season 3/ Episode 13 "Reunion Special: Part 2" [Season Finale] – Recap/ Review (with Spoilers)
While Ready To Love is undoubtedly entertaining, clearly, somebody needs to realize that the process doesn't work and might need to be modified or scrapped.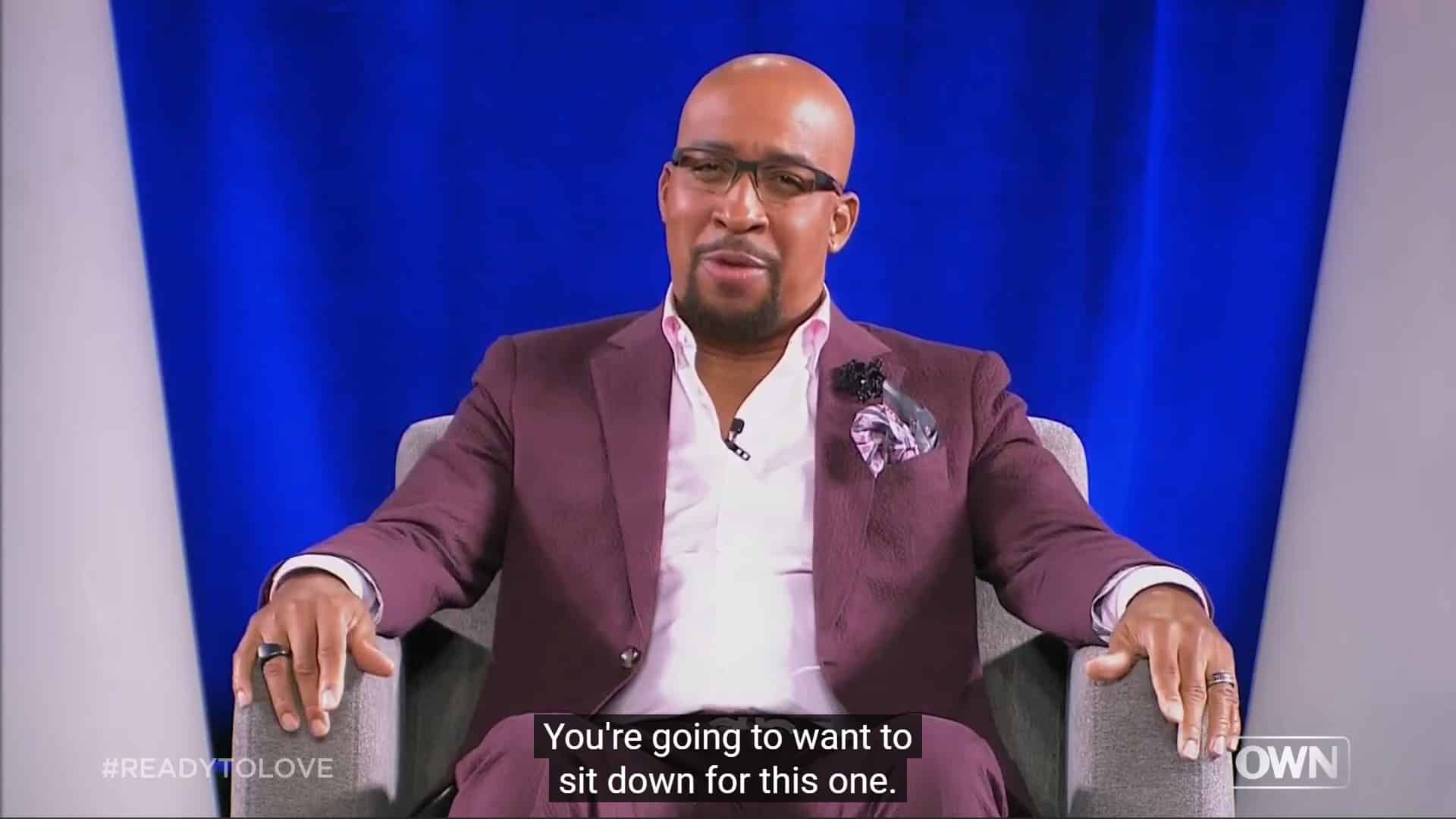 While Ready To Love is undoubtedly entertaining, clearly, somebody needs to realize that the process doesn't work and might need to be modified or scrapped.
---
| | |
| --- | --- |
| Director(s) | Luke Terbieten |
| Writer(s) | N/A |
| Aired (OWN) | 1/22/2021 |
This content contains pertinent spoilers. Also, images and text may contain affiliate links, which, if a purchase is made, we'll earn money or products from the company.
Recap
In Case You Forgot – Sam, Dani, Raymond, Shay
When it comes to people eliminated early on, a recap of who they were was necessary—especially Sam since he barely said much. However, with it being revealed he got someone pregnant before the show began, he gives us something to remember him by. As for Dani? She very much is a proud member of homegirl land and strongly believes friendship is the basis of any relationship, so why change? Which we agree.
However, to add to the couples who made it, Shay and Raymond are together. Mind you, Raymond is still funny about the idea of marriage, but Shay is working on him. Heck, and just to prove it's real, Symone co-signs that there have been dates, and you know, while her delivery may not be the best, she has yet to lie.
You Know We Got Footage, Right? – Nyaa, Kris, Edwin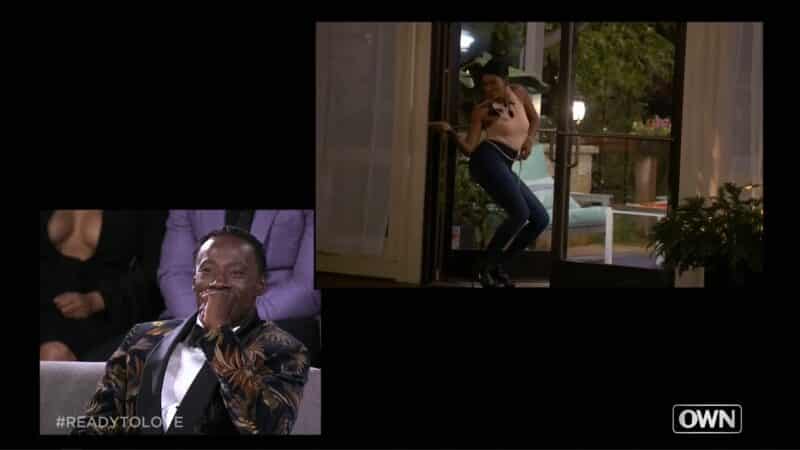 With Nyaa having exposed herself already, she doesn't care about not one person on that dais or what they think – including Edwin, who she is seeing, amongst many others. However, at the very least, she does admit she was saving face when she was eliminated and does try to be kind to Kris. But with her dumping on him in all the clips and unseen footage from her being eliminated, Kris might be one of the few men who got embarrassed to the level women often do during reunion shows – on any program.
Now Look At You, A Whole Fool – Adriana, Denice, Khalfani, Rashid
You know, when it comes to Denice, she says what she says, does what she does, and doesn't really put a whole lot of effort into cleaning it up if pushed to do so. Case in point, with both Rashid and Adriana, she is called on to apologize, squash a beef, but you can see that a feign effort is solely made because she was pressured to do so. But if there was one person, just one on her side, I can guarantee you no "sorry," "apologize," or anything similar would come out her mouth. She might be grown but being the bigger person isn't her thing. She just wants to avoid a headache and maybe accountability.
Another way you could look at it is, like Khalfani and Rashid to a point, she is looking to win in whatever situation she is placed in, and if she can't win, flip the script to make the other person look foolish. Which, while Denice doesn't really get to do that at all, both Rashid and Khalfani do that with Adriana.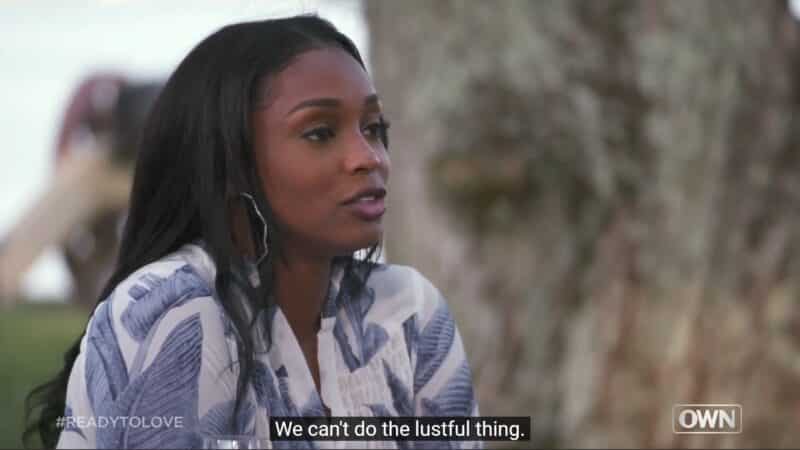 Now, why do we say that? Well, because Khalfani got back with his ex right after the show, thus making Adriana look like a damn fool. As for how Rashid felt about that? Well, a part of him seemed to be okay with trying to see Adriana again, but at the same time, he came to realize they are at different ages and stages of life. Adriana wanted that cute high school boyfriend vibe, and Rashid wanted a wife, a mother to more kids, and while Adriana verbalized she may want that, her decisions said otherwise.
A prime example being, while Rashid was talking and Nephew Tommy trying to rekindle an old flame, she was focused on Khalfani and paying Rashid no mind. Thus leaving the usually optimistic Nephew Tommy giving up on that romance since he can see Adriana truly isn't ready for a brother like Rashid. And therefore, on the show three times, it was determined while Adriana might be ready to love, the men aren't looking to love her.
Things To Note | Question(s) Left Unanswered
The Actual Final Couples: David and Alex, Shay and Raymond, Edwin and Nyya, Joy and Jay

Note: Of those mentioned above, only David and Alex, alongside Shay and Raymond are anywhere near being exclusive. Nyya is still dating around, and Edwin is seemingly cool with it. Then with Joy and Jay, she calls their thing a situationship and gives very political answers about her and Jay's relationship. So as for what they truly are? Well, your guess is as good as mine.
Review
---
Community Rating:
---
Highlights
While Embarrassing For The Cast, A Lot Of This Made For Good TV
From 31-year-old Adriana to Raymond, who is 52, damn near everyone embarrassed themselves at least once, and while it made for good TV, it's hard to not feel bad for them. Kris got treated in such a way that made it seem like he isn't trying to pursue anyone anymore because it blew up in his face so bad. I mean, you can agree with me that because of Nyya, he definitely has baggage, right? Heck, the same goes for Adriana. It seemed she enjoyed being chased, but Rashid realized she isn't worth it, and Khalfani was done with her once he won the competition. Now, look at her.
On The Fence
I Feel Bad For Denice
I know, I know, Denice brings a lot of what happens to her on herself. Be it due to traps laid for her or she doesn't think about her audience and acts without thinking. However, while I can't deny she said what she said and did what she did, I can note she shouldn't have been on this show.
Hear me out, after a certain point, it isn't funny anymore. Rather, when you see a person who keeps digging themselves a deeper hole, and that's used for entertainment, it pushes you to wonder was this person cast just for the sake of laughs and becoming someone to dislike, maybe even hate? For it is one thing to have people like Symone, Adriana, and even Nyya at times, who can receive mixed opinions.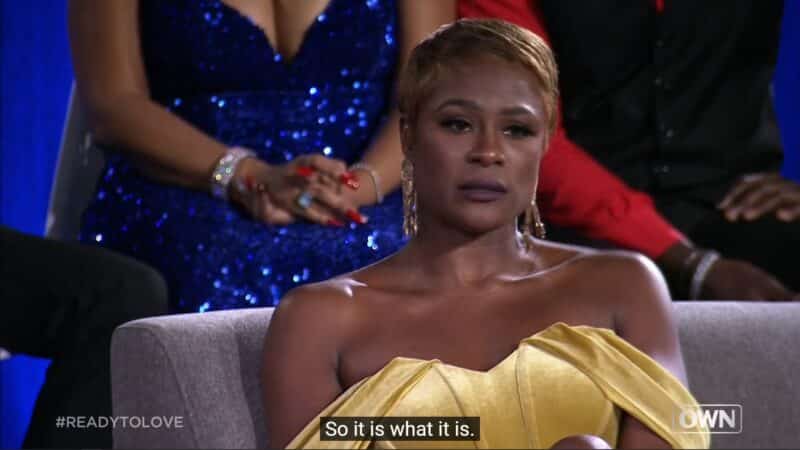 With Denice, though, I don't think there was ever an effort to make it seem like she had points to bolster that she just thinks and lives differently. Instead, she was made to be a villain. Hence why, despite being in the bottom two most weeks, she made it to the end – even lasting longer than Alex, who didn't upset a single person or make them feel a certain type of way!
But at the end of the day, Ready To Love realized they needed Denice for fodder since there clearly wasn't any romance to get you invested. So, she was thrown to the wolves, the audience, to poke, prod, and side-eye.
[ninja_tables id="53603″]
Summary
---
Community Rating:
---
I Feel Bad For Denice - 75%
While Embarrassing For The Cast, A Lot Of This Made For Good TV - 83%
The third season finale of Ready To Love brings a whole lot of laughs, but once again presents the idea the show needs to be retooled, and pick a better group of contestants, if it ever wants to live up to its name.
---
Follow, Like, and Subscribe
Community Rating: 0.00% (0) - No Community Ratings Submitted (Add Yours Below)