One lifeline gets used, and while we get more romance between couples than ever, there is also a very confrontational date setup.
| | |
| --- | --- |
| Aired (OWN) | February 17, 2023 |
Recap
This content contains pertinent spoilers. Also, images and text in this post may contain affiliate links which, if a purchase is made from those sites, we may earn money or products from the company.
The Elimination – Jonique, Anthony, Mark Anthony, Sue-Ann
To much surprise, Anthony and Mark Anthony end up in the bottom two for the men, but to no surprise, Sue-Ann and Jonique join them. However, only Jonique gets eliminated from the four since the women saved Mark-Anthony using the lifeline.
The men not using the lifeline does upset some, like Cynthia, but as shown thus far, Jonique wasn't really making romantic connections. Lyndon was a friend and Tony? Well, he is going back and forth with Morgan in such a way that cutting off Jonique was seemingly to help calm a side of Morgan he may not like.
Let's Focus On The Romance – Sue-Ann, Anthony, Jeffri, Mark Anthony, Mercedes, Tony, Morgan
While "Ready To Love" has focused heavily on the drama between contestants for quite some time, we do get a bit of romance in this episode. Sue-Ann, for an example, gets a date with Anthony at his house, and while he still stumbles at times, he is trying to live up to what the women want. Which is a man who will take the initiative and make them feel liked, loved, and just plain ole attractive.
Which is something Mark Anthony seems to be an ace at because he gets a lipstick-smearing kiss from both Jeffri and Mercedes. With Mercedes, it is through their chemistry, flirting, and having a high school romance vibe going on. As for JEffri? Things might be a bit deeper. She reveals she has Crohn's Disease, and his being empathetic and sweet leads to those two getting closer than ever. Heck, it may even complicate her top three since Andre and Bluu are nice and all, but Mark Anthony knows all the right things to say and when.
This leads us to Tony and Morgan. While Morgan has Lyndon, Tony is clearly her top, and she is a bit possessive when it comes to him. She even pushes the idea that he should cut off the other girls and just focus on her. Which Tony isn't committing to, but Morgan is sure of what they have and seems to believe things will end in her favor. Not all the time, because she knows Tony is still getting around, but more and more, she is willing herself into the idea that maybe Tony will fully commit to only her.
I Don't Like You And I Wanted You To Know That – Morgan, Blake, Mercedes, Andre, Marcia, Anthony
Following up on Andre's criticism of Mercedes not checking in on him, she pretty much shrugs it off by noting that her approach was based on him being out of sight, so he wasn't on her mind. This hurts him immensely, but seeing how she is, he is willing to let go.
As for Anthony, while he does rebound with Sue-Ann, both Marcia and Morgan lay into him a bit for not being good with following up and being a little bit too chill. After all, they consider themselves queens who shouldn't have to be chased, and his nonchalant attitude, and in Morgan's case, having a phone conversation one night, then it appears she is being ignored the next day? That's unacceptable.
But Morgan isn't through! She decides to address Blake for while he wasn't in the bottom two, and she, alongside the other ladies, used the lifeline, she still doesn't like that Blake is still here. In fact, she has absolutely nothing positive to say about him and tells him that to his face. But in her defense, Blake had the assumption he hurt her, gave a weak ass apology, and doubles down on what makes him so offensive to her and some of the other ladies of the show.
Things To Note
Question(s) Left Unanswered
Should we expect it to be meet the exes, the friends, the getaway, and then the parents in that order?
What Could Happen Next
Next Eliminated (Men): I fully believe Morgan is going to make it her business to get Blake out, so he'll be one of the bottom two, and I think Anthony will join him unless he shows improve beyond Sue-Ann. But, between the two, I think Anthony will get kicked because Advocate Sue has her match while Anthony is still a floater.
Next Eliminated (Women): It'll be between Marcia and Sue-Ann, and if Sue-Ann is eliminated, I foresee Blake self-eliminating since we usually get one person who does that this season, and Andre coming back messed with the quota.
Final Couples: While this episode was more romantic than past ones, it has complicated saying who will end up together. Sue-Ann and Blake, I think, can make it to the reunion show. Mark Anthony and someone I think will also make it. Lastly, I feel like Morgan and Tony will make it to the end but will be broken up by the time the reunion hits.
Review
---
Community Rating:
---
Highlights
We Finally Were Reminded This Show Is About Love
Between Mark Anthony's scenes with Mercedes and Jeffri, one of which was fun and the other very emotional, there are signs that this isn't simply a competition show. Add in Anthony and Sue-Ann, and while Anthony may not have the best game, you can see the man is trying to take the criticism given and be the kind of man the ladies know he can be. Thus giving us the kind of romance that often feels held back and only delivered enough to still allow "Ready To Love" to claim to be a dating show.
On The Fence
Morgan
I appreciate Morgan for what she says to Blake, more so for entertainment purposes, since, unlike Cynthia, I don't think she has any desire to point him in the direction of becoming a better man or partner. But, as the hopeful end of Jeffri and Blake's drama happens, I feel Morgan is becoming the new focal point.
For if it isn't her trying to manipulate Tony to drop all others, if not continue to use Lyndon's name to get Tony riled up, then there is this Blake confrontation which, again, was entertaining, but was it called for? Not to take Blake's side, but what was she expecting to get out of that? Everyone on this show is at or coming upon that age where they are pretty stuck in their ways, and for Blake, it shows. He has three kids and a job that doesn't allow for much flexibility, and yet she expected a heartfelt apology?
Of course not! She came because she wanted an argument or something to further justify why she hated him. Which starts to paint this character arc that, between her jealousy, insecurity, and potential desire to pick fights, maybe love has been amiss since she didn't foster an environment to have it. If not, maybe she doesn't like Blake because it is like looking into a mirror, and she does so much to mask who she may truly be that she feels exposed looking at that man and listening to him speak as freely as she would like.
Ready To Love Directory
Affiliate Link(s)
Links contain affiliate links which, If you make a purchase, we'll earn a commission from the company.
Ready To Love - Amazon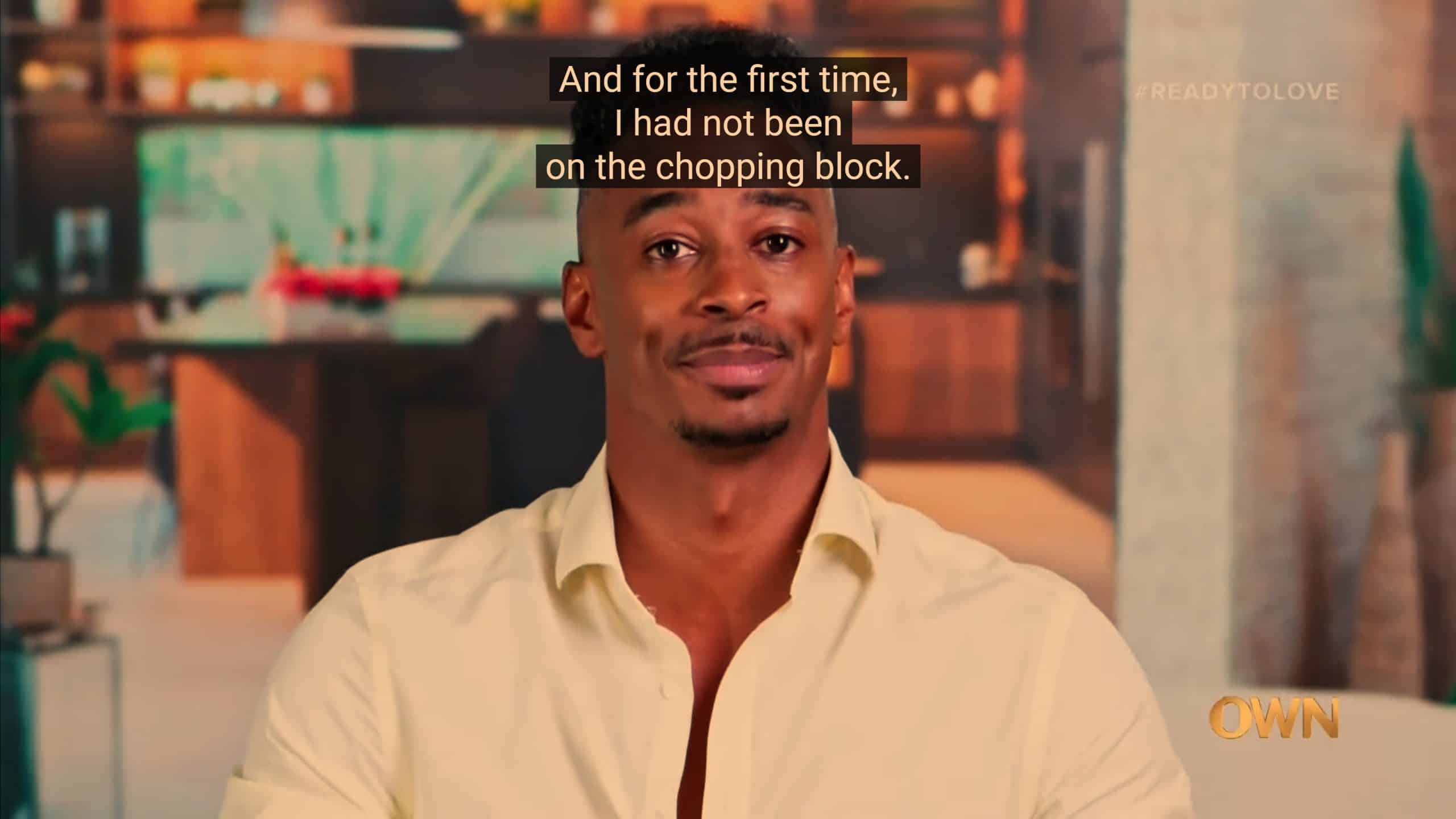 Ready To Love: Season 8/ Episode 7 "Queens Don't Chase" – Recap/ Review
Overall
Love is finally in focus and on par with the pursuit of your usual dose of reality tv drama.
Highlights
We Finally Were Reminded This Show Is About Love