"Ready To Love" continues to venture into exploring what drama can develop rather than what relationships.
| | |
| --- | --- |
| Aired (OWN) | 2/3/2023 |
| Director(s) | To Be Determined |
| Writer(s) | N/A |
Recap
This content contains pertinent spoilers. Also, images and text in this post may contain affiliate links which, if a purchase is made from those sites, we may earn money or products from the company.
The Good – Cynthia, Anthony, Bluu, Marcia, Jeffri, Morgan, Tony
At this point, Cynthia can't get enough praise. She is everything. Everything is her, and whatever man she spends any alone time with seems to instantly get it. Anthony is currently the lucky one, but he better watch out. Say too much, and the other man may discover what they are missing on.
Which could become the case with Morgan if Tony isn't careful. She loves it when he is attentive, hates it when he is not, and likes to dangle the fact she likes Lyndon as a means to get him to act right. But, who knows how long that may work on Tony, or if she'll need to for much too long since it doesn't seem Tony is really making a real effort with anyone else.
Lastly, there is Bluu. Bluu has not been a major name this season and has been someone who, thanks to people like Blake, has survived due to not being controversial. Thankfully though, he ends up on a double date, with Marcia and Jeffri, alongside Blake, and he comes off looking good. Now, for Marcia, this is unfortunate since he wrote her off already, but for Jeffri? Considering she is gaining a new interest as one falls off, this is a win since Bluu may have mutual feelings.
The Bad – Blake, Jeffri, Marcia, Bluu, Jonique, DeMario
It can be difficult to know when producers are pushing something or when people, on their own, pursue the worst scenario possible. A prime example is Marcia setting up a double date between her, Jeffri, Bluu, and Blake, partly to understand and squash things between Blake and Jeffri. Now, granted, Jeffri can keep it cute, and Blake was trying to keep his mouth shut. But, increasingly, you can tell someone wanted to milk a misunderstanding or private issue and see how much they could get out of that. Thus leading to a really awkward meeting.
But, as shown by Blake, he is very comfortable in the thick of awkwardness. Case in point, his date with Jonique is similar to his date with Zee, in which he offers very little to work with and doesn't know how to go with the flow. Now, unlike his date with Zee, he does open up and reveal he has a police and military background, but once he is bored, he doesn't even try, and all parties agree time was wasted.
Yet, as much as Jonique and Blake wasted each other's time, DeMario became the new Fabrice and decided he'd race to the bottom and usurp Blake. How? Well, by making an issue of Jeffri and Mark Anthony kissing. Now, does he present some sort of insecurity based on being cheated on or anything like that? No. Unlike Jeffri, who makes it clear she chose Mark Anthony since he was actively pursuing her that day, DeMario's attitude was very much in the mindset of, "But you like me, so why did you kiss him?" And when you factor in him asking how her children would feel, and then him telling the producer all these things to make it seem like he didn't like her anyway? It helps you understand why he ended up in the bottom two.
The Elimination – Blake, DeMario, Cynthia, Sue-Ann, Jeffri
However, while it was clear who deserved to be in the bottom two, what many only started to realize is that Jeffri's beef with Blake wasn't just between them but also included Sue-Ann. Someone who gets nicknamed "Advocate Sue" because, when Jeffri starts bringing up what was going on with DeMario, Sue-Ann jumps in. Now, for whatever reason, Jeffri still doesn't bring out receipts, but she does shut Sue-Ann down without them, so maybe she doesn't feel the need to go that far since Sue-Ann isn't presenting a real challenge.
Their drama aside, Blake still hasn't won back any favor with the ladies, and after DeMario losing Corvaya, who got eliminated, by the way, and not fostering any new connections in this episode, DeMario is eliminated. He leaves peacefully, and as for Blake? Unlike the other ladies, Cynthia, who delivered the news, speaks in a way Blake understands. Which appears to help him understand the ladies don't like the way he speaks to most of them, and while they are willing to let things ride for Sue-Ann's sake, he needs to come correct. This includes speaking up regarding whatever is going on with Jeffri since his inability to communicate what happened doesn't look good for him.
Things To Note
Question(s) Left Unanswered
What happened to Mercedes in this episode? Did they move some of her dates and scenes around, or are they saving them for future episodes?
What Could Happen Next
Next Eliminated (Men): Blake will forever be on the list, and I think it would be safe to put Lyndon with him since it seems like Lyndon is the backup plan for many of the ladies. So unless someone says something dramatically dumb, in a DeMario or Fabrice way, Blake isn't likely to make it past another elimination.
Next Eliminated (Women): I really think Jonique could, and maybe should get the axe. She isn't connecting with anyone and has seemingly been making it just because others have ruffled the guys' feathers, and she has been cool and not on anyone's radar. As for who should be alongside her? Jeffri has Bluu and Mark Anthony's attention, so I don't think she'll be in the bottom two. If anyone, I think Marcia will be in the bottom two since, while she likes Bluu, he made his decision two weeks ago regarding her.
Review
---
Community Rating:
---
Notable Performances or Moments
Jeffri
At this point, I don't think Jeffri is really entertained by these men or stimulated. She is just here for free meals and activities, and if someone comes for her, dressing them down is just another thing to do. It won't keep her sharp, but it can be a game to pass the time.
Highlight
DeMario Didn't Act Up On His Way Out
As of now, people have been eliminated without being dramatic. I don't know how much longer that will last, but I must admit if there is one thing this season is doing that shows an improvement, it is people being mature about being eliminated.
How Cynthia Handled Blake
Recognize a real one when you see them. Cynthia has mainly kept it cute, vulnerable, and open when it has come to the process, but when speaking to Blake about his flaws, she showed a side to her she has kept out of her interactions with Andre and Anthony. It isn't a side that is unattractive, but definitely a side that showed that, if someone tries her, she can have this open for love and experience flip to, "I wish a n**** would."
Low Points
Blake Is Still Here
I get Sue-Ann isn't getting the time of day from anyone else, but this man has been in the bottom two on three occasions now, and what keeps him here is a last-minute save because another man said or did something worst them him in recent memory. At this point, his continued participation in the process is begging for a double elimination for a future episode because this is getting ridiculous.
And that is said with the recognition of, with him living in the cop or military world, being blunt, to the point, and things like that is likely his way of life. But, at the same time, as Mercedes and Cynthia note, while they get it, it doesn't necessarily trigger romantic feelings. It creates the perception that he needs to dominate and potentially control someone, and the only one who seems to be down for that is Sue-Ann, whose rose-colored glasses are coke bottle thick.
On The Fence
Morgan
For many, love is a game, and feeling like you are in a power position determines if you like dating. When it comes to Morgan, I feel like what is happening with Tony and Lyndon is what we see nearly every season. She is someone who hasn't had the best luck with dating, as shown through her saying she has never been in love, and with finding herself holding all the cards, there is this vibe that if she can't have love, she wants to have power.
Lyndon is a playing card for Morgan. One who wants to be taken seriously, but based on how Morgan treats him and Tony sees him, clearly, that will not be the case. Which is a shame since Lyndon seems like a nice guy. However, "Ready To Love" is a game show, and winning isn't just about making it to the end. It's also about making it to the end with someone you want to potentially be with, and to get that far, you have to use people like Lyndon as fodder and hope karma doesn't bite you in the ass.
Ready To Love Directory
Affiliate Link(s)
Links contain affiliate links which, If you make a purchase, we'll earn a commission from the company.
Ready To Love - Amazon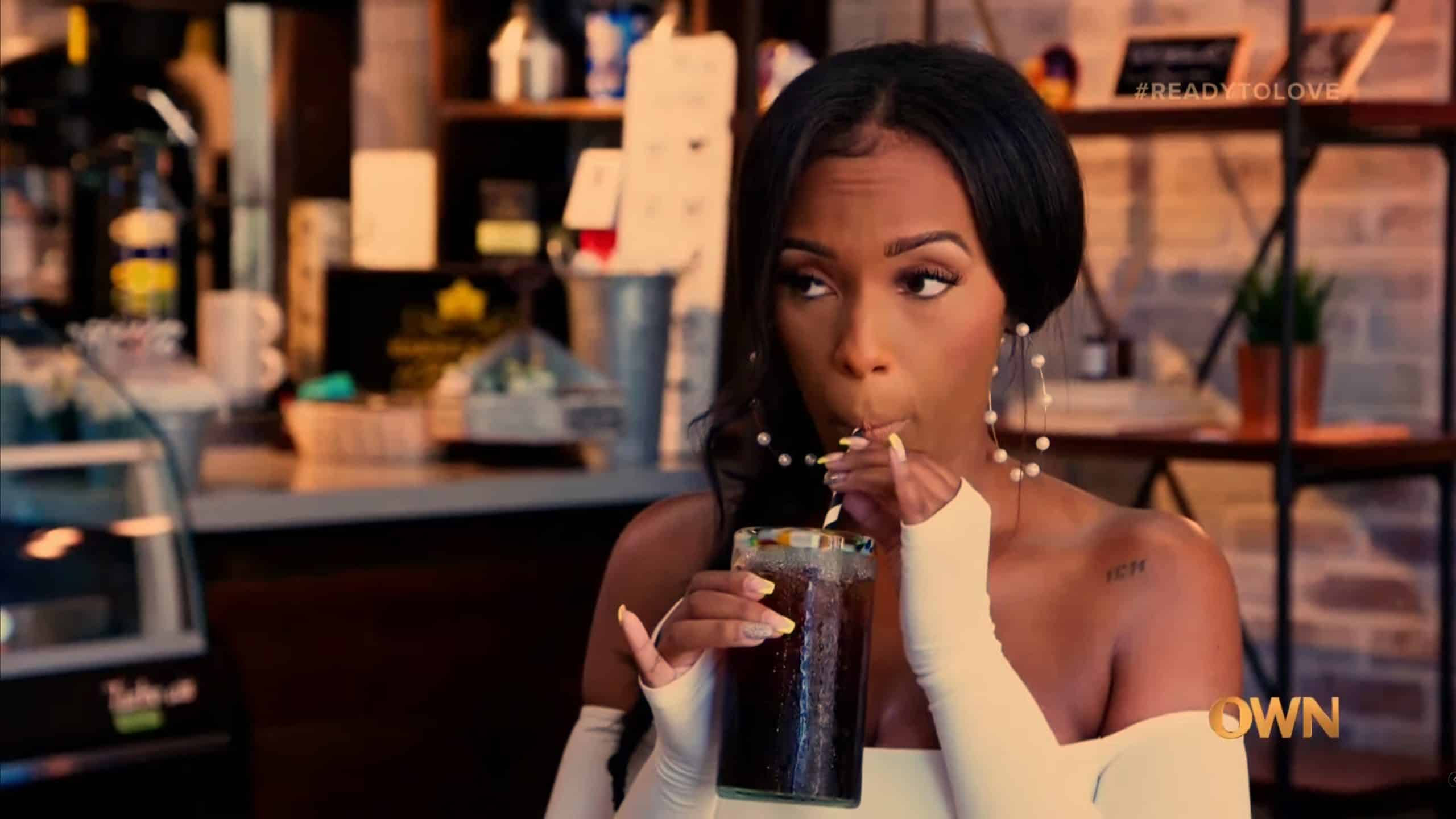 Ready To Love: Season 8/ Episode 5 "The Math Ain't Mathin'" – Recap/ Review
Overall
It feels like "Ready To Love" stocks up on Cynthia scenes to prove this show can offer more than quarter-life to mid-age drama, even though that is what it believes pays the bills.
Highlights
Jeffri
DeMario Didn't Act Up On His Way Out
How Cynthia Handled Blake
Disputable
Blake Is Still Here
Morgan