It's the fellas turn to eliminate someone and you might end up surprised by their decision, especially considering who the alternate was.
---
| | |
| --- | --- |
| Aired | 10/29/2021 |
| Network | OWN |
| Directed By | TBD |
| Written By | TBD |
Recap
Dark Horse Candidate – Mumen, Walter, Corey, Courtney, Shiloh, Phil, Tyrone
While everyone has established favorites, the men are tasked with getting to know more of the ladies so they can be firm in their decision. Walter, for example, gets to know Mumen, and while Sabrina and him had a high-quality moment, he has a wonderful date with Mumen, and considering she wants kids, that could give her an edge.
As for Corey? Well, he really does make a point that, once he gets you on a one-on-one date, he can charm you. It's just, put him in a group setting, and he will surely flail. Hence why Courtney is a bit iffy about him, but not because she doesn't like his effort, but because he is more silly than she prefers.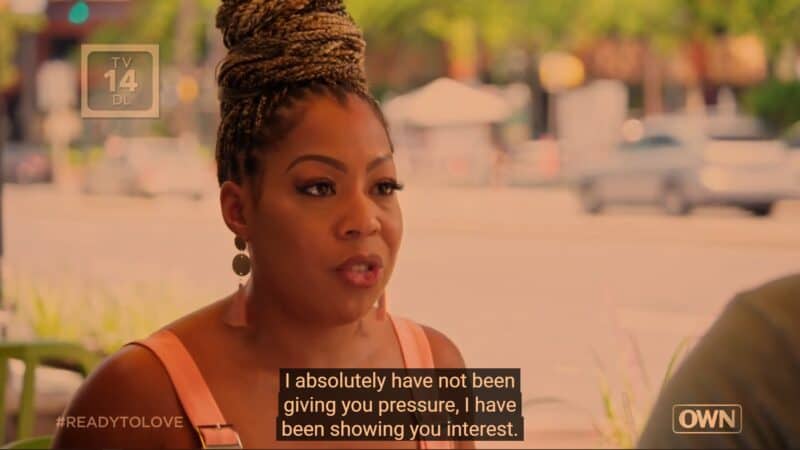 This brings us to Shiloh. For the most part, Shiloh is lowkey, so when it comes to Phil being taken by her and Tyrone, it seems to either catch them off guard or the other guys while in the *sigh* "Man Cave." But it seems she is becoming quite popular without having to really put herself out there too much.
Signs, Signals, and Warnings – Kheri, Tyrone, Tisia, Frank
So, Kheri addresses Tyrone just abruptly deciding not to pursue her, and you can tell the way he handled it wasn't the best, but considering her reaction, that clean break was probably the best way he could have done it. Mainly since Tyrone trying to explain the reason why doesn't get handled well. Also, Kheri gets locked in when he talks about being aggressive, and with that, she doesn't lose her cool, but you can tell Tyrone wasn't ready to give her the answer she needed or wanted.
As for Tisia? The way she is painted makes it seem she doesn't want to let you in beyond the façade. If not, she doesn't want to have her personal details on camera, so she doesn't say anything which could affect her business. Either way you slice it, Frank's date with her leaves him wanting more but wanting to pursue less.
The End Of The Road Can Come Despite Best Intentions – Tisia, Kheri, Nai'im, Cornelius
So, while Sabrina not wanting kids and not having a connection with some of the men puts her in the elimination conversation, ultimately Tisia and Kheri end up on the chopping block, but it is Kheri who is told she isn't ready to love. This, as you can imagine, doesn't sit well with Tisia, who has now been in the bottom two twice. However, she makes it seem she'll take the note that people feel like she has a wall up.
Things To Note | Question(s) Left Unanswered
Things to Note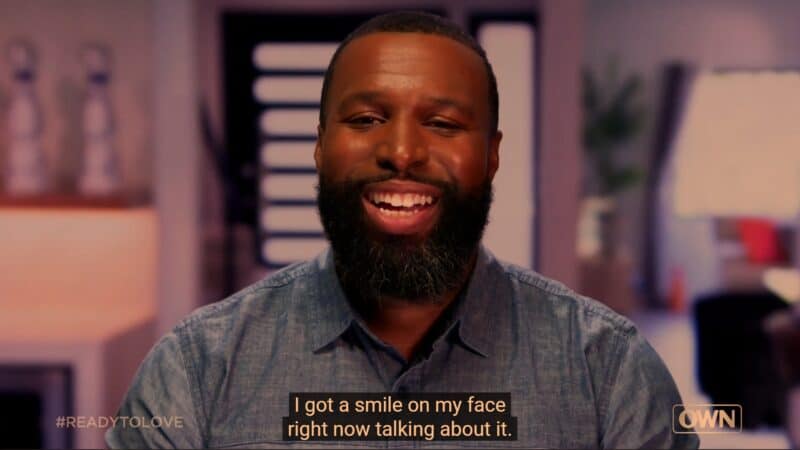 Aisha and Frank have a nice date, as do Zadia and Nai'im.
Question(s) Left Unanswered
Where was Sabrina in all of this? She is noted during the elimination discussion, but is absent this episode.
What Could Happen Next
It's so hard to say which guy might get cut, since there is Corey, who does the most, and then those like Paul and Frank, who don't really say or do anything notable. So, I would definitely bet Core is going to be one of the two up for elimination with either Phil or Frank joining them – most likely Phil.
Review
Highlights
The Way Things Are Handled This Episode
Can I just begin by saying, I love how Kamil is handled. Yes, she is extra and definitely possessive, but as much as the editing is trying to amplify it, Cornelius plays it off in such a way that it lessens the red flags that could be raised. Also, I appreciate that, with how Kheri felt, she wasn't made to seem extra but someone who had their feelings hurt and was dealing with someone who didn't know what to say or how to handle what she felt.
Which is all to say, I feel like this season is giving far more grace than what we've seen before. It allows us to see everyone as people and not fully grown people who, for some god awful reason, decided to put their business on television and potentially make a fool of themselves for a check and some paid dates.
Ready To Love Directory
Character Guide

Created

Collected Quotes

Not Created

Season Reviews

Affiliate Links
(If A Purchase Is Made, The Vendor Will Provide Us A Commission)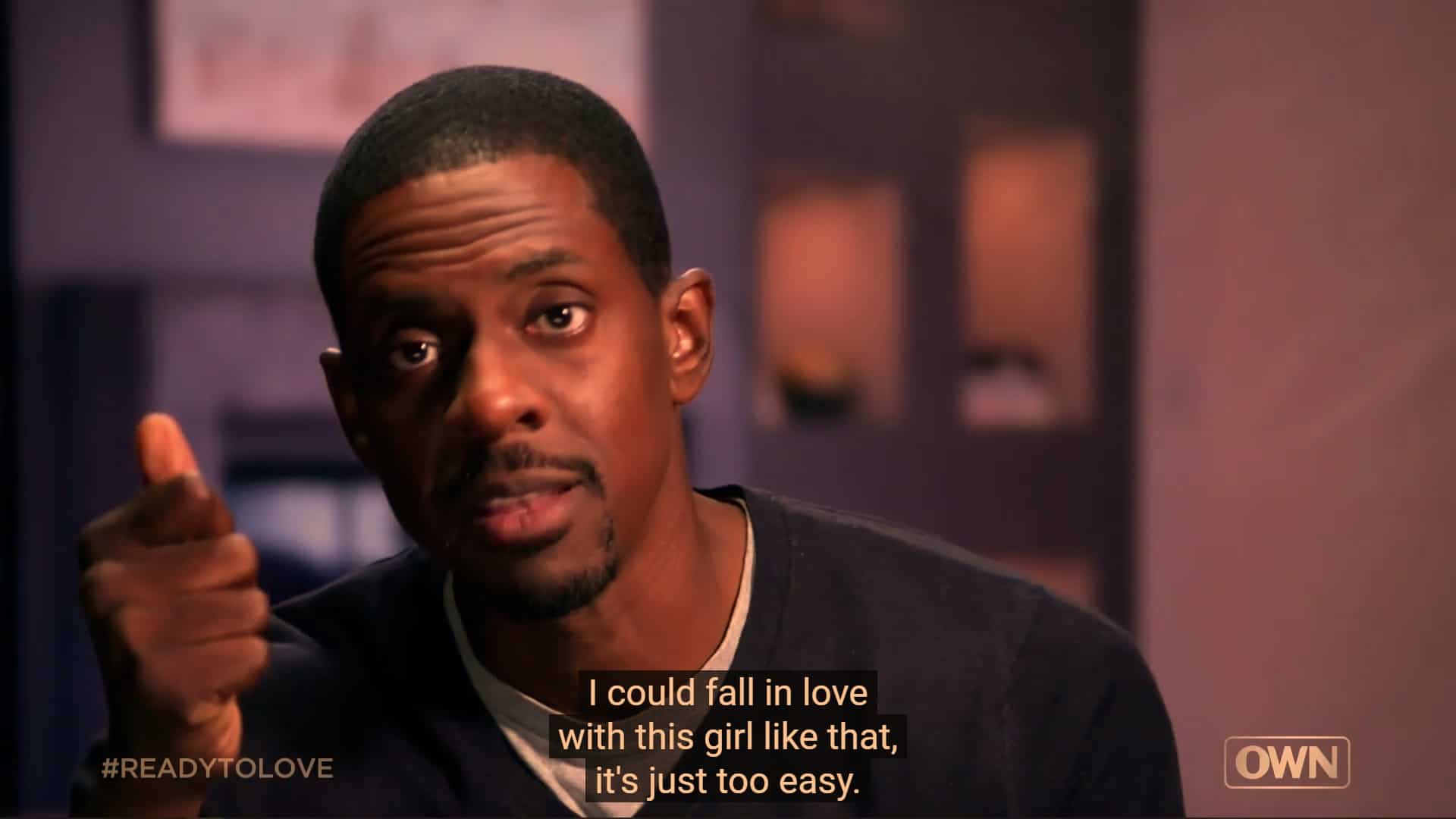 Ready To Love: Season 5/ Episode 4 "Out Of Your Comfort Zone" – Recap/ Review (with Spoilers)
Trajectory: Plateau
Another one bites the dust but without any notable drama and at peace with the decision made. However, with a pool party in the next episode and two new contestants? It seems peace will not be everlasting.
Highlights
The Way Things Are Handled This Episode