It's time for the mixer, where everyone meets their fellow cast member and gets their first taste of whether Ready To Love is for them or they can't handle the process.
---
| | |
| --- | --- |
| Aired | 10/15/2021 |
| Network | OWN |
| Directed By | TBD |
| Written By | N/A |
Recap
And The Connections Begin – Sabrina, Walter, Kamil, Cornelius, Courtney, Shiloh, Donta, Frank, Aisha
I'm calling an end-game couple: Sabrina and Walter. While we have had cute matches like Jason and Liz, the fact these two had a breakdown, let me cry one out real quick, conversation at the mixer! Unless Walter becomes the man he claims he used to be, it's a done deal. Which is a shame for many of the ladies do say they like him.
As for other couples? Cornelius is popular, with Kamil already claiming him as her boyfriend and Courtney also having an interest in him. Not to be outdone by Sabrina, who revealed she is helping with her elderly parents, raising a child, and has no one to talk to, Shiloh notes to Donta how her parents extended divorce affected her and left her with abandonment issues. Leading to a moment that may not have been filled with tears but did offer a level of vulnerability that seems foreign to the mixer.
Lastly, there was Aisha and Frank, and while we don't see much of them in action, Aisha does seem quite smitten.
The Odd One's Out – Lamont, Libba, Tyrone
Between Lamont trying to spit bars, Libba being a little much for everyone, and Tyrone being a wallflower, these three didn't do well. However, only two out of these three ended up in the bottom two.
Elimination Time – Libba, Tisia, Lamont, Corey
So, Libba ends up in the bottom two of the women due to being bubbly and a little too extra for some of the men. Tisia ended up in the bottom two, despite feeling she made connections because she presented the mixer as a means to interview people rather than get to know them on a personal level. Yet, Tisia got to stay, and Libba was eliminated. However, considering Tisia's attitude after being in the bottom two, she might be next by elimination or by leaving the show.
Switching to the men, Lamont just didn't click with people. Between his spoken word and how he tried to interact with people, it wasn't working. Then with Corey, his sin was doing his infamous copy-paste approach to get the first date. Now, originally, he woo'd one or two women, but when he picked one who didn't understand the connection, that was the beginning of his downfall.
But, being that Corey was trying to secure a date and had some charm, he got to stay, and Lamont was given the boot.
Things To Note | Question(s) Left Unanswered
What Could Happen Next
End Game: Sabrina and Walter (based on previews)
Elimination: Corey or Tyrone for the guys, Tisia for the women, because of how she reacted to being in the bottom two.
Review
Highlights
Sabrina and Walter Having A Moment
I was honestly a bit touched. Through Clubhouse, I know certain things that many cast members wish were put up weren't, and we all know reality shows like to have a narrative for each cast member and the season. But with these two, whether narrative or not, I'm hooked. Sabrina seems cool and kind of like Libba if Libba took it down a few notches. Meaning, Sabrina can definitely be vibrant and extroverted, but as shown, she can get real if given the space and comfort to be that person.
Then with Walter, just his whole story of losing the love of his life just when he gets his shit together, that is devasting – and I fully expect Tyler Perry to steal it for a movie. Though I gotta admit, I think there was a mention of having kids, and considering Walter lost the opportunity with his first wife and Sabrina seems to be done, that could cause an issue.
On The Fence
A Lot Of People Are Just There
We won't fault people for not making instant connections because 10 people of the opposite sex, and 9 other people of your sex vying for them when you are, that's intimidating. However, for some, like Tyrone, it reminds you of who this show is for and who it is not. Most of the women cast acknowledge they are in competition but also want to be chased. So for those who aren't top echelon, they get frustrated. Then for guys, if you are shy? Oh, you are screwed and will be part of the first crop cut – unless there is someone with a bad attitude or personality who gets moved up on the priority list.
But those with lukewarm personalities don't ruin the show, they just remind you why this show exists. For dating is a struggle, no matter how old you are, or how put together you think your life is. Yet, it is hard to shake off the desire to be with someone who gets you, loves you, and compliments you beyond words.
Ready To Love Directory
Character Guide

Created

Collected Quotes

Not Created

Season Reviews

Affiliate Links
(If A Purchase Is Made, The Vendor Will Provide Us A Commission)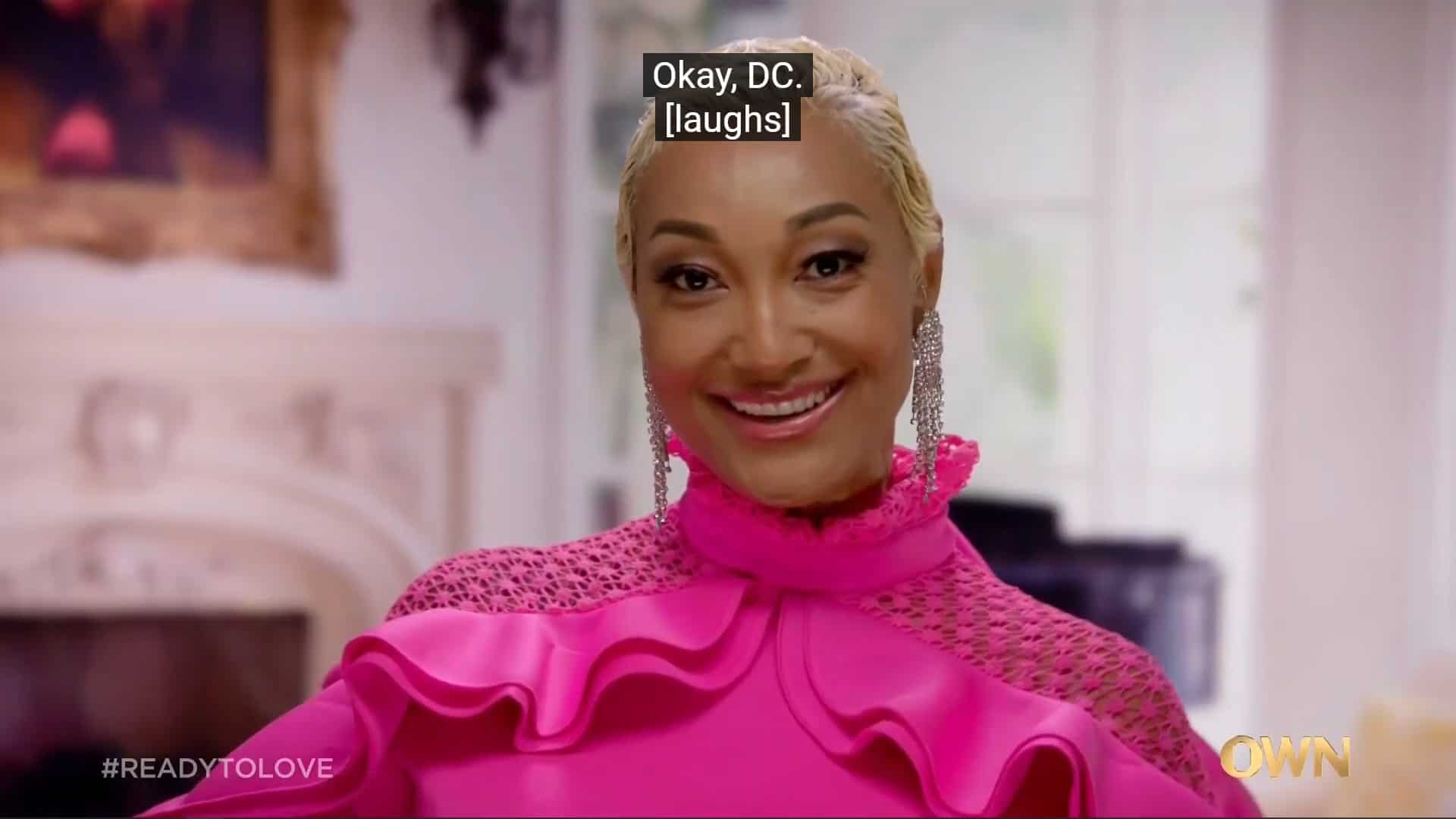 Ready To Love: Season 5/ Episode 2 "Welcome To Chocolate City" – Recap/ Review (with Spoilers)
Trajectory: Plateau
So far, no red flags, just people trying to find love and showing that their process may need to drastically change.
Highlights
Sabrina and Walter Having A Moment
Disputable
A Lot Of People Are Just There