Being that Raven's home is usually cash-strapped, she tries to teach her kids about saving. However, Nia and Booker give into temptations.
---
Network
Disney Channel
Director(s)
Leonard R. Garner Jr.
Writer(s)
Gigi McCreery, Perry Rein
Air Date
7/10/2018
Money Is A Major Issue: Raven, Booker, Nia
While Raven is struggling a bit, money wise, since I guess she is saving that $10,000 for a rainy day, she is trying to help Booker and Nia learn from her. Trying to get them to save their money from whatever allowance they get so they can appreciate nice things. Like a trip the African American History Museum in Washington D.C. However, for Booker, him thinking Mitch is using voodoo on him leads to him buying a $130 spell book. Then for Nia, because she wants to be a trendsetter she buys a jacket, a $150 one.
Which leads to a lot of hijinks, as usual, as Booker wears garlic around, and honestly doesn't even touch the spell book, besides dusting the cover. Only to learn pins from Chelsea's new cactus got into his and Levi's clothes. Making them both look stupid.
As for Nia, she makes her money back by loaning the jacket, decides to buy a cape to double her money only to learn the trend is over. Leading to her own hijinks of trying to figure a way to recoup costs, including cutting up the jacket and cape into cell phone holders made by Mitch, who likes to sew. However, not so well his sewing can hold up against modern sized cell phones.
Luckily for both, Raven has found a new hustle, partly thanks to Chelsea's advertisement, about painting animals. Something which gets her $500 so that the family can still have their DC trip.
Commentary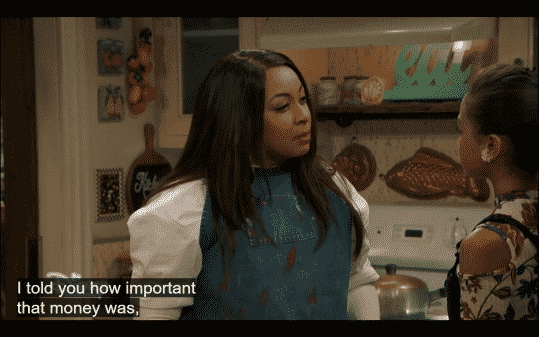 Anyone else wondered what spells were in that old, $130 book? With Booker and Raven being psychic, it would have been interesting to see what other kind of magic exists. Alas, the book wasn't touched and we didn't even see the person who sold that to a kid like Booker. They should be ashamed of themselves.
But, at the same time, you have to wonder why would someone let their kids hold that much money on their own. Especially Booker? Nia I can understand, to a point, since she always came off as the responsible one. Booker though? Who was just talking about a zip line throughout the apartment and is jealous of all of Mitch's toys and gadgets?
Switching to Nia, in a way you got to feel bad for the kid. While she has Tess, it seems that lack of attention from Raven must be making her desperate to find some way to be cool at school. To the point of buying a $150 jacket. Yet, as noted in a past episode, Raven's kids are kind of bougie. They got a taste of being in a middle-class household and we see how Raven keeps herself up, variety in clothing, weaves, and more, so you know the kids are going to mimic that. Not to say Raven shouldn't have nice things and because she is struggling financially, she should appear like she is struggling. However, as much as she jokes about how money is, it seems she needs to have a real conversation with her kids and definitely Chelsea.
Someone who I want to give props for, in terms of making a nice binder to show off Raven's work, but the fact she found a way for Raven to make money vs. her to make money gives me pause. Especially because, with knowing she was successful before, and the episodes, thus far, not relying on this idea she is still in shock, grieving her marriage, in a depression, or what have you, it makes you wonder what is going on here? It seemed she snapped out of being a dumb-dumb so what is she back at it?
For while you can take her gardening as her continuing trying to heal, does she not see Raven's struggle or care? Did Raven borrow money or do something where she technically is in Chelsea's debt but she is too polite to remind her? Raven is going from passive aggressive to calling out the issue in front of their kids now. One of these two are likely to say something they are going to regret, and apologize by the end of the episode, sooner or later.
Highlights
Raven's Home season two really referencing the fact Raven is raising Black children and putting Black culture to the forefront.
Low Points
Chelsea's issues not being developed at all. It's like any and all progress she made in season 1 got wiped out and she is purely and solely a comic relief.
Follow Wherever I Look on Twitter, Like us on Facebook and Subscribe to the YouTube Channel.
---
Previous Episode's Recap
[visual-link-preview encoded="eyJ0eXBlIjoiaW50ZXJuYWwiLCJwb3N0IjoyNDE0NiwicG9zdF9sYWJlbCI6IlBvc3QgMjQxNDYgLSBSYXZlbidzIEhvbWU6IFNlYXNvbiAyLyBFcGlzb2RlIDYgXCJUaGUgTWlzc3RlcHNcIiAtIFJlY2FwLyBSZXZpZXcgKHdpdGggU3BvaWxlcnMpIiwidXJsIjoiIiwiaW1hZ2VfaWQiOjI0MTQ4LCJpbWFnZV91cmwiOiJodHRwczovL3doZXJldmVyLWktbG9vay5jb20vd3AtY29udGVudC91cGxvYWRzLzIwMTgvMDcvUmF2ZW5zLUhvbWUtU2Vhc29uLTItUmF2ZW4ucG5nIiwidGl0bGUiOiJSYXZlbidzIEhvbWU6IFNlYXNvbiAyLyBFcGlzb2RlIDYgXCJUaGUgTWlzc3RlcHNcIiAtIFJlY2FwLyBSZXZpZXcgKHdpdGggU3BvaWxlcnMpIiwic3VtbWFyeSI6Ik5pYSBmb2xsb3dzIFJhdmVu4oCZcyBmb290c3RlcHMgYW5kIGdldHMgaW50byBzdGVwcGluZyBhcyBCb29rZXIgbGVhcm5zIGhlIGhhcyB2aXNpb25zIGluIGhpcyBzbGVlcC4iLCJ0ZW1wbGF0ZSI6ImRlZmF1bHQifQ=="]