Quinta vs. Everything: Season 1/ Episode 1 "Quinta vs. Womanhood" [Series Premiere] – Recap/ Review (with Spoilers)
---
Community Rating: 0.00% (0) - No Community Ratings Submitted (Add Yours Below)
---
This post may contain affiliate links and spoilers. Please read our disclosure policy.
---

Quinta vs. Everything, unfortunately, isn't your normal, "day in the life" show, but it does still show why Quinta Brunson has a show with her name on it.
---
Network
Facebook
Creator
Quinta Brunson
Director(s)
Zack Evans
Writer(s)
Quinta Brunson
Noted Cast
Quinta
Quinta Brunson
Boyfriend
Garrick Bernard
Niece
Kayden Swan
---
The Introduction
Quinta vs. Everything is a bunch of segments put together. One dealing with her being the black sheep when it comes to the topic of feminism, another dealing with babies, and one more which deals with a pregnancy scare. All of them seem like shorts you'd see on YouTube just put together and put on Facebook. If not a series of clips from a half hour MTV version of this show, and someone put all the preview material together.
On The Fence
It Makes You Wish It Was a Normal Show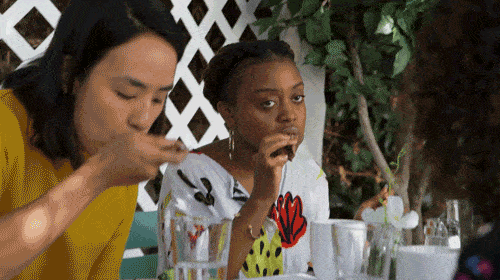 Where else will you have a Black girl argue that Azealia Banks isn't that bad, give a slightly shady look when someone calls Caitlyn Jenner a beautiful woman, and make it seem this random white child is evil? I can't tell you. Which is why, I gotta admit, I love this show to the point of wishing it was something bigger. A show with a narrative. For as weird and random as Quinta is, it all being broken up into segments sort of takes away from the jokes. It also takes away from what could have been one solid episode – even if it was 8 minutes.
Like when she was talking to her niece about role models and she was bringing up Cardi B and Nicki Minaj. In my mind, the whole "Quinta vs. Feminism" thing should have been one whole episode. Heck, between that and the Buzzfeed panel, that should have been the start. Especially as we witness Quinta realizing that her perception of feminism, directly conflicts between her expected beliefs of Black feminist and that which would be white feminism ideals. Such as her wanting her man to be the breadwinner, liking some Taylor Swift video, and the complications of supporting Nicki Minaj and Cardi B yet also wanting to disown your niece if they follow in their footsteps.
Catch Up or Follow Along: Here [External]
Follow Wherever I Look on Twitter or Like us on Facebook.