Queen Sugar: Season 6/ Episode 3 "You Would Come Back Different" – Recap/ Review (with Spoilers)
As Ralph Angel introduces one of his old friends, Darla continues to foreshadow something bad happening. The only question is what will happen and to who?
---
Aired
9/21/2021
Network
OWN
Directed By
Marie Jamora
Written By
Shaz Bennett
Newly Noted Characters
Theo
Malachi Malik
Recap
Ain't Nothing Wrong With Being Part Of A Team – Ralph Angel, Celine, Gabriel, Darla, Hollywood, Aunt Vi
With Darla and Ralph Angel learning they won't just need a doula but also a midwife, that means Ralph Angel puts even more pressure on himself to provide. Mind you, Darla's mom surely wouldn't mind helping, maybe her dad too, and the Bordelon family could come together and pitch in. However, Ralph Angel is as stubborn as Aunt Vi, and he'd rather keep his and Darla's money woes to themselves and hope the USDA cut a check. But with that decision 6 weeks off, and his latest crops not hitting as he needs, he is in trouble.
Speaking of trouble, Hollywood finds out what Aunt Vi is doing for Celine and Gabriel, and while he supports the idea, he is mad he wasn't let in on what was happening. He wants him and Vi to be a team, but she keeps shutting him out, and with knowing Celine's situation, he fears that one day Celine's man could have shown up and something happening.
Yet, that might be the least of Vi's troubles in the long run. For as she sees Hollywood bond with Gabriel, there is the potential fear of him wanting what she can't biologically provide. Though, who knows? Maybe a look is just a look?
Let's Make This Official – Davis, Charley, Aunt Vi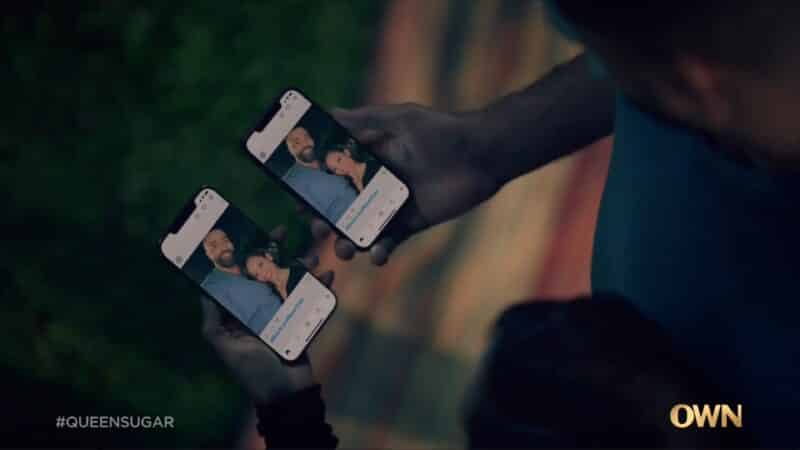 Davis coming back into the family was going to be difficult. Yes, most would be cool and forgive him, but Aunt Vi? You know she holds a grudge. Yet, unlike how she treated Darla, Aunt Vi doesn't really say or do anything to Davis' face to show any form of disapproval. This makes the only challenge going official to the public and the potential blowback from that.
But, Charley being Charley, she already has a plan and a hashtag to get ahead of the story, and it seems she plans to have it all. Even with Davis securing a new job as Head Coach of the Los Angeles Dynasty and her life firmly in Louisiana.
The Past Can Haunt You And Cloud The Future – Nova, Billie, Prosper, Aunt Vi, Ralph Angel, Micah, Theo, Hollywood
Unfortunately, after seeing what happened to Prosper, Micah is starting to have full-blown panic attacks, and while a friend of his talks him through it, there is a certain level of embarrassment just the same. But that is the kind of stuff Hollywood opened his place for, conversations dealing with anxiety and other things. Sadly though, the only one who talks opening night is him, and it is about Celine and Gabriel, without mentioning any names.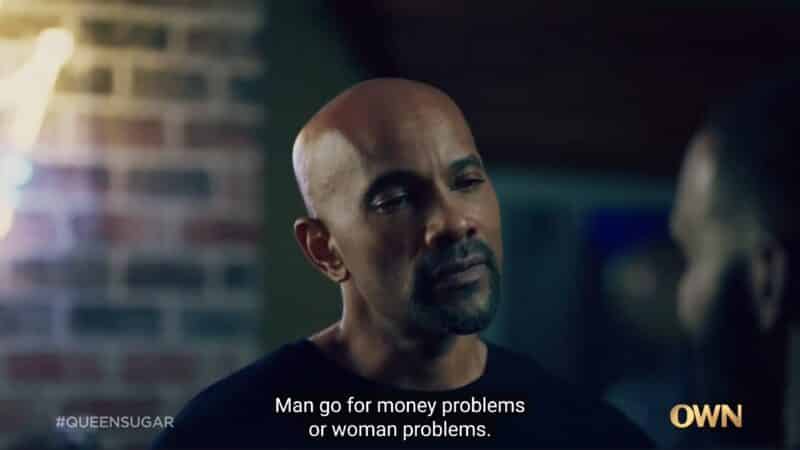 Which, all things considered, might be a good thing. Why? Well, Ralph Angel invites a friend he knew from prison, Theo, and considering Theo is still about that life and even talks about robbing the Landrys? He could be trouble, and potentially the man Celine is on the run from. I can't say for sure but, it is a strong possibility.
Speaking of evil men, in case you were wondering why Nova was weird about Billie, it is because of two things: The first is that Billie outed Nova to Earnest, and the second is a rumor that Billie messed around with Jimmy Dale, Vi's ex-husband. Now, because Billie does miss the relationship she and Nova used to have, which led Ralph Angel to believe Billie was his third sister, she decides it is time for an adult conversation.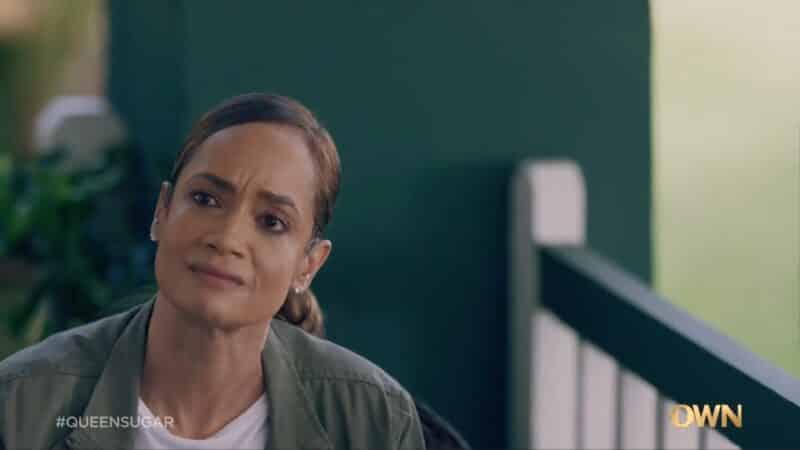 Her explanation for what happened does have the baseline of her being jealous of all the Bordelon family has, like her father, but we go deeper this time. She clears up that this rumor that she was a fast 18-year-old sleeping with the married and at least 33 year old Jimmy Dale is false. Billie was raped, and the reason she outed Nova was purely out of jealousy. You see, Billie tried talking to her father, Nova, quite a few people, but only Earnest listened and seemed to understand. Not getting that feeling from her own household led her to out Nova so that Nova wouldn't have something she didn't.
Yet, as shown, Prosper still loves the Bordelon family more than her, and Nova seems to have far more than Billie, despite all Billie has done in the world.
Things To Note | Question(s) Left Unanswered
Question(s) Left Unanswered
So, Billie told her father, and he believed a man like Jimmy Dale over his own daughter? Heck, even if he didn't hear the exact words "rape," he didn't beat the hell out of a 33-year-old man messing with his barely 18-year-old kid for ruining her reputation?
The Landry family isn't going to make a comeback, are they? I feel like we need to close that chapter and put a Master Lock on it and throw that key into the bayou.
What Could Happen Next
I seriously think Theo is Celine's man, and Hollywood is going to potentially get close to him and feel torn about who he says he is vs. the man Celine is afraid of. Thus furthering issues between him and Vi.
Violet seeing Hollywood with Gabriel will probably cause some insecurities since she can't give him a child.
I can imagine Prosper and Billie having a long-needed conversation about her feeling second to the Bordelon family, rather than telling Nova and Charley – pretty much everyone but her dad.
One of the Landry family members will either run against Charley or will be vying for her spot on the city council.
Micah using Hollywood's spot for a real conversation about his panic attacks.
Billie talking to Aunt Vi about what Jimmy Dale did to clear the air between them.
Review
Highlights
Davis and Charley Official
While there could be issues down the road, since Charley wants it all, including staying in Louisiana, let us be joyous over her and Davis reconciling. Yes, there is baggage, and we haven't seen his daughter in who knows how long. But, they are trying to move forward and make it work. Which, with Aunt Vi not making the fuss she seemingly would have before, there might be hope.
Billie's Truth
If there is one thing I always love, it is when the Bordelon family is proven wrong. Don't get it twisted, I love seeing them actively part of the community, forgiving people, helping out, all of that. However, we can never discount how stubborn, self-righteous, and petty many members of that family are. And when it comes to Billie, she feels like an example of the power that family may sway not to uplift someone but potentially destroy them.
I mean, you know Aunt Vi's mouth and combine that with Nova being angry? Jimmy Dale might have been the main reason Billie left, but those two likely were the reason she barely visited. Can you imagine you being so close to someone that their little brother thinks you are another one of their sisters, yet only one person believes your truth? Meanwhile, the others seem to either circulate a rumor about you or don't commit to the idea it is a lie or that there is more to the story? That's a lot of weight, and considering Prosper being entranced by the Bordelons, I can see why Billie doesn't visit or bring her Chicago family.
Hollywood and Aunt Vi's Relationship
Aunt Vi really met her match in Hollywood. He isn't someone who does the silent treatment or any of those childish actions. If you have a problem, he usually wants to talk about it, and with Vi, that isn't her MO, but he will push the issue. I love it, I respect it, and I'm glad to see it because, alongside Charley and Davis now, it reminds us that relationships don't have to be perfect. Yes, there needs to be moments of joy, understanding, communication, and being on the same page, but that's not all the time.
Yet, there is a difference between working towards joy and operating on the belief that things will fall apart. Which I think Nova operates on but, hopefully with her little crush, she may find herself in a relationship like Aunt Vi and Hollywood's. The kind of relationship where she doesn't just get someone who compliments her but challenges her in the way she needs without receiving it as an act of conflict.
Darla Being Back In The Mix
Considering how things were after the reveal Blue wasn't Ralph Angel's biological son, I love that Darla is back in a place where she can speak to Charley, Nova, and Aunt Vi about matters that can be considered personal. Especially in a group environment where, with the way Ralph Angel's family is, there could have been a time her asking something about Davis, Billie or anything personal could have led to her being reminded of her place. Yet, now it seems her place is firm as family, and while we know that is a delicate invitation, it's good to see she feels confident in her role.
The Threats Against Nova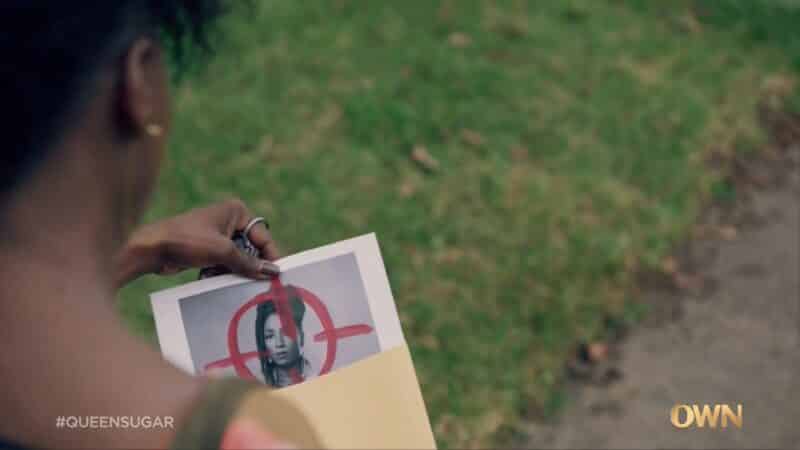 Here is the thing, I appreciate us seeing the pushback against someone's activism goes beyond internet trolls. Speaking up, speaking out, showing up, and showing out means going against the status quo and for some places, that means going against established cultures and traditions. There needs to be visuals of what it means to be a social justice warrior beyond political correctness and online activism. People have died trying to make a change, and some are internationally known, and others are locally known. But I think through Nova, depending on how this is handled, respect will be put back on the name of people who try to actually do something and not just talk about it.
With that said, I hope this isn't just a bunch of boogie man scenes.
Low Points
Invoking The Name Landry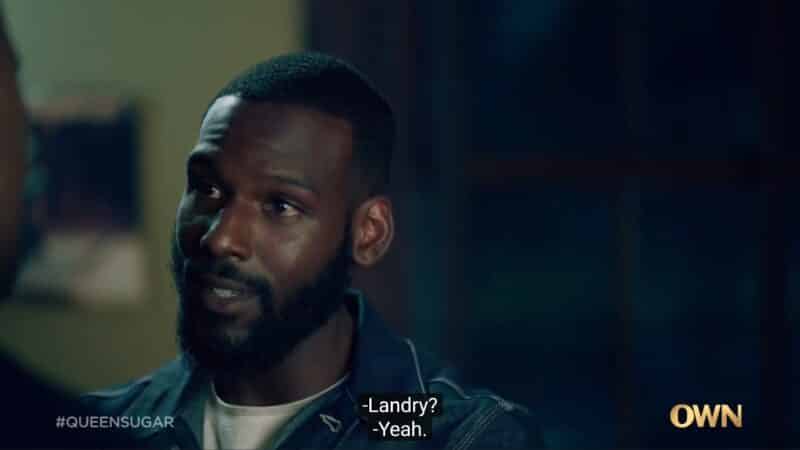 We had four whole seasons of escalating Landry drama – please do not bring them back. Be it Sam or his daughter, or his sister, let that name be a ghost and never return in physical form.
Amen.
[ninja_tables id="55776″]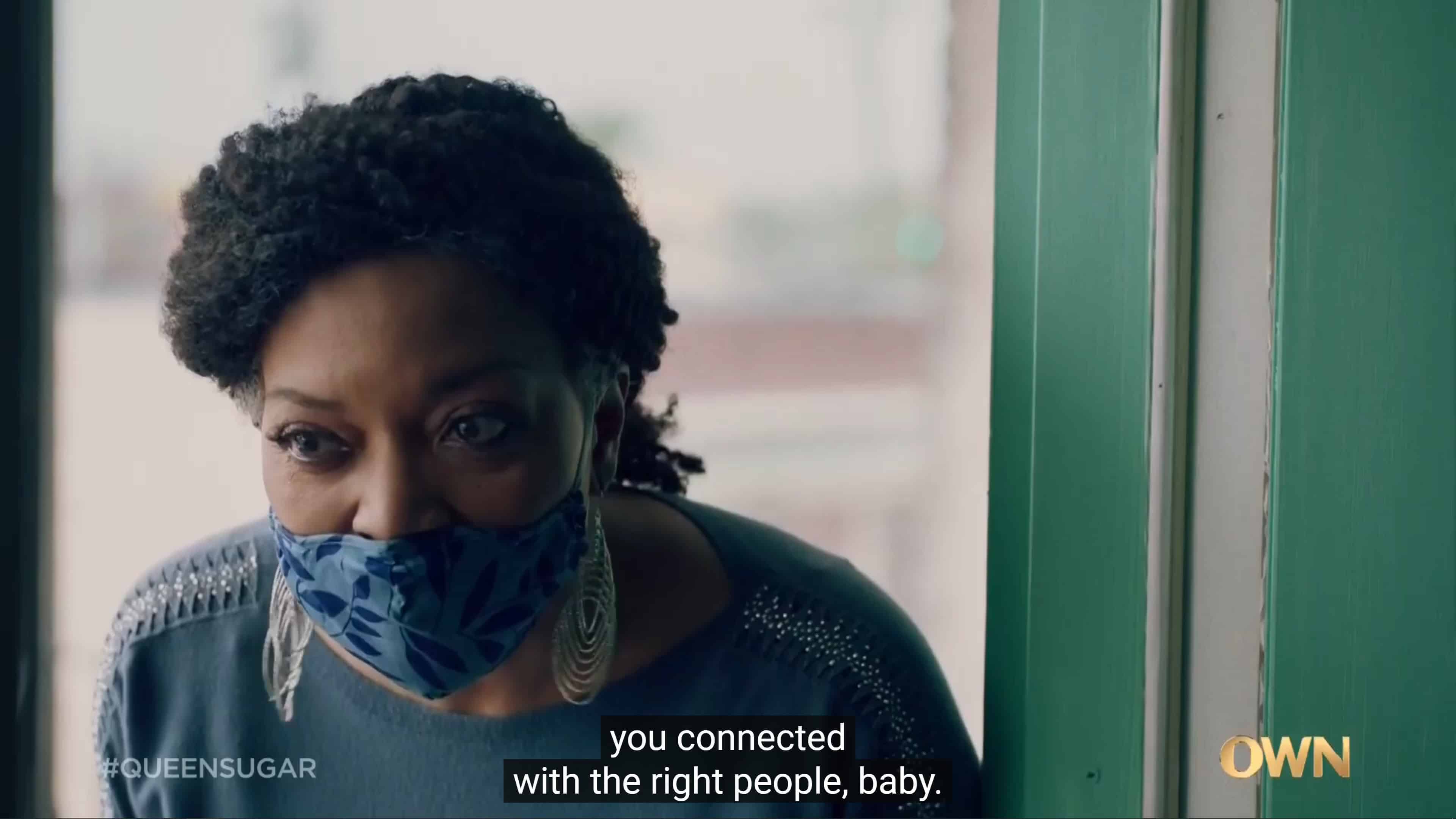 Queen Sugar: Season 6/ Episode 3 "You Would Come Back Different" – Recap/ Review (with Spoilers)
Trajectory: Plateau
With Billie giving us her full backstory and so many storylines set up for future episodes, the next 7 episodes will be something else.
Highlights
Darla Being Back In The Mix
Hollywood and Aunt Vi's Relationship
The Threats Against Nova
Billie's Truth
Davis and Charley Official
Disputable
Invoking The Name Landry