Mushoku Tensei: Jobless Reincarnation: Season 1/ Episode 17 "Reunion" – Recap/ Review (with Spoilers)
After a tumultuous reunion, Paul and Rudy find themselves at a bit of an impasse. However, Rudy's memories of a past life, and an unexpected person, trigger a reunion.
After a tumultuous reunion, Paul and Rudy find themselves at a bit of an impasse. However, Rudy's memories of a past life, and an unexpected person, trigger a reunion.
---
Aired
11/7/2021
Network
Hulu
Directed By
Hiroyuki Takashima
Written By
Muneo Nakamoto
Introduced This Episode
Vierra
TBD
Shierra
TBD
Recap
Advice From Unexpected Places – Geese, Paul
Remember Geese, who said he had to part ways with Rudy once they reached the outskirts of Millishion? Well, we come to find out he knows Paul and might be part of his group! Which does lead you to wonder if, since he might be one of the few who knows of the Demon Continent, never mind is from there, if he and Roxy were tasked with heading to that continent to not just find Rudy, but others?
But, with Rudy back, the bigger focus of Geese is Paul adjusting the expectations of his son. Yes, Rudy is a brilliant mage and has become increasingly proficient in combat. However, Rudy is also 11 years old. Yes, Rudy is still not even a teenager yet. Which Paul wants to disregard, but it is difficult to do so since Geese gets to him.
Yes, Rudy has his arms, legs and lacks any notable bodily trauma. Yet, he also is someone transported to the demon continent where he knows no one, had partnered with a Superd, a race known for violent outbursts, and has been responsible for protecting a feisty girl. So much could have gone wrong, and just because it instead went right, that doesn't discount how much luck played into Rudy's circumstances.
Second Chances Don't Come Too Often – Paul, Rudy
So with that in mind, Paul reaches out to apologize, and, at first, Rudy isn't the most receptive. Take note: he doesn't have beef with Paul, but he has an "It is what it is" attitude about what went down. That is until he remembers the last time he had a fight with a friend, and pride got in the way of them reconciling. For with neither the old Rudy nor his friend reaching out, soon after the old Rudy became a recluse, that was the end of the friendship.
With that in mind, and taking note that, when you combine his old age and new one, Rudy is much older than Paul, he decides they need to reset how they reunited and has them hug. This allows Paul to break down and experience the love, fear, and sorrow he has pent up all this time, and even Rudy breaks down a little bit. After all, just like he gave Paul a chance for a redo, in so many ways, Rudy gave that to himself as well.
Long Term Plans – Paul, Rudy, Eris, Ruijerd, Norn, Shierra, Vierra
With father and son reconciling, there might be the question of what's next? Will they join forces? The answer is no. Rudy has already decided to take Eris home, and even if Fittoa has been altered to an unrecognizable state, Eris deserves to see for herself what happened. But, after that, he plans to look for his mother and sibling.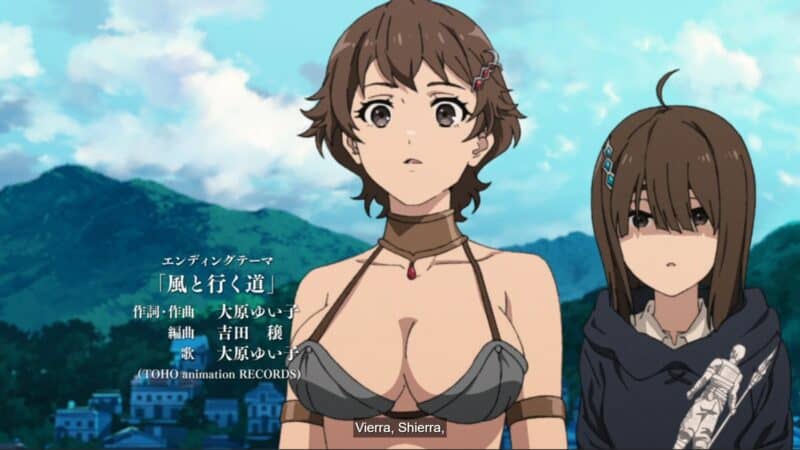 As for Paul? Well, his focus is still rescuing whoever he can with his group. Though considering he calls a meeting with Shierra, Vierra, and the rest, maybe something may change? But considering how we haven't seen Roxy in forever, whether we'll learn what happened during that meeting is hard to say.
Things To Note | Question(s) Left Unanswered
Question(s) Left Unanswered
With the way Paul is talking, you wanna bet he had sex with Shierra and Vierra before?
Where is Ghislaine?
Did it not get back to Paul yet that Sauros was executed? Also, what has happened since that event?
Where on the demon continent is Geese from?
Is there a chance anyone else from Rudy's former life was reincarnated into his new one?
How is Roxy doing?
What Could Happen Next
Hopefully, we learn Zenith's fate, as well as Ghislaine and those of Fittoa, as things have been eerily silent and Paul seems unaware.
Review
---
Community Rating:
---
Highlights
An Emotional Reconciliation
Between Paul and Rudy reconciling in the present or Rudy touching on his past, this is yet another episode that could bring you to tears. Especially since it acts as a reminder of what both have gone through to get to this point. Throughout the first half of season 1, Paul struggled with Rudy not needing him and being such a grown-up. Which could be something that instilled pride, but with seeing his son less so independent and capable and more so self-serving? It tainted things for him.
Yet, Geese reminded Paul that, while a brilliant young man, Rudy is 11. Granted, we know Rudy is mentally in his 30s, maybe even 40s, but considering how stunted he was in the past? You can give him some leeway. After all, there came a point when Rudy stopped caring, and his family and any friends he had did the same. So Paul making this move and Rudy reconnecting, it wasn't just about taking the opportunity he missed before, but furthering the healing and forgiving himself for every single moment he missed out on.
Eris Dealing With All She Has Known Being Gone
There hasn't really been any conversation regarding Eris possibly going home and learning Paul and Rudy are all that remains of her family. Yet, it seems to have been something on her mind and maybe even accepted. Admittedly, I wish or rather hope the show dives deeper into her thoughts on this since Eris was spoiled rotten. So to have all of that taken from her is hard to imagine, and I think what could lead to her having one of the most tear-inducing moments on the show.
[ninja_tables id="54695″]
Mushoku Tensei: Jobless Reincarnation: Season 1/ Episode 17 "Reunion" – Recap/ Review (with Spoilers)
Trajectory: Plateau
Drink your water and get your tear ducts ready for part 2 of Paul and Rudy's reunion as we get more reasons to praise this show and additional ammo to tell people that it is so much more than it seems.
Highlights
An Emotional Reconciliation
Eris Dealing With All She Has Known Being Gone
---
Follow, Like, and Subscribe
Community Rating: 0.00% (0) - No Community Ratings Submitted (Add Yours Below)