Mr. InBetween: Season 3/ Episode 7 – Recap/ Review (with Spoilers)
In a rare slip-up, Mr. InBetween has what could be considered a bad episode.
---
Episode Title
I'm Your Girl
Aired
6/29/2021
Network
FX
Directed By
Nash Edgerton
Written By
Scott Ryan
Newly Noted Characters
Zoe
Emily Barclay
Michele
Rose Riley
Recap
A Favor – Ray, Freddy, Michele
While Freddy and Ray aren't on the best terms, Freddy's girlfriend, Michele, hopes Ray will speak to the people Freddy owes a gambling debt to so that Freddy can have more time. Which he does, and even says he'll owe that person a favor for giving Freddy some time to gather the money he owes people.
A Long Drive, With A Happy Ending – Rafael, Zoe, Ray
For Ray's new employer, Rafael, he runs some drugs across the country, and for reasons unexplained, a woman named Zoe joins Ray. The only thing we can assume is, to present a cover for the drugs he is moving for Rafael, maybe Zoe is supposed to be his girlfriend joining him on a trip? Either way, for most of the episode, the two talk, and towards the tail end, Zoe gets flirty, and being that it has been a year for Ray, since his last serious relationship, and 3 years for Zoe? Well, if you don't count this guy she hooked up with a few weeks ago, that leads to the two making out and likely having sex.
Review
Low Points
Zoe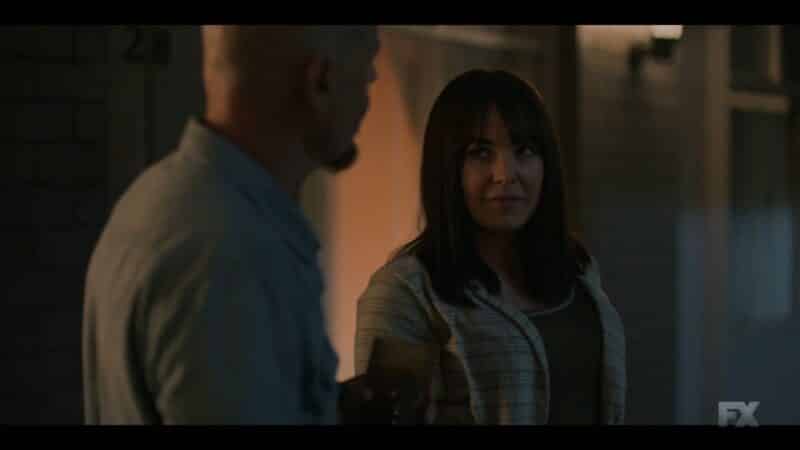 Most of the episode is run of the mill, with forgettable moments, be it Gary and Brittany going back and forth about climate change and Ray trying to buy Freddy sometime. So when it comes to Zoe, who Ray spends the majority of the episode with, there was hope this could be something nice and new for Ray. However, what it turns out to be is a series of conversations that makes you appreciate when Gary and Ray have their off-beat discussions about random topics. For between the pacing, topics, and just how dry things are, it reminds you of the early episodes of Mr. InBetween before the show found a way to balance Ray, "The Magician," and Ray, your run of the mill guy you may not think anything of.
Trajectory: Plateau
This was an odd stumble for Mr. InBetween that we're just going to write off since it has had a long run of impressive episodes.