Love Is: Season 1/ Episode 6 "Supportive" – Recap/ Review (with Spoilers)
---
Community Rating: 0.00% (0) - No Community Ratings Submitted (Add Yours Below)
---
This post may contain affiliate links and spoilers. Please read our disclosure policy.
---
While Nuri and Yasir make it through the episode without a breakup/makeup, the same can't be said when it comes to Nuri and Angela.
---
Network
OWN
Director(s)
Karen Gaviola
Writer(s)
Jerron Horton, Will Catlett
Air Date
7/24/2018
Let's Co-Write!: Norman, Angela, Nuri
The Wendy spin-off seemingly might be gaining traction and thanks to Angela having a well-negotiated contract guaranteeing her two-episode credits, this Wendy one is hers to share. However, she isn't necessarily all that keen about sharing it and it offends Nuri. Though, Angela tries to redirect that hurt at Norman for creating the situation and Nuri's agent for not negotiating a better deal.
Commentary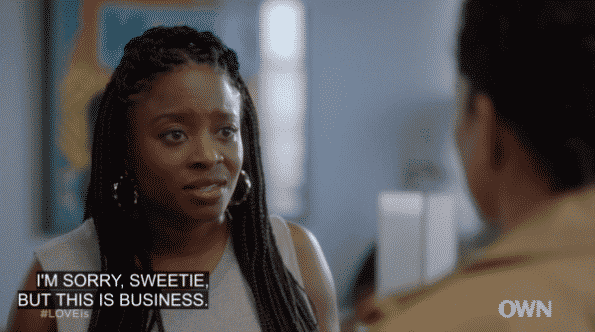 I feel bad for Angela. As seen, Nuri is "Padawan," Marvin has had dinner with her, and when she talks, people listen. Thus leaving Angela kind of out there and fending for herself if Nuri isn't on her side or co-signing. So, as you can imagine, having your own episode means maybe crafting something for you to get attention. To not live in the light skinned girl's shadow and become the new "Padawan." For it isn't like Marvin is going to last forever and it was a struggle to get that job. Imagine how hard it will be if Norman, or someone else, doesn't scoop her up for their next project? She'll be back to square one.
But He's Gay: Yasir, Nuri, Angela, Keith
After a trying day, Angela goes for a drink and interrupts Keith being talked to by a guy who might have been interested. Their conversation goes well though so they go see a movie and who ends up in the same movie theater but Yasir and Nuri. Who, with Nuri needed to escape her day, was convinced by Yasir that the movies would be a good idea. Problem is, she hates silent movies and has to read out loud to understand what is happening.
Though, things go from bad to worse as girl code is brought up and later on, Nuri is questioning if she should out Keith. For, in her mind, he is likely a DL dude with AIDS and while she isn't happy with Keith, she doesn't want Angela getting AIDS. That comment leads to Yasir checking Nuri for while he gets she is upset, she is taking it a bit far.
Commentary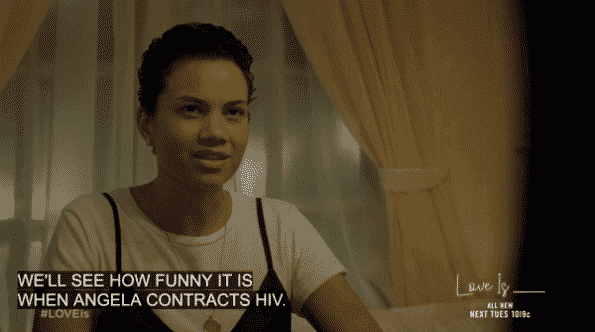 There a bit to unpack here. First and foremost, to see a Black man call out a Black woman on saying something homophobic was rich. On top of that, Yasir is a Muslim and it's the 90s. So him defending Keith is touching. And speaking of touching, I do think Keith is going to slip one day. Either because he is drunk or he gets seduced. For with how friendly he and Yasir were being, as the ladies went to the bathroom, it seems he got a taste of Yasir's charm and wasn't even mad Nuri wouldn't maintain being his beard. He'd want to be with Yasir too.
Though, you know he couldn't. For Keith is one of two Black execs and it seems his main job is being overseer of the Black shows. Something which is hard to do since he doesn't seem able to balance being Black enough for his programs to accept him and he certainly isn't white enough to be taken seriously by the other executives. Add in him being gay and he has a lot to balance and deal with. All just to find some happiness and fulfillment.
But, one good, well good character development wise, thing to come out of all this was seeing Nuri's dark side. Her talking about outting Keith and being homophobic showed she is capable of going there and darkness. Something which was a little shocking for while you get her being mad with Angela, her taking that out on Keith was a whole other thing. So, needless to say, Yasir better watch out since he is the kind of dude who'd rather be right than supportive. Nuri may snap at him for that one of these days.
Always & Forever: Nuri, Angela, Yasir
In the long run, Nuri makes up with Angela and it is because her pitch for a serious episode gets shot down and Nuri tries to back her up. However, she is so done dealing with the show and the writer's room that she is ready to just let Nuri take the episode. Something which seems exciting until she cools down and realizes it is only being given to her because Angela is frustrated. So, she rejects the offer and says she'll help however she can.
Just like she will help Yasir quit smoking. Well, as long as he keeps calling her out when she is being a brat.
Commentary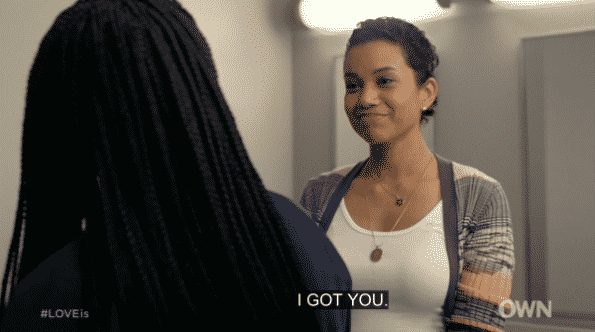 I wonder, as the show continues, will we see some kind of Girlfriends
nod? After all, eventually Nuri and Angela have to graduate from Marvin. Also, with hearing Mara Brock Akil's story, and knowing this is based on it, you have to wonder will this show follow her trajectory? Will it go year to year and follow her rise and Yasir's as well or will it drag on each year, past a season, and really take its time?
Also, taking into consideration the gap between past Yasir and Nuri and future Yasir and Nuri, will there be a cast change for those middle years? If not the older actors doing more than narrating and picking things up?
Question(s) Left Unanswered
So, still no feedback Nuri about Yasir's script?
When Yasir was talking about going home to give Nuri space, where the hell was "home?"
Collected Quote(s) & .Gifs
It's not what you want, it's what you negotiate. – Angela
Scared money don't make none. – Norman
I worked so hard to be who I wanna be, and I can't even be who I wanna be. – Angela
Highlights
Seeing Nuri's dark side.
No breakup to makeup drama for Yasir and Nuri this episode!
Angela's problems with working on Marvin, maybe with Nuri as well, being dove into.
Keith's careful balance getting through his work and personal life on display.
This episode touching on how important it is for your agent to have your interest in mind when they negotiate and not the relationships they can build.
Follow Wherever I Look on Twitter, Like us on Facebook and Subscribe to the YouTube Channel.
---
Previous Episode's Recap
[visual-link-preview encoded="eyJ0eXBlIjoiaW50ZXJuYWwiLCJwb3N0IjoyNDQ1MSwicG9zdF9sYWJlbCI6IlBvc3QgMjQ0NTEgLSBMb3ZlIElzOiBTZWFzb24gMS8gRXBpc29kZSA1IFwiQWNjZXB0YW5jZVwiIC0gUmVjYXAvIFJldmlldyAod2l0aCBTcG9pbGVycykiLCJ1cmwiOiIiLCJpbWFnZV9pZCI6MjQ0NTIsImltYWdlX3VybCI6Imh0dHBzOi8vd2hlcmV2ZXItaS1sb29rLmNvbS93cC1jb250ZW50L3VwbG9hZHMvMjAxOC8wNy9Mb3ZlLUlzLVNlYXNvbi0xLVRpdGxlLUNhcmQucG5nIiwidGl0bGUiOiJMb3ZlIElzOiBTZWFzb24gMS8gRXBpc29kZSA1IFwiQWNjZXB0YW5jZVwiIC0gUmVjYXAvIFJldmlldyAod2l0aCBTcG9pbGVycykiLCJzdW1tYXJ5IjoiTG92ZSBJcyBtYWludGFpbnMgYSBzZW5zZSBvZiBmYW50YXN5IHdoaWNoIG1ha2VzIHlvdSBxdWVzdGlvbiwg4oCcV291bGQgSSBnbyB0aHJvdWdoIHRoYXQgbXVjaCBvdmVyIHNvbWVvbmUgSSBiYXJlbHkgbWV0P+KAnSIsInRlbXBsYXRlIjoiZGVmYXVsdCJ9″]