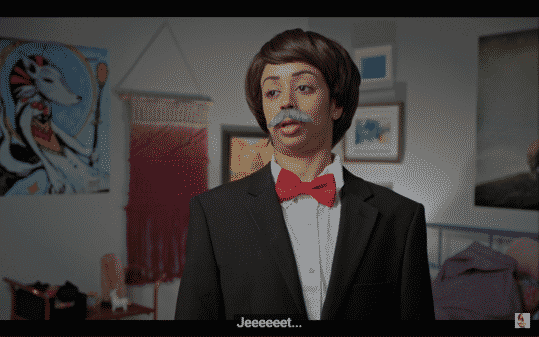 |
Proving that the show can go beyond stereotypes and ridiculousness, Liza takes on that sexism which is keeping her from elite status.
---
Network
YouTube Red
Director(s)
Deborah Kaplan, Harry Elfont
Writer(s)
Deborah Kaplan, Harry Elfont
Air Date
6/27/2018
Summary
Being that Liza is a woman, while she seems to get jobs easily in delivering things, organization, and specialized tasks, it seems no one wants to hire her for manual labor. Which is quite frustrating for manual labor isn't just moving things but also putting up shelves and stuff like that. Things that Liza may not do all that well at home, but that's because it's her stuff so she doesn't have to care as much. So, to prove to herself, and others, she can do just what men can, she being Kevin and does a moving job. One she does quite well actually.
Leading her to believe she got to fully experience what it is like to be a dude. However, the guys she works with simply thought she was trans. Hence them treating her as a dude since that was the gender they saw her struggling to come off as. Making Liza realize that as much as others have to learn she, and other women are capable of so much, there is a need to also recognize it's not everyone trying to keep a Liza down. Just those who, unfortunately, have the power to make her current dreams come true – and they aren't all men.
Commentary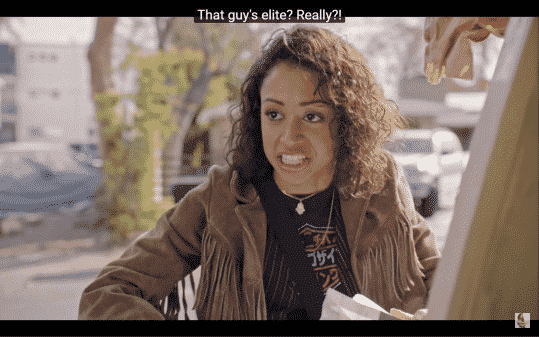 When it comes to YouTubers, whether talking about Liza, Anna Akana, or many others, you see this attempt at balance humor with a clear-cut statement. For some, if not most that I follow, they lean heavy into the statement with some comic relief so they don't lose you. What you have to appreciate about Liza is she does the reverse. Her take on sexism is her dressing up as a guy and pretty much living out Beyoncé's "If I Was A Boy." Just in a humorous way.
Of which includes the awkwardness of trying to talk like a bro and even confronting the worse kind of dudes: The kind who tell you to smile when you don't want to. Leading to what can be seen as the ideal but also something very realistic. That is, having a conversation about why certain things are wrong and unacceptable, thinking you made a breakthrough, only to reveal there is so much more to be unlearned and handled.
Making me wonder, though not enough to pay for YouTube Red (I used my trial long ago), should we see this as the growth of Liza beyond being the butt of her own jokes? Is this a true representation of who she is a comedic actress? Granted, she didn't write the episode but as one of the creators and producers, she does have sway and power. Is this the future of Liza Koshy vs. her click bait origins? Hmmm.
Highlights
It Gives You Hope For The Future of The Series
Again, this isn't a tentpole kind of show which will make you bit the $10+ it costs a month to watch this. However, it does make you want to ask some friends if they got a subscription and if they'd be willing to let you use their login. Just to see where Liza may go with this. For while her roommates on the show remain way too rooted in stereotypes to really get into, or find funny sometimes, this refined version of Liza is quite appealing.
Particularly because it takes the Liza we know, and the reason you probably had even a feign interest in a show you are asked to pay for, and enhances her. It shows the next evolution of a persona that can seem really off the walls and random but isn't truly an idiot. Liza on Demand elevates the character of Liza to be more than someone to laugh at.
Again, not to the point of paying for the privilege of seeing the show, but it does make it where, as Liza Koshy transcends YouTube, it makes her a name worth keeping on your radar.
Follow Wherever I Look on Twitter, Like us on Facebook and Subscribe to the YouTube Channel.
---
Previous Episode's Recap
[visual-link-preview encoded="eyJ0eXBlIjoiaW50ZXJuYWwiLCJwb3N0IjoyMzg5MCwicG9zdF9sYWJlbCI6IlBvc3QgMjM4OTAgLSBMaXphIE9uIERlbWFuZDogU2Vhc29uIDEvIEVwaXNvZGUgMSBcIlBpbG90XCIgW1NlcmllcyBQcmVtaWVyZV0gLSBSZWNhcC8gUmV2aWV3ICh3aXRoIFNwb2lsZXJzKSIsInVybCI6IiIsImltYWdlX2lkIjoyMzg5MiwiaW1hZ2VfdXJsIjoiaHR0cHM6Ly93aGVyZXZlci1pLWxvb2suY29tL3dwLWNvbnRlbnQvdXBsb2Fkcy8yMDE4LzA2L0xpemEtT24tRGVtYW5kLnBuZyIsInRpdGxlIjoiTGl6YSBPbiBEZW1hbmQ6IFNlYXNvbiAxLyBFcGlzb2RlIDEgXCJQaWxvdFwiIFtTZXJpZXMgUHJlbWllcmVdIC0gUmVjYXAvIFJldmlldyAod2l0aCBTcG9pbGVycykiLCJzdW1tYXJ5IjoiTGl6YSBvbiBEZW1hbmQgd29u4oCZdCBjb252aW5jZSB5b3UgdG8gc3Vic2NyaWJlIHRvIFlvdVR1YmUgUmVkIGJ1dCBpZiB5b3UgYXJlIGEgZmFuIG9mIExpennigJlzIGtvb2t5IHBlcnNvbmEsIGhlciB0YWtpbmcgdGhpbmdzIHRvIFBHLTEzIGxldmVsIHdpbGwgc3VyZWx5IG1ha2UgeW91IGdpZ2dsZSBlbm91Z2ggdG8gd2F0Y2ggd2hhdCBpcyBhdmFpbGFibGUgZm9yIGZyZWUuIiwidGVtcGxhdGUiOiJkZWZhdWx0In0="]
---