Kourtney, Carlos, and Gina are given a few finer details to their characters, which makes it appear they may finally get a proper spotlight on their lives.
---
| | |
| --- | --- |
| Directed By | Joanna Kerns |
| Written By | Tim Federle |
| Air Date (Disney+) | 12/6/2019 |
Recap
Let Me Mourn In Peace: Mike, Miss Jenn, Ricky
The end of a marriage, you were trying to save, is devastating. So, it is only right Mike has spent the last week mourning the end of a rather long chapter of his life. But, being that Ricky's biggest heartbreak came in the form of the girl, he couldn't say he loved leaving him for a possessive and insecure child, what does he know?
Yet, with a kid to take care of and set an example for, Mike at least leaves the house. Granted, under the false pretense of him going on dates, but while pretending to live his best life, he does encounter Miss Jenn. Someone who is single, ready to mingle, and while it doesn't connect for either their mutual contact, it seems something may come from their chance encounter.
The Damage Boys Can Do: Kourtney, Carlos, Seb, Nini, Miss Jenn, Ricky, EJ, Gina
Between the breakup with Ricky, EJ, and now EJ taking Gina to Homecoming, Nini's mind is a little stressed out. Which, for Gina, was the plan to get her to drop out of the musical – overwhelm her with petty drama in hopes she'll be over it. However, being that EJ isn't much for the plan, or Gina, in the long run, she fails.
What also doesn't help is Nini deciding not to go and, thanks to Miss Jenn, her and Kourtney having a girl's night. One which reaffirms Nini's talent and commitment after Kourtney calls out how much Nini, since around 7th grade, has allowed herself to see herself mostly through the eyes of the guys she dates. Especially during and post-Ricky.
But, it isn't just Nini dealing with boy trouble. Carlos, who has a bit of a crush on Seb, asks him out after realizing how much, in private, they are good dance partners. However, when he is hours late to homecoming, so comes the fear Seb may not be ready to be public. In actuality, though, Seb had to handle a dying cow situation, and at the family farm, reception is apparently terrible.
The Start Of Something New: Gina, Ricky
Being that Ricky is single, and seems to think Nini friend-zoned him, he has a little bit of an attitude at homecoming and doesn't make the best wingman for Big Red. Add in EJ going from Nini to Gina, and this just makes him more upset since, low-key, it seems he might have feelings for Gina. If not, at the very least, he feels connected to her in a way that leads him to think she could do better. Which, when he says this to her, it leads to a little back and forth that causes him to say she is too ambitious for her own good, and multiple people are saying that.
That, despite how Gina is often portrayed, hits hard and naturally hurts. Add in EJ publicly ending the plan and her feeling the need to make a scene to save face, it becomes a difficult night for Gina. But, with Ricky wanting to apologize, and it being agreed him giving her a ride home will make them even, we begin to see behind the curtain a bit.
First off, something is going on behind the door 753 that makes it clear, like Ricky, Gina understands a home in chaos. Secondly, with Gina going to 5 schools in 7 years, she has no choice but to be ambitious. Yet, she gets it, to a point. That is why she doesn't expect to make friends or even date.
Though, with Ricky opening up to her, and noting how he felt connected to her, especially after their chat at the skate part, it seems like the start of something new. Which, depending on how the wind blows, may become a friendship or something more. Gina kissing Ricky on the cheek definitely is a sign of affection, and Ricky's reaction does make it seem, beyond the shock of the gesture, wheels are definitely turning in his head.
Collected Quote(s) & .Gifs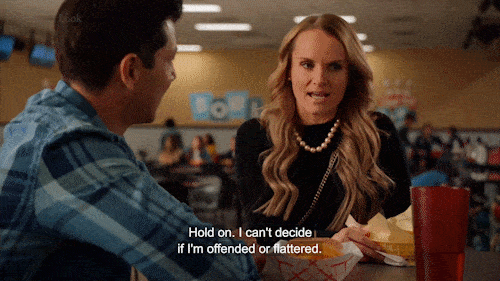 Comment Down Below
Do you think we'll ever see Nini's other mom or grandmother again?
Review
Highlights
Carlos & Seb
After Mr. Mazzara insulting Carlos, and Miss Jenn defending him, there was the need to wonder what Carlos' life is like? Especially when not in a power position. Well, we got our answer with his relationship with Seb. Which, I should note, isn't a relationship-relationship, as in them dating. But, with the way they dance together and how excited both seem, it could happen.
But, there is a need to ask what complications could come up? Especially for Seb, since Carlos seems a bit more out and open while Seb may have ways about him, but I don't think he has chosen a title to identify as. If not, at least with his family, spoke about his preference.
Shipping Gina and Ricky
While there was some chemistry at the skate park, with Ricky so stuck on Nini and Gina seemingly focused on trying to get Nini to quit, it seemed these two would more so be enemies than friends. But, after that kiss, Ricky revealing how much her words meant to him that day, and their connection? I'm not saying they are about to date in the next episode, but I think it is fair to say Gina may have a genuine connection and may lean on Ricky a little bit.
Leading to the question of, when Nini finds out about this, how will she react, and will Ricky ever come to think Gina is using him, as she tried to use EJ, to create unnecessary drama?
Mike and Miss Jenn
I wouldn't say Mike or Miss Jenn are the top characters of the show, but there is something about them together that warms your heart a bit. Maybe it is because we don't know Mike and aren't 100% sure what his part was in his marriage ending? Also, with Miss Jenn willing to risk her job to show one of her students that someone sees their pain, and she is there for them, it makes you want someone there for her as well. And while it is going to be weird when Ricky discovers his teacher is dating his dad, it seems like the community isn't that big so it feels like something that should be expected.
On The Fence
Kourtney Getting A Small Taste Of The Spotlight
Yay for Kourtney getting to sing, but can she please be more than Nini's best friend? Even if it is just in the form of combatting with the upperclassman, can she please get some time away from Nini's armpit?
Kourtney Getting A Small Taste Of The Spotlight - 75%
Mike and Miss Jenn - 80%
Shipping Gina and Ricky - 89%
Carlos & Seb - 88%
Trajectory – Upward: With Gina and Carlos getting a boost and Kourtney at least getting to show her singing talent, there is a small uptick this episode. However, with the drama that is to come with Miss Jenn and Nini discovering Gina now interested in Ricky, who knows if this show may not head downward.