Good Trouble: Season 2, Episode 2 "Torn" – Recap, Review (with Spoilers)
Drastic moves are made in order to go from surviving to being happy, thriving even, but they naturally come at a cost.
---
Network
FreeForm
Director(s)
Peter Paige
Writer(s)
Joanna Johnson
Air Date
6/25/2019
Introduced This Episode
Naomi
Denise Dowse
Elijah
Denim Richards
Joseph
Richard Brooks
Images and text in this post may contain affiliate links which, if a purchase is made, we'll earn money or products from the company. Affiliate links and external links have an upward facing, superscript, arrow.
Case Of The Ex: Davia, Jeff, Elijah, Gael, Callie
Despite all the mouth we know Davia has, she is struggling with dumping Jeff, and she tries to take Callie's drunken advice of making him do the deed, but that doesn't work. You see, she tries to make it seem that the only way for them to be together would be him moving and her hoping he wouldn't do it. But, he calls her bluff, and that complicates things.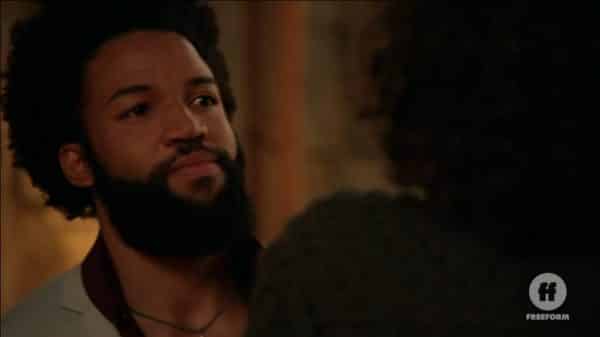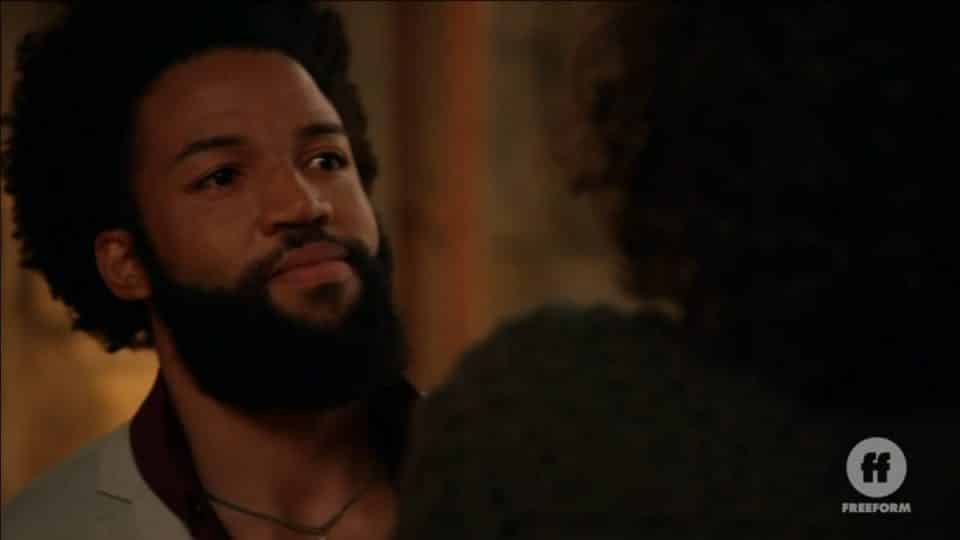 Switching to Gael, with Callie playing games, he finally moves on, but he moves on in the form of revisiting his ex or, rather, his ex revisiting him. Enter Elijah, a college love interest who wasn't ready before but seems ready now for a relationship. Though it isn't clear if Gael might be willing to have things go that far just yet. Even though he is clearly still smitten.
Moving Past The Pain: Joseph, Dom, Malika, Dennis, Davia
Dennis is struggling with his guilt, and while Davia does everything from trying to diet with him to pushing him to join a support group, it isn't what he wants or needs. From what it seems, he just needs to process and maybe cuddle. Feel like he isn't as horrible as he has come to think himself or as others said he is.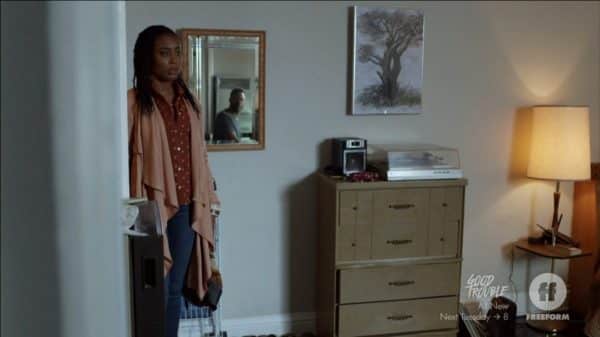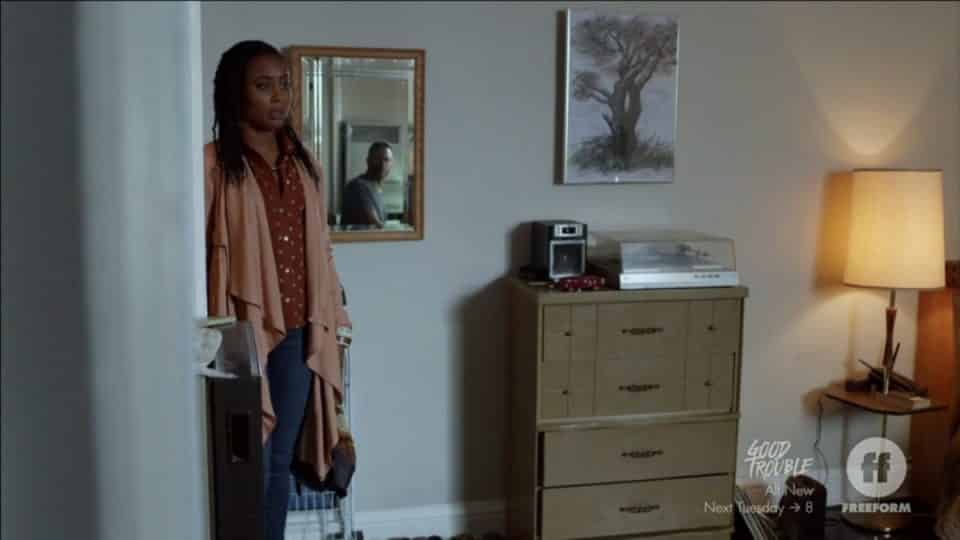 Which could be Joseph's situation. You see, for reasons currently unknown, Joseph was in Folsom prison and seemingly Keisha, Dom and Malika's mom, didn't clue in his kids to that. Thus, they thought he was a deadbeat. However, Malika tracks him down, and we end things with her in his apartment.
A Complicated Future: Callie, Mariana, Evan, Raj, Jamie, Judge Wilson, Naomi, Malika
So, Malika used Callie's badge to go off on Judge Wilson, and if it wasn't for his secretary Naomi, Judge Wilson would have pressed charges. And if you think that is the only thing she got off the hook with, add in Callie isn't even mad for the situation she caused. Why? Well, it acted as a wake-up call. Callie's passions were always doused working with Judge Wilson so when he doesn't fire her over the Malika thing or file, she quits and within weeks has an offer the ACLU. Problem is, she hasn't passed the bar yet, and she later learns she fails it. Leading her to call Jamie to console her. For while she tells him she needs to be single, that doesn't mean she doesn't value his friendship.
Which may not be true when it comes to Evan and Mariana. As you can imagine, things are getting real complicated at Speckulate as Mariana gains influence and has to own up to the responsibilities of being a manager. Something that, in terms of doing the work, is easy. However, like for many, the part in which you deal with people is hard. For example, on top of Raj, Gael is also added to Mariana's team, which means two less slots for women. Then, on top of that, as Evan seeks for Mariana to replace Josh's role, it brings a bit of conflict.
For one, Evan has feelings for Mariana so there comes the question how much of her influence, power even, comes with strings attached? Two, Mariana has a sex dream about Evan, which raises some internal conflict. Then, lastly, Evan learns of Mariana and Raj since they have sex in the office. Leading to him pushing Angela, who I could have sworn found a new job, to push HR rules about supervisors and employees. Thus making Mariana dating Raj really difficult, especially if she wants to lead the social movement at Speckulate.
Question(s) Left Unanswered
Of all people, why would Davia listen to Callie for relationship advice?
Highlights
Davia and Dennis
I still don't want or see them as a couple, but I recognize it is inevitable and perhaps what both people need. For if one thing has become clear is that Davia needs someone who is sometimes willing to fight her battles. Lest we forget, she has had to battle her mom and the world so that she can be comfortable in her own skin. So with this Jeff thing, having someone like him desire her is a hard ass battle and she needs reinforcements. Of which, to save face, only Dennis can be the one running into battle.
Then, on the flip side, Dennis clearly is in the playground of his mind with the devil chasing him all around. He needs someone to take him out of his thoughts and maybe not in the way Davia offers, but her being there is what matters most. Especially in terms of, if she is going to critique him, take him down to his foundation, also be willing to help him rebuild himself. That is as opposed to his wife who broke him down and then left. At least when they last spoke.
Callie Failing Her Exam
All I'm saying is, she quit a hard to get job and got an offer from the ACLU. Two good things have to be met with something bad to keep this show feeling realistic. So her failing her exam is perfect for on top of giving her something to work towards, it means she has to do something in the meantime to bolster herself. Especially since Mariana has this attitude of, "If I'm paying bills, I'm going to need you to pay me back one way or another." Which, originally was going to be by her doing Mariana's errands. However, it seems, after some pushback, Mariana may drop that – for now.
Malika
From her meeting her father to Naomi standing up for her, which is a moment in herself, Malika continues to seem, after Mariana and Callie, to be one of the most invested characters on this show. Add in Isaac still around and talking about her meeting his family, what is there not to like? Particularly since, alongside acting as a medium to have a cathartic release, she also gives much-needed representation in so many areas FreeForm hasn't tapped into previously. Be it a lead who is a medium to dark skin complexion Black girl, or having them so layered that it's like experiencing a cake with a flaky crust. Just all kinds of delicious.
The Struggles Of Being A Boss
One of the growing issues we're going to see for Mariana is the issue of transitioning from the leader of a movement to being an actual boss. Not just in terms of being a Latina who is the boss, but the side of leadership which is always a stumbling block: Dealing with people. Because most of us could likely handle the work outside of that, but managing personalities, personal lives, workplace drama, and the HR stuff which can come with that? Most aren't really prepped for that fully. You just learn on the job, and with Mariana still not picking any women yet, she is in for some difficult decisions and consequences of said decisions.
Follow Wherever I Look on Twitter, Like us on Facebook and Subscribe to the YouTube Channel.
[ninja_tables id="30904″]
Twitter Poll(s)
#GoodTrouble Do you support Gael moving on?

— Wherever I Look (@Wherever_I_Look) June 26, 2019
---
#goodtrouble Do you think Callie should be this cool with Malika right now?

— Wherever I Look (@Wherever_I_Look) June 26, 2019
---
#goodtrouble Do you think this is the last we'll see of Judge Wilson?

— Wherever I Look (@Wherever_I_Look) June 26, 2019
---
#goodtrouble Anyone else forget Gael works at Speckulate?

— Wherever I Look (@Wherever_I_Look) June 26, 2019
---
#goodtrouble Have you ever had a dream about making out with your boss?

— Wherever I Look (@Wherever_I_Look) June 26, 2019
Davia and Dennis - 80%
Callie Failing Her Exam - 81%
Malika - 89%
The Struggles Of Being A Boss - 88%