It's Malika's birthday and tensions between people who live at The Coterie and their partners nearly throw off the vibe she was aiming for.
---
Network
FreeForm
Director(s)
Chandra Wilson
Writer(s)
Joanna Johnson, Ashly Perez
Air Date
7/23/2019
Images and text in this post may contain affiliate links which, if a purchase is made, we'll earn money or products from the company. Affiliate links and external links have an upward facing, superscript, arrow.
Recap
Love Is In The Air: Malika, Isaac, Davia, Dennis
While there is a whole lot of drama and tough conversations going on, luckily for Malika she isn't in the middle of none of it. Well, she does stir up some of it with her birthday invitations which, for some, seem like call outs. Yet, when it comes to her and Isaac, who attends her birthday celebration, they're cool.
As for Davia and Dennis? It seems we'll still have a while before something happens with them. If only due to them both being coy and skating around how they truly feel. That is even with Davia revealing Dennis didn't have sex with her mom, and more so, her mom was trying to trick Dennis into having sex. You know, because she is a horrible person.
But, start the countdown clock for they drop a lot of hints that something should/ has to happen by the season finale. They clearly see each other as more than friends.
I Just Want You More Confident: Joey, Alice, Raj, Mariana, Gael, Elijah
Starting from who has a minor issue to the ones with bigger problems, once again, Gael is pushed to use his IG to push his sexy. A task Bryan failed at yet Elijah succeeds in. Heck, he even gets Gael to cut some of his hair down – leaving him with some very boyish curls.
As for the other couples on the show? Well, let's just say insecurities are plaguing them. When it comes to Raj, despite all the work he has put into winning over Mariana as a friend, now girlfriend, he finds Evan contacting her unnerving. Though, let's be real, if someone texted your girl about DTF, you might question things a bit as well.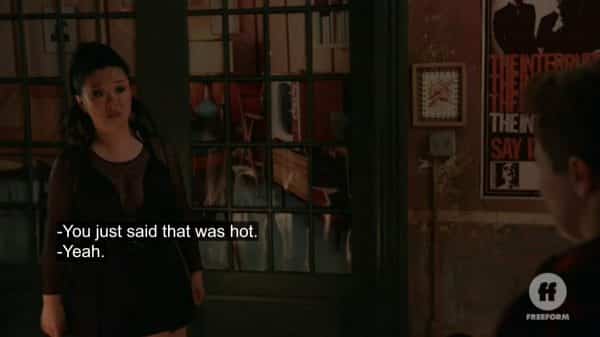 Though it could be part of a bigger issue. One that Alice also deals with and that's just confidence. Not just in terms of what they bring to the relationship but also when it comes to their sexuality. For as Joey notes, Alice plays down not feeling sexy by joking about her looks and ruining the mood. And granted, Alice and Joey do have some issues since Alice is new to dating and Joey being non-binary requires adjusting. Especially since she is wearing a binder now, so that means Alice has to look for other ways to pleasure her.
But, when it comes to Alice and Raj, it seems they are committed to bringing sexy back into their relationships. Maybe not immediately, right now they are just speaking their intentions, but give them time.
Sisters Fight Sometimes: Mariana, Raj, Jamie, Callie
I should note, on top of the Evan thing, Mariana also has to deal with Callie mouthing off about the Evan sex dreams and them moving to The Coterie because of Mariana's former crush on Gael. Yeah, Callie gets messy this episode. But, in her defense, Mariana keeps bringing up they are family and seems to forget Callie is petty and destructive. So her coming for Callie in front of every one about her finances and failing the bar, she was asking for it.
But, in the long run, the fighting may have been to Jamie's benefit. It has pushed the idea of Callie moving in with him, which he likes, plus it also has made him being a Republican less of an issue. If not one Callie might be more open to deal with since it is clear she needs space. Which isn't to disregard Jamie saying he is open to opinions about his politics, and policy in general. However, with him often having to chase Callie, Jamie finally having something which gives him some purpose, outside of being an alternative, could help things.
Question(s) Left Unanswered
#GoodTrouble #GoodTroubleChat I can't remember the last time I heard someone, on a show, talk about wearing a binder… Can you?

— Wherever I Look (@Wherever_I_Look) July 24, 2019
Review
Highlights
Commentary on Asian Americans & Feeling Sexy
It shouldn't be lost on us that both of the Asian characters on this show had issues with their confidence and feeling sexy enough for their partners. Though it isn't mentioned specifically on the program, there has been a bit of a legacy, more so for Asian men than women, of playing the nerdy, comical best friend vs. the guy who gets the girl. Then, for Asian women, if they don't fit that stereotypical thin look, again there is that othering or desexualization going on. So to see both confronted, nodding to the stereotype but not bringing it up, was an awesome thing. Especially considering Good Trouble can often be on the nose when it comes to bringing up why this or that was put in the script vs. things just happening naturally.
The Conversations Between Joey & Alice
Alice and Joey are the most communicative couple on this show, and I love it. Particularly due to their conversations being a mix of very specific topics that only apply to them yet can be expanded to be something general. Take Joey binding themselves to feel more comfortable. That can be seen as a very specific issue when dealing with someone who veers towards presenting as masculine but is non-binary. Yet, expanding on the subject, you can generalize it in the form of trying to learn how your partner likes to be touched being an awkward experience when you first start getting intimate.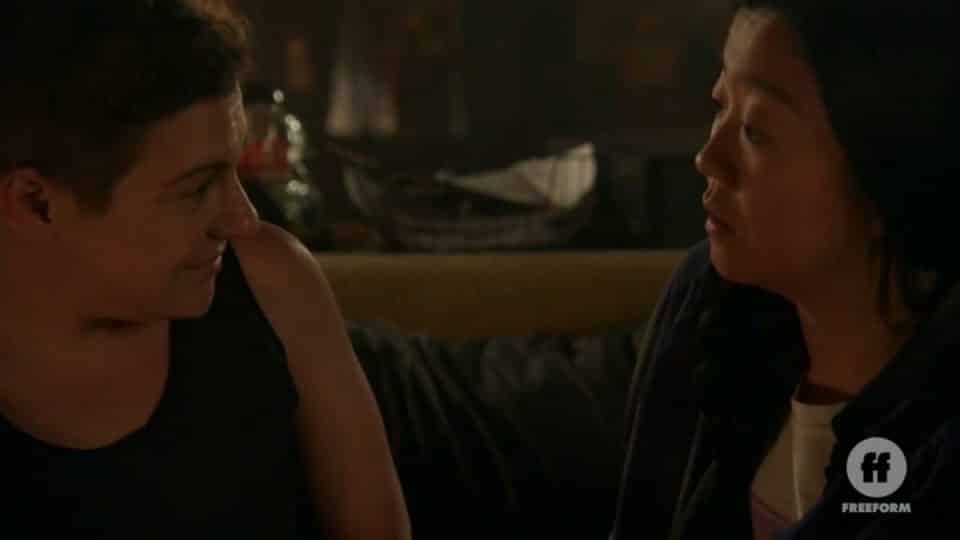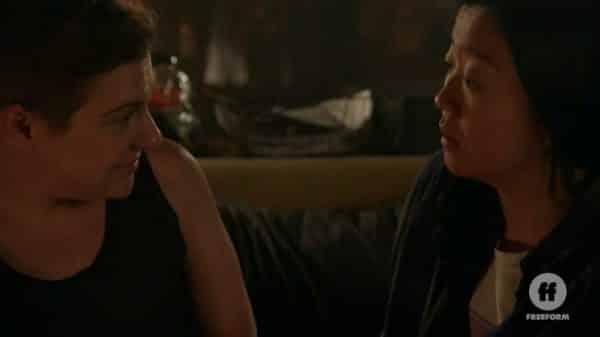 Making it so the show can have it where non-binary people feel seen, yet it doesn't appear so hype focused that those who are cis, identify with a specific gender, or aren't queer, can't connect to what's happening.
Davia and Dennis
They're growing on me. Admittedly I still like the idea more of Dennis playing the big brother figure to everyone, vs. being in a relationship with yet another younger woman, but you know how shows like this are. It's easier to put two people in a relationship, story, and cast quantity-wise, than have them be individuals with their own lives, pursuits of happiness, and what have you. So while I'm still slowly treading into shipping them, I get this is better than stretching the show thin by having an abundance of characters to manage.
Callie & Mariana Calling Each Other Out
Let's be honest, the fact Callie and Mariana don't fight more is strange. Especially since they don't have the same amount of distractions as when they were back home to keep them separated. Take note: Both of these young ladies are sensitive, and with Callie having a sharp tongue, ready to burn a bridge in a second, the fact she hasn't said half of the remarks she did this episode earlier is a HUGE surprise.
But, it does remind you that Callie is lowkey trash. Granted, we can attribute her upbringing as one of the reasons she lashes out like she does, but how long can we use a bad childhood for someone's actions? Not to seem callous but come on?
Dennis & Malika Connecting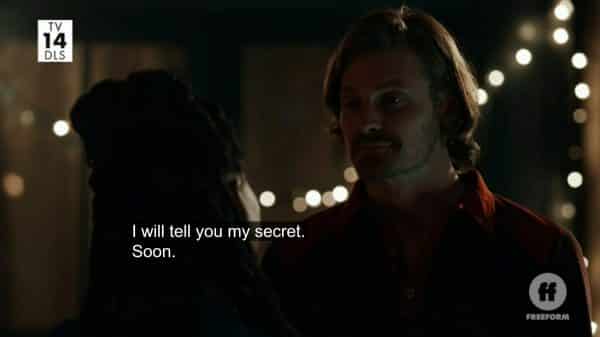 With characters often paired up and then barely talking to one another, it was nice for someone, besides Davia, to speak to Dennis. Malika especially since she has been set up to damn near be third highest on the call sheet. Almost the kind of character you can see get a minor spin-off. So with the reminder of how long she has been at The Coterie and that she has relationships with characters beyond Callie, Alice, Isaac, and Dom, one can only hope we may see more interaction between members of the communal facility.
Low Point
We Need To Learn More About These Partners
Jamie, Isaac, Elijah, Joey, and Raj remain the kind of characters who we get minuscule information about and don't really know who they are outside of their relationships. Jamie less so, due to him being a carryover from The Fosters, but the rest are mysteries. For while, yes, we know they all work, and have seen all but Isaac in their element, in terms of meeting their families, a development of their communities, and things of that nature? Well, we don't know a thing. Which makes them sometimes seem disposable despite how much they contribute to the growth of their girlfriends, and boyfriend in Elijah's case.
On The Fence
We Got A Bit Political
Can I just say, while I get the characters are mostly queer or people of color, it would be kind of nice if Jamie wasn't guilted for being a Republican? If just for the sake of not every show bagging on them. Which isn't to imply we agree with Republican policies, it's just there is such a us vs. them divide that one can only hope as much as Jamie is expected to keep an open mind, Callie will too. Just so that there are conversations when it comes to his politics and not just another reason for her to want to break up with him pronto.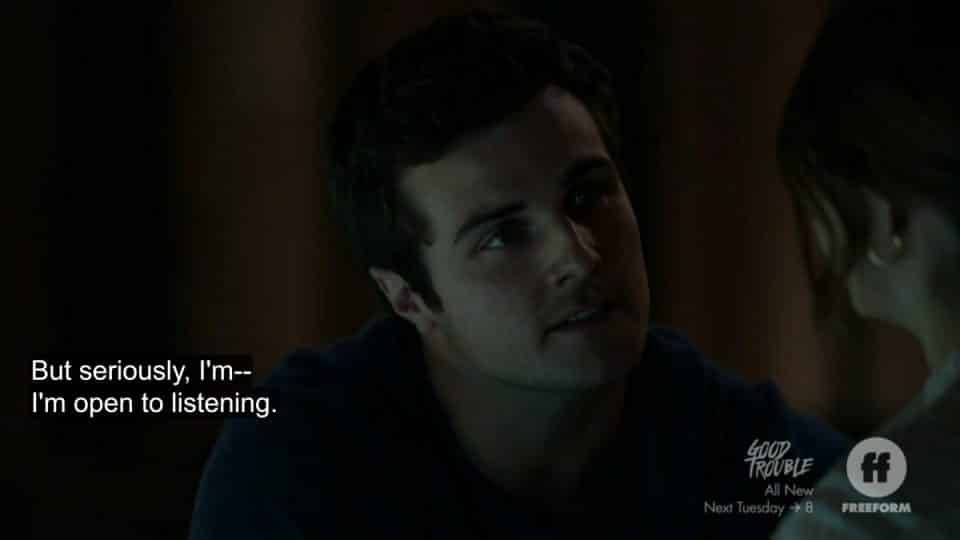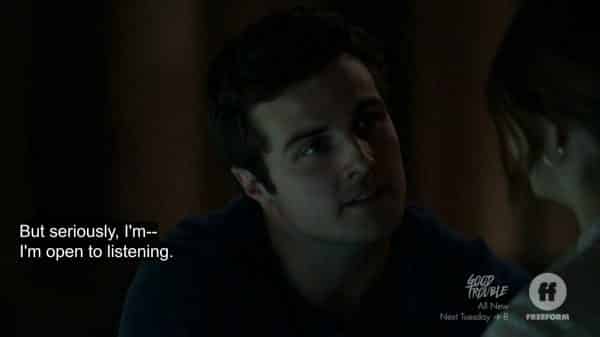 Follow Wherever I Look on Twitter, Like us on Facebook and Subscribe to the YouTube Channel.
Season/ Episode
Synopsis
Director, Writer, and Introduced Actors
Topics & Focused Characters
Season 2, Episode 8 "Disruptions" [Summer Finale]

In an emotional, or dramatic, finale, if not both, Callie has had enough, Mariana makes things worse at work, and our favorite queer relationships might be in trouble.

Director(s)
Peter Paige
Writer(s)
Joanna Johnson
Air Date
8/6/2019
Introduced This Episode
Kendra
Azita Ghanizada
Sariya
Presilah Nunez

Things Have Just Become Too Complicated:Lindsay, Alice, Joey, Elijah, Gael
You Said Too Much While Saying Very Little:Amanda, Evan, Mariana, Kendra, Davia, Dennis, Jennifer, Jeff, Sariya, Teresa, Marcus, Callie
Needing A Change:

 

Malika, Issac, Judge Wilson, Callie, Mariana, Gael, Jamie

Season 2, Episode 6 "Twenty-Fine"

It's Malika's birthday and tensions between people who live at The Coterie and their partners nearly throw off the vibe she was aiming for.

| | |
| --- | --- |
| Director(s) | Chandra Wilson |
| Writer(s) | Joanna Johnson, Ashly Perez |
| Air Date | 7/23/2019 |

Love Is In The Air:

 

Malika, Isaac, Davia, Dennis
I Just Want You More Confident:

 

Joey, Alice, Raj, Mariana, Gael, Elijah
Sisters Fight Sometimes:

 

Mariana, Raj, Jamie, Callie

Season 2, Episode 7 "In The Middle"

While nearly everyone is given a grand opportunity, so comes the question of what they are willing to sacrifice? Be it professional relationships or personal.

Director(s)
Jay Chandrasekhar
Writer(s)
Nicole Paulhus
Air Date
7/30/2019
Introduced This Episode
Amanda
Allison Paige

Does He Or Doesn't He Alice?:

 

Alice, Dennis, Jeff, Davia
Under Pressure:

 

Mariana, Evan, Gael, Elijah
Who Needs A Comfort Zone?:

 

Callie, Mariana, Davia, Teresa, Marcus, Malika, Isaac, Gael, Jamie

Season 2, Episode 5 "Happy Heckling"

As Evan reveals his intentions, things blow up at Speckulate. Also, Callie is once again struggling with her dating and life choices.

Director(s)
Erica Dunton
Writer(s)
Adam Starks
Air Date
7/16/2019
Introduced This Episode
Lindsay
Rhea Butcher

An Up And Coming Talent:

 

Alice, Joey, Lindsay
I'm Not Who You Think I Am:

 

Elijah, Gael, Callie, Marcus, Jamie, Alice
Something Beyond Co-Workers:

 

Mariana, Alex, Raj, Evan, Josh

Season 2, Episode 4 "Unfiltered"
Despite Callie starting a new job, old habits die hard. Also, Davia's mom, Bonnie, comes to town and reminds us of another reason Davia doesn't want to go home.

Director(s)
Laura Nisbet Peters
Writer(s)
Resheida Brady
Air Date
7/9/2019
Introduced This Episode
Bonnie
Reagan Pasternak
Gina
Rachel Rosenbloom
Marcus
Juan Antonio
Teresa
Lisandra Tena

Pay The Cost To Be A Boss: Gina, Raj, Mariana, Evan
Pulling A Callie: Callie, Joseph, Isaac, Malika, Marcus, Teresa
Mommie Dearest: Davia, Dennis, Bonnie

Season 2, Episode 3 "Doble Quince"

Jazmin decides to have a Doble Quince, and despite it being her party, nearly everyone else's minds are on other things.

| | |
| --- | --- |
| Director(s) | Bradley Bredeweg |
| Writer(s) | Joanna Johnson, Ashly Perez |
| Air Date | 7/2/2019 |

A Lady Is Allowed Her Secrets:

 

Malika, Dom, Isaac, Joseph
You Can't Have A Relationship Without Honest Conversations:

 

Joey, Alice, Raj, Mariana, Evan
Sometimes Progress Doesn't Come Soon Enough:

 

Gael, Elijah, Jazmin, Jamie, Callie

Season 2, Episode 1 "Percussions" [Season Premiere]

The verdict of the Jamal Thompson case is delivered, Mariana deals with how her personal and professional life has changed, and Alice prepares her next chapter.

Director(s)
Peter Paige
Writer(s)
Joanna Johnson
Air Date
6/18/2019
Introduced This Episode
Jacob
Carter Rush Adkins

The Struggle To Move Forward:

 

Dennis, Jacob, Davia, Jeff
A Change Gon' Come:

 

Alice, Joey, Raj, Mariana, Evan
Was This The Battle Or Was It The War?:Sandra, Judge Wilson, Malika, Callie, Jamie, Gael

Season 2, Episode 2 "Torn"
Drastic moves are made in order to go from surviving to being happy, thriving even, but they naturally come at a cost.

Director(s)
Peter Paige
Writer(s)
Joanna Johnson
Air Date
6/25/2019
Introduced This Episode
Naomi
Denise Dowse
Elijah
Denim Richards
Joseph
Richard Brooks

Case Of The Ex: Davia, Jeff, Elijah, Gael, Callie
Moving Past The Pain: Joseph, Dom, Malika, Dennis, Davia
A Complicated Future: Callie, Mariana, Evan, Raj, Jamie, Judge Wilson, Naomi, Malika

Season 1, Episode 13 "Vitamin C"



Nearly everything comes to a head as 

Good Trouble

 ends its first season which thankfully will be followed up by season 2 in June.

Director(s)
Joanna Johnson
Writer(s)
Joanna Johnson
Air Date
4/2/2019
Introduced This Episode
Viv
Riley Go

From Another's Eyes:

 

Viv, Davia, Malika, Dom, Sandra

The Truth Will Set You Free And Freedom Is A Dangerous Gift:

 

Mariana, Angela, Josh, Evan, Callie, Sumi, Joey, Meera, Alice, Ben

Picking Up The Pieces:

 

Raj, Mariana, Dom, Isaac, Malika, Callie, Jamie, Gael, Davia, Dennis, Alice, Trae, Malika, Jeff


Season 1, Episode 12 "Broken Arted"

You may think the title of this episode, "Broken Arted" is about romance but what'll break your heart is the loss of something, rather someone beyond love.

Director(s)
Peter Paige
Writer(s)
Megan Lynn, Wade Solomon
Air Date
3/26/2019
Introduced This Episode
Nathan
Brandon Barash

True Intentions:

 

Raj, Evan, Angela, Mariana, Josh, Malika, Casey
A Complicated Relationship:

 

Gael, Bryan, Callie, Jamie, Jasmin, Sumi, Alice, Meera, Joey
Goodbye Big Brother?:

 

Mariana, Dennis, Davia, Jeff, Nathan, Jenn

Season 1, Episode 11 "Less Than"
Good Trouble

 

dives into varying topics dealing with race from pay gaps, representation, privilege, and also how to be an ally this episode.

| | |
| --- | --- |
| Director(s) | Bradley Bredeweg |
| Writer(s) | Kimberly Ndombe |
| Air Date | 3/19/2019 |

She's Still In Love:

 

Alice, Sumi, Meera, Joey
In The Minority:

 

Malika, Isaac, Sandra, Mariana, Casey, Evan, Davia, Josh, Angela
The Work Drama Continues:

 

Kate, Judge Wilson, Callie, Jamie, Tate

Season 1, Episode 10 "Re-Birthday"

What begins as a fun night out, with 0 focus on work, leads to a lot of people addressing current relationships, boundaries, and self-respect.

Director(s)
Aprill Winney
Writer(s)
Claudia Forestieri, Dan Richter
Air Date
3/12/2019
Introduced This Episode
Brandon
David Lambert

Communication Issues:

 

Isaac, Malika, Brandon, Dennis, Jamie, Callie, Gael, Bryan
Boundary Issues:

 

Sumi, Mariana, Raj, Alice
It's My Party & I'll Cry If I Want To:

 

Davia, Dennis, Jeff

Season 1, Episode 9 "Willful Blindness"

On top of meeting Malika and Alice's illustrious mothers, and Rebecca's, someone says goodbye to 

Good Trouble

.

Director(s)
Kelli Williams
Writer(s)
Lauren Moon
Air Date
3/5/2019
Introduced This Episode
Moe (Malika's Mom)
Karole Foreman
Diane
TBD
Trea
Lee Chen
Kate
Dianne Doan

Life In The Closet: Trea, Alice, Joey, Sumi, Meera
Identity Issues:

 

Callie, Bryan, Gael, Mariana, Rebecca, Diane, Judge Wilson, Kate
A New Kind Of Family:

 

Moe, Dom, Malika, Mariana, Sandra

Season 1, Episode 8 "Byte Club"

Rebecca's past is revealed as she flirts with a future that includes Jesus and Mariana's Byte Club begins and finds a vital ally of the male staff.

Director(s)
Peter Paige
Writer(s)
Nicole Paulhus
Air Date
2/26/2019
Introduced This Episode
Tate
Zachary Gordon
Angela
Heather Mazur
Josh
Charlie Bodin
Jesus
Noah Centineo

When or Where Did I Go Wrong?:

 

Callie, Judge Wilson, Tate
Always Be Ready:

 

Dennis, Jesus, Rebecca
No Woman Left Behind:

 

Mariana, Casey, Callie, Raj, Rebecca, Angela, Josh, Alex, Ben

Season 1, Episode 7 "Swipe Right"
"Swipe Right" is purely about establishing the beginning, possible end, of nearly every characters current or future relationship.

Director(s)
Troian Bellisario
Writer(s)
Ally Musika
Air Date
2/19/2019
Introduced This Episode
Paul
Joe Burke
Isaac
Sarunas J. Jackson
Joey
Daisy Eagan
Eli
Steven Krueger
Lara
Alisa Allapach

Girls Just Wanna Have Fun: Paul, Isaac, Joey, Eli, Lara, Mariana, Malika, Davia, Alice, Sumi
I Can't Give All, So I Have To Give Nothing: Callie, Gael

Season 1, Episode 6 "Imposter"
While the truth helps Callie flourish, Mariana is getting sick and tired of being sick and tired. Also, Jazmin returns and clues us into how difficult her life is.

Director(s)
Geoff Haley
Writer(s)
Megan Lynn, Wade Solomon
Air Date
2/12/2019
Introduced This Episode
Jennifer
Annie Little

The Truth Will Set You Free: Judge Wilson, Jamie, Callie, Dennis, Davia, Ben, Jennifer

What It's Like To Be Me: Jazmin, Gael, Callie, Jamie

Fight Club: Alex, Raj, Mariana, Casey, Evan


Season 1, Episode 5 "Parental Guidance Suggested"
Stef and Lena come to The Coterie and reveal what is going on in their lives, and shine a light on Dennis.

Director(s)
Bradley Bredeweg
Writer(s)
Joanna Johnson
Air Date
2/5/2019
Introduced This Episode
Dennis
Josh Pence
Stef
Teri Polo
Lena
Sherri Saum

Moms Are Coming!: Callie, Gael, Mariana, Malika, Bryan, Davia, Stef, Lena

Introducing Dennis: Stef, Dennis

The Truth Sets You Free/ Someone Who Understands: Lena, Malika, Callie, Mariana, Gael, Bryan, Ben, Davia

Season 1, Episode 4 "Playing The Game"

Mariana and Alice are given the opportunity to stand up for themselves, as Davia and Callie are tasked with a needed shift in an important relationship.

Director(s)
Michael Medico
Writer(s)
Cristian Martinez
Air Date
1/29/2019
Introduced This Episode
Libby
Jessica Tuck
Jeff
Chris Sheffield

The Boy Back Home:

Davia, Jeff, Mariana

You Got To Stand Up For Yourself:

Mariana, Raj, Casey, Alice, Malika, Sumi, Alex
We All Have Our Secrets:

Libby, Judge Wilson, Rebecca, Ben, Callie, Malika

Season 1, Episode 3 "Allies"

Both Mariana and Callie continue to struggle with office politics as Malika's activism puts her at odds with her family.

Director(s)
Laura Nisbet Peters
Writer(s)
Kris Q. Rehl
Air Date
1/22/2019
Introduced This Episode
Jamie
Beau Mirchoff
Sandra
Nicki Micheaux
Evan
T.J. Linnard
Raj
Dhruv Uday Singh
Sam
Max Cutler
Jazmin
Hailie Sahar

You Make Time For The Things, And People, You Think Are Important:

Malika, Sandra, Dom

Slowing Down The Train Won't Mean It Won't Get To Its Destination:

Mariana, Alex, Raj, Sam, Evan, Casey

Step Your Game Up:

Jamie, Callie, Rebecca, Ben, Judge Wilson, Gael, Bryan, Davia


Good Trouble is charged with messages of equality mixed in with the relationship (platonic and otherwise) drama fans of its predecessor are used to.

Creator
Joanna Johnson, Bradley Bredweg, Peter Paige
Director(s)
Jon M. Chu
Writer(s)
Joanna Johnson, Bradley Bredweg, Peter Paige
Air Date
1/1/2019
Genre(s)
Drama, Young Adult
Good If You Like
Progressive TV Programming

Racial & Cultural Diversity

Your Usual 20 Something Drama with Random Sex Partners, Job Anxiety, and Unnecessarily Complicated Relationships

Isn't For You If You
Don't Like Your TV Programs Being Political
Introduced This Episode
Mariana
Cierra Ramirez
Callie
Maia Mitchell
Judge Wilson
Roger Bart
Casey
Chloé Wepper
Rebecca
Molly McCook
Ben
Ken Kirby
Alice
Sherry Cola
Malika
Zuri Adele
Gael
Tommy Martinez
Davia
Emma Hunton

We got a conversation on bi-sexuality, the backstory of multiple characters and work drama – aka what will probably be the usual from Good Trouble.

Director(s)
Peter Paige
Writer(s)
Joanna Johnson
Air Date
1/15/2019
Introduced This Episode
Jude
Hayden Byerly
Bryan
Michael Galante
Dom (Malika's Brother)
J. Mallory McCree
Sumi
Kara Wang
Alex
Dustin Ingram

Let's Talk About Sex(uality): Jude, Callie, Gael, Bryan, Sumi, Alice
The Outsider: Mariana, Alex, Davia
I'm Trying Here: Malika, Dom, Callie, Rebecca, Mariana, Ben
We Got A Bit Political - 75%
We Need To Learn More About These Partners - 65%
Dennis & Malika Connecting - 85%
Callie & Mariana Calling Each Other Out - 80%
Davia and Dennis - 81%
The Conversations Between Joey & Alice - 90%
Commentary on Asian Americans & Feeling Sexy - 89%