Good Behavior's second season ends in a rather disappointing fashion. Especially considering the final decision made after all that happened in episode 9.
---
Network
TNT
Director(s)
Magnus Martens
Writer(s)
Aaron Fullerton, Chad Hodge, and Joshua Karns
Characters Introduced
Brett/ Patrick
Brian Baumgartner
---
The First One Always Haunts You: Letty, Javier
Being that the worse thing Letty has ever done is mess up her life with drugs, alcohol, and being a neglectful mom, killing someone takes her over the edge.  Teo, not so much – killing him was a do or die situation. However, with Patrick, who originally was named by Letty as Brett? Yeah, that messes her up more than any bender we've seen her on thus far. I'm talking full blown guilt trip hallucinations that surpass anything we've seen thus far. More than her being a terrible mom, daughter, girlfriend, etc.
What perhaps makes the situation worse is that it follows her already feeling unworthy of all people, especially Javier, are willing to do for her. I mean, he bought her a friggin mansion and what is the first thing that happens? She kills both a creep and innocent man in it. Like everything in her life, it can't remain pure with her nearby. It becomes tainted.
Yet, being that Javier loves her deeply, he handles all the necessary bits with taking care of the bodies. He even, when Letty decides to try and run away to face the music, stops her from making that mistake. Thus allowing them to take the van, with the bodies in it, and burn them to a crisp. All the while reassuring Letty, as always, that she isn't as bad as she thinks she is. Even though she just added murder to her rap sheet.
Where To From Here?: Agent Lashever, Christian, Javier, Letty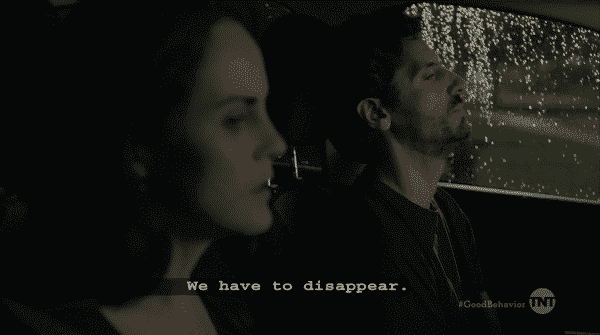 So, with the house too tainted to live in, too newly bought to sell, it means that Letty and Javier have to sell all that cocaine. But before that, they hitch a ride with Christian and Agent Lashever who is now just Rhonda thanks to her retiring early. And as for what Letty and Javier were doing out in the wilderness? WHO CARES?! She is retired and after Christian reads the first complete draft of this book, which Letty isn't fond of the ending, they're gone.
Leading to the question of where to? Well, rather than follow where the drugs came from, maybe follow up on his father's death, or anything related to the interesting idea of going to Argentina, Letty and Javier head to LA. A place where they will commit to being hotel people and likely they'll remain the same people just operating in a different environment. Here is to the next season, if there is one, in which we see who will fill these two's lives in LA (I'm not sure if I'm being sarcastic or not).
Collected Quote(s)
No one punishes you better than you punish yourself.
Criticism
So, About Being Low-Key
Let's add a few things up, Letty, who has never worked a day in her life, suddenly had a million dollar home. On top of that, said home is the last appointment Patrick went to before he supposedly went gallivanting off with a mystery woman. One who, luckily for Letty, was pretty enough that Javier driving the truck seemingly didn't raise a red flag. On top of that, supposedly this van didn't have a GPS that the company could have tracked all the way to the house, past the appointment, and to wherever Javier and Letty drop off the vehicle. Okay.
Now, what about the fire and huge mountain of smoke rising through the air? I get they were a good 18 or so miles in, and the land may have been a bit secluded, but come on now. Also, considering there were flies about 10 or so minutes after the cop pulled Javier over, are you really telling me they didn't smell anything? That there wasn't any question of why a security company van would have flies or a rotting smell?
I know, suspension of disbelief is needed, but even with Letty's car accident, granted she was hit passenger side but her moving about that quickly seemed off. Especially since that wasn't just a tap but a hit hard enough to have the airbags go off. But, again, when you have a show in which the leads can talk themselves out of any situation and avoid anything beyond a smack on the wrist, what do you expect?
On The Fence
Welcome to LA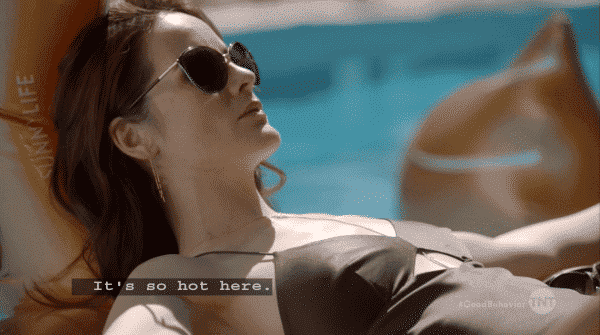 Something had to change in Good Behavior. The show, let's be honest, suffered a sophomore slump as soon as Lashever arrested Letty and Javier and Letty talked Lashever out of it. Since then, the show has gone downhill, with little bumps thanks to meeting Rose and Alice, and then back to going downhill. After all, the show was starting to repeat itself and there are but so many times we can watch Letty fall off the wagon, get on, fall off because she thinks she is unworthy of Javier, love, and etc.
Plus, there is also the cycle of Letty's relationship with Estelle, Jacob and just the southeast just doing no favors for Letty since she had too many opportunities to mess up. So, thinking optimistically, maybe LA could lead to a rebirth for Good Behavior. As noted in the past two episodes, Argentina seemed like a better idea since it would allow Javier, for a season or two, to get home field advantage, maybe allow us to get to know him better, but I guess the costs, even if they faked it, weren't worth it.
So, here is to Letty falling back into old habits of robbing the rich, Javier setting up shop, someone of the LAPD likely catching wind of them, and us just watching the show repeat everything we've seen in a new location. Which hopefully I'm wrong about but this show hasn't presented a positive surprise in a while.
Catch Up or Follow Along: Here [External]
Follow Wherever I Look on Twitter or Like us on Facebook.