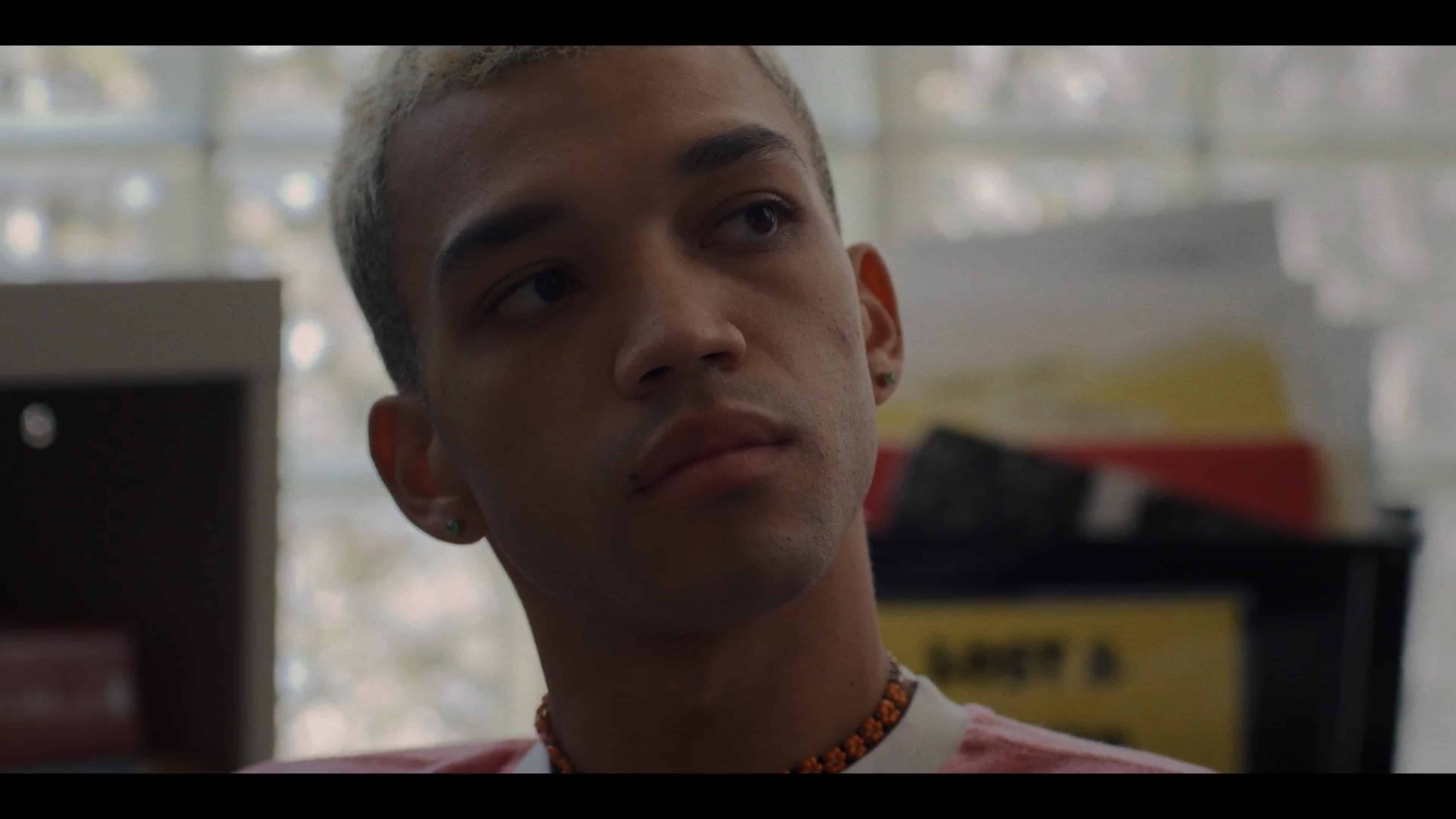 |
As the school goes into lockdown, Naomi is prepping for her first penis, Chester having a slight meltdown, and Arianna pisses you off.
---
Director(s)
Daniel Barnzl
Writer(s)
Daniel Barnzl, Zelda Barnz
Aired (HBO Max)
3/11/2021
Newly Noted Characters
Arianna
Nathanya Alexander
Delilah
Lukita Maxwell
This content contains pertinent spoilers. Also, images and text may contain affiliate links, which, if a purchase is made, we'll earn money or products from the company.
Recap
D**k Prep – Arianna, Naomi, Nathan, Jack
Jack is basically playing both twins. Nathan is his side piece, for when he wants to mess with a dude, and Naomi his main, to present himself as a straight man. Which, with Arianna egging Naomi on, Naomi is prepping to suck some d*** and make a performance out of it. However, after seeing the birthmark near Jack's penis, she realizes the guy Nathan has been messing with is Jack, and boy does she seem pissed.
Two Opposites – Arianna, Delilah
While Arianna and Delilah were briefly introduced in the first episode, they are far more prominent in episode 2, "Dickscovery." When it comes to Arianna, she likes what she considered "edgy" jokes, as well as being unabashed about potentially being seen as offensive. Delilah is the complete opposite in that she cares about anything and everything.
Which makes them potentially growing up in the same household confusing yet comical.
We All Cope In Our Own Way – Riley, Greta, Nathan, Sam, Chester
Originally, the school day was supposed to be peaceful, with everyone looking into clubs. However, a lockdown happens, and nearly everyone noted in this recap, sans Naomi and Jack, end up in the GSA club room. This leads to Chester acting up a bit, mainly to hide his worry, for he doesn't want his grandmother to freak out about him. Especially since, when it comes to lockdowns, a homeless man shaking a stick could cause a lockdown. So as much as the situation is taken serious, they know there is the potential it is all BS.
So, Sam tries to step in, since even Nathan can't hold back how annoying Chester is getting. This leads to Chester opening up more and more and even revealing his mother died of cancer. Or, at the very least, as Sam is trying to play a game with Chester, in which they both bring up dark and weird stories, Chester decides to shut it down with something potentially personal.
Speaking of getting personal, Riley and Greta get close as Nathan seems to not check in on his friend, who not only deals with claustrophobia but perhaps anxiety. Luckily though, Greta is there, and the two talk, and Greta helps calm Riley down.
As for what they talk about? Well, Greta sending weird texts that came after she was watching porn and that Greta's mom was deported. But it isn't all negative. Greta also notes this calming technique her mother performed when she was anxious and alongside this helping Riley relax, it allows Greta to hold her hand. So lockdown ended up being a good thing for them.
Things To Note | Question(s) Left Unanswered
In case you didn't watch beforehand: There are multiple scenes where you'll watch a pimple get popped – be prepared.
So is Arianna the one giving birth or having a miscarriage in the mall bathroom?
Review
Highlights
Chester & Sam
Chester is pushing the idea Sam is gay, but we don't truly know. However, if he is, I must admit it is nice to see two queer dudes of different ages bond in a way that seems age-appropriate. For more often than not, when it is an older guy and a younger guy and both are assumingly queer, it's like when there is a younger woman and older man – sex eventually becomes part of the equation. But with Sam showing no signs of being into Chester, and his job creating another reason to not cross any line, there is hope that with Chester presenting all he has is his grandmother and her racist brother, maybe Sam can be another role model for them?
Queer Stories
You know what we love? To see a lesbian love story that doesn't have drama or the possibility of one of them dying. And what we enjoy about Genera+ion so far is that it isn't making these kids being queer, questioning, or bi as big as it could. Yes, Nathan and Jack are in some down low, cheating on one girl to get some head from her brother kind of drama.
However, then there is Greta and Riley, who have this sweet, young love thing going. One in which Greta, who is established to have homosexual feelings, and desires, is showing an innocent interest in Riley. Someone whose sexuality isn't necessarily established, but we're hoping for the best. Mainly due to there being this intimacy that makes you swoon and want more for Riley and Greta. Because what show doesn't need a go-to couple?
On The Fence
Arianna
I think what gives us pause about Arianna is that with her being a Black girl, you feel this need to protect her and shield her, yet she makes it hard. Her level of ignorance feels made so that you'd rather leave her to get her just deserts from whoever, hopefully just in a verbal manner. And a part of us has trouble with that.
Why? Well, on the one hand, Black girls and women deserve the ability to play villains and characters who aren't likable. Why must they be the victim, the hero, and not play the many other roles out there? Yet, playing a bigot who says what she says because she sees it as edgy comedy? All the while using the shield of having gay parents, among other things?
All I can say is, characters like Arianna are the type that makes you look up creators and writers just to see who you should really focus your displeasure at.
Missing The Perspective Narrative
At times you could see moments when they could have done the perspective thing, just to flesh out what happened before lockdown happened. The prime example is with Riley because, her seeing Greta's texts, I wanted the reaction. Then with Sam, it could have been cool to see how he preps for Chester and even with Naomi, or Jack, how they see the world could have been a notable focus.
So, fingers crossed, they bring that back in episode 3.
Genera+ion Directory
| Title | Excerpt |
| --- | --- |
| Genera+ion: Season 1 Finale/ Episode 8 "The Last Shall Be First" – Recap/ Review (with Spoilers) | In what is billed as the season 1, part 1 finale – Genera+ion leaves us with some hope as the healing process begins after the events of episode 7. |
| Genera+ion: Season 1/ Episode 7 "Desert Island" – Recap/ Review (with Spoilers) | The height of the last episode seemingly was all about prepping us for the fall that happens in this one. |
| Genera+ion: Season 1/ Episode 6 "The Wheels On The Bussy" – Recap/ Review (with Spoilers) | As Riley and Greta get closer, so do Sam and Chester. But, on the opposite end, Naomi and Nathan are this close to killing the other and saying it was an accident. |
| Genera+ion: Season 1/ Episode 5 "Gays and Confused" – Recap/ Review (with Spoilers) | I'd like to start a petition to make Genera+ion about Chester, Riley, and Greta the series regular, and everyone else seen sporadically. |
| Genera+ion: Season 1/ Episode 4 "Pussy Power" – Recap/ Review (with Spoilers) | We're back to focusing on different perspectives of the same day, and one of the big topics is Nathan, post coming out. |
| Genera+ion: Season 1/ Episode 3 "Toasted" – Recap/ Review (with Spoilers) | We learn who is giving birth in the mall bathroom as Nathan becomes the star of his sister's wedding rehearsal and Greta's dreams are deferred. |
| Genera+ion: Season 1/ Episode 2 "Dickscovery" – Recap/ Review (with Spoilers) | As the school goes into lockdown, Naomi is prepping for her first penis, Chester having a slight meltdown, and Arianna pisses you off. |
| Genera+ion: Season 1 Episode 1 "Pilot" [Series Premiere] – Recap/ Review (with Spoilers) | Genera+ion seeks to break away from young adult show trends by having their characters be three-dimensional people and not primarily defined by a specific struggle. |
Summary
Missing The Perspective Narrative - 76%
Arianna - 73%
Queer Stories - 85%
Chester & Sam - 87%
With love in the air, and some threeway, DL drama on the horizon, Genera+ion continues to present a balance between what draws interest and what feels real.