We find ourselves learning what happened to Lexi after Eric's suicide and what pushed her to jump into that car.
---
Network
Facebook
Director(s)
Thomas Carter
Writer(s)
Adam Giaudrone
Air Date
7/2/2018
Actors Introduced
Detective Waters
Hilary Ward
Detective Shaw
Michael Broderick
Money Isn't The Only Major Issue: CJ, Ronnie, Detective Waters, Detective Shaw
With the guns being confiscated, that means no rent money for CJ and his landlord giving him but one more day. Though, considering Detectives Waters and Shaw are ready to pin the stealing of the guns on Ronnie and CJ, it seems being homeless may not be a worry for CJ. It will be his new home not being jail. But, to add onto the weight, Ronnie pushes the idea that they are part of the reason Eric is dead. Something CJ doesn't accept but could end up haunting him.
Commentary
I wonder if the five points of view will just be about Eric's suicide and what led up to it. With Tosh and Lexi, we got a few different perspectives on how she is as a person, will we get that for CJ? Especially considering the boy kind of went POOF up until this episode. One which seemed like it was half Lexi and half his storyline, featuring Ronnie.
But, those thoughts aside, I wonder how long will we be in a loop to see if CJ maybe going to jail and what will happen with his housing situation? With the season only being 10 episodes, and we're up to 8 as of 7/2/2018, will this story have to wait until season 2 for a conclusion?
Why I Did It: Lexi, CJ, Ronnie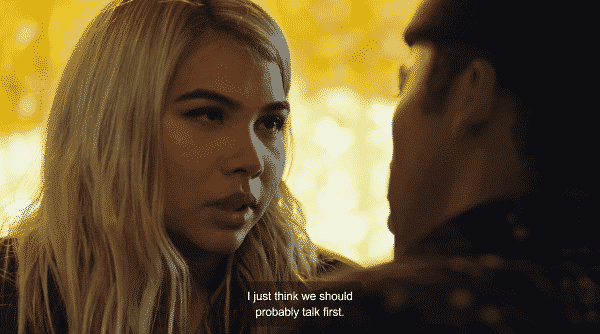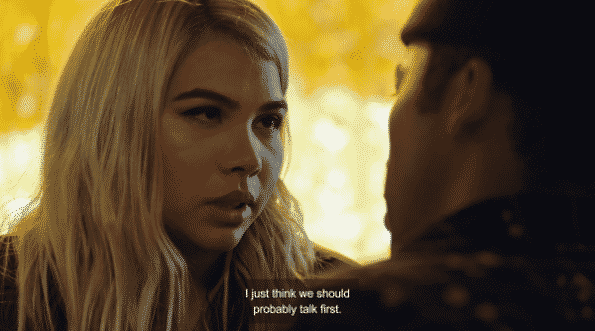 As Ronnie dreams about what he is going to do with his cut from the guns, he hears one go off and he books it. CJ, on the other hand, he heads toward the shot not to be nosey, but because he needs those guns. What ends up happening though is that he sees Lexi and immediately jumps into action. He works on her getting cleaned up and later on becomes someone she can talk to about the whole incident. Especially since Lexi's dad isn't the most attentive.
So, why did she jump in Eric's car despite seemingly not knowing him that well? The reason is that she saw that look of desperation before on someone's face. Who exactly isn't said, but there is this sense she couldn't help then but wanted to now. Unfortunately, though, she didn't have the words to stop Eric from doing what he did.
Commentary
While I kind of get why CJ jumped into action, I kind of don't at the same time. You appear to know Lexi didn't shoot Eric yet you are acting like she is a criminal in need of an alibi. Is that strictly because you don't like cops and assume she doesn't either? So you are making it so she doesn't have to talk to them if she doesn't want to? Also, when it comes to that kiss, anyone else feel that was awkward as hell? She is talking about two people who she knows committed suicide, and that seems like your moment to go in for a kiss?
Question(s) Left Unanswered
Who was speeding away as CJ went towards Eric's car?
Highlights
Us learning a little bit more about Lexi, such as her father being a possible lawyer or someone who works in the legal system, and someone having committed suicide in her life before.
Ronnie thinking big picture and taking note they are part of the reason Eric died.
On The Fence
CJ and Lexi's pending relationship, alongside that kiss, seeming a tad bit off.
Whether CJ's multiple situations may get resolved considering we got 3 more episodes after this and we still got more point of views to see on Eric's death.
Follow Wherever I Look on Twitter, Like us on Facebook and Subscribe to the YouTube Channel.
---
Previous Episode's Recap
[visual-link-preview encoded="eyJ0eXBlIjoiaW50ZXJuYWwiLCJwb3N0IjoyMzgzNiwicG9zdF9sYWJlbCI6IlBvc3QgMjM4MzYgLSBGaXZlIFBvaW50czogU2Vhc29uIDEvIEVwaXNvZGUgNiBcIllvdSBXZXJlIE15IEZyaWVuZFwiIC0gUmVjYXAvIFJldmlldyAod2l0aCBTcG9pbGVycykiLCJ1cmwiOiIiLCJpbWFnZV9pZCI6MjM4MzgsImltYWdlX3VybCI6Imh0dHBzOi8vd2hlcmV2ZXItaS1sb29rLmNvbS93cC1jb250ZW50L3VwbG9hZHMvMjAxOC8wNi9GaXZlLVBvaW50cy1EYW5pZWxhLU5pZXZlcy5wbmciLCJ0aXRsZSI6IkZpdmUgUG9pbnRzOiBTZWFzb24gMS8gRXBpc29kZSA2IFwiWW91IFdlcmUgTXkgRnJpZW5kXCIgLSBSZWNhcC8gUmV2aWV3ICh3aXRoIFNwb2lsZXJzKSIsInN1bW1hcnkiOiJUb3No4oCZcyByZWFjdGlvbiB0byB0aGUgYWZ0ZXJtYXRoIG9mIHRoZSBsYXN0IGVwaXNvZGUgaXMgZm9jdXNlZCBvbiwgYXMgd2VsbCBhcyBFcmlj4oCZcyByZWxhdGlvbnNoaXAgd2l0aCBBbmFuZGEuIiwidGVtcGxhdGUiOiJkZWZhdWx0In0="]
https://www.facebook.com/fivepoints/videos/1003675096461363/