Wallace takes center stage and gives us the type of character perfect to leave us on a cliffhanger until next week.
---
Network
Facebook
Director(s)
Thomas Carter
Writer(s)
Adam Giaudrone
Air Date
6/4/2018
Actors Introduced
Wallace
Nathaniel J. Potvin
Jonathan
Trey Curtis
Alex
Jake Austin Walker
Crush: Wallace, Jonathan, Lexi
Though first presented the idea that Wallace is gay, the truth is that he is just someone with a gay best friend, Jonathan. Someone who seemingly has the tea on Alex, who bullies Wallace. For with Alex seemingly trying to experiment with a boy back in middle school, it is assumed he has a crush on Wallace.
Which, even if he does, it doesn't matter since Wallace's crush is on Lexi. Someone who doesn't really know who Wallace is, despite him likely working on the technical side of the drama departments stuff. Something that, from appearances, Lexi has taken part in but I guess Wallace hasn't made much of an impact. However, props to him to speaking to his crush. Even hitting on her little bit.
Commentary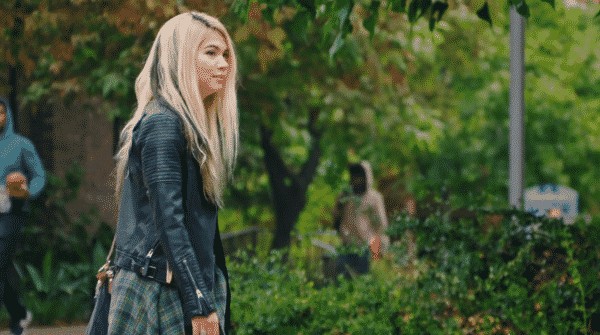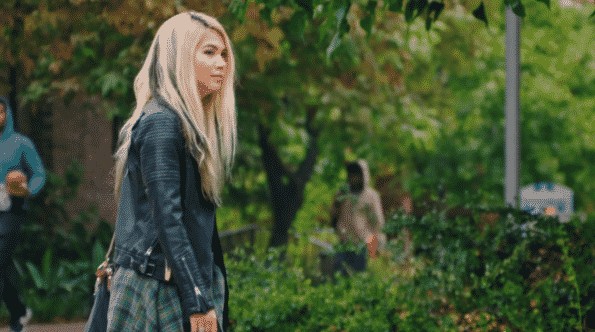 Honestly, Wallace could be bi for what we know but just seeing a dude who likes girls have a flamboyant and open gay friend like Jonathan was cute. Especially since it wasn't one of those weird, Jonathan pines for Wallace but he, unfortunately, is straight, type of situations. But let's also give props to the production for having Wallace be a nerd, but a modern nerd. Someone who may like science and all that, but has social skills.
Wallace's Hustle: Eric, Wallace
Are Eric's headaches from the concussion or painkillers Wallace writes prescriptions for after stealing his father's pink slip book? It's a bit hard to say but what we do know is that Wallace isn't trying to expand this hustle past Eric. Leading to the question of how did Eric find out Wallace had, or could get, his father's pharmacy slips anyway?
But, either way, it's not like Wallace fills out the papers as a favor. Eric pays him a few 20s in order to get what he needs. Which, despite Wallace's warning, it seems he shares the information of.
Commentary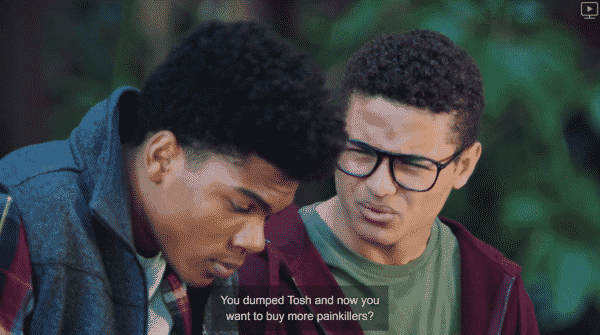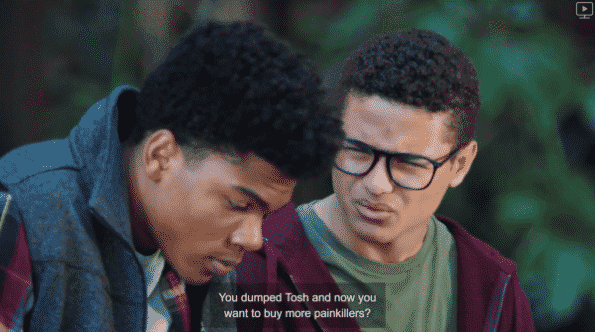 Let just repeat the question of why does Wallace have his father's prescription pad? Does he have some sort of need for money we don't know of? Is his association with Eric beyond the scope of what was noted? There is missing information here that I hope we get the details of.
Quick Action Karma: Alex, Wallace
It isn't clear how long Alex has been tormenting Wallace, but what is clear is he wants that prescription pad. As for what reason? Who knows? All we are made to know is he wants it, Wallace doesn't want to give it to him and with him bringing up what happened in middle school and calling Alex a f*g, he takes off.
However, Wallace doesn't work out so while he has a head start, Alex catches up to him and beats the hell out of him. I'm talking a good amount of blood comes out of Wallace's mouth. But, despite the beating, Alex gets called a f*g again so into the dumpster Wallace goes and that is when one of the guns are seen and pointed at Alex.
Commentary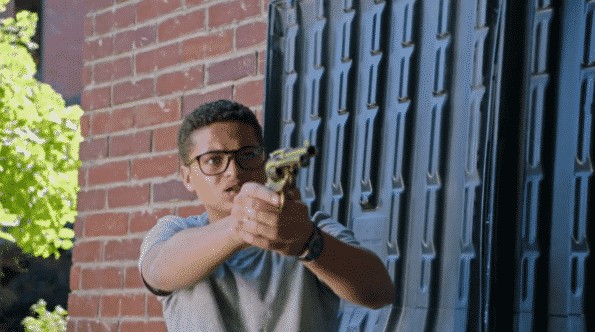 I was on Wallace's side until he called Alex a fag. For, come on dude! Your best friend is homosexual! But I guess when you get bullied and you think you got some kind of ammunition, you use it.
That aside, not even because of the political climate and how school shootings are a bi-weekly thing, but I just feel that ending things with that gun pointed was eye-roll inducing. Maybe it is because I'm used to the idea of the bully being an absolute monster so then shooting them seems like an idea someone would come up with. However, Alex's bullying wasn't at that level of being a menace until Wallace called him a f*g and Wallace had to have known he'd get his ass whipped for that. Whether a person is gay or not, that is a tier 2 insult – right under racial slurs.
So, unlike other productions in which a teenager pulls a gun out at school, I look at Wallace with a mean side eye since it's hard to see him as a victim here. In the traditional sense.
Highlights
Wallace not being some old school, 80s and back kind of nerd.
On The Fence
The way Alex being curious or queer being handled. Especially in terms of Wallace having a gay best friend, yet being cool with calling Alex a f*g to bother him. Which, I know, Alex called Wallace one first but still.
Follow Wherever I Look on Twitter, Like us on Facebook and Subscribe to the YouTube Channel.
---
Previous Episode's Recap
[visual-link-preview encoded="eyJ0eXBlIjoiaW50ZXJuYWwiLCJwb3N0IjoyMTQzNCwicG9zdF9sYWJlbCI6IlBvc3QgMjE0MzQgLSBGaXZlIFBvaW50czogU2Vhc29uIDEsIEVwaXNvZGUgMiBcIkV2ZXJ5Ym9keSBLbm93c1wiIC0gUmVjYXAvIFJldmlldyAod2l0aCBTcG9pbGVycykiLCJ1cmwiOiIiLCJpbWFnZV9pZCI6MjE0MzgsImltYWdlX3VybCI6Imh0dHBzOi8vd2hlcmV2ZXItaS1sb29rLmNvbS93cC1jb250ZW50L3VwbG9hZHMvMjAxOC8wNi9GaXZlLVBvaW50cy1NYWRpc29uLVBldHRpcy5wbmciLCJ0aXRsZSI6IkZpdmUgUG9pbnRzOiBTZWFzb24gMSwgRXBpc29kZSAyIFwiRXZlcnlib2R5IEtub3dzXCIgLSBSZWNhcC8gUmV2aWV3ICh3aXRoIFNwb2lsZXJzKSIsInN1bW1hcnkiOiJUb3NoIHRha2VzIGNlbnRlciBzdGFnZSBhcyBkb2VzIGEgdGhlbWUgdGhhdCBubyBtYXR0ZXIgd2hhdCBldmVyeW9uZeKAmXMgc29jaW9lY29ub21pYyBzdGF0dXMsIGVhY2gga2lkIGlzIHVuZGVyIGltbWVuc2UgcHJlc3N1cmUuIiwidGVtcGxhdGUiOiJkZWZhdWx0In0="]