Quiet Ann finds herself blowing up Mac, Melba, and Desna's spot and with that, it is determined someone has to die – and someone does.
---
Network
TNT
Director(s)
Jamie Travis
Writer(s)
Sigrid Gilmer
Air Date
7/21/2019
Introduced This Episode
The Professor
Nelson Lee
Images and text in this post may contain affiliate links which, if a purchase is made, we'll earn money or products from the company. Affiliate links and external links have an upward facing, superscript, arrow.
Recap
Trying To Get Dean Back: Desna, Roller, Dean
Desna is willing and able to pull out every rabbit and trick, even the truth, to get Dean back from Mac and Melba. She tells him about the kidnappings, something they say they will do later on, and so much more. She even brings Roller into it by getting Dean back into dancing. However, Mahjong, and the tournament, are so ingrained into his routine and mind he can't give it up.
The Struggle Continues: Toby, Brenda, Clay, EJ, Virginia, Bryce, Jenn, Joe, Polly
Toby is having a huge issue with Brenda. Unlike with Juanita, there is no thrupple situation, Toby doesn't feel chosen, and he doesn't see Brenda as a queen. He looks down on her. So Clay trying to calm things isn't going to work. Toby is talking ultimatums and considering her attempted to kill once, don't think he won't kill again.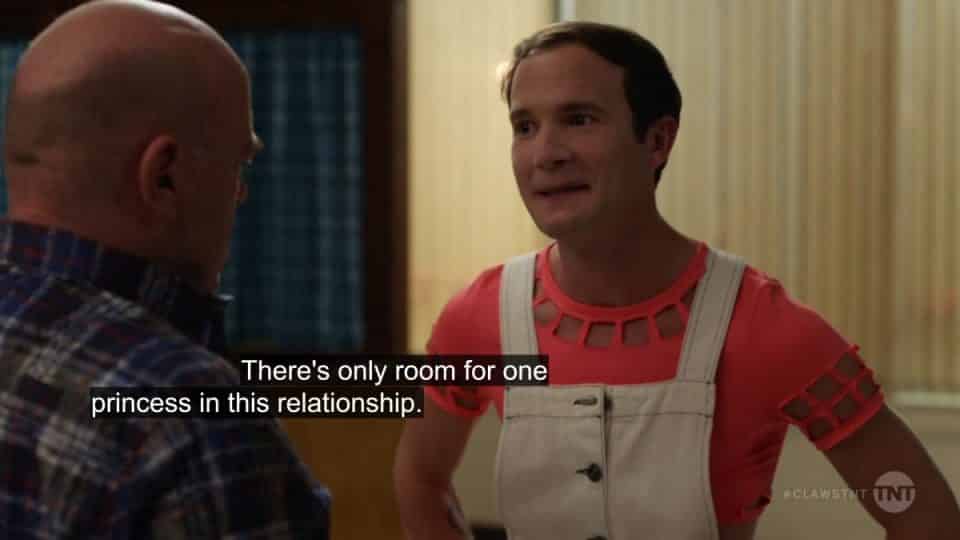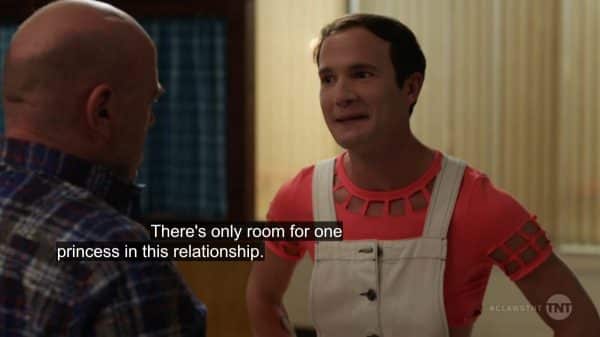 But he isn't the only one with relationship issues. EJ goes on a date with Virginia, and clearly his thoughts are squared in more on Jenn than Virginia – despite his pursuit thus far. Hence why he just so happened to choose a restaurant Jenn's husband was doing a book signing at. One which he learns ends up being for white nationalist, and you KNOW Jenn wasn't down for the crowd when she learned that. Leading to fights happening and EJ more worried about Jenn's safety than twiggy Virginia. So, needless to say, they aren't going to last.
However, in terms of Joe and Polly? Well, bets are still ongoing. For Polly does seem to love that man and that she can be her full-on eccentric self around him. Problem is, Desna doesn't support the relationship which creates a similar situation to what Quiet Ann dealt with. Not to the point of ultimatums, since an inside person would be useful, but Polly definitely gets the third degree.
Though, and maybe this is a testament to Polly and Desna's relationship, Desna is reflective during their back and forth – without Polly coming for her. Showing that Polly has a special place in Desna's heart that Ann seemingly has not found. Thus allowing Polly to try to not only give Desna a spy but allow her to still be with her man. A man who isn't fond of being replaced by Dean and while he isn't at the point of killing him, he may very well be willing to do something to reassert himself in Mac and Melba's eyes.
Things Will Be Changing Around Here: Dr. Ken, Desna, Arlene, Quiet Ann, Mac, Melba, The Professor, Henry, Governor Patel
With no one paying any mind to Dr. Ken, rather than kill him off he gets a new job – he's dealing drugs. As you know, with Clay going straight, it means less money, and while that means less stressful situations for Dr. Ken, it means his lifestyle isn't what it used to be. So, on the recommendation of Toby, he decides to go rogue.
Something Henry, Ann's brother, does when debating Governor Patel. For with Governor Patel outing Henry comes Henry revealing Patel taking bribes and naming Mac and Melba's casino in the process. Information Ann leaked so, of course, she seems like a dead woman, Desna is freaking out and so is Ann. After all, Mac and Melba aren't doing things on the up and up when it comes to the San Ho Hui triad so having their business televised? That is a death sentence.
One Arlene tries to circumvent, but that leads to her getting her throat slit. Making her the first notable death of a regular since Juanita.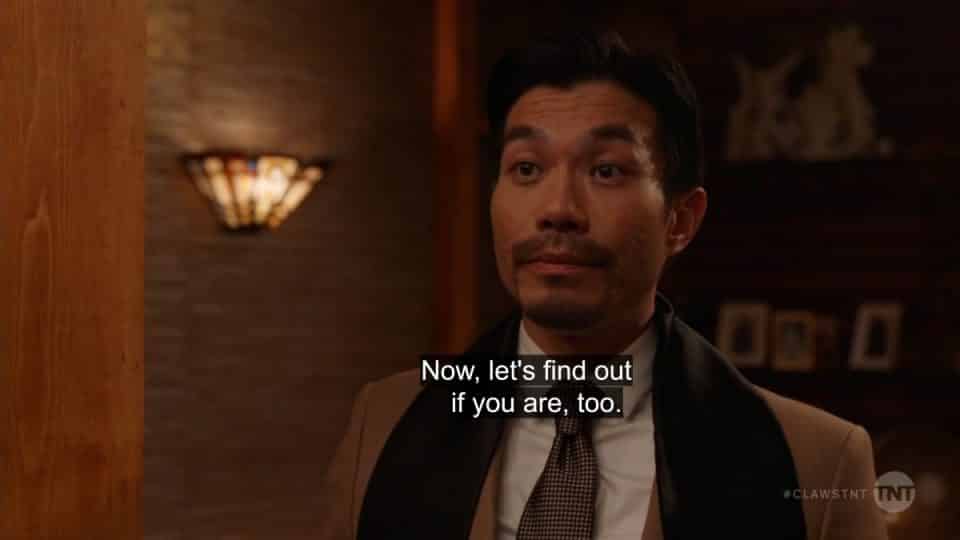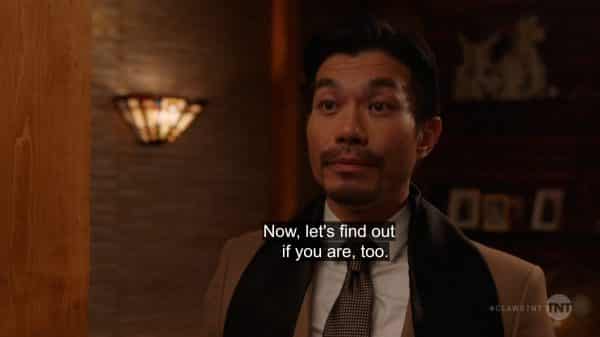 Other Noteworthy Facts & Moments
Desna sabotaged Dean getting adopted since she wouldn't get adopted too and the person who wanted Dean already had a bunch of kids.
The plan is, for Melba and Mac, have Dean when the Magjong tournament, take his money, kill him, then run off.
Question(s) Left Unanswered
How often has Desna sabotaged Dean getting adopted when she couldn't or rejected someone adopting her because they didn't want Dean?
Review
Highlights
Arlene is Dead
This show needs something to shake it up. As noted previously, it has hit a bit of a rut. Between repeating itself, as seen with Desna and Dean, now Desna and Polly, there is a sense all this show can do at this point is escalate the situation surrounding familiar plots. So with Arlene being killed, it wakes you up a bit. For no one on Desna's side has died – ever. Juanita died, but she wasn't an ally of Desna and, at this point, she is part of the rogue gallery of villains beloved but a bit forgotten.
Making The Professor's introduction sudden, but effective. Granted, it is similar to Zlata's introduction when she killed Riva, sudden and bloody, but let's just hope that's a coincidence.
On The Fence
Dr. Ken
I say this recognizing getting killed off means not having a job but, Dr. Ken needs to be killed off. I don't know if what is keeping him around is a contract or what but, he is so disconnected from the rest of the show it is like he has a short going on within the Claws universe. Polly doesn't interact with him, Clay barely does, I can't remember the last time Desna, or her girls, sans Polly, even had a conversation with him last. So while giving him the proper send-off might be hard at this point, it would be greatly appreciated.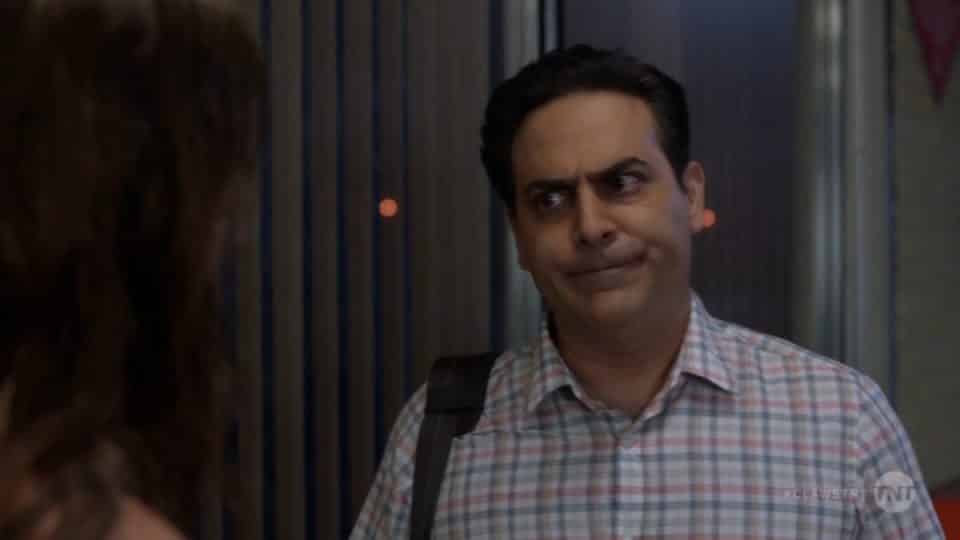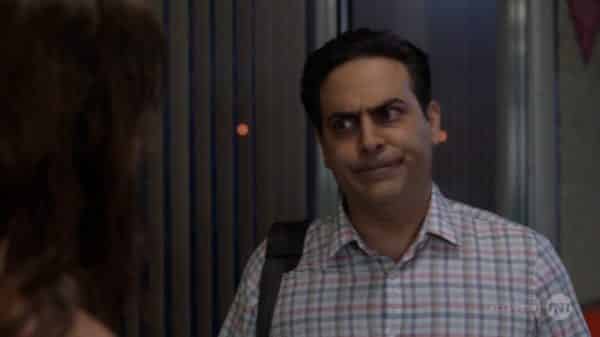 Follow Wherever I Look on Twitter, Like us on Facebook and Subscribe to the YouTube Channel.
Claws - Episode List
Character Guide

Not Created

Collected Quotes

Not Created

Current Status

Active

Season Reviews
Season/ Episode
Synopsis
Episode Information
Topics & Focused Characters
Season 3, Episode 9 "Melba Toast"

In the penultimate episode of the season, a lot of feelings are aired out, and a familiar threat is presented to challenge Desna's crew.

| | |
| --- | --- |
| Director(s) | Erica Watson |
| Writer(s) | Emily Silver |
| Air Date | 8/4/2019 |

Am I A Killer:

 

Desna, Quiet Ann, Polly, Melba, Virginia, Jenn, Benedict
Zaddy Don't Preach:

 

Toby, Clay, Bryce, Roller
Another One Bites The Dust:

 

Melba, Desna, Dean

Season 3, Episode 6 "Fly Like An Eagle"

All eyes are on Dean as Desna becomes desperate to bring him back under her wing. Leading her to boss up to accomplish that goal.

Director(s)
Clare Kilner
Writer(s)
Sharon Lee Watson
Air Date
7/14/2019
Introduced This Episode
Governor Patel
Bernard White
Etienne
Richardson Chery
Gretchen
Seana Kofoed

Goodbye Dean:

 

Desna, Virginia, Dean, Mac
Will My Heart Go On?:

 

Polly, Arlene, Quiet Ann, Etienne, EJ, Jenn, Virginia, Brenda, Clay
By Any Means Necessary:

 

Governor Patel, Desna, Jenn, Melba, Mac, Dean

Season 3, Episode 7 "Chicken Pussy"

Quiet Ann finds herself blowing up Mac, Melba, and Desna's spot and with that, it is determined someone has to die – and someone does.

Director(s)
Jamie Travis
Writer(s)
Sigrid Gilmer
Air Date
7/21/2019
Introduced This Episode
The Professor
Nelson Lee

Trying To Get Dean Back:

 

Desna, Roller, Dean
The Struggle Continues:

 

Toby, Brenda, Clay, EJ, Virginia, Bryce, Jenn, Joe, Polly
Things Will Be Changing Around Here:

 

Dr. Ken, Desna, Arlene, Quiet Ann, Mac, Melba, The Professor, Henry, Governor Patel

Season 3, Episode 8 "What Is Happening to America"

For years now, Desna has dealt with different world-renowned gangs to make it out of poverty. Has she finally reached the end of her rope?

| | |
| --- | --- |
| Director(s) | Carrie Preston |
| Writer(s) | Doug Stockstill |
| Air Date | 7/28/2019 |

24 Hours:

 

Benedict, Melba, Mac, Desna, Dean
Embrace The Darkness:

 

Polly, Joe, Governor Patel
Paying The Cost To Be Middle Management:

 

Mac, Melba, Desna, Benedict, Quiet Ann, Chad, Bryce

Season 1/ Episode 2 "Funerary"

Bad Girls: Polly, Ann
Secret Shopper: Desna, Jen, Dr. Ken
Dealing with the Death of Roller: Uncle Daddy, Desna, Virginia, Bryce, Jen

Season 1/ Episode 3 "Quicksand"

As Virginia comes up with an elaborate tale of what happened to her, Uncle Daddy also works up some manipulation to get what he wants for this situation.

Story Time with Virginia Young: Virginia, Desna, Uncle Daddy, Chip
Planning for Life After Money Laundering: Jen, Desna, Mandy
Back In The Game: Uncle Daddy, Bryce, Jen, Desna, Dr. Ken

Season 1/ Episode 5 "Batshit"

With uncle daddy paid off, now the only thing Desna has to worry about is someone learning about her and Virginia's involvement in Roller's murder. Well, that and Dean losing his mind over the Coombses.

Family Matters: Uncle Daddy, Juanda, Desna, Virginia, Bryce, Jen
Meet The Coombses: Dean, Desna
Two Birds, A Slew of Bullets: Virginia, Polly, Dean, Desna, Bryce

Season 1/ Episode 4 "Fallout"

As PTSD starts to effect Desna heavily, and Uncle Daddy gives Bryce a reason to have it too, we finally learn the truth about Polly.

Virginia's Lies Catching Up On Her: Virginia, Uncle Daddy, Dr. Ken, Bryce, Desna, Jen
Trying To Pay Uncle Daddy Off: Desna, Polly, Uncle Daddy
We're All Trying To Leave Something Behind: Dean, Desna, Polly

Season 1/ Episode 6 "Self-Portrait"

Desna may actually have a quality man in her life. But will he be willing, and able, to deal with her being a rock for so many people?

Mr. Emerson: Gladys, Roller
Who Can I Run To?: Dr. Ken, Virginia, Desna, Gregory (Jimmy Jean-Louis)
Nail Palm: Jenn, Desna, Uncle Daddy

Season 1/ Episode 7 "Escape"

It's time. Desna is going to ask to be free but with Jenn being a bit unstable and Dean off with Virginia, there is so much that could go wrong just in one day.

Odd Lovers: Ann, Arlene, Dr. Ken, Polly
Odd Lovers (2): Dean, Virginia, Roller, Gladys
It's Hard To Say Goodbye: Desna, Jenn, Uncle Daddy

Season 1/ Episode 8 "Teatro"

Roller somehow goes from kidnapped by the Russians to walking around freely. Alongside this, he is acting funny. Making Desna, Virginia, and everyone else who knows the truth about him getting shot, antsy.

Memory Lapse: Desna, Roller, Bryce, Uncle Daddy, Virginia, Dean
Sibling Rivalry: Bryce, Roller, Uncle Daddy, Jenn, Desna
The Russian Connection: Roller, Desna, Riva (

Andrea Sooch

)

Season 1/ Episode 9 "Ambrosia"

As Roller tries to get a handle on his situation, Bryce's unraveling causes a major threat to Uncle Daddy's operation. Alongside this, we get to see how Desna became part of Uncle Daddy's operation and got with Roller.

Anything for Desna: Arlene, Ann, Polly
Who We Were: Desna, Roller, Jenn, Polly
Who We Are Now: Roller, Desna, Bryce, Uncle Daddy, Dean, Virginia, Polly

Season 1/ Episode 1 "Pilot" [Series Premiere]
Claws

 is not a show to be slept on. For with Niecy Nash's experience, combined with her co-stars, you get a program which certainly will make your jaw drop. If you don't find it predictable.

Season 1/ Episode 10 "Avalanche" [Season Finale]

Many sacrifices are made, financially and by means of body count, for some semblance of peace. Leading 

Claws

 to have a finale which has Desna break even, but with a whole lot more on her plate.

The Tides of War: Desna, Uncle Daddy, Roller, Jenn, Riva, Juanda, Jenn
What The Future Holds: Desna, Uncle Daddy, Gregory

Season 3, Episode 5 "Zaddy Was A Rolling Stone"
Just as it seems Mac and Melba have cut ties and made peace with Desna, Mac tries to hold onto Dean and stirs up trouble.

Director(s)
Niecy Nash
Writer(s)
Darrin Dortch
Air Date
7/7/2019
Introduced This Episode
Calvin Simms
Glynn Turman

You Thought You Was The Only One: Polly, Yolanda, Joe
Some Are Naturally Gifted: Brenda, Jen, Bryce, Uncle Daddy, Toby, Virginia
Daddy's Here: Dean, Calvin, Mac, Melba, Desna, Roller

Season 2, Episode 1 "Shook" [Season Premiere]

The Russian takeover goes anything but smooth, especially as Riva's sister Zlata comes about and decides she doesn't like the way Riva handles things.

Director(s)
Martha Cunningham, Dale Stern
Writer(s)
Eliot Laurence
Air Date
6/10/2018
Actors Introduced
Zlata
Franka Potente
Olga
Katherine Reis

Change in Management: Riva, Zlata, Olga, Desna, Clay, Roller, Bryce, Ken
We Are Going To Make Some Changes Around Here: Desna, Zlata, Olga, Roller, Bryce, Jennifer, Clay
Momentary Bliss: Desna, Ruval, Clay

Season 2/ Episode 2 "Cracker Casserole"

Zlata continues to be an empowering force in Desna's life. Something needed as Dean and Virginia present some surprises.

Director(s)
Dale Stern
Writer(s)
Janine Sherman Barrois
Air Date
6/17/2018
Actors Introduced
Brenda
Lusia Strus

Karma's a B****: Brenda, Bryce, Desna, Jennifer, Hank
Doing Things Out Of Order: Virginia, Desna, Dean, Quiet Ann
Make Zlata Proud: Zlata, Desna

Season 2/ Episode 3 "Russian Navy"

With the introduction of Ruval's mother comes Desna questioning if it is over as it has just begun. However, Zlata, through Clay, shows her what she needs to do.

Director(s)
Cheryl Dunye
Writer(s)
Rick Cleveland
Air Date
6/24/2018
Actors Introduced
Matilde
Sheryl Lee Ralph

Heading Down The Rabbit Hole: Jennifer, Bryce
Consolidation of Assets: Clay, Zlata, Chip
Mommy Dearest: Desna, Ruval, Matilde, Zlata

Season 2/ Episode 4 "Scream"

Quiet Ann comes into full focus as her family, inner thoughts, and a few things she has been holding back are revealed.

Director(s)
Bille Woodruff
Writer(s)
Maisha Closson
Air Date
7/2/2018
Actors Introduced
Henry
Ivan Hernandez

There's Too Much Going On:

 

Quiet Ann, Zlata, Bryce, Jennifer, Roller, Clay, Desna
It Runs In The Family:

 

Henry, Quiet Ann
No One Can Read Your Mind:

 

Desna, Quiet Ann, Polly, Arlene, Ken

Season 2/ Episode 5 "Vaginalologist"

Desna comes to a crossroad in which her loyalties will lay and Zlata does something which makes the decision go from difficult to easy.

| | |
| --- | --- |
| Director(s) | Dale Stern |
| Writer(s) | Emily Silver |
| Air Date | 7/8/2018 |

Finding Myself In Someone New:

 

Jennifer, Bryce, Uncle Daddy, Polly, Dr. Ken, Juanda, Marnie, Arlene
When Things Seemingly Were Going Good:

 

Ruval, Desna, Zlata
Bang Bang, Zlata Shot Me Down:

 

Bryce, Desna, Zlata, Uncle Daddy, Ruval

Season 2/ Episode 6 "Double Dutch"

After Desna's discovery in the last episode, and what happened to Bryce, she finds herself retreating to the last person who made her feel safe to rediscover herself.

Director(s)
Clare Kilner
Writer(s)
Sam Forman
Air Date
7/15/2018
Actors Introduced
Ms. Wallace
Aloma Wright

Fallout:

 

Jennifer, Desna, Bryce
Rediscovering Desna:

 

Ms. Wallace, Desna
Trying to Make Things Right:

 

Jennifer, Desna, Polly, Arlene, Dr. Ken, Roller, Uncle Daddy, Chip

Season 2/ Episode 7 "Burn"

Desna begins to make moves which will have dire consequences. Including possibly pissing off the wrong people.

| | |
| --- | --- |
| Director(s) | Jamie Travis |
| Writer(s) | Sigrid Gilmer |
| Air Date | 7/22/2018 |

Bryce In Recovery:

 

Jennifer, Zlata, Bryce
Pulling Rank:

 

Quiet Ann, Desna, Clay, Virginia
The Stumble Before The Fall:

 

Dr. Ken, Arlene, Desna, Ruval, Roller, Zlata

Season 2/ Episode 8 "Crossroads"

With Desna hitting rock bottom, the question isn't when she'll pick herself up but how and whether her next plan actually succeeds.

| | |
| --- | --- |
| Director(s) | Cherie Nowlan |
| Writer(s) | Jeff Augustin |
| Air Date | 7/29/2018 |

Welcome To Rock Bottom:

 

Desna, Mandy, Clay, Roller, Zlata, Polly
This Is Goodbye:

 

Desna, Dean, Virginia
Don't Call It A Comeback:

 

Hank, Jennifer, Bryce, Ann, Arlene, Desna, Zlata, Ruval, Dr. Ken, Polly

Season 2/ Episode 9 "Til Death"

We finally get to "meet" Polly's twin sister Lillian as Desna makes her final plans for her wedding to Ruval.

Director(s)
Jamie Travis
Writer(s)
Maisha Closson, Janine Sherman Barrois
Air Date
8/5/2018
Actors Introduced
Clint
Michael Drayer

We're Moving to Tampa:

 

Bryce, Jen, Clay, Roller, Clint, Hank
Hidden Assets:

 

Desna, Ruval, Zlata
Who I Am, Who We Are:

 

Desna, Polly, Roller, Dean, Virginia

Season 2/ Episode 10 "Breezy" [Season Finale]

The saying goes, "You have to pay the cost to be the boss" and damn has/does Desna pay for the title.

| | |
| --- | --- |
| Director(s) | Dale Stern |
| Writer(s) | Eliot Laurence |
| Air Date | 8/12/2018 |

Pre-Wedding Jitters:

 

Desna, Clay, Roller, Clint, Zlata
Kiss Kiss, Bang Bang:

 

Olga, Ruval, Roller, Desna, Zlata, Matilde, Arlene
And You Thought You Had It All Figures Out:

 

Desna, Clay, Clint, Roller, Virginia, Ann, Jennifer

Season 3, Episode 1 "Just the Tip" [Season Premiere]
Claws

 

returns in style and with drama. Including a twist you might not have seen coming in a million years.

Director(s)
Dale Stern
Writer(s)
Eliot Laurence
Air Date
6/9/2019
Introduced This Episode
Mac
Michael Horse
Melba
Rebecca Creskoff

New Money, New Rules, New Enemies:

 

Mac, Melba, Desna, Virginia
Who Can Really Sit Idly About During All This Chaos?:Bryce, Jennifer, Clint, Uncle Daddy, Roller, Dean, Desna, Polly, Ann, Arlene, Toby, Virginia
It's Always The Unexpected:

 

Toby, Uncle Daddy, Desna, Mac, Melba

Season 3, Episode 2 "Muscle & Flow"

Desna starts feeling the pains of being a boss as Mac and Mable assign her duties which may not make big money, but are necessary for the day to day.

Director(s)
Jamie Travis
Writer(s)
Janine Sherman Barrois
Air Date
6/16/2019
Introduced This Episode
Joe
Juan Riedinger
EJ
Bechir Sylvain
Brienne
Aadyn Encalarde
Yolanda
Andrene Ward-Hammond

Daddy's Home:

 

EJ, Jenn, Bryce, Brienne, Virginia
The Church of Tanika:

 

Virginia, Uncle Daddy, Bryce, Roller
Pay The Cost To Be A Boss:

 

Virginia, Joe, Desna, Mac, Melba, Clay, Polly, Ken, Jenn, Quiet Ann

Season 3, Episode 3 "Welcome To The Pleasuredome"

Just as Desna thinks she got Melba and Mac in check, they remind her all that ambition won't make up for lack of experience.

| | |
| --- | --- |
| Director(s) | Dale Stern |
| Writer(s) | Maisha Closson |
| Air Date | 6/23/2019 |

Brienne Meets EJ:

 

Brienne, EJ, Bryce, Jennifer
When You Know Better, You Do Better:

 

Uncle Daddy, Bryce, Toby, Brenda, Virginia, Dean, Desna, Roller, Polly
Making Boss Moves With Limited Experience:

 

Mac, Melba, Desna, Polly, Roller

Season 3, Episode 4 "Boy, Bye"

Desna comes to fully realize she may be 

way

 out of her depth as Melba checks her. Also, as that happens, Dean pushes away Virginia for Mac.

| | |
| --- | --- |
| Director(s) | Sheree Folkson |
| Writer(s) | Sam Forman |
| Air Date | 6/30/2019 |

The Ghost Of Brenda: Brenda, Jen, Bryce, Clay
Dean Loses Focus:

 

Dean, Mac, Eric, Desna, Virginia
What You Won't Do For Love: Ken, Joe, Polly, Desna, Mac, Melba, Roller, Clay