Caught Up: Season 1/ Episode 2 "Right vs. Wrong" – Recap/ Review (with Spoilers)
Jazzy introduces Whitney, Wayne's fiancée, and breaks down the rise and fall of that relationship.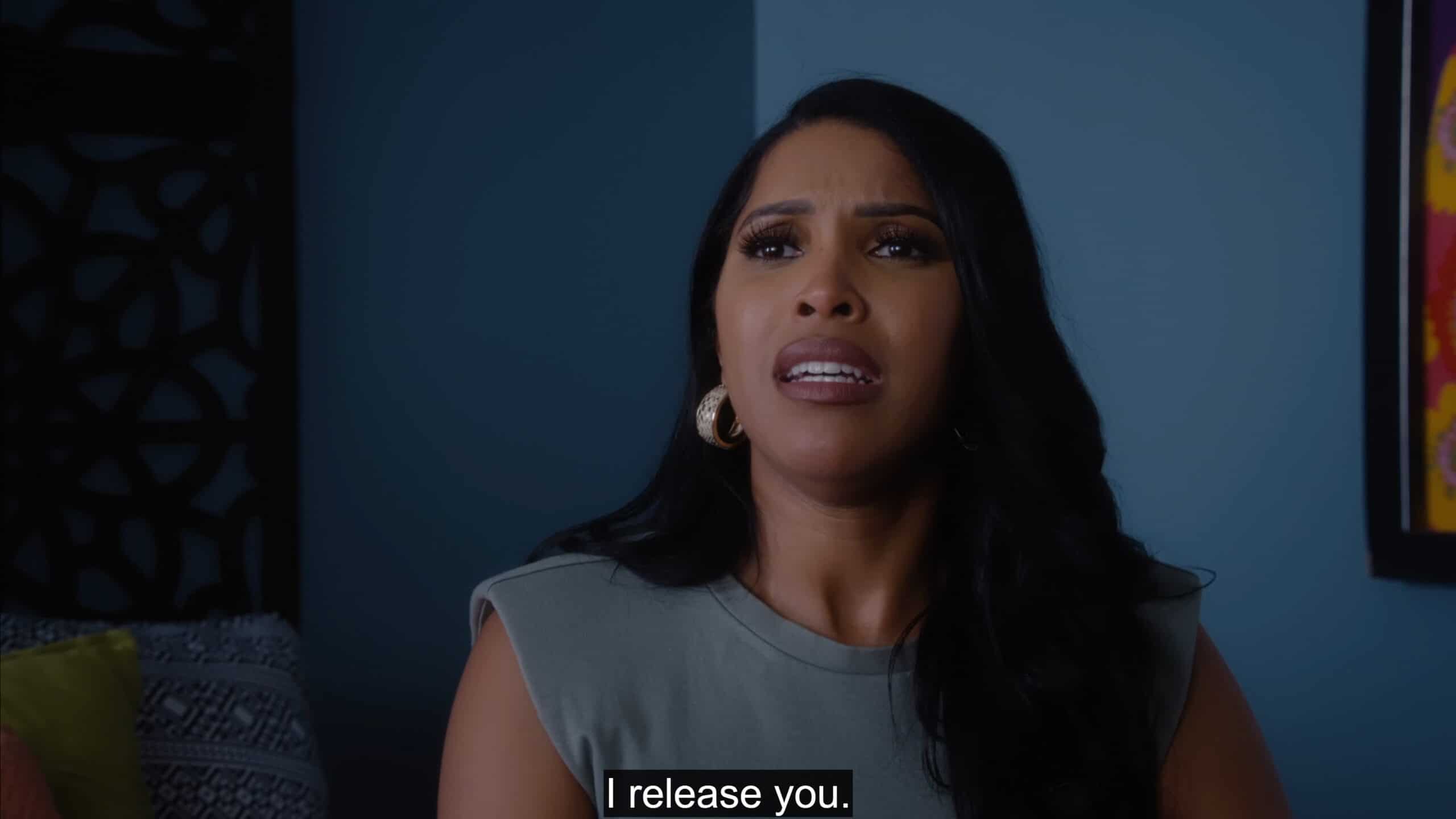 General Information
This section Includes information about the Director, Writer, and Cast.
Release Date (BET Plus)
August 24, 2023
Director(s)
Mark E. Swinton
Writer(s)
Jasmin Brown
Newly Noted Characters and Cast
Whitney
Sh'Kia
Previously Noted Characters and Cast
Wayne
Duby Maduegbunam
Toya
Jasmin Brown
Jazzy
Jasmin Brown
Plot Recap
This content contains pertinent spoilers. Also, images and text in this post may contain affiliate links. If a purchase is made from those sites, we may earn money or products from the company.
The Other Woman – Whitney, Wayne
Whitney, who has recently become engaged to Wayne, was his college sweetheart. In fact, she is the reason he got through college since she dedicated her time and efforts to him graduating. Note, not as a financial investment, since Whitney comes from money via her Potomac, Maryland-based parents – one an investment banker and the other a corporate attorney. Rather, she loved him, even though he took his local celebrity for granted and definitely was messing around on her.
However, once she became pregnant and agreed she'd drop out to take care of the baby, Wayne paused his extracurricular activities. At least until the baby became everything to Whitney, and nothing was left for Wayne. Oh, and if you were thinking, "Why didn't they just get a nanny?" Jazzy already had the answer in the holster: Because Whitney's parents were absent, and her nanny basically raised her, she wanted to be hands-on.
Unfortunately, though, her lack of affection created an opening for Jazzy to come into Wayne's life and heart.
Should I Stay Or Should I Go? – Whitney, Wayne, Toya, Jazzy
Jazzy isn't sure what to do regarding Wayne. He just got engaged, yet he is blowing up her phone. She has become his "safe haven," but what does that mean for her? Jazzy is falling in love, and as she gets a Plan B pill, after being coerced to forgive Wayne, she spots Whitney in the same pharmacy, getting pregnancy tests!
Right on time, Toya calls as this happens and gives Jazzy someone to vent to and give all the tea.
New Character Description(s)
Whitney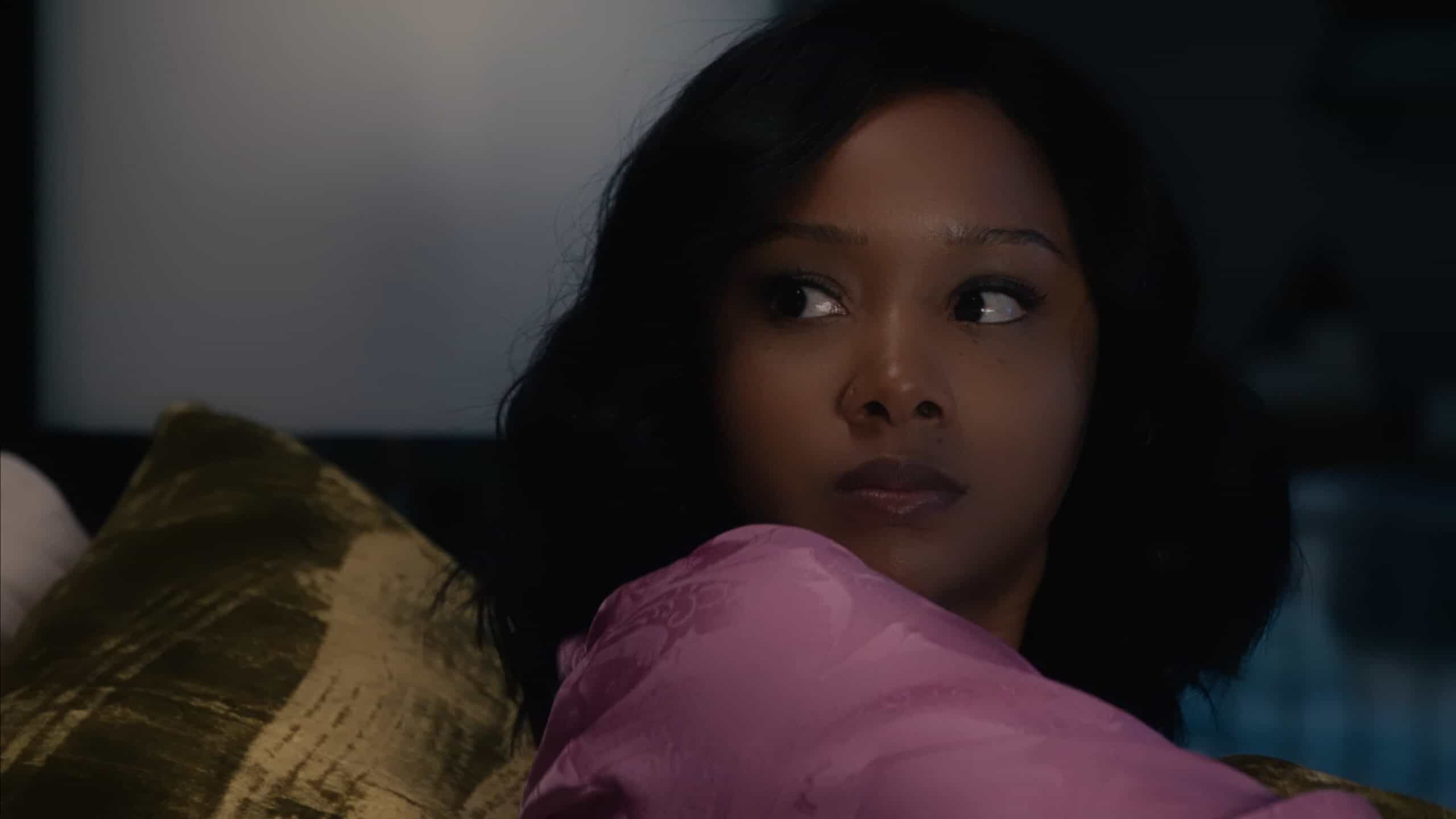 From Potomac, Maryland, Whitney came from wealth. Her dad was an investment banker, and her mom was a corporate attorney. Together, they provided financial stability but not much in the way of love. Hence why, when it comes to Whitney's relationship with Wayne, she puts up with a lot, and when it comes to raising their son, she refuses to have a nanny since that was who raised her.
Collected Quote(s)
Sparks shine brighter when you're in the dark.
— Jazzy
Review
---
Community Rating:
---
Highlights
Like Toya, Enjoying The Drama
This is probably the most I've enjoyed drama that didn't include someone getting hit or cursed out. I mean, yes, Wayne and Jazzy did have a back and forth, which included cursing, but being that the tone of "Caught Up" is what it is, the situation was funny. On top of that, after getting all of Whitney's background, you are just left wondering how she would react if or when she finds out about Wayne's latest affair.
Which left me hoping the answer would come in the next episode.
The Episode Flies By
Depending on the show, 23 minutes can feel like a long time, but with "Caught Up," it feels like five to ten minutes. Which would be fine if, like "The Ms. Pat Show," this had a full ten or so episode season. But with four episodes and the rush we experience? While I like the pacing, I must admit I'm worried this may end like "Angel" and leave us clamoring for more.
Episode Directory
---
Follow, Like, and Subscribe
Community Rating: 0.00% (0) - No Community Ratings Submitted (Add Yours Below)
Caught Up: Season 1/ Episode 2 "Right vs. Wrong" – Overview
Summary
"Caught Up" is beginning to feel like a web short that got an influx of cash, and so they decided to expand on what they already produced, but now with a higher quality.
Like Toya, Enjoying The Drama -

83%

The Episode Flies By -

81%
Highlight(s)
Like Toya, Enjoying The Drama
The Episode Flies By