Philo reveals a secret which will cause many, including him, trouble. Which coincides with Sophie revealing her secret, and Imogen coming to a realization.
---
Network
Amazon Prime
Director(s)
Andy Goddard
Writer(s)
Stephanie K. Smith
Air Date
8/30/2019
Introduced This Episode
Quill
Scott Reid
Cabal
Theo Barklem-Biggs
Sargent Dombey
Jamie Harris
Images and text in this post may contain affiliate links which, if a purchase is made, we'll earn money or products from the company. Affiliate links and external links have an upward facing, superscript, arrow.
Recap
Pity Those Who Underestimate Us: Sophie, Absalom, Jonah
We discover Sophie is simply playing a game. One which is rooted in the idea of taking advantage of her being an assumed simpleton and using that to her advantage. For, in reality, she doesn't like the word "Critch," which is a derogatory term. An accepted one, which has perhaps lost its offensiveness over the year, but it remains a derogatory term nonetheless. However, as for what to do with Jonah? Well, she says they should partner up. Both have been underestimated, and it seems they'd be a good match. Though, there is a need to question if she is playing a political game with him or she is being genuine.
A World Of Treasures & A Shocking Realization: Vignette, Imogen, Agreus
While wandering the streets, Vignette comes across an exhibition and auction of treasures from Tirnanoc. As you can imagine, with her previous job being guarding treasures, she can't help but take a look inside and oh is she shocked. Specifically, by the recreation of the library she once guard and some of the books she once protected being there to be gawked and sold. This angers her to the point of staying in the room, perhaps traumatized, defending the room just as she did the one it was based on.
But she doesn't get to stay there too long. By the time the auction comes, which Imogen and Agreus go to together, she is arrested. Leaving Agreus the privilege of being the only fae member there and participating in a bidding war. Not because he necessarily wanted the specific piece, but to show that he is a rich man. One who can spend 300K and it not break his bank.
This leads to, not the spending of the money but pettiness, a conversation between Imogen and Agreus as she realizes how people act around Agreus and how, at a time, she did as well. She realizes she doesn't like them, maybe most of the people she knows, but it is becoming clear she likes Agreus and the feeling might be mutual.
Be Wary Of Who You Trust: Ms. Fyfe, Philo, Runyan, Afissa, Sargent Dombey
Philo really tries hard to be with Ms. Fyfe and so, to really test the strength of the relationship, he reveals he is half-fae and that not only gets him kicked out, but she reveals to Sargent Dombey, who outright hates Philo, this little tidbit. Leading to him seeking out Philo to be arrested on charges ranging from him passing to even wanting him to be seen as the murderer.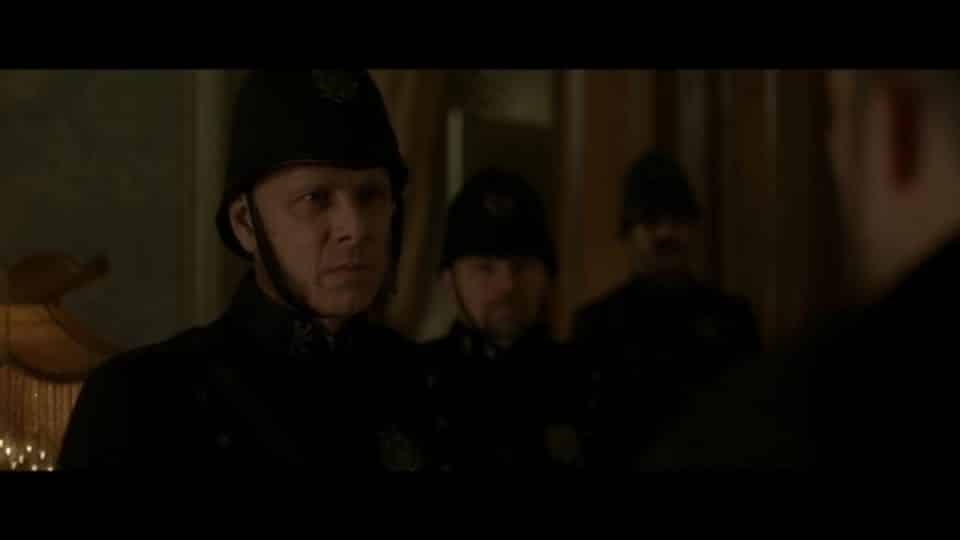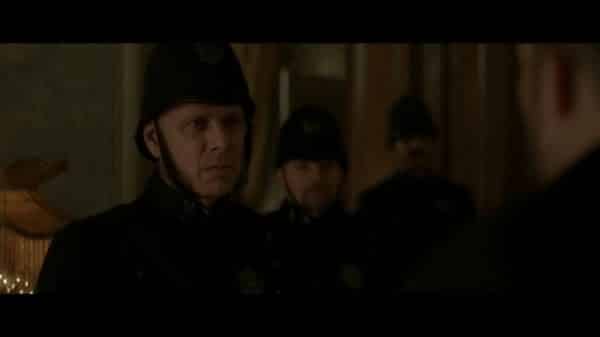 But before he is taken, Philo gets to speak to Runyan about his mother and comes to learn her benefactor was Ezra and Imogen's father. Also, Afissa knew his mother, and she fills in the details about his mother's stay, and the night Philo was taken from his mother and the vibe during that time. Which, the way she puts it, makes Philo's dad sound like a bastard.
Noteworthy Information
Haruspex sees her death this episode at the hands of a Darkasher
Tourmaline and Vignette confirm they used to be together
Review
Question(s) Left Unanswered
Why wouldn't Vignette go to Dahlia about what she discovered?
Highlights
The Cat & Mouse Game of Sophie and Jonah
Sophie is really pulling her weight and is a fast-growing favorite. I just hope, unlike Dahlia, just as you really start to dig her she doesn't disappear on us. Especially since she is making this political plotline far more interesting than Piety, Absalom, or her father ever did.
Imogen and Agreus
While you can't ignore the vitriol Imogen formerly spoke, I must admit that she and Agreus are starting to compete with Vignette and Philo when it comes to being the "It" couple of the season, maybe show. For there is something about them both being outsiders, not really liked, but tolerated, and finding comfort in each other's company. But, with that said, there is a need to question if we're going to ignore the complications of them being in an interspecies relationship or not. Never mind her understanding his past and culture, just as much as he has adapted to hers.
Low Point
Quill, Cabal, And The Men Lashing Themselves
Are these people supposed to replace the Black Raven? Who are they, what are their goals, who is this god they await, and why are they hurting themselves? Should we look at them as some kind of extremist and, if so, who is their leader? Do they have someone with a personality which could make it so Sophie isn't the only one, with some sort of power, who has some charisma?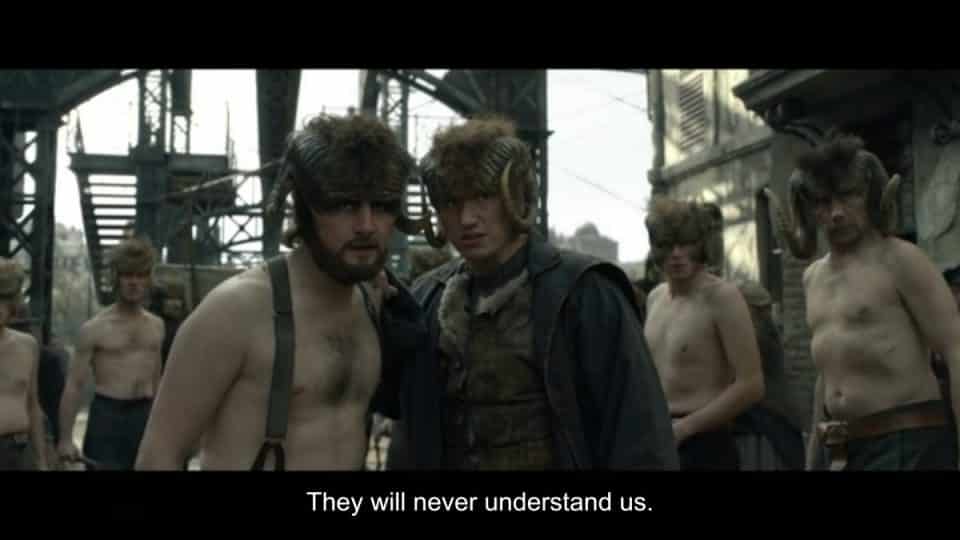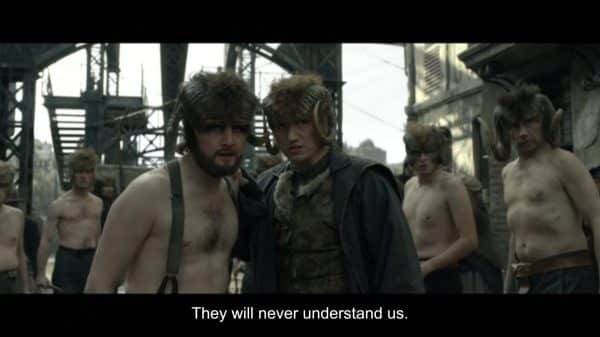 On The Fence
The Mysterious Life Of Aisling
A part of me feels we need to head to the past again and get more of Aisling's story. That is her time as a popular singer, her relationship with Runyon, and the events surrounding her giving birth to Philo. In my mind, being told this verbally isn't enough for Philo remains dead on arrival, and Orlando Bloom isn't helping the situation much. While I understand Philo is reserved and in his head, surely there is a way to show this without making the character seem like someone who is dealing with a sleep deficiency.
Carnival Row Directory
Season/ Episode
Synopsis
Episode Information
Topics & Focused Characters
Season 1, Episode 4 "The Joining of Unlike Things"
As a name is given to the beast which haunts the shadows, Agreus makes a deal with Imogen and Vignette is put in a life or death situation.

Director(s)
Thor Freudenthal, Anna Foerster
Writer(s)
Travis Beacham, Marc Guggenheim, Peter Cameron
Air Date
8/30/2019
Introduced This Episode
Ritter Longerbane
Ronan Vibert
Sophie
Caroline Ford
Hamlyn
Dejan Bucin
Mima Sawsaan
Mina Andala

A Life For A Life: Mima Sawsaan, Haruspex, Philo
It's Politics: Piety, Jonah, Ritter, Sophie, Absalom, Imogen, Ezra, Agreus
For The Love Of You: Ms. Fyfe, Philo, Vignette, Tourmaline, Dahlia, Hamlyn

Season 1, Episode 3 "Kingdoms of the Moon"
We come to learn how Vignette and Philo met, a grave secret he and Darius hold, and see the final days of the war.

Director(s)
Anna Foerster
Writer(s)
Travis Beacham
Air Date
8/30/2019
Introduced This Episode
Darius
Ariyon Bakare
Mima Roosan
Badria Timimi

The Young Woman Who Watches Over The Books: Mima Roosan, Vignette, Philo
The Secrets A Man Holds: Philo, Vignette, Darius
Was It The End Or A Long Pause?: Vignette, Philo, Tourmaline, Mima Roosan

Season 1, Episode 2 "Aisling"
As a formerly famous pixie is found brutally murdered, Philo finds himself a new case as Vignette decides the Spurnrose household isn't for her.

Director(s)
Thor Freudenthal
Writer(s)
René Echevarria
Air Date
8/30/2019
Introduced This Episode
Aisling
Erika Starkova
Afissa
Tracey Wilkinson
Absalom
Jared Harris
Jonah
Arty Froushan
Piety
Indira Varma
Haruspex
Alice Krige
Sylvanus
Wil Johnson
Tourmaline
Karla Crome
Dahlia
Chlie Pirrie

A Missing Son: Absalom, Jonah, Piety, Haruspex
A Dead Pix: Aisling, Philo, Sylvanus
It's Hard To Move Forward When You Keep Looking Back: Philo, Vignette, Ezra, Imogen, Tourmaline, Agreus, Dahlia

Season 1, Episode 1 "Some Dark God Wakes" [Series Premiere]
Carnival Row may begin with a gorgeous, complex world with varied creatures, but the beauty fades when anything is put under a microscope.

Director(s)
Thor Freudenthal
Writer(s)
Travis Beacham, René Echevarria
Air Date
8/30/2019
Genre(s)
Fantasy
Good If You Like

Shows With Large Worlds & Large Casts
Victorian Era Shows, With A Slight Steampunk Vibe
A Dash Of Romance, But It Not Likely Being The Selling Feature
Possibly Episodic Stories

Introduced This Episode
Rycroft Philostrate
Orlando Bloom
Vignette
Cara Delevingne
Portia Fyfe
Maeve Dermody
Imogen
Tamzin Merchant
Ezra
Andrew Gower
Agreus
David Gyasi
Unseelie Jack
Matthew Gravelle

Season 1, Episode 5 "Grieve No More"
The truth behind Philo's parentage is revealed as things begin to come to a boil in Imogen and Absalom's life.

Director(s)
Andy Goddard
Writer(s)
Ian Deitchman, Kristin Robinson
Air Date
8/30/2019
Introduced This Episode
Dr. Mornage
Gregory Gudgeon
Runyan
Simon McBurney
Young Philo
Ilian Gergisak
Young Aisling
Veronika Mackova

How Low Our Family Has Fallen: Ezra, Imogen, Agreus
Never Underestimate A Longerbane: Sophie, Jonah, Piety, Absalom
A Mother's Lullaby: Young Aisling, Young Philo, Philo, Runyan, Dr. Mornage

Season 1, Episode 6 "Unaccompanied Fae"
Philo reveals a secret which will cause many, including him, trouble. Which coincides with Sophie revealing her secret, and Imogen coming to a realization.

Director(s)
Andy Goddard
Writer(s)
Stephanie K. Smith
Air Date
8/30/2019
Introduced This Episode
Quill
Scott Reid
Cabal
Theo Barklem-Biggs
Sargent Dombey
Jamie Harris

Pity Those Who Underestimate Us: Sophie, Absalom, Jonah
A World Of Treasures & A Shocking Realization: Vignette, Imogen, Agreus
Be Wary Of Who You Trust: Ms. Fyfe, Philo, Runyan, Afissa, Sargent Dombey

Season 1, Episode 7 "The World To Come"
Philo's father has been revealed, just as it seems he faces death, and Imogen seems to have picked up her father's habits in sympathy for fae.

Director(s)
Jon Amiel
Writer(s)
Peter Cameron
Air Date
8/30/2019
Introduced This Episode
Constable Berwick
Waj Ali
Magistrate Flute
Mark Lewis Jones

Watch The World Burn & Be Part Of Its Rebuild: Runyan, Sophie, Jonah
Beauty & The Beast: Imogen, Agreus, Ezra
Does The Truth Ever Set A Person Free – Outside Of Their Mind?: Philo, Vignette, Ms. Fyfe, Sargent Dombley, Constable Berwick, Magistrate Flute

Season 1, Episode 8 "The Gloaming" [Season Finale]
In the season finale, the controller of the Darkasher is revealed, as well as who the real mastermind behind the events of season 1.

| | |
| --- | --- |
| Director(s) | Jon Amiel |
| Writer(s) | Travis Beacham |
| Air Date | 8/30/2019 |

A Love Like This Does Not Come Every day: Imogen, Agreus, Ezra
Many Secrets Revealed: Piety, Absalom, Jonah, Sophie, Philo, Haruspex
The Prophecy Holds True: Jonah, Vignette, Philo, Sophie, Piety
The Mysterious Life Of Aisling - 75%
Quill, Cabal, And The Men Lashing Themselves - 60%
Imogen and Agreus - 84%
The Cat & Mouse Game of Sophie and Jonah - 85%