Black Love: Season 3, Episode 3 "Emerging From The Darkness" – Recap, Review (with Spoilers)
With the honeymoon period over, so comes realizing you committed to a person long term and trying to figure out did you make the right decision?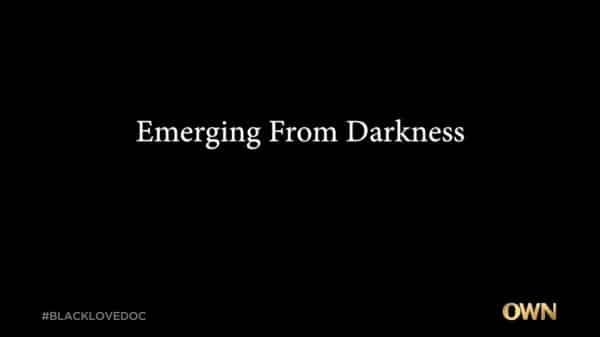 With the honeymoon period over, so comes realizing you committed to a person long term and trying to figure out did you make the right decision?
---
Network
OWN
Director(s)
Codie Elaine Oliver
Writer(s)
N/A
Air Date
8/24/2019
Introduced This Episode
Himself
Ricky Bell
Herself
Amy Correa
Images and text in this post may contain affiliate links which, if a purchase is made, we'll earn money or products from the company. Affiliate links and external links have an upward facing, superscript, arrow.
[ninja_tables id="26965″]
Follow Wherever I Look on Twitter, Like us on Facebook, Sign Up For Our Mailing List and Subscribe to the YouTube Channel.
Quincy, Deondray, Mattie, Chris | Learning Healthier Ways To Deal With Things
While we are inundated with the concept of marriage, especially the happy times, the harder times are not as visible. Especially when it comes to things like miscarriages or what does a long term gay, and Black, gay couple look like? It just isn't really out there. So without that example, what can you turn to?
For Quincy and Deondray, they turned to fighting. Why? Well, with neither being women, so removes the issue of going from a verbal fight to a physical one. Though, in general, while both were accustomed to hook up culture, as noted in episode 1, as for long term relationships? That was foreign. So, they handled things like toxic men. They fought, when it was over, it got buried under the rug until it was too bumpy. Leading to therapy but off and on. Mostly because they figured once they got the tools, what they need the therapist for. However, since they had a lot to work on, it is advocated that to maintain you need to still go. Therapy and relationships don't mean a quick fix.
Which goes for hetero couples too. Chris and Mattie, for example, had major issues after Mattie had a miscarriage. This sent them in opposite directions with Mattie trying to stay busy to avoid the topic and Chris doing the same, while also trying to protect and maybe slow Mattie down. Not in a controlling way but, she just went through something traumatic, they both did, and it was driving them apart.
Thus leading to, after a few years of this, the question being: Yes, I may love you, but do I like you? That, ultimately, even with a child born three years after the miscarriage, led to them separating and Mattie noting she had to humble herself for the sake of their daughter. Though, perhaps better said, she didn't have to humble herself but just be open and vulnerable with her husband so that their divorce wouldn't be an ego, or petty, thing that rocks their daughter's life.
Commentary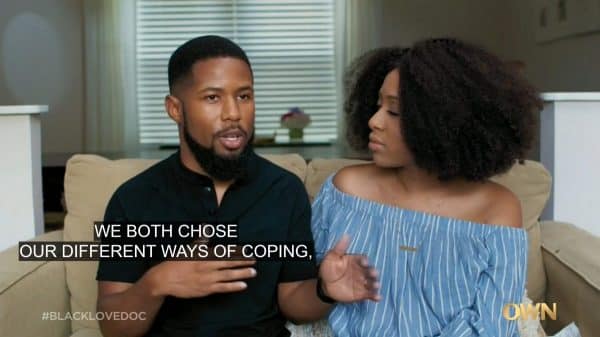 One of the purposes of Black Love isn't just seeing a whole bunch of cute couples who are Black or has one member of the two which are Black, it is also about being seen. Yeah, a hashtag with people at their finest is cute, but do you know of Black couples who went through miscarriages, worked that out, and stayed together? What about two gay Black men, not an interracial couple, like most gay Black celebrities have? Do they exist, do they talk about how they met, how they fight, and what keeps them together?
That's the beauty of this show. It gives you that cute, "This is how we met" story and later on follows that up with, "Don't get it twisted, I almost divorced them at least one occasion." Which is also seen with the next set of couples.
Ricky, Amy, Mecca, Michael | For The Marriage To Survive, Sometimes You Have To Let Things Go
Being that Ricky was a major music star, from New Edition and Bell Biv DeVoe, it meant access to drugs and more. We all saw the BET movie and saw how some got down – apparently some more than others. For Ricky, his issue was Coke, ecstasy at one time, and his wife of 14 years was right there with him. Well, until she wasn't, and he continued. Which is a major issue for one side being clean and the other an addict doesn't work. Never mind Ricky was going through trials and tribulations, so that made Amy worry.
But the bigger issue when it came to their marriage was one of the factors of Ricky's drug use, which was escape. Since, as also shown in Mecca and Michael's marriage, being married doesn't fix your issues, be it physical, mental, or emotional. All it truly does is put someone in your life who becomes intimately aware of them and will likely, sooner or later, call them out.
Yet, for some like Ricky and Amy, a promise made at the beginning of the relationship of leaving not being an option, and an encouraging word, it makes all those years together, the fights as well, worth it. Because what people want, alongside consistency and stability, is someone who will show up when times are hard. Such is the case with Mecca and Michael who, with Mecca lashing out due to her autoimmune disease, that made the already iffy about marriage Michael decide divorce would be best for them.
Mind you, this isn't like Mattie and Chris where they separated and then got back together. We're told assets were being divided and lawyers involved, that's how far along they were. However, Mecca changed her life. It started with meditation, not taking her 11 some odd prescriptions – against her doctor's advisement – and it changed her for the better. Something Michael noticed when she called, due to her aunt dying and asking him to support her through that tough time. Leading to, with her changing her attitude towards things, and them both falling in love all over again, continuing their marriage.
Commentary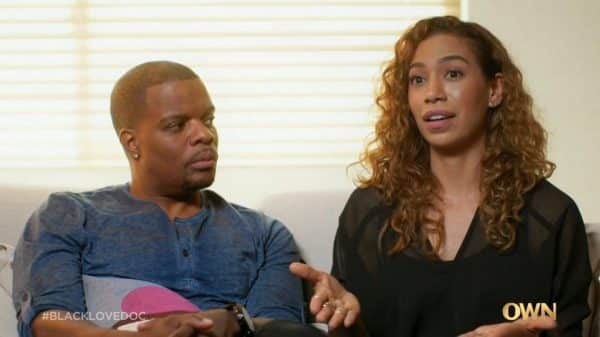 While I know there are multiple interviews featuring Ricky and Amy talking about their relationship, it seemed unfortunate how brief their courtship was talked about. It seemed we didn't get much of a foundation before it was about them using drugs together and then eventually him using drugs alone to escape his responsibilities. Thus undercutting their whole cute "Breaking up isn't an option" story which seemed more scripted than as natural as everyone else's story.
But, let's not pretend Michael and Mecca's story still doesn't raise a few eyebrows. Primarily Mecca going cold turkey after being on 11 forms of medication. To me, while a disclaimer may not have been necessary, it does leave you to wonder if it was necessarily the best thing to say meditation helped her get off all of those meds. Much less, there was this weird vibe going on that their separation was all on Mecca, and that made things uncomfortable. He was blaming her, subtly, she was outright saying it was on her, and taking note he used to ghost her, among other things, before they were married, it seemed like some information was being omitted here.
Naturally, I can't say for sure, since we can only know what these people, that is including Ricky and Amy, put out there. But something about these two sets seemed like the entire story wasn't told for one reason or another.
Terry, Rebecca | Even Saints Were Sinners Once
When it comes to Terry Crews, one could say he is similar to Will Smith. He is a very commercially friendly Black man who comes off approachable and without notable skeletons in his closet. Well, that isn't completely true. From a porn addiction, even prostitutes, it seems Terry was a bit of a sex addict. Partly due to unresolved insecurities about being passed over most of his life, but also due to escapism. Between porn and spending money, Terry had these two major vices to deal with his struggles. But when porn evolved into affairs of the heart and flesh, that became too much.
After all, Rebecca already had a bad relationship with the father of her first child. Terry doing all of that, even if he did disclose vs. getting caught in the act, that's a bit much. Yet, he was apologetic, honest, and while there were a good three years of nothing but tears, let's not discount Rebecca is a woman of faith. Mind you, her faith did say at one time to leave his ass, but three days after separating she was told to call and though it took them a while, and she still cries over that time when recounting it, they are better now.
Commentary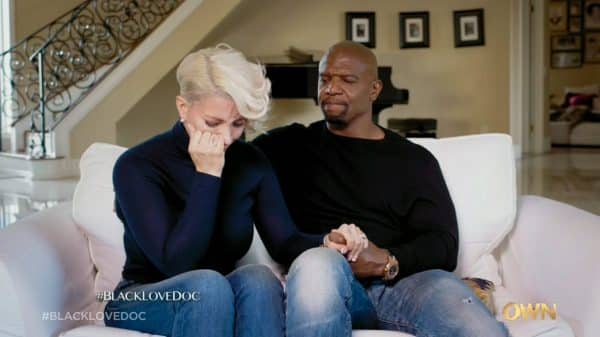 While I know comparisons are unfair, there is a real need to bring up Will Smith since, like Terry Crews, there is this idea that the man is a gentle giant. One who probably didn't do anything wrong despite Terry being a jock and Will a rapper. However, between Red Table Talk and what Terry opens up about on this show, we're allowed to see past the façade. We're shown a human being with faults and more than inspiration words and a charismatic smile. A personality which has allowed for multiple iconic characters. And that's important.
Mind you, some could say Terry's confession is proof that the phrase, "Men ain't s***" could apply to the ones who seem good as well. But, we can't discount what was said in terms of Terry being apologetic, honest, and while he wasn't open to therapy at first, he genuinely pursued it for the sake of his marriage. Since, as shown by Amy and Rebecca, faith will only get you so far when things look like they should end. At a certain point, the human you're dealing with has to show signs they got some kind of message too, and are listening, as well.
Ricky and Amy's Story Felt So Rushed That Between Edits Or What They Said, It Nearly Sounds Scripted - 75%
There Is Just Something Odd About How Michael Went From Being The One Causing Many Of Their Issues Before Marriage, To Mecca Seemingly Holding Most, If Not All, Of The Blame For Why They Almost Divorced - 70%
Mattie and Chris Talking About Her Miscarriage & How They Survived That - 85%
Deondray and Quincy Exhibiting Why Representation Matters Beyond People & Cultures Being Seen, But Having Full-On Lives - 86%
Rebecca and Terry Crews In Showing How A Good Man Can Falter & Recover - 90%
---
Follow, Like, and Subscribe
Community Rating: 0.00% (0) - No Community Ratings Submitted (Add Yours Below)