Black Love: Season 2/ Episode 2 "Getting Down The Aisle" – Recap/ Review (with Spoilers)
In the latest episode, so comes the question of what made this person someone you'd want to marry? Especially considering the situation some were in. Network OWN Director(s) Codie Elaine Oliver Air Date 5/19/2018 It Started Off Like An Ultimatum: Devale, Khadeen, Taj, Eddie With the four name above, the need for security or just…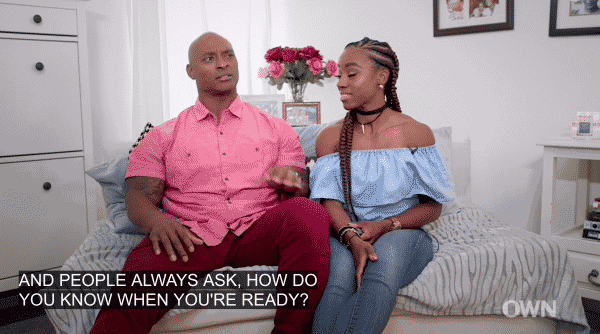 In the latest episode, so comes the question of what made this person someone you'd want to marry? Especially considering the situation some were in.
---
Network
OWN
Director(s)
Codie Elaine Oliver
Air Date
5/19/2018
It Started Off Like An Ultimatum: Devale, Khadeen, Taj, Eddie
With the four name above, the need for security or just the general vibe of not wasting their time with someone when they could be with someone serious was in play. As seen in the first episode, Khadeen was with Devale all through college and seemingly, as Ryan and Sterling had the fear of once college was over, that's it, so there was this fear for her. Especially considering, the way Devale puts it, she became his everything. I'm talking about tutor, cook, when he started to pursue the NFL he messed up his shoulder and she supported him through that. Sitting up and sleeping so he wouldn't be alone, and when he went to play for the lions, the year or so he spent without her, his life went to pieces.
I'm talking depression and pain med addiction and in a really beautiful moment, you see this man crying when thinking about it. Not just in terms of dealing with NFL life but how much her absent, because she was finishing school, had a profound effect on him. Since, with them being together since 18/19 what else did he know? As he notes, he didn't sow his oats or nothing like that. In his adult life, because of her, he was never really single. Yeah, they took breaks, fought, and stuff like that, but as for 0 attachment, that didn't exist.
So, despite it coming to a point where he was cut and money was in flux, they had a nice wedding. For even if a house may have seemed to be a better investment, considering how much of an investment she put into him, it seemed time to really show her the appreciation for all that time and effort.
As for Taj and Eddie? The pressure and ultimatum stuff weren't as heavy. Taj just didn't want to have kids out of wedlock or nothing like that. Also, with them dating 5 years, as most people, especially women feel, there comes a point where you want something more than a bunch of memories and promises of good times. Marriage is as much about securing a future as it is about love. So, being that Eddie loved that strong personality of hers, they got married and probably conceived their first child within hours of the nuptials.
Commentary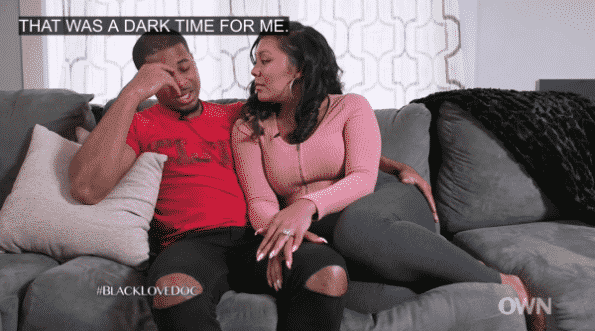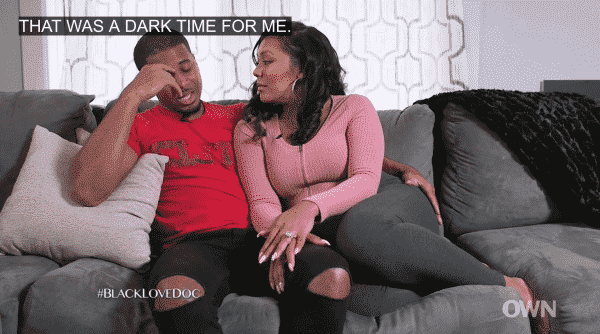 I like how, with these two couples, an ultimatum or goal wasn't necessarily made into this terrible thing. Especially for Devale since, while not having an adult ho phase may seem unfortunate for others, for him he realized there was no need. He found what made him happy mentally, emotionally, and sexually. Why go through half the campus when there was someone waiting there? Much less, someone who showed they are down for more than a good night and maybe some breakfast. They were willing to be there, even before the NFL was a thought or the money, for him getting through school and leaving with a 3.2. On top of it coming to the point there was interdependence.
Leading to that crying moment which, honestly, coming from someone who looks like Devale, was such a powerful moment. I mean, how often you see dudes like him cry and it not deal with death? Much less, it not be an actor portraying a character on screen? This is a real-life person who, because of the life the NFL gave him and without being with the one person who gave him a sense of normalcy and an unending source of love, he was breaking down. And before we switch to Taj and Eddie, can we also give Khadeen props for finishing school before being with her man? I'm just saying…
Now, with Taj and Eddie, admittedly their story is a little confusing, because of the back and forth and how they play with each other. But, you have to appreciate that as well. Similar to Sterling and Ryan, who are the gold star next to Brittany and Tony, you have to enjoy that playfulness. This willingness to not be seen as some sort of sages but real people who are just talking about their relationship. Because Black Love, in my mind, isn't about presenting a go-to guide or some kind of self-help information. It's about seeing happy and functioning Black couples in a way that we are increasingly seeing in media, yeah, but in limited supply. So we get these real-life couples to not only present visibility but remind you that it is possible offscreen as well.
I Just Knew: Tamia, Grant, Jai, Rebecca, Rev Run, Justine, Dewanda, Alano, DL, LaDonna, Kirk, Tammy
For some, it wasn't like life was going good and then it just became a case of, why isn't this happening considering all we went through already? For Grant, it took Tamia cooking French Toast to spark him getting a ring. When it came to Rebecca and Jai, it was taking note of the past, seeing a future with this person, and recognizing that wasn't a vision many people fit into. Then with Rev Run and Justine, we see the other side to it. For a lot of these narratives, it is the guy who got his mind together and that was it. But for Justine, being that she is a bit more open and talkative, she notes not feeling jealous was when she knew.
Rev Run joins in with talks about angels and all that, as Kirk talks about Tammy being made for him by God but it the tangible stuff like, Justine feeling secure and at peace, despite her husband's occupation, which presents a tangible sign. Though, in the case of DeWanda and Alano, signs sometimes comes in the form of showing your ability to commit to something. As gets noted, DeWanda had, or has, abandonment issues and seeing Alano commit to a stage performance, that seemed to hook her. So when he proposed, she perhaps tested him with the idea of marrying the next day. A bit of a shock but, hey, if you know then you know and so why have months of engagement when it takes a few days to get papers?
Leaving DL and LaDonna. Similar to the Justine and Rev Run relationship, though with DL a bit more talkative, it is noted that the wife of the now marriage, LaDonna, played a strong role in things becoming as we see them. Because, as DL repeats quite a bit, he didn't have much to offer as a potential husband early on. LaDonna was the one with a good paying job, stability, and DL was making minimum wage. She was the one with vision and a plan and he basically followed her lead. Which led to him being the success he is today. Just because, as much as she had faith in herself and him, he had faith in her.
Commentary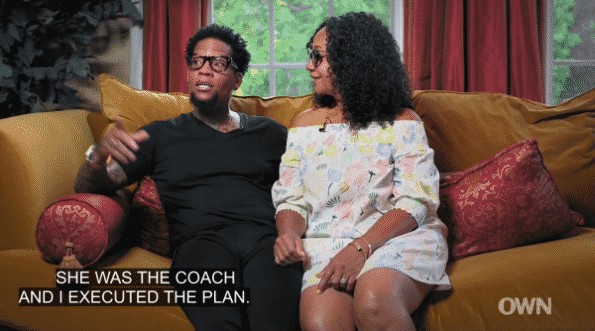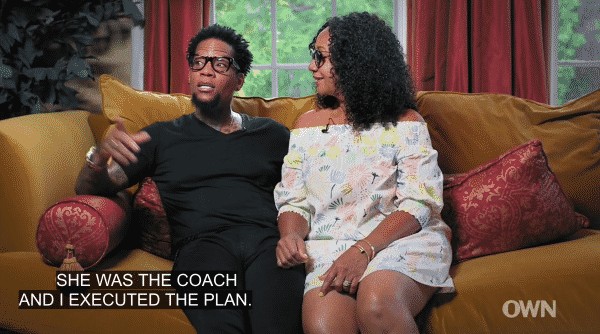 I love the whole LaDonna situation because, with a lot of the relationships we are presented, the dynamic makes it seem the guy made a choice. That he was the one who did the pursuing, proposing, and all she had to do was say yes. With DL and his wife though, this gets flipped. She made all the plans, took on a very traditionally male role in their relationship, and he did what he had to in order to make her plans into reality. With the only bit of ego presented being that he wanted to make more than her. Which makes you roll your eyes a bit but considering that is the one thing he wanted to feel secure, as he followed his wife's lead, you can hunch it off.
And speaking of feeling secure, a part of me wished DeWanda's thing about abandonment issues was explored more. For while everyone is talking about being together or knowing each other for years before marriage, hers happened within 4 months. It is a whirlwind by so many means and it feels like this relationship is the one we know the least about. Despite it being the kind which, with no offense to the others, draws the most questions and attention. Especially since they seem so happy together and finding love that quickly and easily is scary but who wouldn't want to be so sure so quickly?
It Was A Long Time Coming: Ryan, Sterling, Brittany, Tony
These two couples. All of their stories are such movies or shows in the making. Similar to Love Is___ premiering on OWN in a few weeks. Starting with Brittany and Tony, what helped him know that she was the one simply came from how easily she integrated with his family. Plus, she inspired him to look for a ring. Well, maybe because he also knew he was about to be in Japan for 18 months and he saw what happened last time he left and returned. But you know, it was mostly the internal desire to purchase a ring.
Which, mind you, was presented without them officially dating. And, if I understand correctly, while they went on dates, there seemingly was never the official, you are my girlfriend and I'm your boyfriend conversation. But, as said, and would make such a good line in their film, I'm putting that out into the universe, he didn't want her to be his girlfriend but his wife so, why not cut the middleman?
And then we have Sterling and Ryan. That man is such a ham that it almost makes you wish some of these stories just focused on one couple because theirs being broken up into parts is like constant cliffhangers. Because, with the way they interact, Ryan is the straight man to Sterling's slapstick and when she tells the story, it is factual and conversational. Like her explaining one roadblock were these visions women in her family would get that scared her off.
Yet, with Sterling, it's all performance. Like a kid who loves attention, he, probably as Ryan says, likely is embellishing moments. Especially ones which make him look or sound suave. Like them laying on the bed, trying to keep things holy, and her not being able to take it. Such moments are so hilarious yet so sweet. For, outside of Tony, and Kirk to a point, Sterling is doing most of the talking in the marriage and presents the type of relationship which makes you envious a bit. Particularly if you're single.
Commentary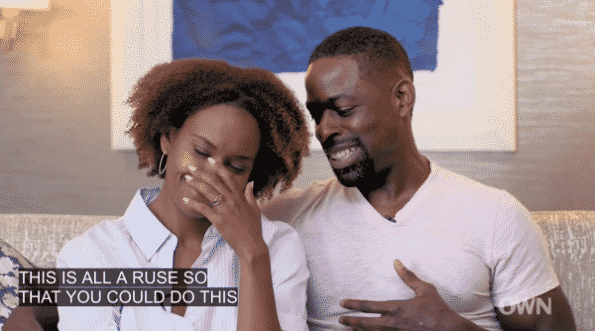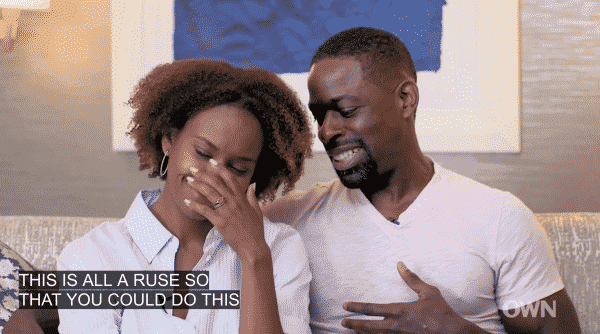 Is it wrong to have a favorite couple when watching this? Because it's literally between this The Notebook sort of romance between Brittany and Tony alongside this type of college romance which I fail to make an easy comparison to. And I love them both because things don't seem so one-sided in the love. Both the guy and girl seem passionate about their spouse and it's like they chose one another from the start. Versus, and this isn't a dig to the others, seeming like they got comfortable and it just seemed like it was time.
I mean, for Brittany and Tony, the fact they never officially fated but went from friends to married is saying something to me. Especially since they actually dated other people off and on and who knows how intimate or passionate those relationships were. Yet, when Tony popped that question, it was a done deal. Even with Brittany's family not meeting him and with her being a southern girl? YOU KNOW THAT WAS A HUGE DEAL!
As for Sterling and Ryan. Simply put: #Goals. Who doesn't want someone like Sterling who is so jovial about your story? But, I gotta admit, I am so looking forward to the next episode, "Accountability" because for a lot of these relationships, especially the ones in this topic, it is like we got the honeymoon period. The happy times which make you swoon, envious, and making lists of what you need in your next partner. Yet, the work it took to reach this point, while you get a taste of it with Kirk who called himself a gospel ho, as well as Eddie and Taj, alongside Devale and Khadeen to a point, other couples seem unattainably perfect.
And while, again, this show isn't a how-to guide for finding a Black spouse and being happy, seeing someone not just find love, but survive the difficult times, is also important. So the next episode is probably going to be a doozy. Especially since there is already the topic of infidelity brought up with one of the couples.
Miscellaneous Commentary
Body Language
Whether it is just an arm around their spouse, leaning towards them, cuddled up, or in the case of Rev Run and Justine, similar looks and mannerism, you have to appreciate these little things. For it shows these couples connecting in not just intimate ways, but also what allows them to be comfortable enough to share their story. Even if it is awkward or brings them to tears.
Collected Quote(s) & .Gifs
I had to learn that it was okay to let things go and I wasn't letting people go.
Highlights
The way each couple either is curled up next to their spouse or just has some sort of contact is a minor but cute showing of intimacy.
Sterling K. Brown is such a ham but is also one of the best storytellers on the show.
Tony and Brittany's jump from friends to marriage and Tony's line about wanting a wife and not a girlfriend.
Justine noting her feeling secure, and not jealous, was how she knew Rev Run was the one.
LaDonna and DL's relationship, especially with her being noted as the general and leader and him a soldier following orders and making their dreams come true.
Devale crying as he talked about his addiction and issues which came from being a football player and being without Khadeen during that season.
The playfulness of Taj and Eddie.
Follow Wherever I Look on Twitter or Like us on Facebook.
---
Previous Episode's Recap
[visual-link-preview encoded="eyJ0eXBlIjoiaW50ZXJuYWwiLCJwb3N0IjoyMDc5OCwicG9zdF9sYWJlbCI6IlBvc3QgMjA3OTggLSBCbGFjayBMb3ZlOiBTZWFzb24gMi8gRXBpc29kZSAxIFwiSG93IExvdmUgQmVnaW5zXCIgW1NlYXNvbiBQcmVtaWVyZV0gLSBSZWNhcC8gUmV2aWV3ICh3aXRoIFNwb2lsZXJzKSIsInVybCI6IiIsImltYWdlX2lkIjoyMDgwMSwiaW1hZ2VfdXJsIjoiaHR0cHM6Ly93aGVyZXZlci1pLWxvb2suY29tL3dwLWNvbnRlbnQvdXBsb2Fkcy8yMDE4LzA1L0JsYWNrLUxvdmUtU2Vhc29uLTItRXBpc29kZS0xLUhvdy1Mb3ZlLUJlZ2lucy1TZWFzb24tUHJlbWllcmUtVGl0bGUtQ2FyZC5wbmciLCJ0aXRsZSI6IkJsYWNrIExvdmU6IFNlYXNvbiAyLyBFcGlzb2RlIDEgXCJIb3cgTG92ZSBCZWdpbnNcIiBbU2Vhc29uIFByZW1pZXJlXSAtIFJlY2FwLyBSZXZpZXcgKHdpdGggU3BvaWxlcnMpIiwic3VtbWFyeSI6IkJsYWNrIExvdmUgcmV0dXJucyB3aXRoIGEgd2hvbGUgbmV3IGdyb3VwIGFuZCB0aGUgZmlyc3QgZXBpc29kZSBmZWF0dXJlcyBob3cgdGhlIHJlbGF0aW9uc2hpcHMgYmVnYW4uIFNvbWV0aW1lcyB3aXRoIGEgYml0IG9mIHN0cnVnZ2xlIHRvIGtlZXAgdGhlbSBnb2luZy4iLCJ0ZW1wbGF0ZSI6ImRlZmF1bHQifQ=="]
---
Follow, Like, and Subscribe
Community Rating: 0.00% (0) - No Community Ratings Submitted (Add Yours Below)