As guilt and accusations fester and eat away at everyone, it seems Mary Louise is either at the brink of getting what she wants or it all being ruined.
---
Network
HBO
Director(s)
Andrea Arnold
Writer(s)
David E. Kelley
Air Date
7/14/2019
Introduced This Episode
Ira
Denis O'Hare
Juliette
Nelly Buchet
Images and text in this post may contain affiliate links which, if a purchase is made, we'll earn money or products from the company. Affiliate links and external links have an upward facing, superscript, arrow.
Recap
Too Much At Once: Renata, Gordon, Juliette, Madeline, Ed, Tori, Corey, Jane
With Corey being seen at the police station and questioned, whatever was happening between Jane and him? Yeah, that may have promptly ended. Though Corey doesn't seem like he wants to give up that easily. Hard to say if Jane finds that endearing or not though.
As for Madeline and Ed's relationship? Well, let's just say Ed is contemplating cheating with Tori, but he's very iffy about it. Mostly due to him having a minor breakthrough with Madeline and with a glimpse of hope, he doesn't want to blow things up.
After all, it isn't like he is Gordon. Someone who has been having sex with Amabella's nanny all this time. Leading to your weekly dose of Renata flipping out.
And For All This, I Blame You: Bonnie, Elizabeth, Martin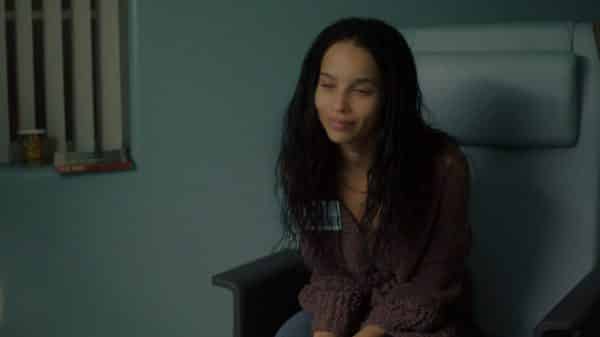 Bonnie has long made clear how she felt about her mom. She even fantasizes about killing her and in front of her dad, and a doctor asks if they can. Which doesn't make it surprising that, as Bonnie feels the need to confess about pushing Perry, she decides to blame Elizabeth.
Let's step back a moment. What Bonnie blamed Elizabeth for is the abuse growing up, emotional and physical, and how her lack of love led her to have sex when she was 13 and eventually marry Nathan. Also, when she pushed Perry, it seems that push was triggered by a memory. Maybe not of Bonnie being kicked, but one of the abusive moments, so pushing Perry was a cathartic release.
And the kicker here is that Elizabeth was awake to hear all of that.
If We're Going To Have A Trial, Both Of Us Will Be Forced To Defend Ourselves: Ira, Mary Louise, Jane, Celeste
The trial begins, and Ira really lashes into Celeste. I'm talking bringing up how Perry died, the fact Celeste, apparently, has had many lovers, and things aren't looking good. Heck, Jane even gets involved by, stupidly, flipping out on Mary Louise. Talking about how she should have killed Perry herself but didn't get the chance.
But, before the judge makes her decision, Celeste calls into question Mary Louise being mentally fit to be a parent and while she doesn't seem worried, this could be fun. Particularly since Celeste plans to use her ability to practice law and question Mary Louise herself. Why? Well, because her lawyer is underperforming.
Review
Highlights
Bonnie & Elizabeth
I won't say one scene erases any and all criticism of how Bonnie has been written. However, I must admit Bonnie getting all those long-held feelings off her chest? That scene made me teary eyed. Especially when you realize Bonnie was awake to hear that.
In fact, that might be one of the best scenes we've seen Zoe Kravitz perform in a long time.
Mary Louise's Turn In The Hot Seat
We'll bypass our usual, "The only thing which justifies this season is Meryl Streep" comment. Let's just get straight to how she took Celeste to task and now it seemingly will be her turn to be in the hot seat. For, as shown when she went back and forth with Jane, and when she let Celeste know about the custody hearing, Mary Louise works best when she can be sneaky. Maybe even play the victim. So comes the question of what happens when she can't run and maybe giving a sob story doesn't work?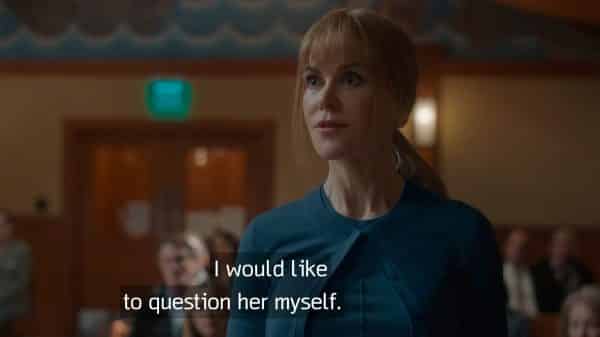 Isn't that one of the reasons Celeste's lawyer was glad they got the lawyer they did? Because she could see through theatrics? Leading to you realizing how trash Celeste's lawyer truly is if Celeste had to come up with questioning Mary Louise being fit to be a parent. Which could backfire in Celeste and Mary Louise not seeming fit, but I don't think the show will get that ridiculous.
On The Fence
The Left Turn Corey and Jane Took
Jane has trust issues for understandable reasons. Yet, considering the healing that came from being with Corey and the desire to do the work, it makes it possibly ending suck. Though, with Corey saying he won't give up, there are mixed feelings.
On the one hand, there is something romantic about him not allowing to put her walls up and shut him out. But there is also the fact she said they were over and he is refusing to accept that. Thus, taking note of the climate we live in, making it hard to support Corey to the fullest.
Ed & Renata's Drama
When it comes to Ed and his back and forth with Madeline, alongside Renata yelling about something new week in and week out, they're the reason I question the need for a second season. Granted, one which ends with the next episode, but these two have made it feel so much longer.
Follow Wherever I Look on Twitter, Like us on Facebook and Subscribe to the YouTube Channel.
Season/ Episode
Synopsis
Episode Information
Topics & Focused Characters
Season 2, Episode 5 "Kill Me"
The pattern of Big Little Lies continues as Mary Louise taunts people, Bonnie's past is slowly revealed, Jane has intimacy issues, and Madeline struggles to recover her relationship.

Director(s)
Andrea Arnold
Writer(s)
David E. Kelley
Air Date
7/7/2019
Introduced This Episode
Martin
Martin Donovan

New Day, A Few Additional Details: Bonnie, Elizabeth, Martin, Madeline, Ed
For The Love Of The Children: Renata, Celeste, Mary Louise
Trusting Yourself, And Someone Else, Is A Long Process: Bonnie, Celeste, Jane, Corey, Mary Louise

Season 2, Episode 3 "The End Of The World"

Healing from the wounds of the past is the focus this episode but, as we see, not all wounds heal properly and allow a person to truly move on.

| | |
| --- | --- |
| Director(s) | Andrea Arnold |
| Writer(s) | David E. Kelley |
| Air Date | 6/23/2019 |

Mommie Dearest:

 

Bonnie, Elizabeth
Life Without Ed:

 

Madeline, Ed, Dr. Reisman, Celeste
Can't Move On When The Issue Is Staring At You In The Face:

 

Mary Louse, Celeste, Corey, Dr. Reisman, Jane, Amabella, Renata, Gordon

Season 2, Episode 4 "She Knows"

Mary Louise continues to be a big draw as the ladies of 

Big Little Lies

 watch their lives nearly all fall apart.

Director(s)
Andrea Arnold
Writer(s)
David E. Kelley
Air Date
6/30/2019
Introduced This Episode
John Davidson
John Marshall Jones

One Last Hoorah!:

 

Renata, Gordon, John
And They Dare Say The Truth Will Set You Free:

 

Madeline, Ed, Bonnie, Elizabeth
Drastic Measures For Immediate Problems:

 

Mary Louise, Jane, Celeste, Corey

Season 1/ Episode 1 "Somebody's Dead" [Series Premiere]

While each and every big name actor and actress in this film have had polarizing roles and performances in their filmography, for each and every one this show seems to be a quick reminder. A reminder to those who love their work why they are fans and for those who don't get it, don't understand all the hubbub about this actor or that actress, this will either be what turns you or what solidifies your opinion.

Jane (

Shailene Woodley

) | Celeste (

Nicole Kidman

) | Madeline (

Reese Witherspoon

) | Abigail (Kathryn Newton) | Renata (

Laura Dern

) | Ziggy (Iain Armitage) | Annabelle (Ivy George) | Perry (

Alexander Skarsgård

) | Nathan (James Tupper)

Season 1/ Episode 2 "Serious Mothering"
As we get to know the woman of Monterey, surprisingly Madeline almost seems like the normal one. Especially as the state of Celeste's relationship is revealed and Jane's vulnerability makes you question her mental state.

Topic 1: Battle Lines Drawn (Madeline & Renata)
Topic 2: The 2nd Choice (Ed, Madeline, Nathan and Bonnie)
Topic 3: An Elle Type Relationship (Celeste and Perry)

Season 1/ Episode 3 "Living The Dream"

Living the Dream

 is a strange episode title for it seems most of the characters are either living or remembering their most fearsome nightmares.

Perry's Fear of Losing Celeste (Perry & Celeste)

Madeline vs. The World: (Renata and Madeline)

Jane's Past Revealed: (Jane & Madeline)

Season 1/ Episode 4 "Push Comes to Shove"

Closure and being happy. One usually means having the other but there is usually some obstacle in the way. Of which, usually it is one conversation which could clear things up, allow you to get something off your chest, and give yourself the permission to move on. But getting to that point of having that conversation? Oh, there are few things harder.

Jane and Ziggy

Madeline

Celeste

Season 1/ Episode 5 "Once Bitten"

Everything is coming apart. The ideal relationship, the ideal family, the ideal mother and child relationship, it is all going to hell. Which, at one time, was something which could be endured, given a stiff upper lip, but that pose can't be held forever. After awhile, that lip trembles, tears fall, and your grip loosens and you have no choice but to admit you weren't keeping things together. You were just digging your names into your palms and focusing on that pain to avoid everything else.

Episode Focus: The Mental State of Jane Chapman (Jane and Madeline)
Subplot 1: Should I Stay or Should I Go? (Celeste)
Subplot 2: Car Crash (Madeline)

Season 1/ Episode 6 "Burning Love"
Maintaining a healthy and happy relationship with your spouse and children is hard. Just like marriage, raising a child depends on compromise, defying expectation and sometimes what you thought was normal, and constant adaptation. For love is precious yet can be fleeting. Especially when abuse, miscommunication, or irreconcilable beliefs are put into the equation.

With all that said, let's talking about "Burning Love."


The Essence of a Happy Marriage Is The Ability To Pretend (Ed, Nathan, Celeste, Madeline, Perry, and Bonnie)
Burying The Hatchet (Renata, Jane, and Madeline)
Will The Kids Be Alright? (Chloe and Ziggy)

Season 1/ Episode 7 "You Get What You Need" [Season Finale]
Big Little Lies

, honestly, ends in an anti-climatic way. If only because the whole "Who killed who" reveal isn't impactful nor the reveal of who has been bullying Amabella.

Episode Focus: The Death of a Tyrant (Perry, Madeline, Bonnie, Jane, and Celeste)
Subplot 1: Who is Bullying Amabella? (Jane, Celeste, and Renata)

Season 2, Episode 1 "What Have They Done" [Season Premiere]

While there was a need to question why a second season, Meryl Streep pretty much is the sole answer you'll need.

Director(s)
Andrea Arnold
Writer(s)
David E. Kelley
Air Date
6/9/2019
Introduced This Episode
Mary Louise
Meryl Streep

A Broken Bonnie:

 

Bonnie, Nathan, Ed, Madeline
Pretending Things Are Normal:

 

Madeline, Abigail, Renata
The Heavy Weight Of A Secret:

 

Celeste, Mary Louise, Jane, Madeline, Perry

Season 2, Episode 2 "Tell-Tale Hearts"
Big Little Lies

 continues to drum up more drama, to justify its second season, by involving the kids more, an additional parent, and chaos between all 4 families.

Director(s)
Andrea Arnold
Writer(s)
David E. Kelley
Air Date
6/16/2019
Introduced This Episode
Elizabeth
Crystal Fox
Corey
Douglas Smith

You Lost All Of Mine (Our) Money?!:

 

Renata, Gordon
You Lie A Lot, Don't You?:

 

Ed, Madeline, Chloe, Abigail, Celeste, Mary Louise, Skye, Bonnie, Elizabeth, Nathan
Reconciling The Truth You Know With What Your Child Is Ready To Hear:

 

Ziggy, Celeste, Jane, Mary Louise, Josh, Max
Ed & Renata's Drama - 70%
The Left Turn Corey and Jane Took - 75%
Mary Louise's Turn In The Hot Seat - 89%