Mary Louise continues to be a big draw as the ladies of Big Little Lies watch their lives nearly all fall apart.
---
Community Rating: 33.33% (2)
---
---
Network
HBO
Director(s)
Andrea Arnold
Writer(s)
David E. Kelley
Air Date
6/30/2019
Introduced This Episode
John Davidson
John Marshall Jones
Images and text in this post may contain affiliate links which, if a purchase is made, we'll earn money or products from the company. Affiliate links and external links have an upward facing, superscript, arrow.
Recap
One Last Hoorah!: Renata, Gordon, John
With bankruptcy court comes Renata and Gordon prepping to end their lavish lifestyle. Which includes letting a trustee, a man named John, take things over. Something that kills Renata for, as she has said ad nauseam, what she is losing is her money, years of work, and seeing the end of dreams she had for herself and her daughter.
Yet, before that happens, she has an early disco birthday party to celebrate the end to her joy.
And They Dare Say The Truth Will Set You Free: Madeline, Ed, Bonnie, Elizabeth
But another thing which weighs on Renata's joy is Elizabeth, Bonnie's mom, having a stroke at the disco party. Mind you, she was doing well for most of it, even though she was uncomfortable with Bonnie whispering and seeming like she was hiding something. However, with disco music playing, she was having a good time. That is until she touched Renata and got a vision which led to her collapsing. A vision which, later on, after surgery, we learn is of her seeing Bonnie drowning.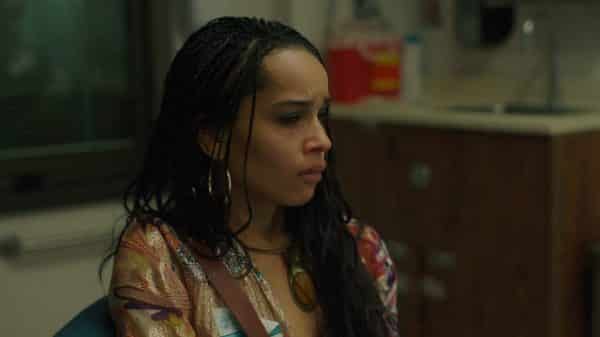 Now, why would she think that? Well, probably because Bonnie is. She, and now Celeste as well, aren't enjoying living this lie, and it is weighing on them. Thus causing Madeline to feel a bit attacked for Celeste is her go to about everything and if she feels this way, who is she going to turn to? In a way, she'd love to turn to Ed, but even if he is back in the house, there is no sense that he is willing to be her husband again, never mind act as a friend. Leaving her feeling isolated and unsure of what to do for a rare moment in her life.
Drastic Measures For Immediate Problems: Mary Louise, Jane, Celeste, Corey
One of the main things focused on this season is the exposure of secrets or the things which eat away at us. For Jane, it is being violently raped, especially as she tries to be intimate with Corey, currently in non-sexual ways. So, with him becoming more and more important to her life, to the point she brings him to Renata's party for her daughter, making him official, she decides it is time for the truth. Now, she doesn't reveal Celeste's ex-husband raped her, but she notes she was violently raped. To which Corey, ever the understanding young man, takes her hand and consoles her in silence.
Which, in many ways, I'm sure Celeste wishes Mary Louise was capable of. However, between moving into Jane's complex to filing papers to get custody of the twins, she continues to be hell-bent on wrecking and disturbing the life of anyone who would speak ill of Perry. Making Celeste slapping her seem long overdue.
Highlights
Mary Louise
While this show is becoming more and more a soap opera each episode, partly due to Mary Louise, if not mostly, you can't deny a consistent appeal. One which, as said each episode, makes her the driving force to watch. For with her now trying to take Celeste's kids, so comes the question of whether she is trying to punish Celeste, redo motherhood so she can prove Perry wasn't how he was due to her, or any other combination of answers. All of which drive you to want to understand her psyche and invest in her far more than the majority of the characters we've known since the series premiere.
Corey and Jane
Most of the season has been about the chicken coming to roost and people dealing with their past while standing still. With Jane, she seems to be the only one moving forward and in control. For while Madeline deals with being outed, Bonnie hides her suppressed feelings, Celeste drugs herself up, and Renata blames everyone, directly or passively, for her misery, Jane is moving on. Granted, she is struggling since moving on means not only dealing with her trauma but naming it, telling others, and even exposing Corey to that – which could have went badly.
Yet, it didn't. Corey took Jane's hand, and while he may not fully understand, he provides hope in ways which can't be overstated. Creating this beautiful storyline that gives you an alternative to all the drama.
On The Fence
Everyone Else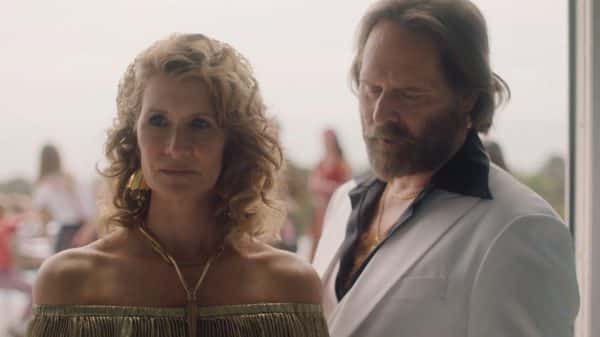 As noted above, the show has largely just become a soap opera. One which has decent performances but I cannot express enough how glad I am this show is only 7 episodes. For, at this point, you can see them escalating drama in order to compensate for a season which really lacks a reason to exist.
Follow Wherever I Look on Twitter, Like us on Facebook and Subscribe to the YouTube Channel.
Season/ Episode
Synopsis
Episode Information
Topics & Focused Characters
Season 2, Episode 5 "Kill Me"
The pattern of Big Little Lies continues as Mary Louise taunts people, Bonnie's past is slowly revealed, Jane has intimacy issues, and Madeline struggles to recover her relationship.

Director(s)
Andrea Arnold
Writer(s)
David E. Kelley
Air Date
7/7/2019
Introduced This Episode
Martin
Martin Donovan

New Day, A Few Additional Details: Bonnie, Elizabeth, Martin, Madeline, Ed
For The Love Of The Children: Renata, Celeste, Mary Louise
Trusting Yourself, And Someone Else, Is A Long Process: Bonnie, Celeste, Jane, Corey, Mary Louise

Season 2, Episode 3 "The End Of The World"

Healing from the wounds of the past is the focus this episode but, as we see, not all wounds heal properly and allow a person to truly move on.

| | |
| --- | --- |
| Director(s) | Andrea Arnold |
| Writer(s) | David E. Kelley |
| Air Date | 6/23/2019 |

Mommie Dearest:

 

Bonnie, Elizabeth
Life Without Ed:

 

Madeline, Ed, Dr. Reisman, Celeste
Can't Move On When The Issue Is Staring At You In The Face:

 

Mary Louse, Celeste, Corey, Dr. Reisman, Jane, Amabella, Renata, Gordon

Season 2, Episode 4 "She Knows"

Mary Louise continues to be a big draw as the ladies of 

Big Little Lies

 watch their lives nearly all fall apart.

Director(s)
Andrea Arnold
Writer(s)
David E. Kelley
Air Date
6/30/2019
Introduced This Episode
John Davidson
John Marshall Jones

One Last Hoorah!:

 

Renata, Gordon, John
And They Dare Say The Truth Will Set You Free:

 

Madeline, Ed, Bonnie, Elizabeth
Drastic Measures For Immediate Problems:

 

Mary Louise, Jane, Celeste, Corey

Season 1/ Episode 1 "Somebody's Dead" [Series Premiere]

While each and every big name actor and actress in this film have had polarizing roles and performances in their filmography, for each and every one this show seems to be a quick reminder. A reminder to those who love their work why they are fans and for those who don't get it, don't understand all the hubbub about this actor or that actress, this will either be what turns you or what solidifies your opinion.

Jane (

Shailene Woodley

) | Celeste (

Nicole Kidman

) | Madeline (

Reese Witherspoon

) | Abigail (Kathryn Newton) | Renata (

Laura Dern

) | Ziggy (Iain Armitage) | Annabelle (Ivy George) | Perry (

Alexander Skarsgård

) | Nathan (James Tupper)

Season 1/ Episode 2 "Serious Mothering"
As we get to know the woman of Monterey, surprisingly Madeline almost seems like the normal one. Especially as the state of Celeste's relationship is revealed and Jane's vulnerability makes you question her mental state.

Topic 1: Battle Lines Drawn (Madeline & Renata)
Topic 2: The 2nd Choice (Ed, Madeline, Nathan and Bonnie)
Topic 3: An Elle Type Relationship (Celeste and Perry)

Season 1/ Episode 3 "Living The Dream"

Living the Dream

 is a strange episode title for it seems most of the characters are either living or remembering their most fearsome nightmares.

Perry's Fear of Losing Celeste (Perry & Celeste)

Madeline vs. The World: (Renata and Madeline)

Jane's Past Revealed: (Jane & Madeline)

Season 1/ Episode 4 "Push Comes to Shove"

Closure and being happy. One usually means having the other but there is usually some obstacle in the way. Of which, usually it is one conversation which could clear things up, allow you to get something off your chest, and give yourself the permission to move on. But getting to that point of having that conversation? Oh, there are few things harder.

Jane and Ziggy

Madeline

Celeste

Season 1/ Episode 5 "Once Bitten"

Everything is coming apart. The ideal relationship, the ideal family, the ideal mother and child relationship, it is all going to hell. Which, at one time, was something which could be endured, given a stiff upper lip, but that pose can't be held forever. After awhile, that lip trembles, tears fall, and your grip loosens and you have no choice but to admit you weren't keeping things together. You were just digging your names into your palms and focusing on that pain to avoid everything else.

Episode Focus: The Mental State of Jane Chapman (Jane and Madeline)
Subplot 1: Should I Stay or Should I Go? (Celeste)
Subplot 2: Car Crash (Madeline)

Season 1/ Episode 6 "Burning Love"
Maintaining a healthy and happy relationship with your spouse and children is hard. Just like marriage, raising a child depends on compromise, defying expectation and sometimes what you thought was normal, and constant adaptation. For love is precious yet can be fleeting. Especially when abuse, miscommunication, or irreconcilable beliefs are put into the equation.

With all that said, let's talking about "Burning Love."


The Essence of a Happy Marriage Is The Ability To Pretend (Ed, Nathan, Celeste, Madeline, Perry, and Bonnie)
Burying The Hatchet (Renata, Jane, and Madeline)
Will The Kids Be Alright? (Chloe and Ziggy)

Season 1/ Episode 7 "You Get What You Need" [Season Finale]
Big Little Lies

, honestly, ends in an anti-climatic way. If only because the whole "Who killed who" reveal isn't impactful nor the reveal of who has been bullying Amabella.

Episode Focus: The Death of a Tyrant (Perry, Madeline, Bonnie, Jane, and Celeste)
Subplot 1: Who is Bullying Amabella? (Jane, Celeste, and Renata)

Season 2, Episode 1 "What Have They Done" [Season Premiere]

While there was a need to question why a second season, Meryl Streep pretty much is the sole answer you'll need.

Director(s)
Andrea Arnold
Writer(s)
David E. Kelley
Air Date
6/9/2019
Introduced This Episode
Mary Louise
Meryl Streep

A Broken Bonnie:

 

Bonnie, Nathan, Ed, Madeline
Pretending Things Are Normal:

 

Madeline, Abigail, Renata
The Heavy Weight Of A Secret:

 

Celeste, Mary Louise, Jane, Madeline, Perry

Season 2, Episode 2 "Tell-Tale Hearts"
Big Little Lies

 continues to drum up more drama, to justify its second season, by involving the kids more, an additional parent, and chaos between all 4 families.

Director(s)
Andrea Arnold
Writer(s)
David E. Kelley
Air Date
6/16/2019
Introduced This Episode
Elizabeth
Crystal Fox
Corey
Douglas Smith

You Lost All Of Mine (Our) Money?!:

 

Renata, Gordon
You Lie A Lot, Don't You?:

 

Ed, Madeline, Chloe, Abigail, Celeste, Mary Louise, Skye, Bonnie, Elizabeth, Nathan
Reconciling The Truth You Know With What Your Child Is Ready To Hear:

 

Ziggy, Celeste, Jane, Mary Louise, Josh, Max