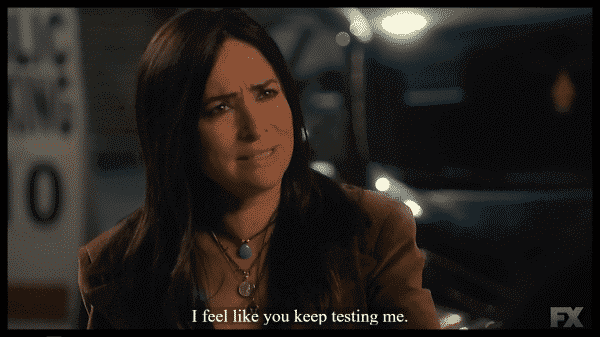 In this episode of Better Things, it seems the idea is: Sam is only a mean person if you give her reason to be a mean person.
Rodney: Sam, Rodney
In many comedy specials done by female comedians, there often is a note about how they compensate for fragile men and their feelings. Well, unlike them, rather than speak to an audience, Sam confronts this guy Rodney (John Ales) head on. He is someone she has been dating for 3 weeks, had bad sex with 10 times, and he moans about them having sex before their dates and her being mean insert pouty face.
Thing is, in Sam's mind, she is being nice. Rodney is boring, but puts in minimal effort to not be a douche. So, she throws him a bone. Allows him the pleasures, in more ways than one, of her company, and puts up with his needy nonsense. However, after he decides to show he is an ass because he gets mad she doesn't claim him in front of his friends… well that was it. Him talking about not driving her home, forcing her to take a Uber, leads to her letting him have it. So now if he wants to call her mean, he has a good reason. Especially since she kept referring to him as a woman as she gave one disparaging remark after another about his masculinity and attitude.
You Made Your Bed: Jeff, Sam, Duke
Duke is going to be sleeping over Sunny's house while Jeff, Sunny's ex, babysits her and his kid. It is an odd situation. Yet, with Sam just wanting to get away, she doesn't care. Plus, now that Sunny and Jeff are divorced, she is okay with Sam. She may not hang out with him but they can do small talk. She can be nice. Maybe a bit mean-spirited in a "Keeping it real" kind of way, but Sam isn't the type to modify herself much based on her audience. She will with the girls, to a point, but she isn't here for babysitting egos. Something which Jeff can appreciate but it doesn't make him feel better about his situation.
Though, perhaps the more interesting thing to come out of this is Duke asking Sam about her grandmother dying. Something Phyllis brought up and is now, low-key, haunting Duke. Leading Sam to try and shut down those thoughts immediately. For while, as can be seen based off the way Duke acted in the last episode, the child might be a little bit tainted by her family, Sam is trying to make sure she doesn't get as messed up as she is. All thanks to Phyllis.
Mom-Cation: Sam, Frankie, Sunny
Ignoring the party that happened last season, and the fiasco that was, Frankie is begging to just stay home while Sam takes a vacation with Sunny and her friends. However, the answer is no. Though, with Sunny's boyfriend having this man named Dalton at his home, where the vacation is being hosted, Sam opts out and decides to just rent a motel room by the beach. There she reminisces about the last time she took her girls to the beach and relaxes in the best way possible – through reflection.
Highlights
A Dialog vs. A One Way Conversation
As noted, most heterosexual comedians complain about their gender of choice. However, in very few shows do we see them actually engage the opposite sex about the issues and give room for rebuttal. Now, unfortunately, Rodney doesn't go toe to toe with Sam. Instead, he gets decimated. But I still appreciated that an opportunity was given to see both sides. Even if Sam got a little, I guess you could say, misogynist since she kept referring to his feminine traits in a negative way.
On The Fence
Getting Into The Rest of The Episode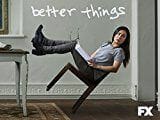 I don't know why but the Duke, Frankie, and the whole mom-cation thing just didn't click for me. It was nice to see Sam reminisce about the girls, if not make plans for what she would do with them after her little vacation. That is, assuming she didn't just abandon it, get a car, and pick them up. But, either way, the rest of the episode felt so very ho-hum after that explosive beginning. Making me feel, pacing wise, I guess you could say, that Rodney moment should have been saved for last.