As Tomo and Jun inch closer and closer to a potential relationship, Misuzu starts to realize what changes that can cause and questions if she should have done things differently.
Aired (Crunchyroll)
February 22, 2023
Director(s)
Takurō Tsukada, Shun Komamiya
Writer(s)
Megumi Shimizu
Previously Noted Characters
Tomo
Rie Takahashi
Jun
Kaito Ishikawa
Misuzu
Rina Hidaka
Carol
Sally Amaki
Misaki
Kōhei Amasaki
Recap
This content contains pertinent spoilers. Also, images and text in this post may contain affiliate links which, if a purchase is made from those sites, we may earn money or products from the company.
Things Are Really Starting To Change – Tomo, Jun, Misuzu, Carol, Misaki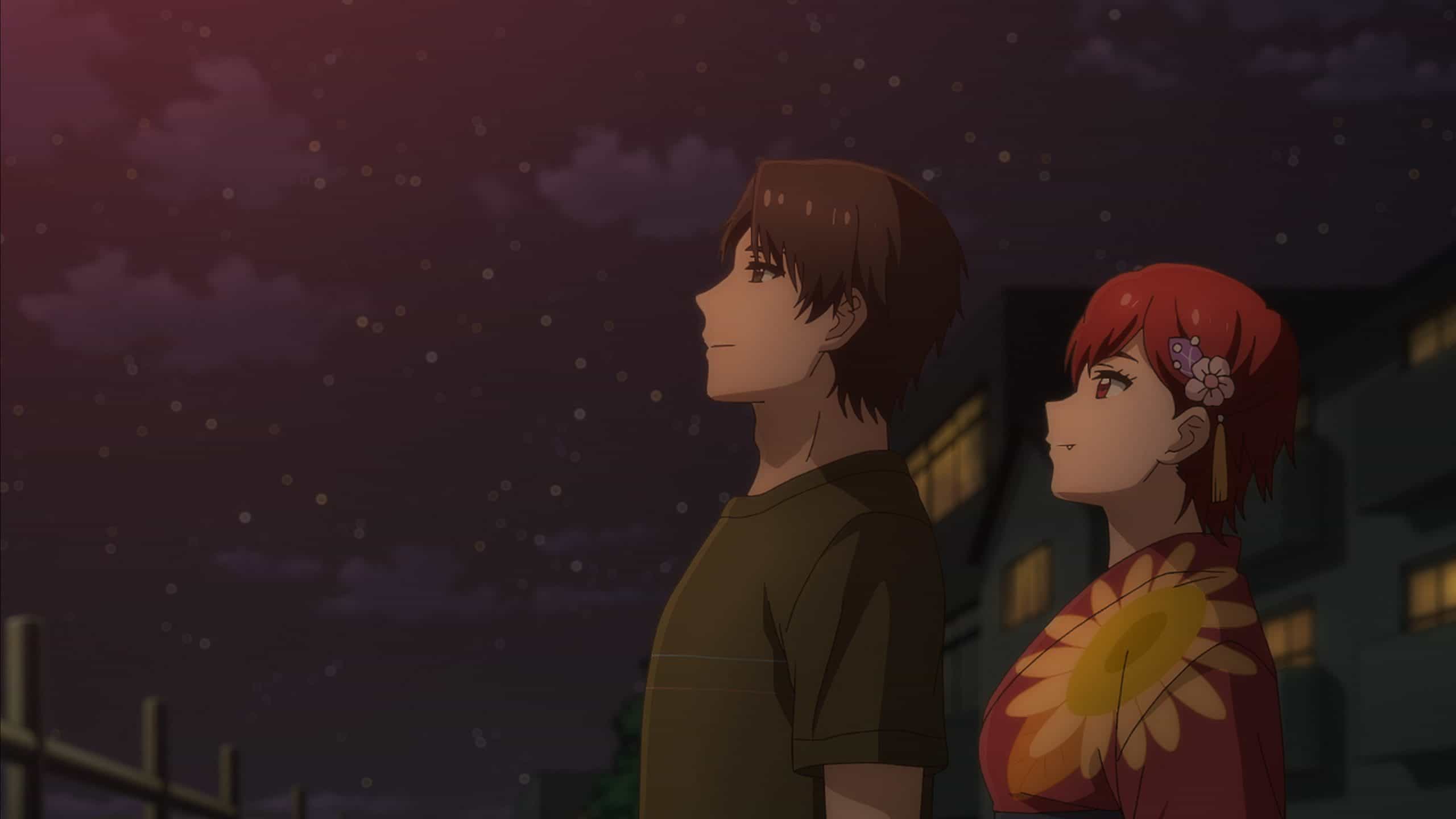 As summer break ends, Misuzu still does things to push Tomo and Jun together, like having them go see fireworks. However, as they grow closer, it starts to click in her mind that the change that was supposed to be way down the road is coming. Tomo and Jun may date, and now Misuzu seems to question her role. It isn't clear whether it is negatively or positively, like maybe her not pushing Tomo to be anyone but herself. Either way, as she realizes things are reaching that point, Carol seems ready to step in whenever she wants to interfere.
This is annoying to her, but it does help in a way. But, perhaps to test to see if she really would become a third wheel, when the upperclassmen bother her as a means to get to Tomo, she doesn't call Tomo but Jun. Someone who, granted, she doesn't have the best relationship with, but in seeing him answer the phone, show up, defend her, even walk her home afterwards? There seems to be a sign that as much as she may worry about her place in the future, within the inner circle of Tomo and Jun, Carol as well, her place is likely secure.
On a side note, Misaki flips out on the upperclassmen when he thinks they might have done something to Carol, which makes her very happy.
Things To Note
Question(s) Left Unanswered
Is Misuzu worried about becoming a third wheel and is realizing, after all these years, she may lose Tomo in the capacity she has her now and become a potential afterthought?
So, we're just going to hear Jun's mom but not get to meet her and get a sense of her?
What Could Happen Next
I'd like someone to fall for Misuzu
Review
---
Community Rating:
---
Highlights
Misuzu's Doubts and Worries
In many ways, it has long seemed that, for Tomo's sake, Misuzu has been encouraging and advising her how to make more friends and get Jun to take her seriously, and I think all those changes are starting to come forth. With that, Misuzu shows signs of insecurity since the more Tomo grows, the question becomes, "Is she capable of outgrowing me?"
Take note, Carol has surpassed Misuzu academically, Tomo's social circle grows by the week, and Misuzu is a bit stunted in a way. She doesn't have new friends, isn't taking a love interest, and while you can see her as wholly herself, she may not feel the same way. She could be seeing people passing her by, and with her not liking the idea of being a third wheel, there is this need to wonder if she doesn't just dislike it but is scared of it.
With her knowing herself comes the question if maybe, like others, she may also fear herself. Especially regarding what life will be like if she has to make the kind of effort required with normal people, not those like Carol, to have meaningful human connections.
Tomo-Chan Is A Girl Directory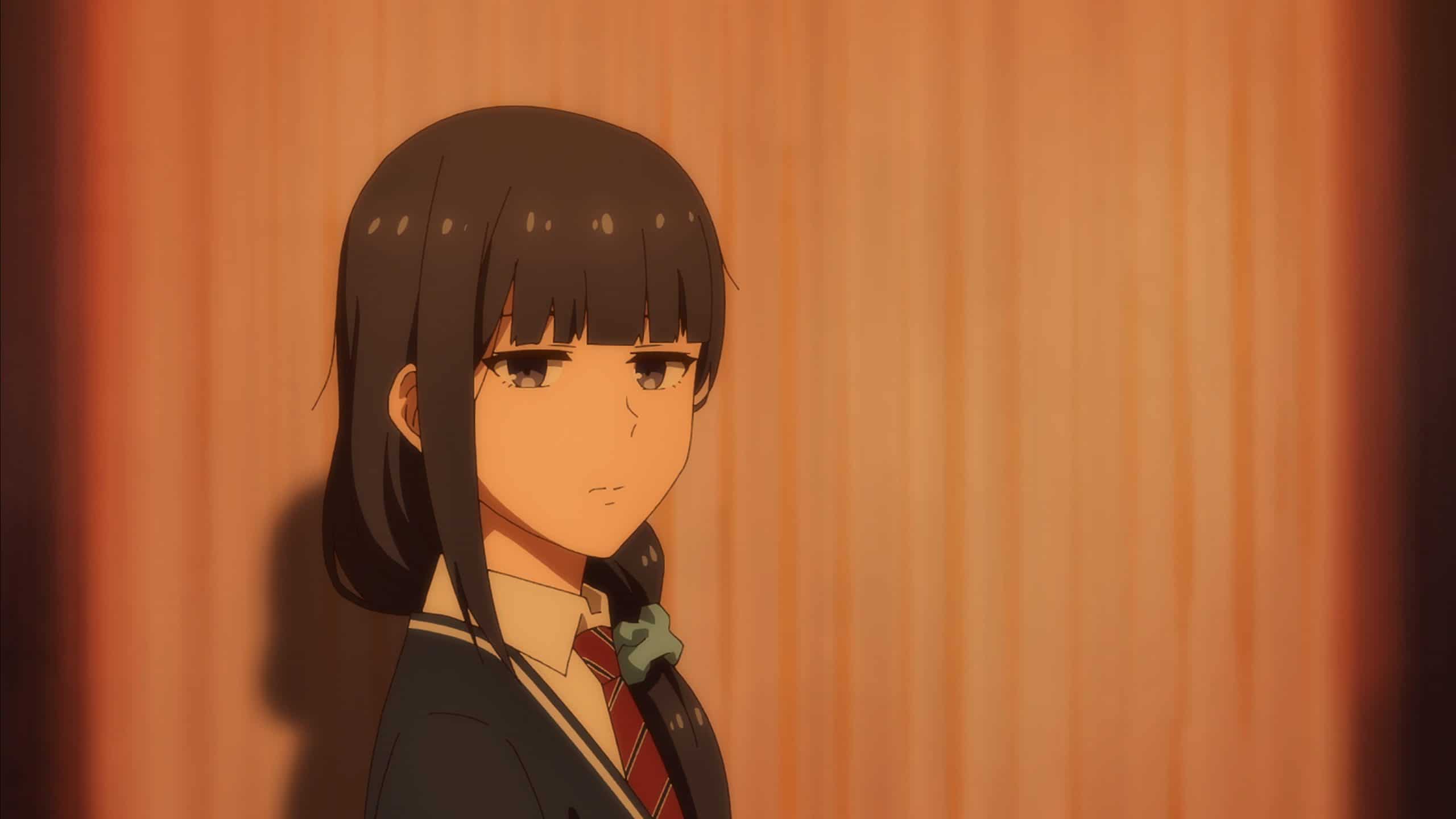 Tomo-Chan Is A Girl: Season 1/ Episode 8 "The Night of the Summer Festival / The Distance Between Them" – Recap/ Review
Overall
All eyes switch over to Misuzu for, as much as Tomo and Jun seem at the cusp of becoming romantic, how that will affect their mutual friend has come into focus.
Highlights
Misuzu's Doubts and Worries