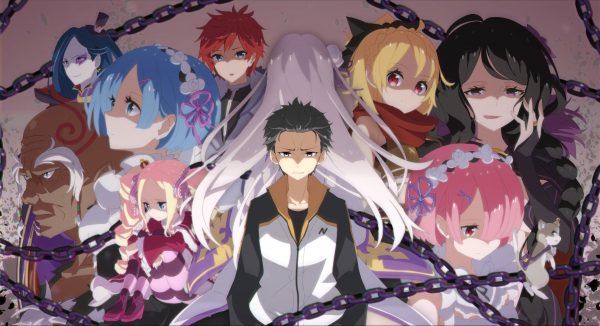 Overview
Subaru finally discovers what cursed him before but, unfortunately, it seems he wasn't the only victim.
Trigger Warning(s):
Blood (gore)
Main Plot (with Commentary)
Topic 1: A Curse in the Village (Subaru and Beatrice)
For what feels like too many episodes, Subaru has been trying to get past day 4, not get killed by a curse, or the twins, and have his date with Emilia. Finally, it seems he may have figured out how to do so by going to the village, which is where the curse originates, and having everyone touch him in different places to root who is the shaman. Come to learn though, it isn't a person but a dog. Something called a mabeast, a creation of the witch.
Topic 2: Save The Children (Rem & Subaru)
Leading to Subaru, alongside Rem, heading off to the village in which they learn the children, who were playing with the small dog that cursed Subaru, has also done that to them. However, with the beast entering the village comes the question of who broke the barrier? That is, assuming a being did and the spell didn't just wear off.
Either way, both Rem and Subaru go on a hunt for them and they do eventually find them. But perhaps the most important thing here is Rem seeing how dead set Subaru is on finding these children she thinks he has no connection to. Which isn't the case for he lists their names, some of their goals, and it leaves her quite stunned. Especially since, to her knowledge, this is his first time there.
Moving along, Subaru continues to dispel any needs there are to think he is shady for not only does he save the majority of the kids, but goes for one who is missing. Then, on top of that, he kills one of the Mabeasts. Which strangely didn't get much of a reaction out of him, his first kill and all, but likely it was because so many appeared in the shadows ready to rip him to shred.
Topic 3: You Save Me, I Save You (Rem and Subaru)
Which would have happened if it wasn't for Rem, with the flail she killed Subaru within a past cycle, coming in and decimating the mabeasts. However, even when it seems they may escape, then comes the baby mabeast sending what looks like a landslide type of attack Subaru and Rem's way and Rem pushing Subaru out of the way. Leading her to take the full hit and, instead of dying, snapping – as in a psychotic break.
It all begins with a horn growing out of her head, and then her going beast mode, demonic mode, or what have you. This, needless to say, is shocking and it leads you to wonder if this is a permanent state? Did whatever spell Beatrice or Roswaal cast upon her get broken, and now she was to possibly return to her original form? Well, that isn't something to worry about for with Subaru jumping in, since Rem got a bit overzealous, we see that horn disappear as the remaining mabeast maul him. Leaving you wondering if this fool, just as he damn near got past this cycle, will now have to start over.
Things To Note
Roswaal has to leave the castle to meet someone and between that, and the mabeast, it is questioned if maybe the witch is trying to hatch something.
Review Summary
Question(s) Left Unanswered
Who was Roswaal off to see?
Who disabled part of the boundary protecting the village?
Highlights
The ever slight possibility Subaru may wake up and learn he has reached a new checkpoint.