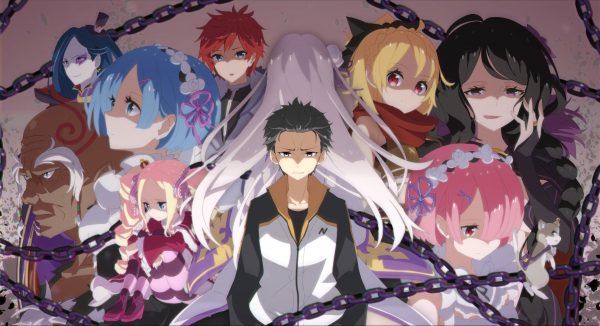 Overview
Even though it hasn't been established if Subaru only has a limited amount of retries, he figures he needs to once more switch things up in order to solve this latest puzzle. Something which leaves him finally coming face to face with the person trying to kill him.
Main Plot (with Commentary)
Topic 1: The Closer I Get To You (Subaru, Puck, and Emilia)
As with every revival, Subaru main goal is getting closer to Emilia and building up to the point where they are together. However, with Puck noting Emilia didn't grow up with many friends and is maybe trying to preserve what she has with Subaru, you got to wonder if she actually likes him or she just doesn't want to lose him. Granted, he has done quite a bit for her, but it isn't like she is as complimentary toward him as he is to her. She pretty much just goes with the flow.
Topic 2: The Twins & Beatrice (Ram, Rem, Beatrice, and Subaru)
This time around, being that befriending the twins didn't solve things, and Beatrice simply wanting to have nothing to do with Subaru, he foregoes investing in any of them with vigor. Well, that isn't completely true. While he foregoes creating a bond with Rem, he does spend time with Ram. Something which leads to mixed results. He talks about this fairy tale dealing with ogres, which very well may represent Rem and Ram's past, and it seems to disturb Ram ever so slightly. However, once the witch Satella is mentioned, though not by name, the conversation ends and Ram warns Subaru not to bring that fairytale up to Rem. An odd thing to say since Ram tries to play such the ogre story off as a fairy tale.
Then when it comes to Beatrice, she still does not like Subaru. I don't think no matter how much he tries, which honestly he hasn't really thus far, she may eventually like him. But what must be noted is that despite all the praise Emilia has been given for saving Subaru's life, it was actually Beatrice who did it. You see, while Emilia has enough power between her and Puck to stabilize someone, when it comes to healing and re-growing organs, that was all Beatrice. Something Subaru refuses to believe which infuriates Beatrice.
Topic 3: It Was You! (Subaru)
When this all started, it seemed Roswaal was pulling the strings and the twins were just puppets. That is, if he wasn't just having a peculiar relationship with one. Now, from what it seems, that topic needs to be revisited for while Roswaal remains a figure hardly focused on, there is an increasingly high chance he maybe involved with Subaru's assassination. After all, it seemed his relationship with the twin sitting on his lap was rather close and, though memory fails me, more than likely that twin was Ram. Hence why, even with a promise not to say anything as he leaves, Subaru is attacked as he tries to do a stake out and figure out who attacks the mansion.
Though, as Subaru notes, who is to say that it isn't an outsider? I mean, we physically see Ram attack Subaru, but who is to say someone didn't plant Ram and Rem in Roswaal's home? If not Ram being coerced to attack Subaru just because.
Question(s) Left Unanswered
Though it is hinted, is the sole focus just Subaru dying or is it Emilia and her supporters as well?
Review Summary
Highlights
The Story Is Progressing: Ok, so from what it seems there is a pattern here and we should just accept it. But you have to admit even with it clear it will take Subaru at least 3 times to break the cycle, the path toward that 3rd time remains interesting. I mean, it includes us getting to know most of the people in his new location (well sans Beatrice and Roswaal), and they themselves are presented as interesting characters.
Fables & Folk Lore: Maybe this is just selective memory, but sometimes I do feel that not enough anime really present their world as more than just what the central story needs. Just to give an example, in Grimgar and Ash there is this big and vibrant world, but we see only a small fraction of it. On top of that, of that fraction we see, we hardly learn much about anything which goes on. Not to say Re:Zero is like Game of Thrones and presents a huge amount of lore and mythos, but with the introduction of that knight, this fight for the crown, this dragon covenant thing, and the fairy tales, it makes it feel like that world wasn't instantly made once Subaru showed up.
It Can Keep You Guessing: By episode 3, or in some cases 6, usually fatigue has set in and I'm ready for the season to be over. With Re:Zero however, I still find myself fairly excited for every Sunday. Granted, I may not rush to watch an episode, because naps are a blessing, but right now watching this is only 2nd to streaming Game of Thrones, in terms of TV media I'm excited about.