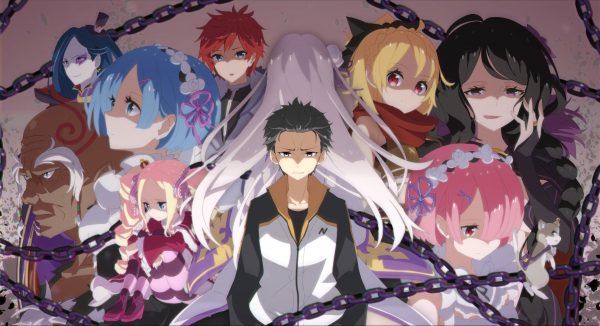 Overview
With less people to focus on, things for Subaru you'd think would be easier, in terms of doing a productive loop. But even with him being nicer to nearly everyone, it seems he still has done something wrong.
Episode Rating:
Maintaining
Trigger Warning(s):
Blood and dismemberment
Main Plot (with Commentary)
Topic 1: The Difference Between Two Sisters (Ram, Rem, and Subaru)
With Subaru learning he has come back to life, after the initial shock wears off, he tries to relive the loop and take a kinder approach to how he deals with the twins, as well as Beatrice. Someone who he, unlike the past loop, avoids, but he spends a huge amount of time with the twins.
The one in particular he grows closest to though is Rem, the pink haired twin. For while Ram is helpful toward him learning to read and write the local language, Rem is the one Subaru spends quality time with. Which seems fine, at first, since he is making her smile and feel good about herself, but that maybe what causes him trouble. For, you see, Rem is used by both Ram and Roswaal for various duties and deed. So him getting too close to her could make him a threat and lead to him having to be taken out. However, there is another option.
Topic 2: What's A Date? (Subaru & Emilia)
One of the few things which wasn't changed in this line was Subaru's crush on Emilia. Something which she seems to welcome by accepting most recent date request, but the question is how do the others feel? For example, with Subaru explaining what a date is, and hyping it up, Emilia asks if Subaru went on one with Rem when they went grocery shopping, which he quickly dismisses. Thus leading to the idea that between Rem being hurt by this dismissal, after all the kind things Subaru has said, to Ram not wanting her sister hurt, that got him killed. Of course, there is also the option noted last episode of Roswaal not wanting anyone to get close to Emilia, hence why she perhaps fears going out into the village since it could anger him. Though, lest we forget, who is to say one of the twins don't love Emilia and would attack Subaru for getting to close.
Also there is the possibility of Beatrice being the killer, but with her more focused on Emilia's spirit animal than Emilia herself, that seems doubtful. Especially since Emilia makes Subaru seem like he lacks ambition so I doubt she would think he would whisk Emilia away and cause her to not see her special animal friend. But then again, who knows?
Things To Note
From what it seems, Ram and Rem maybe some kind of demons. Which I say solely due to going onto Wikipedia once and the fact Rem seemed to be glad Subaru likes demons. Something which leads me to believe that she must be one herself. Though, I should note, despite the whole eye covering thing being suspicious, we see Rem's other eye and it appears normal. So if she is a demon, I guess we have been looking at a guise.
Ram has pink hair and Rem has blue.
Review Summary
Highlights
A Bit More Depth When It Comes To The Twins: One of the benefits of the looping plot is that it allows us to see different takes on characters, and helps ease the feeling that these loops are monotonous. For in the original loop these two came off sort of like lifeless dolls or Roswaal's playthings. However, in this episode we were treated to more developed characters which still maintained this surface level doll appearance, but beneath that there was more. One prime example would be how Ram seemed mean, controlling, and manipulative. Which perhaps she is, but with Rem noting how technically Subaru is a higher rank than them, and showing the depression which comes from being ranked low, you begin to see Ram is doing what she can get away with. What I mean by this is, Ram is like the kids in the episode who go a bit overboard with Subaru because he allows them to and because Ram can do this to Subaru, and knows it, she takes advantage of him.
Subaru and Rem: Switching to Rem, seeing her blossom as she spent time with Subaru reminded me of Koyomi from the Monogatari series a bit (especially as I rewatch episodes). I say this because in the first loop, and second to a point, we see a bit of the pervy Subaru, as we often would see the pervy side to Koyomi. However, with time we see that while Subaru may have sexual thoughts, he isn't necessarily a perv. He knows how to interact with women and be kind to them when he wants nothing more than their friendship. Something which can be clearly seen with his interactions with Rem which leads her to opening up and smiling. Something which wouldn't seem natural in the first loop but is now proof that Subaru's charm, like Koyomi, can win over even possible enemies.
On The Fence
Third Times The Charm?: Though not a huge deal, I do wonder if this pattern of it taking him around 3 tries to get things right will be persistent. Which I only question for while I'll enjoy the loops regardless of whether this pattern will be constant, it does take away from the will he make it or not guessing which would come every episode.