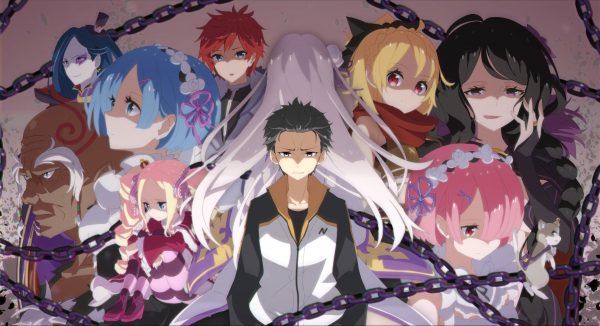 Overview
While Subaru awakens, hopefully setting a new checkpoint, the fight against the mabeast is far from over.
Trigger Warning(s):
Blood (gore)
Main Plot (with Commentary)
Topic 1: Did They Make It? (Subaru & Ram)
Despite being torn to shreds, one of Subaru's first worries are the kids and Rem, as well as Emilia who sits across from him looking absolutely exhausted. For, you see, once more Subaru has been saved from the brink of death. But considering he has saved the kids, and essentially the village, this time Puck considers him to not be in debt to Emilia. Though, with that said, Emilia is going to be out of it for a while since it seems she drained her mana down to what Puck calls her "Odo."
But, while Emilia rests sounds the still injured, though not bleeding, Subaru decides to check on the kids and he gets a hero's welcome from the village. Though he isn't alone. Ram, who repaired the barrier, as well as provided food, and possible comfort, to the villagers is also looked upon in a positive manner. Something quite strange to her it seems for while likely she has been getting food and supplies from the village, it seems she never really interacted with any of them till now. So with all the attention she is slightly confused yet with a little girl showing her thanks for her and Rem, the cutest smile comes across her face.
Topic 2: Only Half a Day (Subaru & Beatrice)
The children aren't the only ones who wished to see their hero Subaru though, Beatrice does as well. Unfortunately, however, it isn't to congratulate him on surviving, or reprimanding him for how much of a burden he can be, instead it is to inform him he has but half a day to live. For, you see, after being mauled countlessly, he has now been cursed so many times that outside of killing every Ulgram, the name of the mabeasts Subaru faced in the last episode, he won't survive. In Beatrice's words, being cursed once is like pulling a bow or a small knot apart. However, now with him cursed by so many mabeasts, pretty much it seems he is doomed.
Topic 3: The Search for Rem (Rem, Ram, and Subaru)
Well, at least that is if Rem fails. For while Subaru rest she pretty much went back into the forest and decided it was time to massacre, if possible, all the Ulgram which remain alive. Something she is capable of doing because she still has her demon horn, which makes her immensely powerful, but it doesn't make her immune to death. Something Ram worries about and even without her horn [1], she plans on taking on whatever to save her younger sister.
Leading to, naturally, Subaru joining her, while Beatrice stays behind, and those two heading into the woods to try to find her. Which, at first, is a little difficult for even with Ram's clairvoyant ability she just can't pinpoint where Rem is. So, making himself bait, Subaru preps to tell Ram about his revival ability and with the witch's hand reaching out to grab his heart so come the Ulgram in masse – followed by Rem.
Someone who, thanks to that horn, has gone full demon and not only goes after the Ulgram but Subaru. Then, to make matters worse, Ram over estimates her ability to fight and her mana drops so quickly that the barely healed Subaru has to carry her. Which becomes cumbersome for trying to run from Ulgrams and Rem, while trying to figure out a way to hit Rem's horn too, well the odds just seemed stacked against Subaru. But with flinging Ram at Rem, to keep her from using that mace of hers, and then using the sword given to him by the villagers, we are left hoping Subaru can hit just the right point to restore Rem to normalcy.
Things To Note
[1]: Ram lost her horn because, in the past, she went demon mode and lost control.
Review Summary
Question(s) Left Unanswered
Will we ever be introduced to this witch who has such a hold on Subaru and, more than likely, is the source of Subaru's revival power. Also, who maybe the reason he is in this world?
Highlights
I'm so glad that Subaru has likely reached a new checkpoint.
Seeing the villagers, and especially the children, react so kindly and sweetly to both Subaru and Ram was a sight to see. Especially considering that fairy tale we were told in one of the earlier revival cycles for this arc.