Someone learns Chizuru and Kazuya's secret and yet another situation threatens Ruka's slim chances of being with Kazuya!
---
| | |
| --- | --- |
| Director(s) | Koga Kazuomi |
| Writer(s) | Hirota Mitsutaka |
| Aired (Crunchyroll) | 9/11/2020 |
This content contains pertinent spoilers.
Recap
At this point, Kazuya is losing patience with Ruka and upon hearing Kuri is still in a bad place after she exposed him, he decides it is time to come clean. So, with his first paycheck, he hires Chizuru to be Kuri's rental girlfriend and, as you can imagine, Kuri is confused. At least until Kazuya pops out of the bushes and explains everything and apologizes. With that, Kuri is in better spirits since he thought Kazuya surpassed him, and seemingly that is what hurt his ego the most.
But, with Chizuru doing that favor for Kazuya comes her asking for one in return. Said favor is going on a date with a no girl, for free, just so that she has more experience since she is shy to the point of being bad at her job. So, ladies, gentlemen, and non-binary folk – expect Sumi in the next episode!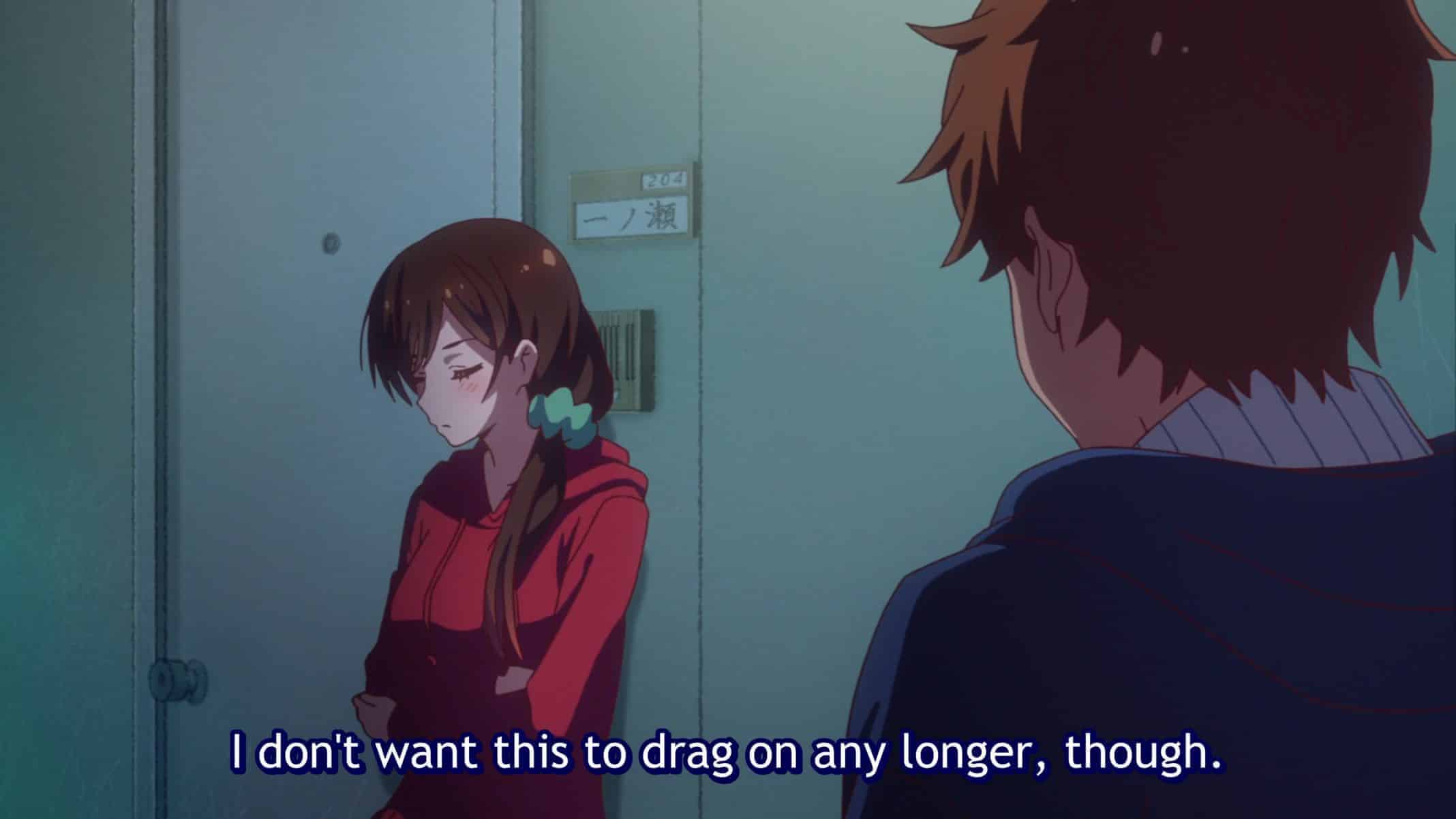 Things To Note | Question(s) Left Unanswered
How is Ruka going to react when she sees Kazuya on a date with another girl? Does she have it in her to expose Chizuru?
Review
Highlights
A New Girl Enters
The final girl who is shown in the show's intro and outro appears and despite knowing Chizuru and Kazuya are likely end game, there is still hope there could be a twist. After all, Kazuya is pretty shy, this girl is pretty shy, he isn't paying for her time, and she is an imperfect rental girlfriend.
So maybe she could realize, similar to Kuri, this isn't necessarily what she wants and maybe Kazuya can get over his fantasy of Chizuru and pick someone real? Never mind, hopefully, find a way to dismiss Ruka for with Kazuya calling Kuri a pedo for pretending to date her, who knows what people at Kazuya's job say about those two?
On The Fence
Kazuya's Secret Is Out
I want you to think about this, all Kuri had to do was do an online search on Chizuru to find out she was a rental girl – ain't that something? Plus, let's we forget, she is the top-rated girl so it makes you wonder, considering how chummy everyone was trying to get with her, did no one ask for her social media, her number, anything?
Granted, she was masquerading as Kazuya's girlfriend but, and maybe this is just me not knowing Asian social media etiquette, but wouldn't it raise red flags that they don't have pictures together, statuses, and this rich girl life was never shared? I mean, wouldn't you be curious how the other half lives?
What I'm trying to say is, the fact Ruka figured out Chizuru's secret from seemingly looking at her yet Mami didn't find out, or Kazuya's jealous friends, until this episode, it makes you scratch your head a bit.
A New Girl Enters - 81%
Kazuya's Secret Is Out - 74%
While "Rent A Girlfriend" doesn't improve, at the very least it doesn't get so bad you'd drop out now.