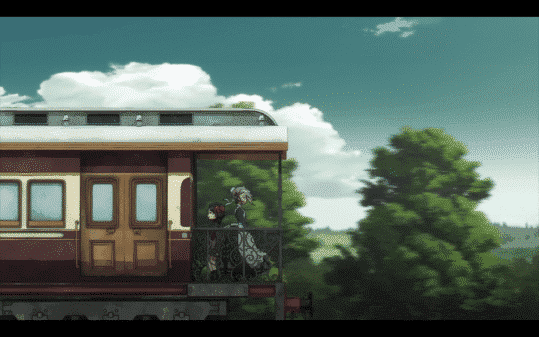 We get to properly see how Chise became part of the team this episode, making it where it almost seems we're watching this out of order.
The Assasination Plot Against Lord Harikawa: Duke of Normandy, Princess Charlotte, Ange, Chise, Dorothy
Duke of Normandy & Princess Charlotte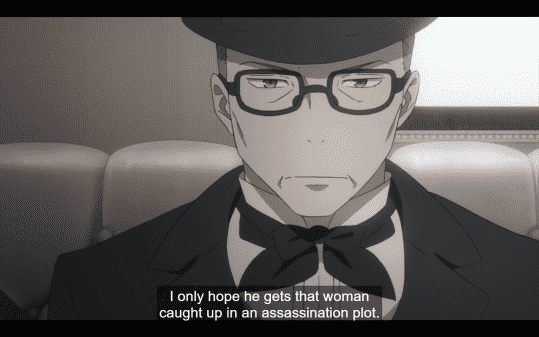 While Princess Charlotte is but a figurehead, 4th in line to the throne, meeting a dignitary and being entrusted as a representative is big. Something which worries the Duke for he is of the opinion she is gaining too much influence. May even move up in line. So, with that in mind, he works with an enemy of Lord Harikawa named Todo Jubei. Someone who is of the Shogun era and is a well-known assassin.
The goal here is to associate the assassination of Lord Harikawa with Princess Charlotte to taint her name. Thus killing this positive impression Queen Victoria has of her.
Ange, Chise, Dorothy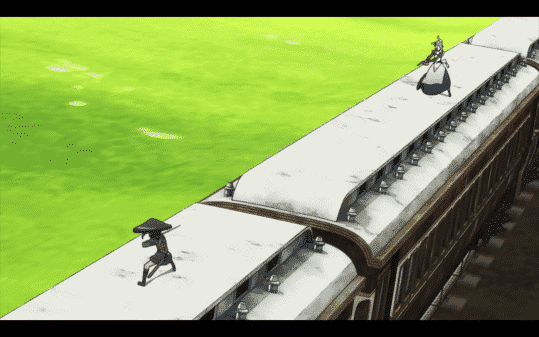 However, standing in his way are Ange and Dorothy who, alongside Beatrice and a slew of soldiers, are there to protect the princess. Then for Lord Harikawa, he has a slew of his own soldiers and then Chise shows up. Someone who Ange and Dorothy take for Todo Jubei so they go to battle, but later it is revealed she is an ally.
Commentary
Considering how bad ass Ange and Chise are, it becomes easy to put down Dorothy for primarily seducing her adversaries. Yet, later on, we are reminded how her gift of gab is just as important as being able to sneak about, kill, or knock people out. For just in terms of having conversations with Lord Harikawa on the train, in that he lets slip out valuable information. The kind which helps control know that part of the reason for his visit was to re-negotiate a one side deal with the Kingdom of Albion. Which, with that in mind, means they can begin the process of making a mutually beneficial partnership.
One which may not have been good enough, as seen in episode 4, to make them firm and reliable allies, but it was a start.
Though, with talking about new allies comes the questioning of old ones. Such as the Duke of Normandy and his relationship to his niece Charlotte. Now, being that it seems the Duke has no intention of claiming the throne, I do wonder why he actively trying to ruin his niece's chances? Between trying to have her married off to a foreign dignitary to trying to sabotage her reputation, you'd think he knows who she is working for.
However, if it was known who she has partnered with, you'd think he would just make his move. Especially since, in my mind, surely he has noticed that whenever certain girls, that being Ange and Dorothy, come to an event, it is usually high profile. Much less, something ends up going wrong.
The Death of Todo Jubei: Chise, Ange
Throughout the episode, we get to see Chise having quite the skills in swordplay. She literally mows down people to the point you understand why she was mistaken for Todo Jubei. However, then the real Todo Jubei shows up and while we don't get a huge amount of time with him, his battle with Chise shows he is making it count.
Yet, in the long run, he is no match for her. It isn't necessarily clear why, be it speed, skill, or theatrics, but he loses to her. The student surpasses the master. Todo Jubei falls to the sword of daughter Todo Chise. A reveal Ange finds out once all is said and done.
Commentary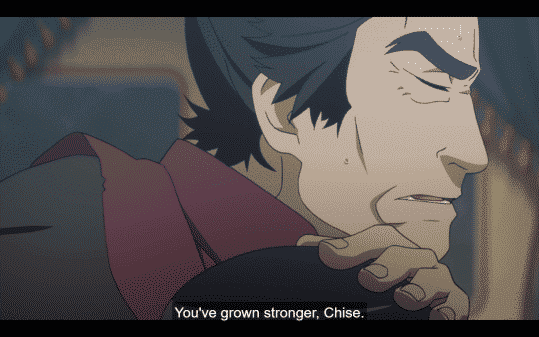 Between Ange's fight with Chise, to Chise's fight with Jubei, you can understand why she was quite perturbed about being sidelined in episode 4. I mean, talk about a high quality action scene. It may not have been flashy, have a whole bunch of locales and all that, but for the space those two fought in, it was something. Also, something about the sound effects of blades clashing sounded different too. As if it wasn't stock sounds which your ears have long gotten used to but real metal blades, in a sound studio clashing against one another. As if they were going to mo-cap the whole thing but ended up just doing old fashion animation in the long run.
Welcome to The West: Dorothy, Chise, Ange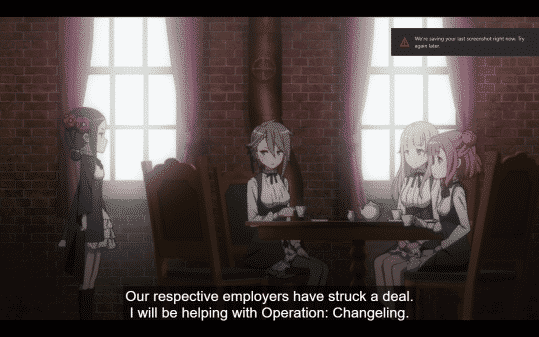 A few things happen. One, we learn Dorothy has convinced Lord Harikawa to work with the Commonwealth instead of the Kingdom of Albino. The 2nd thing is we learn Chise will be joining the girls. Something only Beatrice has an understandable reaction to. Everyone else is rather chill about the decision. In fact, Ange welcomes it for she sees Chise as a valuable ally and potential friend.
Though, lest we forget, Ange is a professional liar.
Commentary
I like this show, but what keeps me from truly enjoying it is that I'm not sure where we are in the story. As of now, I believe episode 1 to be the furthest we have seen into the future. Which is fine. It got us excited, introduced everyone, and then we worked backwards to do proper introductions and learn a few secrets. However, even though we have some inkling of the narrative's trajectory, there are inconsistencies I don't get.
Be it Beatrice being anti-spy and Princess Charlotte being associated to her being delighted to join Ange — someone she used to barely trust. Then there is Chise who goes from what seems to be an ally and potential friend to someone Ange seems to barely trust. It's those little things which throw me off and really keep me from enjoying the ride. Even when there is such potential actually being realized.
Other Noteworthy Moments
Overall
Highlights
Low Points
The fact this episode should have came before episode 4 and this show seems to have too many inconsistencies.
On The Fence
Knowing Dorothy's talents as a spy but often only seeing them in the form of accentuating her breast to seduce or lower the defenses of men.