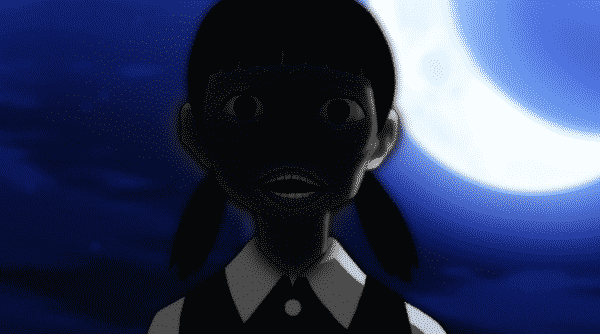 |
We finally learn why Sarina and friends bullied Aya as well as who, or what, is inside Yatsumura's home.
---
Network
Amazon Prime
Director(s)
Tadahito Matsubayashi
Writer(s)
Takayo Ikami
Air Date
4/27/2018
Nana Just Likes Drama: Nana, Sarina
All this time it seemed Nana wanted to help girls who were in trouble or were unfortunate. Incorrect. Nana, as seen by her interactions with Sarina, just likes seeing people get vengeance. But with Sarina, Nana wants to take things a step further and have her replace Rina as her magical hunter. For, from what it seems, Nana may have tricked Rina into getting all the items, Nana gave out, so she can get them back again.
Commentary
Who the hell is Nana really? Why does she look out of place and is she even human? Something tells me she is the tempest but needs all the magic sticks, which she can't get on her own, to assume her true form. Would anything else make sense right now?
Because, with it being clear she isn't some twisted angel for the unfortunate, she clearly has to be some kind of demon to solely be giving weapons for the sake of vengeance. Which seemingly is how she gets her rocks off.
You Should of Just Said Thank You: Sarina, Aya, Nijimin
Can you believe all of that bullying solely came from Aya not thanking Sarina for looking out for her? Seriously, that is why they write all over her desk, nearly drown her, and almost had her raped. Just because she never thanked Sarina for doing what was genuinely nice things.
But now, with Sarina being a magical girl with a yo-yo that has precision cutting powers, it seems vengeance will be hers. Then, to add a bit more oil to the fire, after Nijimin retires from music to find who killed her friend, Sarina reveals to Nijimin where Rina is and may have also noted Aya and Yatsumura interacted with her. It isn't clear if she went that far but it seems revenge isn't going to come swiftly as much as Sarina may take her time.
Commentary
The thing to ask right now is whether Sarina told Nijimin anything about Aya and Yatsumura. For with that magical underwear, and Nijimin's psycho side, it isn't hard to imagine her forcing them to confess and then probably trying to brutally murder them. Whether that would come before or after Rina though, that is a harder question to answer.
But, with that said, if Nana took Rina's magical girl powers away and gave them to Sarina, does that mean she is still in a coma? Shouldn't she be able to recover now or is that not how this works? Hell, could it be the lifeforce you lose using the sticks go to Nana and make her stronger? Clearly, vengeance is something she enjoys, but could it be because that fuels her existence?
Plus, with Sarina now tasked with getting sticks, does that mean she'll wait for Nijimin to make moves before going for her underwear or leave the best for last?
What's In The Apartment?: Yatsumura, Aya
While Nijimin makes her surprise retirement and transfers into Aya's class, Yatsumura is nowhere to be found. So, Aya, used to Yatsumura calling and presenting herself as an ideal friend, she worries and goes to Yatsumura's home. There she finds Yatsumura, on the floor, in a pool of her own blood, and the man who killed her family strung up – barely kept alive.
Commentary
Why is Yatsumura keeping this man alive? She somehow found him, has the magic to kill him without being suspected, so why isn't he dead? Also, how in the world is Yatsumura affording to live by herself? It's one thing when we see high school kids do it but a middle schooler? How does that work?
Question(s) Left Unanswered
How Aya escaped getting beaten by her brother when she spent the night alone, in her own home?
Highlights
Sarina returning to her throne as the main villain.
Nijimin likely going psycho again, but it not being clear who is first.
Nana's true intentions being
Why Aya was bullied being revealed.
Follow Wherever I Look on Twitter or Like us on Facebook.
---
Previous Episode's Recap
[visual-link-preview encoded="eyJ0eXBlIjoiaW50ZXJuYWwiLCJwb3N0IjoyMDIyMywicG9zdF9sYWJlbCI6IlBvc3QgMjAyMjMgLSBNYWdpY2FsIEdpcmwgU2l0ZTogU2Vhc29uIDEvIEVwaXNvZGUgMyDigJxUaGUgUHJpbmNlc3MgYW5kIHRoZSBQb2lzb25lZCBBcHBsZeKAnSDigJMgUmVjYXAvIFJldmlldyAod2l0aCBTcG9pbGVycykiLCJ1cmwiOiIiLCJpbWFnZV9pZCI6MjAyMjUsImltYWdlX3VybCI6Imh0dHBzOi8vd2hlcmV2ZXItaS1sb29rLmNvbS93cC1jb250ZW50L3VwbG9hZHMvMjAxOC8wNC9ZYXRzdW11cmEtYW5kLUF5YS5wbmciLCJ0aXRsZSI6Ik1hZ2ljYWwgR2lybCBTaXRlOiBTZWFzb24gMS8gRXBpc29kZSAzIOKAnFRoZSBQcmluY2VzcyBhbmQgdGhlIFBvaXNvbmVkIEFwcGxl4oCdIOKAkyBSZWNhcC8gUmV2aWV3ICh3aXRoIFNwb2lsZXJzKSIsInN1bW1hcnkiOiJXaGlsZSB3ZSBkb27igJl0IGxlYXJuIG1vcmUgYWJvdXQgdGhlIFRlbXBlc3QsIHdlIGRvIGxlYXJuIGFib3V0IFlhdHN1bXVyYeKAmXMgcGFzdCBhbmQgbWVldCBhbm90aGVyIG1hZ2ljYWwgZ2lybCB3aXRoIGEgdmVyeSB3ZWlyZCBvYmplY3QuIiwidGVtcGxhdGUiOiJkZWZhdWx0In0="]