Majima's past and connection to Juri is revealed as a trap is laid using Takafumi and the fate of Tsubasa in question.
---
Community Rating: 0.00% (0) - No Community Ratings Submitted.
---
---
Network
Amazon
Director(s)
Yoshimitsu Ohashi
Writer(s)
Seita Horio
Air Date
2/4/2018
Characters Introduced
Sako
Hiroyuki Yoshino
Mr. Kato
?
The Third Stone & The Family of Heralds: Majima, Mr. Kato, Sako, Juri
As I'm sure many have predicted, Majima is the girl Juri saw when she went into stasis before. But what wasn't explained is that she actually got into stasis because her family inherited their own stone. One which isn't the one Sagawa is using or that the Yukawa family owns. Meaning there are, at a minimum, three stones in circulation.
But, perhaps the main thing which is notable from Majima finally letting the cat out of the bag is how Heralds are made. From what it seems, it is between a lack of determination or overwhelming despair which leads the specters to turning you into a Herald.
However, what isn't answered is what determines their size. How does one become as big as a house or else be about the size of a pet? Is it based on the size of the person? Their age when they became a herald or how long they've been in stasis? The crimes they have addressed? It isn't clear what so ever.
What is clear though is that, for some reason, the vaginas of women on this show are such a hot commodity. Even to the point Majima negotiates sex into Mr. Kato and his gang helping her secure an audience with Juri. Something which Sako, likely expecting sex too, picks up, after Juri shows up and expels Mr. Kato.
The Blame Game/On The Run: Takafumi, Juri, Grandpa, Sako, Majima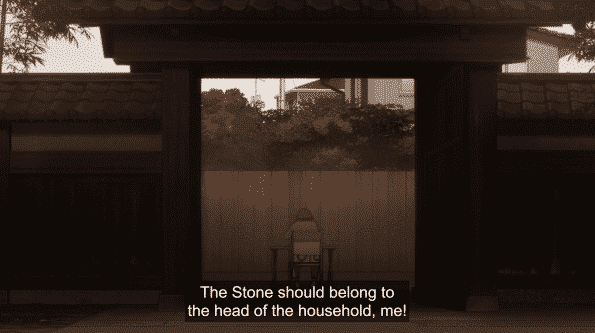 With Takafumi taking note of how he got laid off, his son's unemployment, and his daughter becoming a single mom, he kind of hates how his father didn't use the stone for the family to be better off. This is even when Juri and Grandpa try to rescue him. Something they kind of succeed in, but with Sako and Majima close behind, who knows what their future may hold. Even if both Sako and Majima have seemingly split off from Sagawa's goals of taking their stone, learning what the grandpa knows, and likely leaving them to become Heralds.
Who Got Stabbed?: Tsubasa
Unfortunately for Tsubasa, he returns home, with Makoto, and one of Mr. Kato's men are there as well. Someone who decides to swing a decently lengthed knife at Tsubasa and we're left wondering if, when he tried to stab him, who got a knife to the chest?
Question(s) Left Unanswered
Considering that Majima's eyes went grey like Juri's does before using her expel power, does that mean she can push people out of stasis too?
Highlights
Majima's Past, And What It Could Mean For Juri and The Show's Future
With Majima breaking off from Sagawa and needing Juri for her true goal of bringing the remains of her family back home, it bolsters the Yukawa's family numbers. However, then there is Sako. Being that he is between the money Sagawa can offer and whatever feelings, sexual or otherwise, he has for Majima, he is a bit of a wildcard. One that, with him having a private chat with Sagawa, in which he conveys he knows about Majima's past, and more than that may have been said, who knows if or when he might betray Majima.
Especially considering he is one of Kato's gangsters. So, let's just assume he has the same twisted mindset. One which, with Grandpa not being much of a fighter or Takafumi, who is to say he won't try to flip the script on them or the girls? Even if it means possibly being ejected by Juri. For once he leaves stasis, his life probably goes to hell. So I'm sure he is going to make sure he gets something out of this very weird saga.
Low Points
What Is With These Men And Sex/Rape?
Though with Juri eliminating most of the men who have severe issues, so comes the question if it is finally over? Personally, I hope so since I can't recall another show, at least that isn't a yuri one, which has talked about or pursued the idea of sexual assault so much.
---
Follow Wherever I Look on Twitter or Like us on Facebook.
---
Previous Episode's Recap
[visual-link-preview encoded="eyJ0eXBlIjoiaW50ZXJuYWwiLCJwb3N0IjoxNjk5MCwicG9zdF9sYWJlbCI6IlBvc3QgMTY5OTAgLSBLb2trb2t1OiBTZWFzb24gMS8gRXBpc29kZSA0IFwiVGhlIEZvdXJ0aCBNb21lbnRcIiAtIFJlY2FwLyBSZXZpZXcgKHdpdGggU3BvaWxlcnMpIiwidXJsIjoiIiwiaW1hZ2VfaWQiOjE2OTkxLCJpbWFnZV91cmwiOiJodHRwczovL3doZXJldmVyLWktbG9vay5jb20vd3AtY29udGVudC91cGxvYWRzLzIwMTgvMDEvS29ra29rdS1KdXJpLnBuZyIsInRpdGxlIjoiS29ra29rdTogU2Vhc29uIDEvIEVwaXNvZGUgNCBcIlRoZSBGb3VydGggTW9tZW50XCIgLSBSZWNhcC8gUmV2aWV3ICh3aXRoIFNwb2lsZXJzKSIsInN1bW1hcnkiOiJXZSBzdGFydCB0byBkaWcgaW50byBKdXJp4oCZcyBteXN0ZXJpb3VzIGdpZnQgYXMgTWFqaW1hIGNvbnRpbnVlcyB0byBzbG93bHkgdW5yYXZlbCB3aGF0IHNoZSBrbm93cyBhbmQgaGVyIHBhc3QuIiwidGVtcGxhdGUiOiJkZWZhdWx0In0="]
---