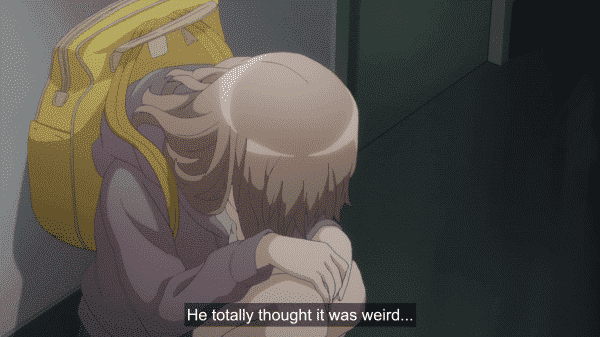 As Haruto and Morikawa move back to the forefront, we're right back to the show being about everyone's indecision issues.
---
---
Community Rating:
---
---
College Decisions: Natsume, Izumi
After her talk with her sister, it seems Natsume may not seek out her sister's university anymore. She may go to Joie. As for why that one instead of her sister's? Well, one could only assume it is to be her own person more. Make an adult kind of decision and maybe loosen up her safety net.
But, while she is doing this, Izumi is still trying to get into her sister's school. Meaning, his long game, which low-key kind of seems like stalking, may not play out as he hopes. So he, like the rest of the girls on the show, may need to take hold of his life and step up.
Morikawa's New Hair Style: Morikawa, Haruto, Yoriko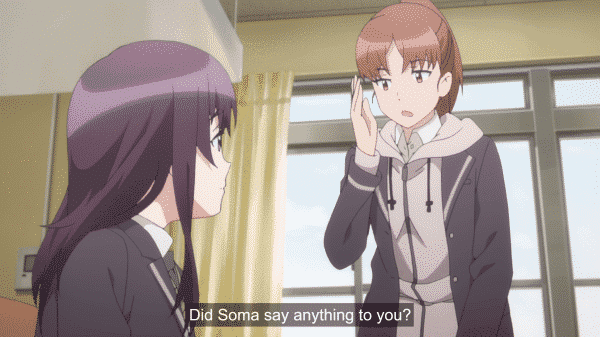 Being that Morikawa has always had a plain Jane sort of style, her getting a mature haircut takes the class by storm. However, the one person she would like to say something, the guy who she is still trying to decide if he can be someone she'll date, he says nothing. In fact, as always with those two, Yoriko has to push them together so that there is some kind of dialog. Otherwise, they'll just both be helplessly awkward probably to the point of being like nails on a chalkboard for Yoriko. Making her glad she won't have to witness the two struggle for much longer.
As Valentine's Day Looms: Komiya, Izumi, Natsume, Morikawa
Komiya basically saying she loves Izumi doesn't just slide past him. Yet, now they are in an odd place. One which is more so odd for Komiya than Izumi for she knows he still has his sights set on Natsume yet, she also knows Natsume is a punk. Also, while creepily following Natsume wherever she plans to go, he isn't likely to make a move either. So, with that in mind, she hasn't given up on him yet. She was able to get him to spend time alone with her and he did show some chivalry toward her. So now the question is, how to take things further?
Not in terms of a kiss or anything like that, but just to seem like a real contender. Especially since Valentine's Day is coming up. Which, with the way Natsume was talking to Morikawa, it could be she might be over Horato and could be willing to accept Izumi's affection. But, so comes the question if the moves Komiya has made may make Natsume's former lead insignificant?
On The Fence
As The Focus Comes Off Komiya and Izumi, Things Drastically Slowed Down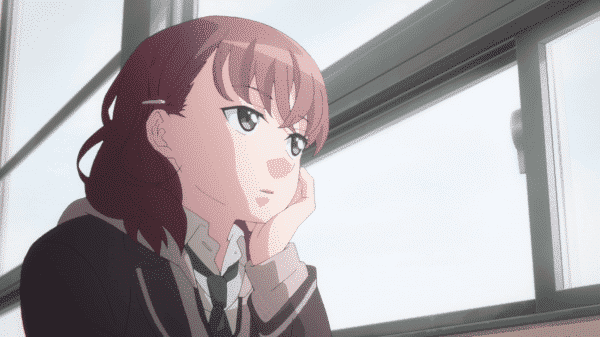 I sort of feel like I got whiplash with how slow the show became. After the drama of Izumi's love triangle, and Haruto's situation on the back burner, the show was really picking up. It still had a slice of life vibe, but thanks to Komiya being one of the sole characters not waiting for the other person, or a third party, to make a move, it was like we were getting some traction.
However, with the quiet Morikawa and Haruto, will they or won't they, romance coming back, we're back to a slow build. Which, I don't know, just sort of bugs me. For while Morikawa is breaking away from seeming like she is on autopilot, this show requires you to really adjust your understanding of what drama and tension is. Especially since, despite the love triangles, some being undecided about their futures, if not outright depressed about it, no one is having existential crises.
Everyone, again, outside of Komiya, pretty much are calm, cool, and collected. Junpei breaks this up a slight bit, but for the main cast, rarely do we see any of them sweat. Something that I want to maintain this idea of being refreshing. No one is being over the top, doing incredibly self-destructive or stupid things yet, at the same time, increasingly you want them to. Just to keep things lively.
If not some take a note out of Komiya's book and just confess and try no matter how embarrassing the results can be.
Catch Up or Follow Along: Here [External]
Follow Wherever I Look on Twitter or Like us on Facebook.