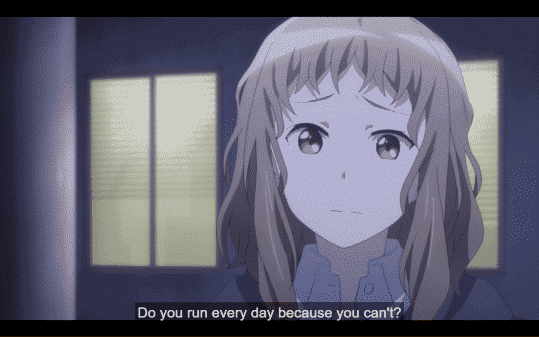 The love triangle heats up as Natsume starts really taking notice of how everyone seems a few steps ahead of her.
---
---
Community Rating:
---
---
That Damn Puta: Komiya
Despite Natsume not giving her blessing, Komiya toils over how to ask Izumi out. Especially since she knows how he is and being too direct may lead to him saying something cruel. But, luckily for her, her cat Puta can't deal with her indecision and decides to send a message she was leaving as a draft.
Flying Without a Safety Net: Natsume, Izumi, Haruto, Morikawa, Yoriko
After Izumi's, "Short end of the stick" comment, it is hard not to understand why Natsume doesn't really take much in the way of risks. Even in terms of her chosen university, Suizan, she is basically applying for where her older sister Mina goes. She consistently seems to take whatever route has the least amount of discomfort and based on her breakdown in the last episode, isn't perhaps much for adversity.
But things become a bit worse at Morikawa's house because now she is forced to look at how everyone's future is set and she is still struggling with her's. Heck, even dating wise, while Morikawa and Haruto aren't a thing, there is a possibility. Also, with Komiya asking if she could take out Izumi, there goes what could have been there and while Yoriko may not mention anything, knowing Natsume, she figures she is already set in life as well.
And all of this reasoning used for the recap basically comes from Natume's snide comments or her complaining. Of which everyone takes note of since she is opening up. Though, she isn't the only one. To Haruto, and later Komiya, Izumi opens up too. Especially in regards to him too pursuing Suizan University solely because that is Natsume's first choice.
A Date Is A Date: Komiya, Izumi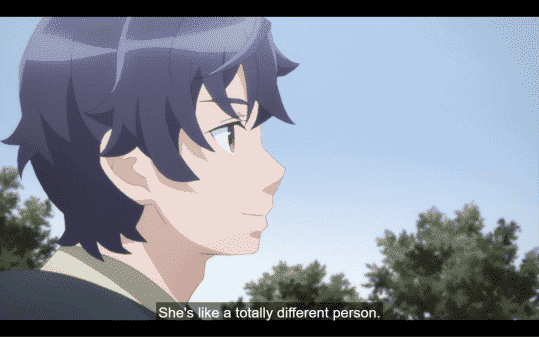 After Izumi accepts, he and Komiya go on a date in which she mostly takes photos at a very beautiful location. There isn't much talking at all, just Izumi lugging her stuff around, similar to that guy Natsume saw one or two episodes back, and that's it. But, she is happy and perhaps noticing he isn't getting much out of the date, they head to the school and she shows him some kind of yearbook. This way, despite being kind of new to the high school, he can partake in some of the memories.
This gesture puts a smile on Izumi's face and pushes him to never mind him studying for Suizan's entrance exam. But, despite ending things on a rather good note, all he talks about is Natsume and him going to her school is basically to have more time to confess. That statement doesn't deter Komiya however, for she basically notes that if she wins that photo contest, she'll confess her love of Izumi. Which, after dropping that bomb on him, she walks away.
Seems like Puta isn't the only one who sometimes like to just have things get to the point.
Other Noteworthy Facts & Moments
Morikawa seems to finally take her little sister's advice and dress up a bit more and even get her hair done. Leading to Izumi not recognizing her when she walks by.
Highlights
Never Take No For An Answer/ The Early Bird Gets The Worm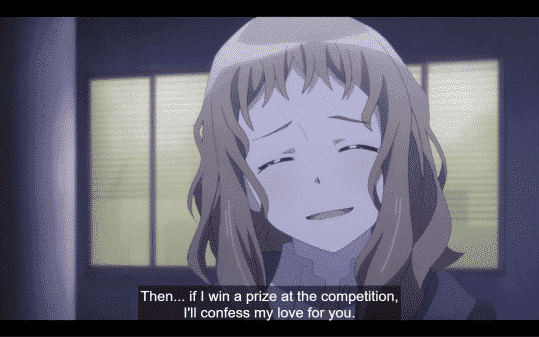 For this episode, Komiya and Natsume took center stage for me. This is mostly due to the divergent way these two handle life. On one side we got Natsume who, as 100 Word Anime goes into, doesn't take any real initiative in her life. I mean, yes, she is pursuing going to college. However, with it being revealed she is going to her sister's school and really seeming like she is on autopilot, so comes the question of whether this path may lead to her being happy? Hell, has she ever done something to make her own life easier, much less joyful?
Natsume's life is in complete contrast to Komiya who yeah, may feel like life is unfair at times, but look how hard she has worked to combat against that. When Izumi denied her the picture, she both kept pestering him for permission while trying to come up with a backup. When Natsume didn't give her permission to ask out Izumi, she did so anyway and while Izumi seems dead on exclusively crushing on Natsume, Komiya still isn't giving up.
It's kind of amazing, in a way. For if you really think about it, what does Komiya have to push her forward? As of now, it seems she doesn't have any friends. Yeah, the other members of the photography club were friendly, but they weren't trying to hang out with her or even help her win the contest. They were ready to admit defeat and end it all. Also, Komiya isn't close to her older brother. He isn't cruel but also doesn't present the kind of relationship Natsume or Morikawa have with their siblings. And when you take that into consideration, it really makes you wonder how does this girl, despite being told no, being disregarded at times, and so much more, still have this confidence and courage?
Well, with her becoming a stronger and stronger character on the show, hopefully, some definites will be dropped on us.
Catch Up or Follow Along: Here [Amazon – External]
Follow Wherever I Look on Twitter or Like us on Facebook.